2017 – Phuket's year in review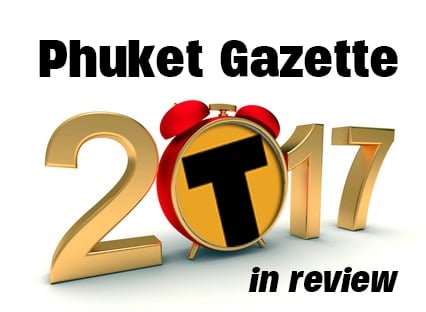 2017. What a year. As the clock is about to click over into 2018 we look back at another busy year on the island. From scams to bus crashes, corrupt officials to shootings, boat crashes to lifeguard contracts, we remember the biggest news stories on the island for the past 12 months.
January
The year started with the first of many bus crashes, mostly involving tourists who probably saved up for some time to have a happy and joyous holiday on a tropical island, only to end up in hospital pondering how their holiday went so horribly wrong. STORY HERE.
An American drug suspect was finally tracked down in nearby Krabi after visiting Thailand numbers times. When he was eventually located he was found, Alexander Rosen was working as a teacher. STORY HERE.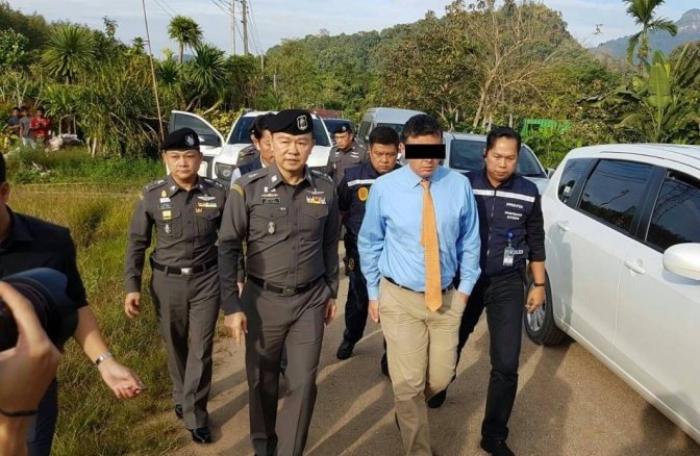 The prospect of a new airport, not too far away from Phuket, to ease the air traffic at PIA and provide better access to Phang Nga was mooted and much discussed in 2017. Bangkok Airways has been consulting with Government and local authorities and even found a patch of land for the new private Airport. By the end of the year it seems to have hit more hurdles with local opposition and gained little support from the Thai Government. STORY HERE.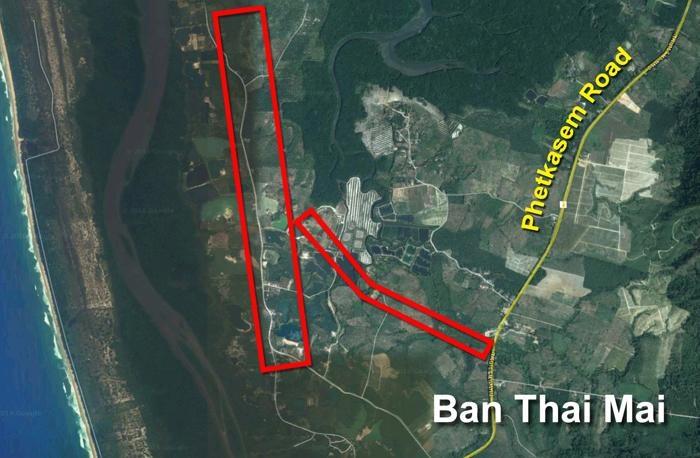 February
In December of 2016 a decision was made by the Navy (acting on behalf of the Thai Government) to ban sun lounges and umbrellas in the newly set up 10% zones on Phuket's beaches. By February they'd relented and allowed the ubiquitous white plastic lounges and tatty umbrellas back in the 10% zones. By the end of the year the 10% zones would look more like 15 or even 20% zones. STORY HERE.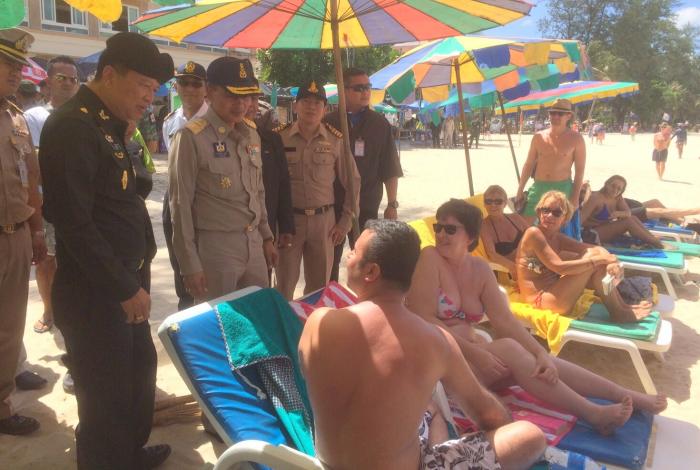 The BBC's Jonathan Head, journalist for south east asia, was facing defamation charges over a story he did for the BBC about alleged corruption in a nasty land case where a Thai wife had allegedly conspired with a local lawyer to 'steal' property from her husband at the time. Jonathan would appear in Phuket court later in 2017. STORY HERE.
Under the heading of 'Tourists Behaving Badly' this foot-hanging-out-van story got more attention than it deserved with social media shaming the tourist travelling on the island. STORY HERE.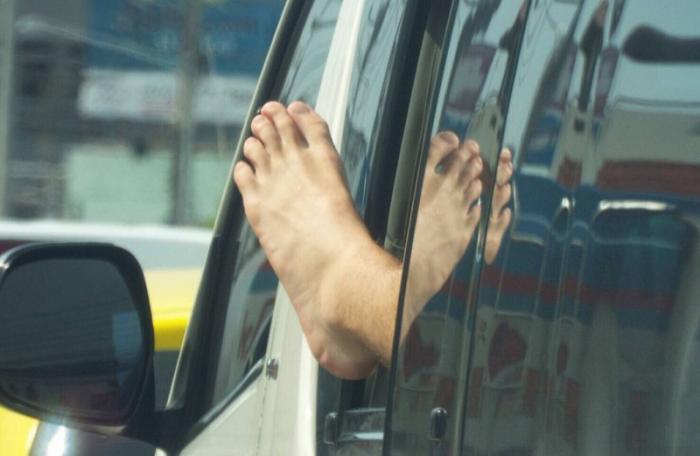 After battling numerous adversities, co-founding the Soi Dog Foundation with her husband John and establishing her legacy as a local hero, Gill Dalley succumbed to a short bout with cancer. STORY HERE.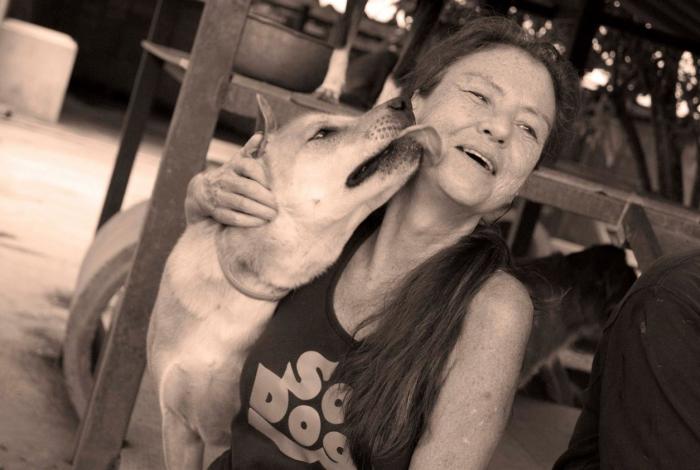 A young Australian couple had their holiday cut short when 20 year old Emilie Collie was hit by her boyfriend in a jet ski collision. Emile died and her husband would have to face up to court in Phuket several months later. STORY HERE.

March
Laem Singh Beach was in the headlines in March. This time it wasn't over sun lounges or encroaching restaurants. It was the closure of the private land which was the only land access down to the beach which pretty much closed the beach to the public. STORY HERE.
In the battle against the zero-dollar tours, mostly Chinese tour companies, buses were seized and auctioned off by the Anti-Money Laundering Office. STORY HERE.

A Phuketian was swindled out of millions in a dodgy loan scheme. STORY HERE.
April
Nah Harn beach had an additional visitor, a metre-long monitor lizard. Beach lifeguards came to the rescue… STORY HERE.

Probably the most gruesome story of 2017, and there were a few, of a 21 man and his 11 month baby in an apparent murder-suicide. In this case he decided to broadcast the murder on Facebook Live. STORY HERE.
It wasn't the first, and it wouldn't be the last in 2017 – a 10 year old Russian boy injured in a parasailing accident at Karon Beach. STORY HERE.

May
Most weeks there is some small local gambling raid. This one was massive netting 63 gamblers and 2 million cash on site. STORY HERE.
Cock-fighting still happens around the island. In May a big gambling ring was busted and 15 arrested. STORY HERE.
After 23 years serving the island with its own newspaper, Phuket Gazette stopped printing its weekly edition. STORY HERE.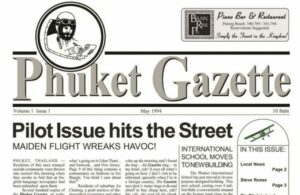 Tuk Tuks get enough bad press without two frisky Russians having sex in the back of one on their way back to their hotel. Of course the photos ended up on social media. STORY HERE.
June
Another bus crash on Patong Hill, this one when a bus collided with a motorbike, killing the driver of the motorbike and sending the 30 Chinese tourists to hospital. STORY HERE.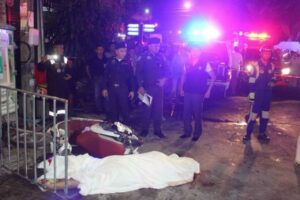 The newly opened terminal for Phuket Airport's international flights came under fire when 'Well known Thai actor Krirkphol Masayavanich' posted about the 'filthy stinking toilets'. STORY HERE.
A bad month for the Aiport when a ceiling in the under-construction domestic terminal, fell on an unsuspecting local tourist. He was heading for Bangkok but instead ended up in hospital. STORY HERE.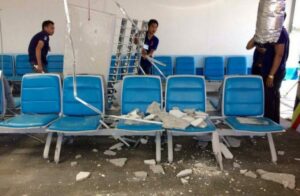 July
Boat collisions are a regular occurrence but this accident off James Bond Island in Phang Nga injured 16. STORY HERE.
It's not tourists that get scammed. Locals fall for scams as well. These Phuketians were upset when magic religious amulets they'd paid 100 million baht for didn't deliver the 'magic' they'd hoped for. STORY HERE.
A 71 year old from Perth, Australia, was the most high-profile parasailing death in 2017. A wealthy businessman, the incident received a lot of publicity in his homeland and in international media. STORY HERE.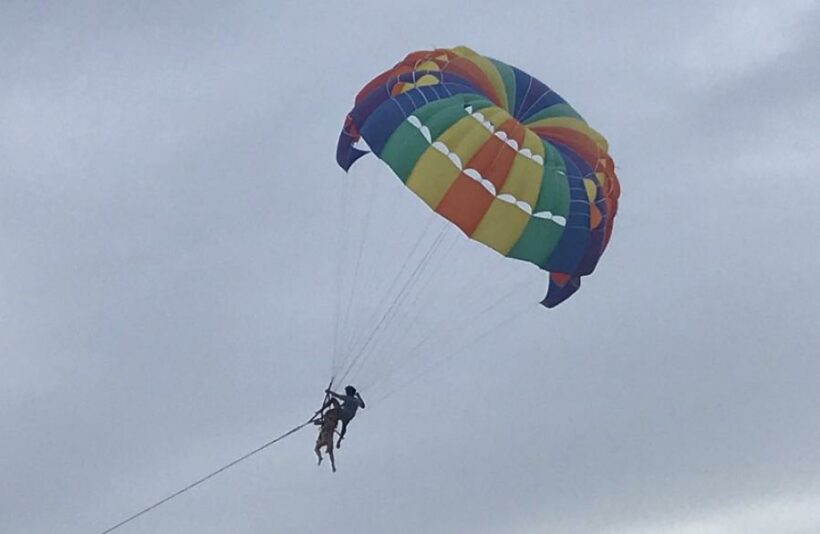 After ceasing its printed edition just two months before, Phuket Gazette decided to call it a day and close up shop, selling their digital assets to a Hong Kong joint venture company 50% owned by Phuket's The Thaiger Co. Ltd. STORY HERE.
Just off the island in nearby Krabi, the worst mass murder in 2017, with eight executed over a local land disputes. STORY HERE.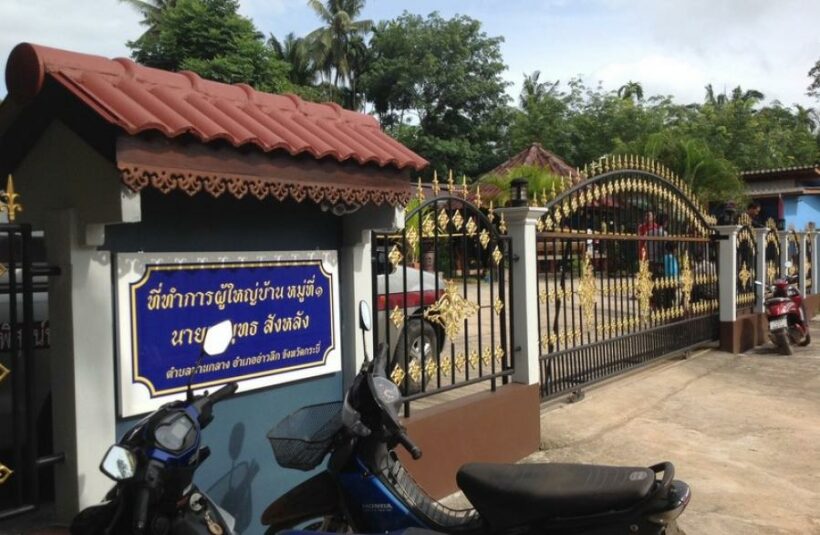 Two Chinese tourists died in yet another bus cash at the bottom of Patong Hill. A father and his ten year old son succumbed to their injuries and another 22 ended up in hospital. STORY HERE.
The island attracted new sporting events including this one, Nation Bike Thailand 2017, which attracted more than 4,000 cyclists. STORY HERE.
August
It was the start of one of the most popular stories in 2017. A 3 metre crocodile was spotted off the beaches in front of Laguna. The capture and subsequent investigations into 'Laypang' the crocodile would be a popular click for the rest of the year. She'd eventually end up at the Phuket Zoo. STORY HERE.

Wet season and floods go hand in hand. 2017 was no different with sever flooding prompting the usual 'didn't we fix this last year' response. STORY HERE.
How much would you pay for a number plate. One million baht? Plenty coughed up big money to get their hands on special numbered plates at a Phuket Town auction. STORY HERE.
Jonathan Head, the BBC's south east asian correspondent, fronted Phuket Court in a high profile defamation case. The case was thrown out of Court. Jonathan returned to Bangkok to keep posting for the UK broadcaster. STORY HERE.

The carnage across Patong Hill prompted a bus and truck curfew that continues until now. STORY HERE.
A sad tale of a 32 year old Krabi worker in a Patong hotel who dropped his keys down an elevator shaft and went to find them. STORY HERE.
Topping off a few very bad months for bus crashes over Patong Hill, this bus careered over the side on its way down the hill just before the hair-pin turn at the bottom. Luckily a mains water pipe stopped it falling right down the hill. Two ended up in hospital in serious condition. STORY HERE.

September
After years of too much tourist love, Maya Bay would be closed for three months next low season. We suspect it might take three decades to recover, not just a few months. STORY HERE.
September must be the season for the pink 'fire jellyfish'. They were spotted at quite a few beaches around Phuket, including at Koh Phi Phi. STORY HERE.
Kosimby Road on Khao Rang was closed for a projected nine months of repairs after huge cracks appeared on the popular cliff-side road winding up and down the hill. STORY HERE.
Share bike. Seemed like a good idea. But Phuketians didn't quite know what to do with the new yellow bikes. Another story that kept us clicking for the rest of 2017. STORY HERE.
Monkeys. When they're not pinching tourist's iPhones, they breed. And that caused problems at a few key tourism spots around Phuket. So authorities decided it was time to find a new home for the amorous monkeys. STORY HERE.
Easily the most shameful story from 2017, it was revealed that 40 men from a local Phang Nga village had been raping a 14 year old for nearly 12 months. STORY HERE.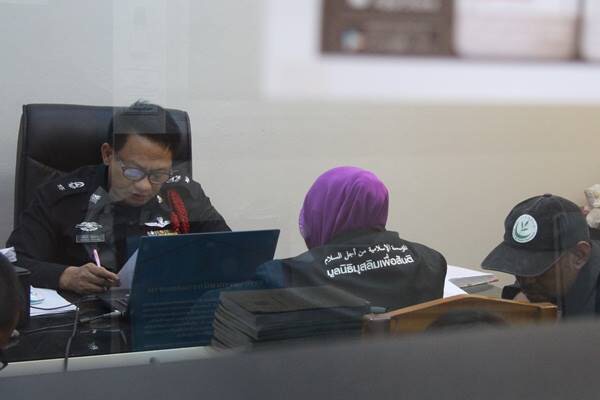 October
A 42 year old Russian drowned whilst swimming at Karon Beach. It capped off a bad weekend where nine Russians had been saved from the surf just the day before at Nai Thon and norther beaches. STORY HERE.
Bangla Road is a constant source of stories, mostly minor scams and scuffles. But the shooting at the Hollywood Disco was a story no one wanted to hear. STORY HERE.
Sun lounges, umbrellas, beach-side restaurants, vendors. Now cigarettes were to be banned at some chosen beaches around Thailand, including Patong, in a pilot program that we predict will become the norm at all beaches around the Kingdom. STORY HERE.
The new share-bike program had a shaky start. Six were found in a canal, dumped. STORY HERE.

The usual 'negotiations' over the annual lifeguard contract got serious this year when a resolution couldn't be found and the Or Bor Jor decided to take on the task themselves whilst hunting for another contractor. It didn't go very well. STORY HERE.
The first Run2Gether was a great success. A tour around Phuket Town where abled and disabled people joined together in a first event of its kind on the island. STORY HERE.
November
The end of an era with the Phuket FC succumbing to debt and mismanagement. The final part of the saga played out when disgruntled players sued over their contracts. STORY HERE.
There are many buses on the island, not all of them are in good condition and a new coat of paint merely covering up old problems. This bus had a fiery finish. STORY HERE.

The Thai Government has been serious in its endeavours to root out corrupt officials. A local Facebook blogger had enough, his post 'naming names' went viral and the fallout continues… STORY HERE.
A world champion in our midst when local surfing and flowboard maestro, Annissa Flynn, won the Worlds in Cancun, Mexico. STORY HERE.

A 50 year old British couple went online to seek money to get home after a horror holiday on the island. A great idea but it was all a scam. STORY HERE.
December
The 10% zones have been operating for 11 months, complete with umbrellas, sun lounges and vendors. But we had plenty of people telling us that the 10% zones seemed to be magically growing. STORY HERE.
Another gruesome find. This time for a Thalang driver that had his car keys fall down a drain. He used his smartphone torch to help him look down the drain and found a lot more than his keys. STORY HERE.

When you think about Patong you don't usually think about a pretty waterfall cascading down a hill. But the Bang Kee On waterfall was rediscovered, spruced up, some land bought by the council and re-opened to the public. The water fall was visited by the late King Bhumibol in 1959. STORY HERE.

Another of the new sporting events coming to the island pushed the annual Laguna Marathon numbers way down into second place with over 10,000 runners coming to Phuket for the first Phukethon marathon and fun run. STORY HERE.
Not a smart idea, and this Ivory Coast woman will front up to court in 2018 trying to explain how over a kilo of cocaine was found in plastic pouches in her stomach after she landed at the airport from Oman. STORY HERE.
A story we don't want to end up with but Thailand's road toll continues to plague the Kingdom and Phuket. The first death in the annual 'seven days of danger' was recorded on December 29. STORY HERE.
News
Phuket News

Join the conversation and have your say on Thailand news published on The Thaiger.
Thaiger Talk is our new Thaiger Community where you can join the discussion on everything happening in Thailand right now.
Please note that articles are not posted to the forum instantly and can take up to 20 min before being visible. Click for more information and the Thaiger Talk Guidelines.