Widespread graft exposed in Phuket police case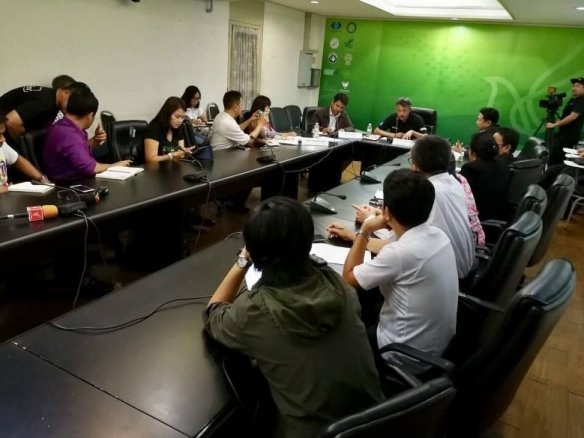 In the wake of the corruption investigation focusing on Phuket police, academics and stakeholders told a seminar held by the watchdog Police Watch that business operators on the island face police extortion worth millions of baht per month.
The seminar was held at the Thai Journalists Association in Bangkok on Sunday. Thammarat Suwanphosri, founder and administrator of the "Spotlight Phuket" webpage, said he had filed complaints with Prime Minister Prayut Chan-o-cha and the Royal Thai Police's Inspector-General's Office about extortion in Phuket, citing increasing amounts being demanded for bribes and unnamed "good" officers who wished the issue to be exposed. In the past week, several police officers have been transferred as a result of the investigation.
Thammarat said the practice of demanding bribes had several root causes, included that police positions had to be bought at five key precincts, prompting officers to demand bribes to compensate for the payments.
The Patong area has seen the most bribes with 8 million to 22 million Baht being collected per month from several business groups, including those involving immigrant workers, entertainment venues, shops selling counterfeit goods, football gambling and illegal lottery bookies, Thammarat said. He added that a Phuket construction camp that used to pay 1,000 Baht per employee per month in bribes was now being charged 10,000 Baht per employee.
Pol Colonel Wirut Sirisawat-dibutr, former deputy commander at the Inspector-General's Office and an adviser on police reforms, said there should be a "Spotlight Thailand" for the entire country to fight corruption. The issue of bribery did not just affect businesses, he said, but also caused consumers to pay higher prices.
Wirut said Phuket was troubled by multiple forms of bribe-taking, including extorting money from heavy trucks to allow them to travel the roads, resulting in pavement damage that leads to higher accident risks and the Highway Department having to pay millions of baht each year for repairs.
He asked the National Anti-Corruption Commission (NACC) to take action based on the NACC Act's Section 103, which prescribes punishment for people who illegally acquire assets worth more than Bt3,000. At present, he added, no one was being punished under the measure intended to curb bribery.
He said criminal charges also seemed to target only the officials who actually collected the bribes, instead of the higher-level beneficiaries of the graft, so tackling the issue must be done systematically.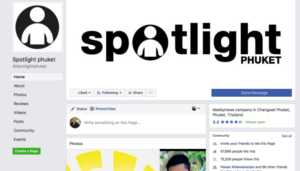 STORY: The Nation
Keep in contact with The Thaiger by following our
Facebook page
.
Never miss out on future posts by
following The Thaiger
.
UPDATE: World Covid cases surge again, US reports 81,000+ cases in past 24 hours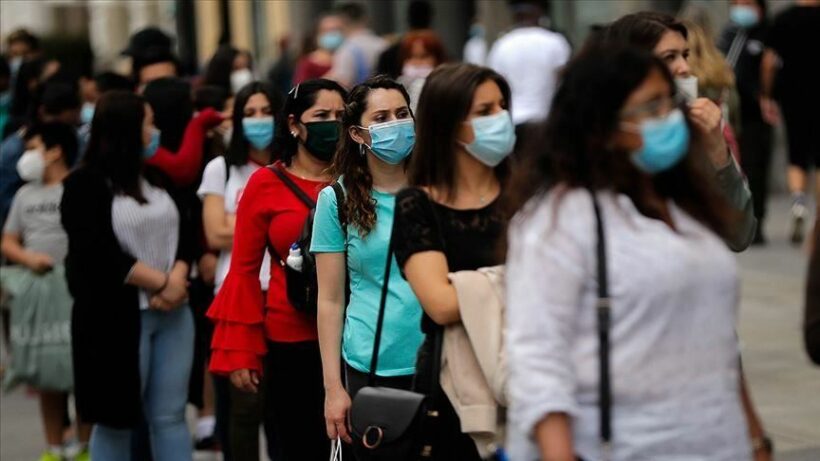 Both the rate of new infections and deaths from the coronavirus has begun to spike in the worldwide totals again with some countries and locations having to go back into lockdowns for a second or third time. In the US and parts of Europe a major new surge of cases is concerning health authorities, especially as these countries are now heading into cooler weather, and people gathering indoors.
As of Saturday morning, Thai time, a total of 42,462,925 people have been infected worldwide with Covid-19, 1,148,698 have died and 31,417,499 have recovered.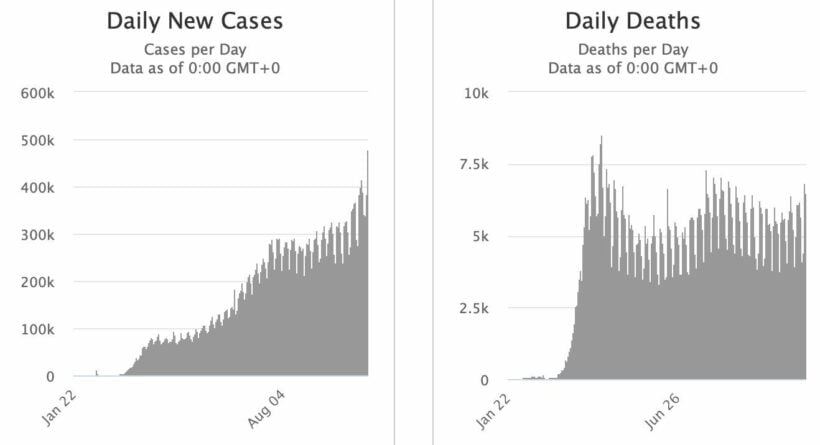 The following graph shows today's top ten countries with the most new infections in the past 24 hours…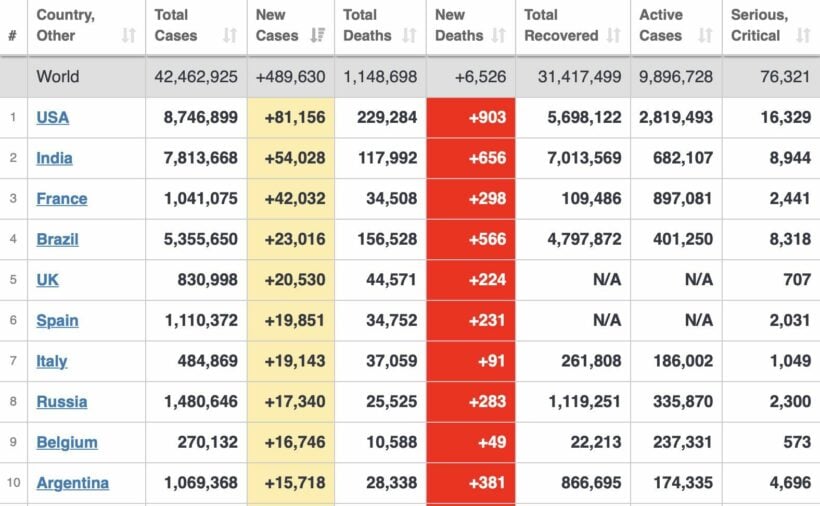 SOURCE: worldometers.info
Here's a summary of some of the main world Covid-19 headlines…
ITALY
Italy has recorded another record with 19,143 new coronavirus cases in the last 24 hours. That's up from Thursday's record of 16,079 new coronavirus cases. 91 coronavirus deaths were also reported on Friday. The governor of Campania in Vincenzo De Luca has made a formal request for a national lockdown and says he will close his region "for 30 to 40 days" to try and control the recent surge.
The governor of Lombardy lamented that it is a "dramatic situation." Lombardy was the epicentre of one of the first, and most dangerous. clusters in the world after the virus first spread out of China.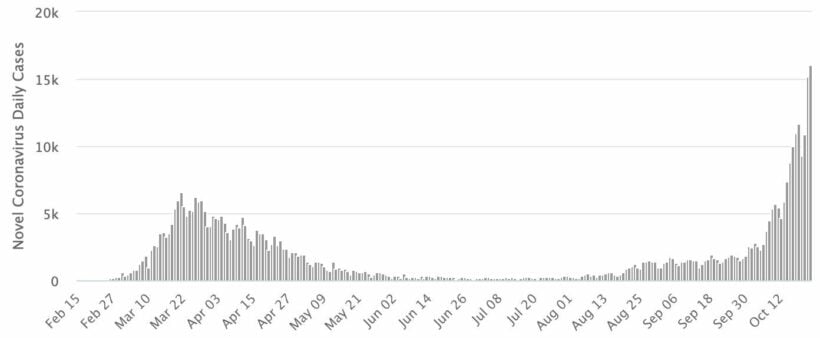 GRAPH: New cases surging across Italy – worldometers.info
US
A study from the Covid-19 forecasting team at the University of Washington's Institute for Health Metrics and Evaluation reports that… if 95% of Americans wore masks in public, more than 100,000 lives could be saved from Covid-19 over the next 4 months.
In a survey done in September, only about 49% of US residents reported that they "always" wear a mask in public.
The study calculated that, if the current extent of mask-wearing were to continue, and states continue with removing social distancing mandates, the death toll across the US from Covid-19 could reach about 1 million deaths by the end of February.
"The study had some limitations, including that the findings are only forecast projections from models and not definitive of what the future holds."
The IHME Director Dr. Chris Murray maintains that the study still helps offer insight into how mask-wearing can make a difference.
URUGUAY
Uruguay is closing its borders during the summer season as a program to help curb the spread of Covid-19. Uraguay's President Luis Lacalle Pou says that it will be "a restricted summer".
"The borders will be basically closed, with exceptions that are already known and perhaps some more.
"Because today there are many cases, or several cases, in the education sector, we have decided to suspend face-to-face classes for two weeks."
"Public safety measures will be enforced… avoid large gatherings and parties. We will be very strict when it comes to the topic of parties."
Uruguay, with a total population of 3.5 million, has reported at least 2,701 confirmed new cases of Covid-19 and 53 deaths as of Friday morning and shares borders with Argentina and Brazil, both heavily impacted with a rise of Covid cases.
FRANCE
The head of infectious diseases at Tenon Hospital in Paris, Gilles Pialoux, says France is paying the price for ending the coronavirus lockdown too quickly.
On Thursday, France announced 41,622 new cases, and on Friday 42,032.
It will be "really difficult to avoid a second lockdown given the circulation of the virus."
Gilles says local lockdowns or lockdowns "by population group" could be the solution. The doctor added the circulation of the virus among the "20-30 year old age group was far beyond the rest of the population".
EUROPE
5 countries with the highest rate of new Covid infections, when measured against population, are all in Europe.
They are the Czech Republic, Switzerland, France, Belgium and The Netherlands. The number of new infections has risen sharply since the start of October, and continues to surge as the European autumn sets in.
As of last Thursday, the Czech Republic had a rolling daily average (across five days) of 10,579 new cases, meaning 988 new infections a day per 1 million population, a four-fold increase since the start of October. Belgium, was in the same situation with an average of 891 new infections per million residents as of last Thursday. The two countries have by far the highest rate of new Covid-19 infections.
UK
The UK has seen a sharp increase in its rolling averages during October, from 9,729 new cases to 19,290 per day. And the situation in Spain is less dramatic "but the daily average remains stubbornly high". Infections per million are lower in other European countries, but they are still rising.
In comparison, the rolling averages of new cases in India and Brazil continue to fall, while the US is seeing a gradual but persistent rise. Its rolling average has risen from 43,089 at the start of October to 59,387 this week, representing 179 new cases a day per million population.
The UK's economic recovery after the first wave of the Covid-19 pandemic has now flattened out and threatens to reverse and trigger a double-dip recession. The government has announced new restrictions to tackle the second wave which are expected to stifle business activity.
A new survey of business activity indicates private sector growth in the UK falling back as hospitality and transport companies struggled to cope with regional lockdown measures.
US
As autumn spreads across North American, 25 states in the US are reporting rising Covid-19 infections. White House Coronavirus Taskforce officials say there are "early signs of deterioration in the Sun Belt and continued deterioration in the Midwest and across the Northern States".
Last Wednesday, at least 14 states had recorded their highest seven-day average of new daily cases, according to Johns Hopkins University. Including Alaska, Colorado, Idaho, Illinois, Indiana, Kansas, Kentucky, Michigan, Montana, New Mexico, Ohio, Utah, Wisconsin, Wyoming.
Meanwhile, more than 41,000 people are currently hospitalised with the coronavirus across the country, according to the CovidTracking Project. Missouri and Idaho health officials say they'll "soon be facing a crisis if hospitalisations continue to surge".
The US reported the highest daily death toll in more than a month, with more than 1,100 new deaths.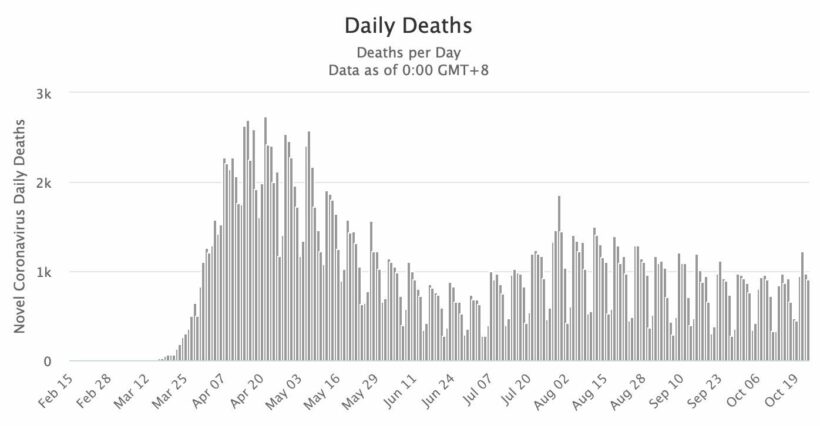 Keep in contact with The Thaiger by following our
Facebook page
.
Never miss out on future posts by
following The Thaiger
.
57 year old woman tests positive for Covid on Samui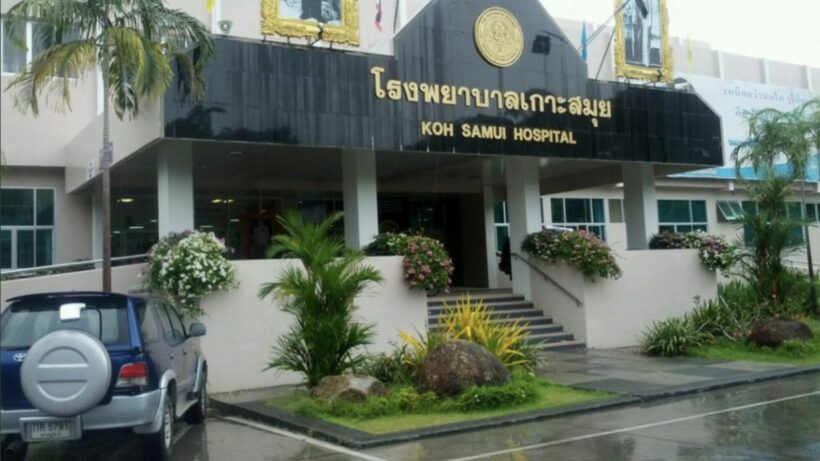 A 57 year old Frenchwoman has baffled Thai medical officials with her quarantine-defying positive test for Covid-19.
The woman had been living on Koh Samui since returning from 14 days of quarantine. Whilst her positive status had become a hot topic on Samui over the past 24 hours, it took until this afternoon for Dr Sophon Iamsirithaworn, Director of the Bureau of General Communicable Diseases, to confirm the situation at a media conference in Bangkok.
The woman, together with her husband and child, originally tested negative, twice, during her 14 day mandatory stay at an Alternative State Quarantine facility in Samut Prakan, just south of Bangkok. After that the woman showed some symptoms and tested positive, 5 days later.
At this stage the woman's husband and child have tested negative for Covid-19 following the confirmation of her infection. She is now being treated for her symptoms at the Koh Samui Hospital whilst her husband and child are being kept under observation.
Officials are now in the process to see if the patient could have contracted the disease AFTER her quarantine.
Her family have a home on Koh Samui. They arrived in Bangkok on a Thai Airways flight from Paris on September 30. They were quarantined in Samut Prakan for the mandatory 14 days before they could return to Samui on October 15. Then she developed a fever 2 days after arriving back on the island but stayed at home for a few days before going to a private hospital for another test last Tuesday. 2 days later the positive test was announced.
Now authorities are trying to figure out if the woman was infected whilst in Thailand.
Public health officials have tracked down and tested 15 people who they believe could be at "high-risk" of infection. They've all been isolated until their results are confirmed. Another 42 people are "under observation" and considered at "low risk".
SOURCE: CSSA | Bannkok Post
Keep in contact with The Thaiger by following our
Facebook page
.
Never miss out on future posts by
following The Thaiger
.
TAT announces update to compulsory Covid-19 insurance for foreign visitors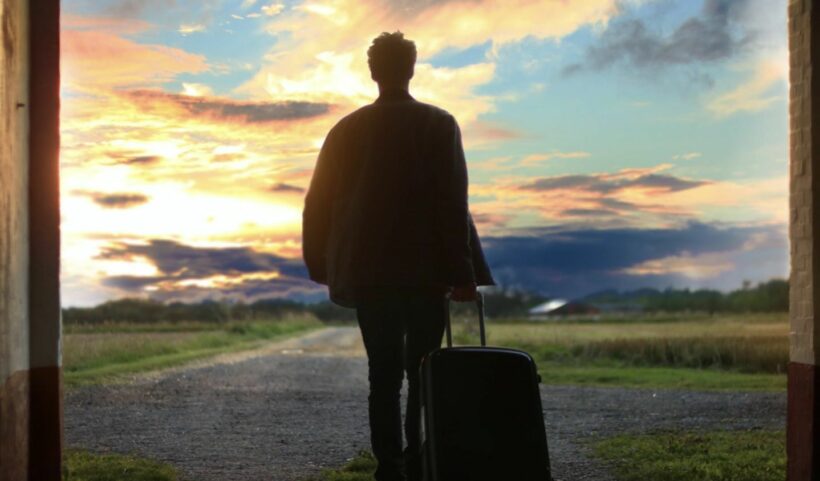 The Tourism Authority of Thailand has announced today an update about compulsory Covid-19 insurance. They say it's now "conveniently" available online in a one-stop-shop. Up to now the compulsory Covid-19 insurance, a pre-requisite before foreigners can come to Thailand, under any visa, was through selected insurance providers at their own websites. The Thailand Office of Insurance Commission has allowed the review of its policy, making it easier to find and purchase the compulsory insurance.
"Foreign travellers will enjoy the following advantages of purchasing an OIC-endorsed medical insurance policy, which is available online HERE."
The update provides additional clarity and ease for people looking to travel to Thailand at this time.
"The Tourism Authority of Thailand is pleased to share the latest announcement that foreign visitors will be able to purchase compulsory Covid-19 insurance policy online prior to visiting the Kingdom."
TAT Governor, Yuthasak Supasorn says the compulsory insurance is part of any package of documents that will need to be completed by foreigners entering Thailand at this time.
"A medical insurance policy with at least US$100,000 coverage or about 3.16 million baht for possible Covid-19 treatment is among the official documents required from foreign visitors planning to visit Thailand."
"TAT hopes the Covid-19 insurance protection program, under the regulation of the OIC, offers additional peace-of-mind for foreign visitors and hopefully makes it easier for inbound travellers before departing from their country of origin."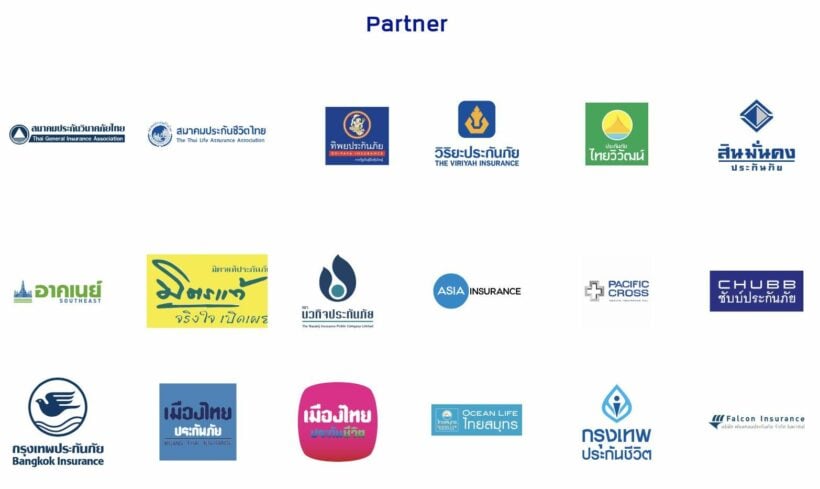 The Thai General Association and the Thai Life Assurance Association, plus 16 leading and non-life insurance companies in Thailand are partnering together with the oversight according to regulations from the OIC to offer the Covid-19 insurance protection program to foreign visitors.
The insurance policy has been approved by the Thai government and can be used in the Thai visa application process. Coverage begins immediately upon arrival in Thailand.
No need for advance payment or out-of-pocket expenses when admitted at private hospitals nationwide. Insurance coverage does not exceed US$100,000 or about 3.16 million Baht.
In the case of death from Covid-19 infection, the insurance company will provide a life insurance benefit of USD $100,000 or about 3.16 million Baht to the beneficiary.
The insurance premium cost is reasonable, the process is overseen by the OIC, and purchase can be done efficiently online.
Thailand's public health infrastructure and healthcare facilities, as well as healthcare professionals are recognised as some of the best in Asia for treating infectious diseases.
Here's an example of some of the costs for packages that vary from 30 days to 1 year. The premiums range from 1,600-4,800 Baht for 30 days of coverage; from 2,880-8,640 Baht for 60 days; from 3,840 – 12,160 Baht for 90 days; from 7,680 – 23,040 Baht for 120 days, and from 14,400 – 43,200 Baht for one year.
The Thaiger recommends that, before you make any other travel arrangements about a trip to Thailand, including the booking os flights or ASQ hotels, you should make general enquiries at the Thai Embassy or Consulate-General in your country.
SOURCE: TAT
Keep in contact with The Thaiger by following our
Facebook page
.
Never miss out on future posts by
following The Thaiger
.