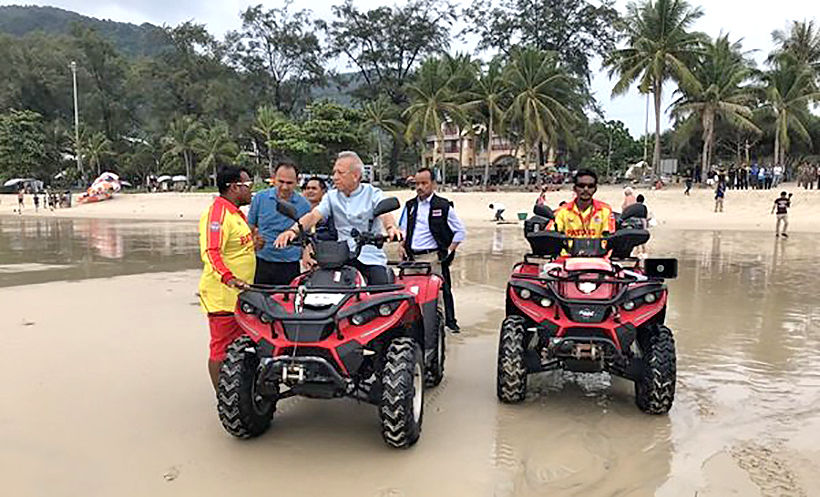 PHOTO: Pipat Ratchakitprakarn, Thai Sports and Tourism minister, on his weekend fact-finding mission – Manager Online
Thailand's new Sports and Tourism minister says that the drop in tourism in Thailand has been greatly exaggerated in the media.
Pipat Ratchakitprakarn, for whom it is very difficult to find any information online about his past posts or qualifications, told reporters in Phuket at the weekend that Phuket is not "lifeless" as some media have suggested.
According to Manager Online, the Minister conceded that it may be "a bit down" but things are not as bad as some media have reported.
The Minister says that Indian visitors are "on the up" and there are more and more charter flights landing in Phuket. He said that the government had a target to "raise tourism revenues to 30% of Gross Domestic Product" within two years (that's a direct translation from the Minister's mouth).
"To achieve this all ministries such as the ministry of interior, transport and the environment must work closely with the ministry of tourism and sports."
He told Manager Online that his purpose in visiting Phuket was to hear the problems that operators and people on the ground are facing.
"Phuket does not have a low season or a high season – it is a 365 day a year tourism place," he told the rather bemused Phuket media pack.
The Minister says he wants to make Thailand a "hub of ocean-going tourism". With this in mind he wants to attract cruise ships to Phuket that would take tourists around the Malay peninsular.
During his fact-finding missing to the island, the minister attended lifeguard training at Patong and a football tournament.
The Thaiger has reported that anecdotal reports from tourism operators and hoteliers say that tourism was at least 30% down during April and May. The claims of the 30% figure were also backed up by the local President of the Thai Hotels Association. Read that report HERE.
But a report by our regular 'guest reporter' on Phuket hotel matters says that bookings are already strong for September and October and that the signs are good for the next high-season. Read that story HERE.
Also a story about about 55 new hotels planned or under construction on the holiday island HERE.
SOURCE: Manager Online