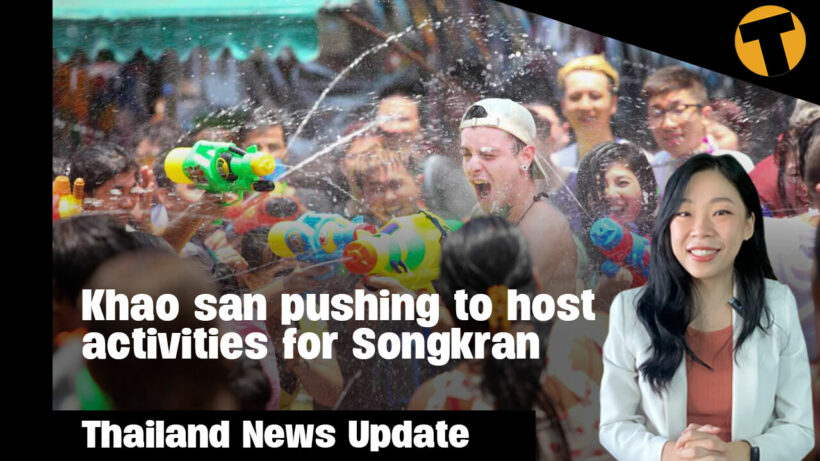 Business owners on Bangkok's Khao San Road are pushing for government officials to allow the popular nightlife district to host activities for Songkran, the Thai New Year which is celebrated with massive water fights. Well, that was in the past… this year it's certainly going to be a much-diluted celebration. Khao San Road has become known as a top destination for backpackers on a budget with cheap beer, buckets of alcohol, laughing gas balloons, and scorpion-on-a-stick. Bars and nightclubs have faced numerous closures since the start of the pandemic, but Khao San was one of the first nightlife areas in Bangkok to reopen, first requiring those entering the street to show proof of vaccination or a negative ATK test. Since then, the bars on Khao San have been crawling with people. Despite the general ban on nightlife in Bangkok, Khao San Road has been busy over the past few months… bans or not. Last week the CCSA announced that the annual massive water fights would be banned during this year's Songkran holiday. They've given the okay for some events, but without alcohol. This would be the third year that Songkran water fights are banned around Thailand, but the president of the Khaosan Road Business Association says it would be a shame if Thailand missed out on yet another opportunity to attract international travellers during the Thai new year. He added that businesses in Khaosan are prepared to follow the safety requirements such as the 5,000 limit on attendees and the Covid-19 testing at entry points.
---
The government is being urged to maintain its energy price subsidy program and to focus on businesses and households in urgent need of help, instead of implementing a broad subsidy. Thailand's former energy minister says he wants the government to better manage the Oil Fuel Fund. He says that if the government becomes more selective in helping the worst-affected people, it will save more money and then be able to use it for the most important projects. Authorities are using the fund to cap diesel prices at below 30 baht a litre and subsidise prices of liquefied petroleum gas, which is used as cooking gas and compressed natural gas, which is also used in the transport sector. Prices of petrol, and other energy prices, have spiked over recent months as a result of surging global oil prices, inflation and concerns from the ongoing war in Ukraine.
---
Thailand's main opposition party is now closer to choosing their candidate for prime minister and reports say the daughter of former PM Thaksin Shinawatra might run as the party's candidate. Thaksin's daughter, Paetongtarn, was announced as the project leader for a Pheu Thai party campaign to draw in new members, but when asked about becoming a candidate for prime minister, she said it was too soon to say, adding that Pheu Thai has many qualified members. Becoming the project leader was another step ahead in Paetongtarn's career as a politician, following her role in charge of promoting innovation and increasing public engagement of all ages in the Thai Rak Thai party created by her father. Paetongtarn has been working to increase the total numbers of Pheu Thai members from 8 million to 14 million as the party gets ready for the general election, which is scheduled for next year. Two other members of the Shinawatra family, Thaksin and his younger sister, Yingluck, were both elected prime ministers for Thailand but were ousted by military coups. Both Thaksin and Yingluck currently live outside of the country as fugitives.
---
Thai authorities have caught a man with an endangered tortoise he reportedly caught in a wildlife sanctuary and planned to cook up and eat. The man was found in the southern province of Prachuap Khiri Khan province with firearms and a yellow elongated tortoise which he claimed he was cooking. The man faces charges relating to illegally entering a wildlife sanctuary, hunting wild animals without permission and illegally carrying firearms.The 62 year old was caught red-handed by the head of a wildlife sanctuary. He also had a shotgun with 11 rounds of ammunition, a head torch and an elongated tortoise which he was in the process of cooking. The elongated tortoise is listed as endangered by the IUCN Red List of Threatened Species and is under extreme pressure from illegal hunting.
---
After a non-native species of crayfish was discovered at a Northern Thailand waterfall, people are discussing the possible effects the alien species might have on the environment. A photo of a Redcraw crayfish, originating from Australia, at a waterfall in Phetchabun, is sparking a debate about the potential damage this "freshwater lobster" can cause to the local ecosystem. Crayfish are a type of freshwater crustacean native to North America, Europe and Oceania. To date, over 500 species of crayfish have been discovered in a variety of colours. The Redclaw crayfish can reach up to 600 grams in weight and eats smaller aquatic organisms. If a water source has large numbers of these species, it could cause local species of fish to go extinct. Many are considering the appearance of this crayfish a sign of danger. Redclaw crayfish are a non-native species so anyone who wishes to grow and sell them in Thailand is, officially, required to get a license. The current recommended solution to the problem of wild Redclaw crayfish is catching and eating them, so many Thais are sharing their recipes for Redclaw crayfish in the comments beneath the Facebook post. That sounds like a good solution!
---
Now that kratom is legal in Thailand, one woman in the Isaan province of Buriram is dressing up in a bear costume and standing on the side of the road to attract business. Apparently, it has worked and her roadside sales of kratom leaves have shot up to over 1,000 baht per day. The 40 year old from Udon Thani has had a change in career after losing her factory job due to the Covid-19 pandemic. Monradee says she has two children to support and was quickly forced to find an alternative source of income. Monradee chose to sell kratom, a Thai herb that was decriminalised last year, on the roadside in Buriram. It seems she soon found her 'bear-ings'.Monradee invested 700 baht in a bear costume and has been making over 1,000 baht per day in kratom sales ever since. She says that lots of parents stop by and buy from her stall because they want their children to take a picture with the kratom bear. Kratom is a plant known for its opioid and stimulant-like effects. Kratom has been used in all parts of Thailand for a long time, often in traditional medicine or by farmers who chew the plant's leaves to sustain their energy levels while working in the fields.

Join the conversation and have your say on Thailand news published on The Thaiger.
Thaiger Talk is our new Thaiger Community where you can join the discussion on everything happening in Thailand right now.
Please note that articles are not posted to the forum instantly and can take up to 20 min before being visible. Click for more information and the Thaiger Talk Guidelines.