Thailand News Update | North Korea shares coding knowledge with Thailand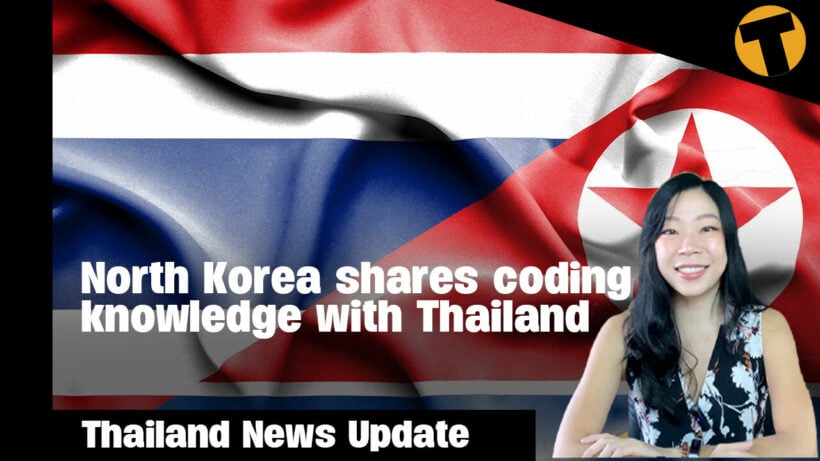 Another big day for the CCSA as we hope to see some decisions coming out that will ease current restrictions or further modifications to the Thailand Pass. On the agenda, the possible removal of the pre-arrival PCR test, a lowering of the insurance amount from 20,000 to US$10,000, allowing Thailand's nightlife to officially reopen and even a possible relaxation of the face-mask rules. We have a team following all this today and will be the first with the announcements when they come to hand on thethaiger.com
---
After getting flak over its mostly neutral stance over the Russian invasion of Ukraine, the government is now drawing criticism over a meeting with another international pariah. A meeting on Wednesday between Thailand's committee on computer coding and the North Korean ambassador has drawn swift criticism from Thai netizens. The vice president of the committee made a post about the meeting on her Facebook page, saying the committee met with the diplomats at the Embassy of the Democratic People's Republic of Korea in Bangkok to discuss working together on coding projects. The Facebook post drew negative comments and has since been taken down. The committee and other authorities met with the North Korean ambassador, Kim Je Bong, yesterday to discuss the coding studies and projects to improve knowledge of coding among Thais.The Thai cabinet had appointed the national coding committee to encourage computer coding learning for primary school to high school students to keep up with today's learning standards. Students would first learn critical thinking and problem solving skills, which are fundamental skills for computer coding.
---
Thai police have cracked down on the sales and production of fake PCR Covid-19 test results as well education certificates and other documents needed for jobs overseas. Three people, who police suspect are part of a large network, were arrested for allegedly posing as medical practitioners selling the forged documents. The Department of Health Service Support received complaints about the sales of fake Covid-19 test results and authorities found a website offering PCR tests for 890 baht with results back within an hour for those travelling internationally. An undercover officer pretending to be a customer contacted the website on the Line messaging app. He was asked to provide his name, age, and a date for the lab test result. The test result was issued in 15 minutes and police say the document was fake. The PCT Laboratory Service was named in the document, but the company denied providing it and later made a police complaint against the fraud documents. Police say they discovered the network earned about 300,000 baht from November of last year to January from the fake Covid-19 test results scam and made 5 million baht from selling other fake documents during that same time period. Officers say the gang also ran another website selling education certificates, like master's degrees, with prices ranging from 1,500 baht to 7,000 baht. They also allegedly faked driver's licenses, identification cards, car registration documents, land title deeds, and license plates.Police tracked down three suspects who were between the ages of 22 and 26. The suspects face charges for conspiring to use fake documents, tricking others into believing they were professionals in medical technology, and arranging to provide or offer services through fake documents.
---
Two anti-viral medications will be added to the Covid-19 treatment plan in Thailand. The Department of Medical Services shared that the Molnupiravir and Paxlovid medicines have been approved for treating Covid-19 patients in Thailand. Molnupiravir is intended to treat high-risk groups like elders and patients with chronic diseases. Relevant departments are also discussing the use of Paxlovid. The primary Covid-19 medication, the anti-viral Favipiravir, will be limited for patients with moderate or severe symptoms only. The director of the department, Somsak Akkasilp, shared that the authorities will discuss the distribution and use details later. There will also be a study on the effectiveness of using Molnupiravir, Paxlovid, and Favipiravir to come up with a plan to use the medications reasonably and effectively. Recently, the authorities shared Home Isolation and Community Isolation would be the primary treatment provided to patients with mild symptoms.
---
The American fast-food hamburger chain, Carl's Jr., is saying goodbye to Thailand. All six of its stores in Bangkok and Pattaya will close by the end of the month. The R&R Restaurant Group, which owns the franchise rights to run Carl's Jr. chains in Thailand, says that it can no longer afford to keep operating. The group says it was forced to important ingredients solely from the US, adding that CKE Restaurants Holdings, the parent company of Carl's Jr, had set restrictions that simply made the Thai operation very expensive. Over the past year, the company says they tried to keep afloat, but decided to close as they could no longer afford the operating costs and ongoing losses. They told customers in a statement that, in addition to the import costs for ingredients, there has been a lack of foreign tourists, a large market for the burger chain. They also noted that, despite the challenges, at least one branch in Bangkok and one in Pattaya were quite popular and successful, even during the pandemic.In 2012, the burger franchise launched its first Thai location in Central Festival Pattaya Beach.
---
Three teenagers are missing after they went swimming in a river in the western province of Kanchanaburi after being dragged out by the strong current. The teenagers, along with a four year old child, were swimming in the Kwai Noi River when they were swept out far from the shore. A woman jumped into the water and managed to save the four year old child. Rescue workers are still searching the river to find 18 year old twins and a 15 year old. Kanchanaburi rescue workers and villagers from Thong Pha Phum district mobilised yesterday to look for the three teenagers. Rescue workers in wetsuits have entered the water to search and a boat has been sent out but the teenagers are yet to be found. Drowning remains the leading cause of death among children under 15 years old in Thailand.
---
One spicy som tam vendor in Buriram is bringing in 10,000 per day in sales… that's a lot of som tam. So what's her trick? Her unique marketing campaign. She posts photos of herself wearing a bikini top and lingerie while making the spicy papaya salad and posing by her shop. The sign for her shop is even a cartoon of a curvacious woman, lifting up her shirt to reveal her small, red bikini. Pookie's advice to other food merchants is, "if you've got it, flaunt it".She has, and she does.28 year old Pookie can be seen posing for photos in her bikini outside her shop "Namto Tam Pa" located in Dong Yai Pattana village in Buriram, northeast Thailand. Pookie's som tam stall has become so popular that her equally curvy friend has also stepped in to help, not only by serving customers, but also by joining Pookie in her bikini photos to help accelerate her marketing campaign.Som Tam
Som Tam vendors in BuriramAt first, Pookie posted a photo in her bikini at her shop on Facebook and received so much criticism that she lost confidence and wouldn't open her shop out of fear that she would be reprimanded by local authorities. But everything changed for Pookie once she stopped caring about people's opinions and opened her shop anyway. Now, Pookie is answering 300 calls a day from customers in Buriram and surrounding provinces. Pookie even has one customer all the way in Nong Khai, over seven hours away on the border of Laos.Pookie says all she cares about is that she is generating more income for her and her family.
Video

Join the conversation and have your say on Thailand news published on The Thaiger.
Thaiger Talk is our new Thaiger Community where you can join the discussion on everything happening in Thailand right now.
Please note that articles are not posted to the forum instantly and can take up to 20 min before being visible. Click for more information and the Thaiger Talk Guidelines.