World
UPDATE: Trump says he is "starting to feel good" after being hospitalised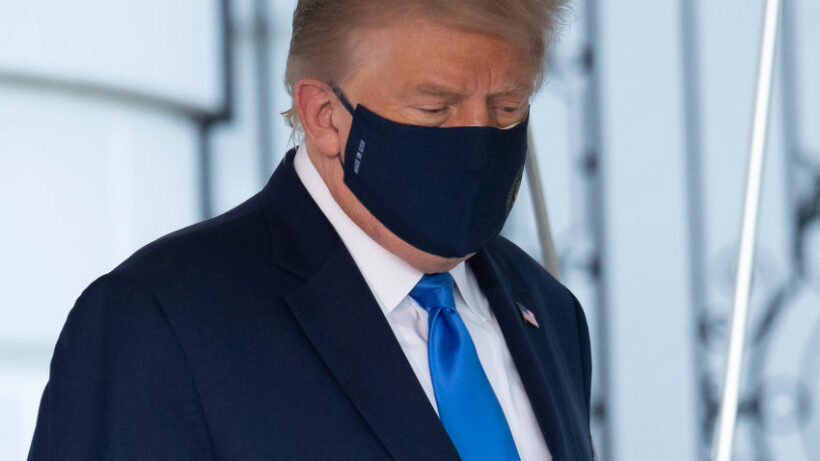 After being transferred to a military hospital a mere 17 hours after being diagnosed with Covid-19, US president Donald Trump says he is "starting to feel good" as the White House published pictures of him working from his hospital bed.
But his recent statement is contrary to some reports that his oxygen levels had 'dropped rapidly' with White House officials refusing to categorically confirm or deny whether he was put on supplemental oxygen. The White House physician, Sean Conley, has also refused to disclose the President's temperature.
"I'd rather not give any specific numbers but he, but he did have a fever, Thursday into Friday, and since Friday morning, he's had none."
However, an unnamed source, who is familiar with the President's health says that "the President's vitals over last 24 hours, were very concerning and the next 48 hours will be critical in terms of his care. We are still not on a clear path to a full recovery."
The news comes yesterday of another close aid, Nicholas Luna, testing positive for the virus, while Vice President Mike Pence and second lady Karen Pence have tested negative. Secretary of State Mike Pompeo has reportedly cancelled appearances in Florida citing a need to be cautious.
Previously, Trump's aide Hope Hicks tested positive for the virus as well as First Lady Melania Trump, former White House Counsellor Kellyanne Conway, GOP Sen. Mike Lee of Utah, GOP Sen. Thom Tillis of North Carolina, the Rev. John Jenkins, the president of Notre Dame University, and a White House reporter.
Trump has been hospitalised at Walter Reed National Military Medical Center in Bethesda, Maryland. The White House doctor says he is being treated with an experimental drug cocktail Regeneron's REGN-COV2, one that US Infectious Disease Chief Dr. Anthony Fauci says has shown "promising results".
Trump was first diagnosed with the virus on Thursday via a rapid test after returning from a New Jersey fundraiser. He then took a PCR test, which also confirmed the rapid test results.