"Don't you know who I am"? Southern judge ridiculed.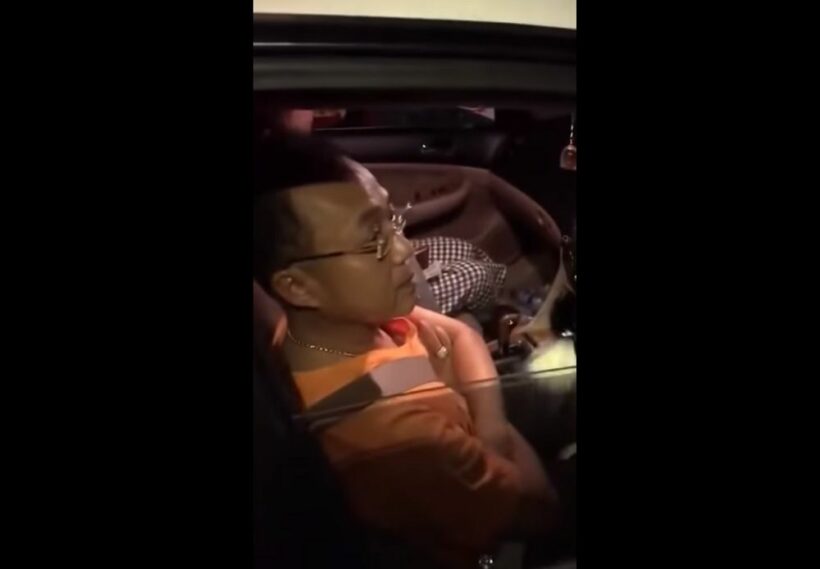 PHOTO: Judge Krairat Veerapattanasuwan refuses to show his driving license
The police chief of Nakhon Si Thammarat says he has set up a panel to investigate an incident where a man, identified as a local judge, refused to show his driving licence to a policeman when asked, saying he was a friend of the policeman's boss. The traffic policeman was promptly transferred out of town.
Pol Maj Gen Takoon Natepukkana says the investigation should be finished in seven days and promises a "fair investigation".
The secretary-general of the Courts of Justice, Sarawut Benjakul, is asking the judge in question, Krairat Veerapattanasuwan, for an explanation of his actions. The issue will be brought up at a Judicial Commission meeting tomorrow.
Last week PM Gen Prayut Chan-o-cha had to intervene to help the traffic police officer after his abrupt transfer.
The driver, who was with his wife in the car, refused to show his driving license when stopped at a police check-point on a road in Thung Yai district by Corporal Aekapon Juisongkaew on the night of May 2.
Identifying himself as the director-general of the Region 8 Criminal Court for Corruption and Misconduct Cases, the driver told the traffic policeman he was a friend of the latter's supervisor.
"I'm a director-general and a friend of Superintendent Choke. Do you really want to see (driving license)? I'm the director-general, do you still want to search the car?" he was heard saying in a video clip that went viral in Thai social media.
He later drove away without producing his driving license as demanded. The incident has become a hot topic of debate in the social media for the past two days, especially after the traffic policeman, Pol Lance Corporal Aekapon, was abrupted transferred at the order of Pol Col Chokdee Ratwattanapong, the superintendent of Thung Yai district police.
Pol Col Chokdee claimed that the transfer had nothing to do with the incident but only wanted "to relieve pressure" on the policeman after the clip went viral.
The incident apparently caught the attention of PM Prayut who, according to deputy government spokesman Lt-Gen Weerachon Sukondhapatipak, ordered Pol Lance Corporal Aekapon to be reinstated and commended him for doing a good job and for not bowing to influence.
Keep in contact with The Thaiger by following our
Facebook page
.
Dead Covid-19 train passenger had just returned from India, Pakistan, had contact with 3 Phuket cases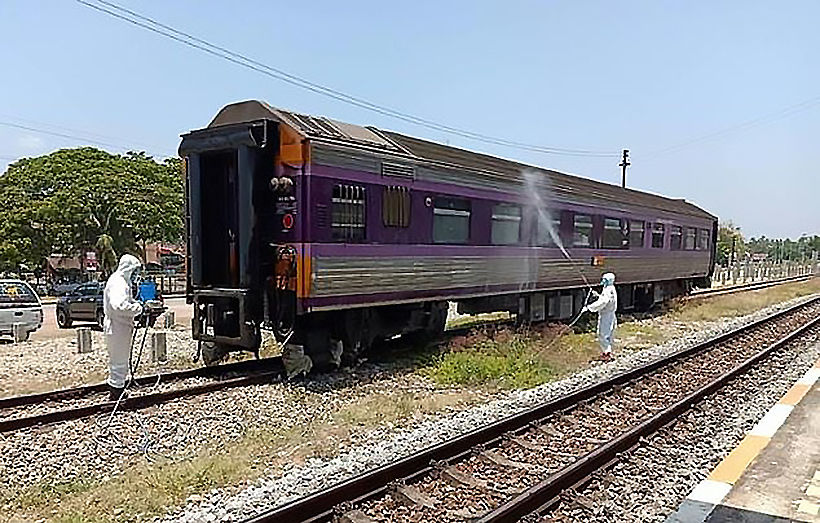 "The deceased had participated in a Dawah [Muslim missionary] activity in India in February, and before that he had been to Pakistan."
The 57-year-old Thai man found dead on a Bangkok-Narathiwat train on Tuesday had recently returned from India. Preecha Nuannoi, district chief of Su-Ngai Kolok in Narathiwat province, made the announcement yesterday.
"He was a local of Su-Ngai Kolok and had boarded the train from Bangkok on March 30 to return home. However, he was found dead when the train made a rest stop at Prachuap Khiri Khan's Thap Sakae district."
Tests on the body at Songkhla hospital came back positive for the Covid-19 coronavirus on Wednesday.
Preecha says Narathiwat public health authorities sent officials to interview and test the victim's family members and also disinfect his home.
The body was not sent to Narathiwat but instead buried Wednesday at an Islamic cemetery in Thap Sakae district, where family members joined the ceremony.
The dead man is known to have had contact in Pakistan with 3 cases of the virus confirmed in Phuket today. The southern island province reported 13 new cases, bring its total to 100.
The State Railway of Thailand announced it had disinfected and cleaned the train thoroughly. Eight train staff were ordered home for 14 days of self-quarantine, while a list of about 10 passengers who may have come into close contact with the victim was sent to the Public Health Ministry.
SOURCE: The Nation
Keep in contact with The Thaiger by following our
Facebook page
.
Surat Thani man "goes berserk" after 5 days in quarantine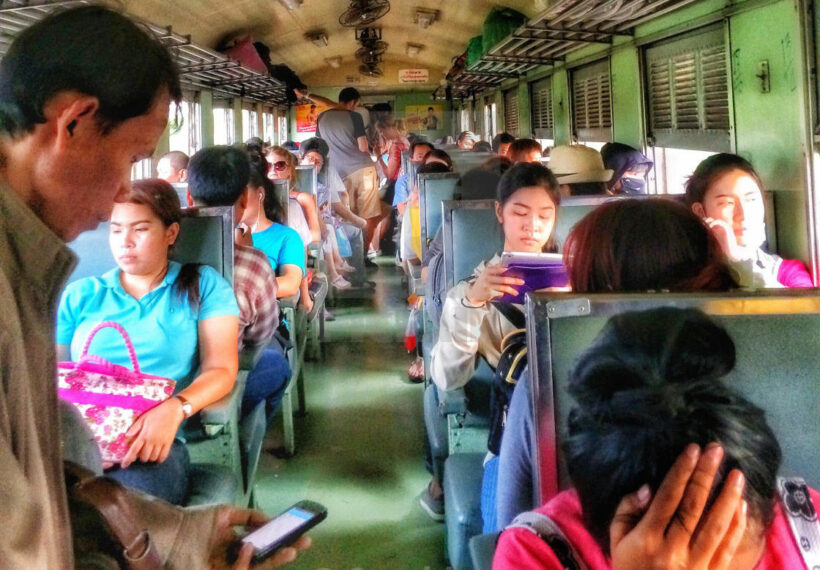 Wiang Sa Police Station in Surat Thani province was notified that a 32 year old Thai man was unable to control himself and was screaming continuously inside his house.
The man's mother says that her son had just arrived back from Bangkok and she had locked him inside the house following the quarantine order. But after the 5th day of confinement, he started to show signs of stress and "loss of control". She explained that her son had a history of mental illness and might not have been taking his medication while living in Bangkok.
Police officers told his mother to distract her son by talking to him while they snuck into the house via the backdoor. Once inside, they apprehended the man and took him to the police station. It took about an hour before they could calm him down.
He was later sent to a hospital to be checked by medical experts.
SOURCE: The Nation
Keep in contact with The Thaiger by following our
Facebook page
.
Yala authorities fear local Muslims will ignore Friday prayer ban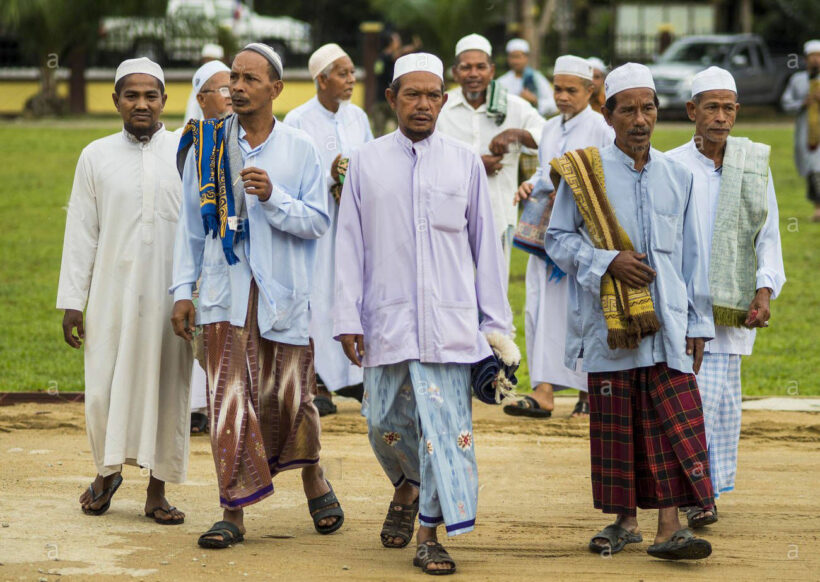 Officials in Yala in Thailand's Deep South are urgently trying to convince Muslim leaders of the need to follow orders that suspends traditional Friday prayers at all mosques. The Chularatchamontri, spirtual leader of Thailand's many Muslims, ordered prayers suspended over worries that large gatherings may spread the Covid-19 coronavirus. Provincial governor Chaiyasit Panitpong, meanwhile, appealed to residents to contact health authorities if they suspect anyone is infected.
Yala is one of the 4 southern border provinces that are home to Thailand's Southern Insurgency, a decades old separatist movement which has killed more people than the Palestinian conflict in the Middle East. It's also the southern province hit hardest by the pandemic. The Centre for Covid-19 Situation Administration yesterday reported the number of infections there at 35, one more than neighbouring Pattani, but the provincial health department in Yala posted 41 cases.
As of this morning (Thursday) there have been 12 deaths nationwide attributed to the virus, two of them in Yala, and all during a three day span, between Sunday and Tuesday this week. Both victims had visited Kelantan state in northern Malaysia on separate occasions, and both also developed symptoms after returning to Yala.
On March 25 the Chularatchamontri announced the suspension of Friday prayers at all mosques.He advised all Muslims to pray at home, to help curb the spread of the virus.
Friday prayers at the local mosque are the most important prayers of the week for most Muslims. Authorities worry that large gatherings could seriously worsen the spread of Covid-19. They have locked down Yala province since Sunday, when infections suddenly spiked, telling people to stay in their homes.
SOURCE: Chiang Rai Times
Keep in contact with The Thaiger by following our
Facebook page
.