26 year old British man leaps to death from 13th floor in Bangkok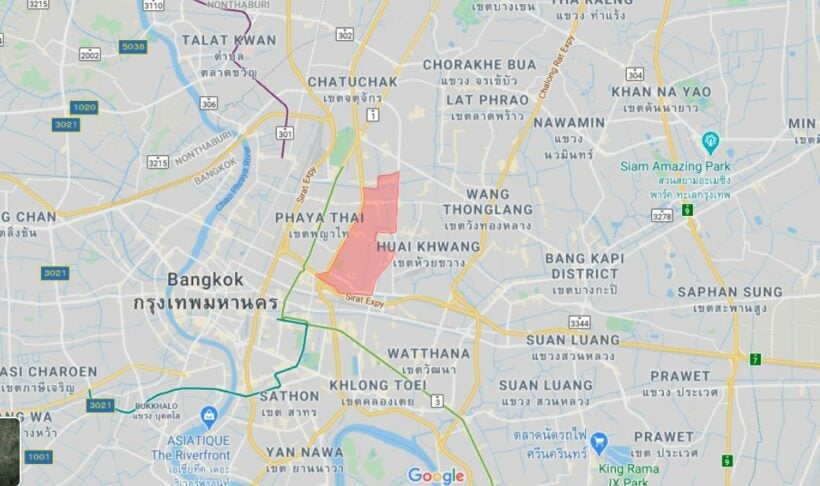 A British man, working in Bangkok as an English tutor, jumped from a 13th floor residence, in an alleged suicide. A neighbour discovered the man's body while dumping rubbish on Thursday morning outside the apartment building in Bangkok's Din Daeng district.
Police report that they were told the 26 year old was depressed and worried because his income had evaporated during the Covid-19 crisis.
A security guard at the property told police that he'd "heard something hit the ground" on the Wednesday night but failed to investigate. A Thai friend of the deceased told police that she'd known the man for six months and had recently invited him to help her prepare items that people could use as protection against the virus.
"It would bring them both a little income," she told police.
The two were working on the project earlier on Wednesday evening when the man left at around 8pm. She says he never complained about anything and she had no idea he might be suicidal.
The British Embassy has informed the man's relatives in the UK.
If you or anyone you know is in emotional distress, please contact the Samaritans of Thailand 24-hour hotline: 02 713 6791 (English), 02 713 6793 (Thai) or the Thai Mental Health Hotline at 1323 (Thai).
SOURCE: The Nation
Keep in contact with The Thaiger by following our
Facebook page
.
Never miss out on future posts by
following The Thaiger
.
Shooter from Bangkok SCB protest surrenders to police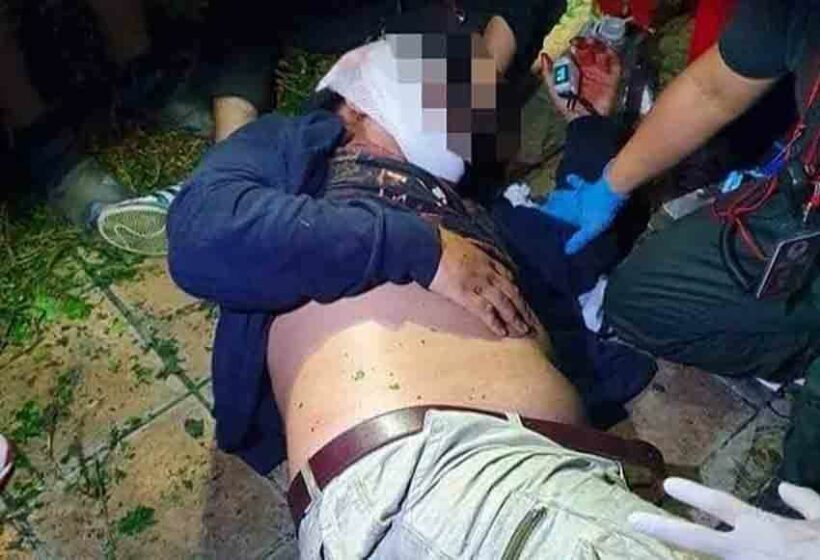 A man accused of shooting at anti-government protesters at a rally in Bangkok on Wednesday has admitted the charge and surrendered to police. Peerawut Kunamonkan delivered his 25 year old son, Passapong, to police at Phaholyothin station in the capital yesterday. He faces charges of attempted murder, shooting in public, and illegally carrying a gun and ammunition.
According to a Nation Thailand report, Passapong is accused of shooting 20 year old Prachakorn Saksritao, a former student of Pathumthani Technical College, but claims he did it for personal, not political, reasons. It's understood Prachakorn was at the rally as a member of the protesters' security team. The shooting took place as activists were dispersing at the end of a rally at the headquarters of the Siam Commercial Bank.
The accused, a former student at Min Buri Polytechnic Technology College in Bangkok, says he was reacting to sarcastic social media posts from Prachakorn. The posts were made after Passapong and the group he was with voiced their disapproval of activists insulting the Monarchy. Passapong is taking full responsibility for the shooting, saying nobody paid him to do it and that he will pay for the victim's medical treatment.
Following speculation on social media that the shooting was carried out by a yellow-shirt royalist, Thanadech Srisongkram, from the Minburi vocational student guards, has denied the claims. He says the shooting had nothing to do with the protests or the Monarchy, adding that his group is not affiliated with any particular political group. He says he has apologised to the security detail from Pathumthani Technical College, promising that such an incident will not happen again.
SOURCE: Nation Thailand
Keep in contact with The Thaiger by following our
Facebook page
.
Never miss out on future posts by
following The Thaiger
.
Thousands gather in Bangkok for "anti-coup" protest picnic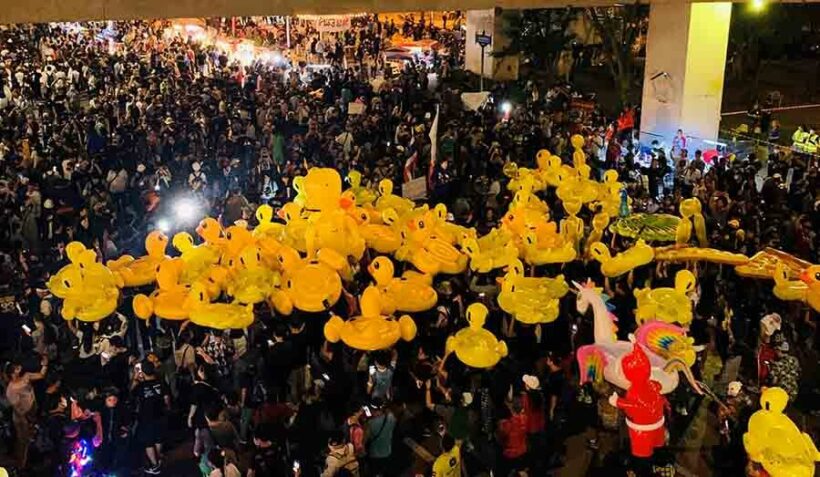 Around 5,000 pro-democracy activists gathered at the Lat Phrao intersection in the Chatuchak district of Bangkok last night, to oppose any potential coup, a situation continually denied by the current PM. Last night's gathering took the form of a picnic, at which mainly north-eastern dishes were served. Protesters described it as a rehearsal against military intervention, with one 18 year old activist, named only as Tan, saying history cannot be allowed to repeat itself.
"I'm only 18 but have seen 2 coups already. That's not right. We don't want history to repeat itself."
The rally was announced on Facebook by the United Front of Thammasat and Demonstration, who say the Thai people have had enough of coups that oust elected governments. They described the event as "a drill against a coup d'etat".
"There have been too many coups in the past, so history has taught us to remain vigilant. Therefore, we would like to invite everyone to participate in a drill to prepare for another coup that could happen."
Army chief Narongphan Jitkaewtae has previously dismissed rumours of an impending coup, but the Ratsadon (People's Movement) group have voiced their distrust of the current military regime, saying history would indicate otherwise. Protest leader Panupong Jadnok, aka, "Mike", says the gathering last night is a powerful illustration of people's opposition to a coup.
According to a Nation Thailand report, there have been at least 12 successful coups in Thailand, an average of 1 every 7 years, since the country moved from an absolute monarchy to a constitutional monarchy following the Siamese Revolution of 1932. The last military coup was in May 2014, which brought former army general Prayut Chan-o-cha to power, where he has remained ever since.
One woman at last night's rally, a 32 year old named Natalie, says the 2014 coup has proved a disaster for the country and it's time for urgent change.
"Now is a crisis time in Bangkok and Thailand. I want new elections and to change the prime minister and for a new government to actually listen to the people."
Last night, the yellow ducks were out again, this time being used to represent the army. Protesters passed the ducks over their heads, to symbolise the military moving over the people to take a front row seat on the political stage. Activists flashed the 3-fingered salute at the rubber ducks, a gesture originally derived from The Hunger Games, that has become a powerful anti-establishment symbol. Activists also burned pictures of former coup leaders, including the current PM.
Last night's gathering follows another one in the capital on Wednesday, when thousands rallied outside the headquarters of the Siam Commercial Bank. The Bangkok Post reports that another protest is planned for today, in front of the Imperial World Samrong shopping mall in Samut Prakan, just outside Bangkok, and a further one tomorrow, at the Imperial Lat Phrao mall.
SOURCE: Bangkok Post | Nation Thailand
Keep in contact with The Thaiger by following our
Facebook page
.
Never miss out on future posts by
following The Thaiger
.
The Thaiger needs an excellent English-speaking vlogger and TV host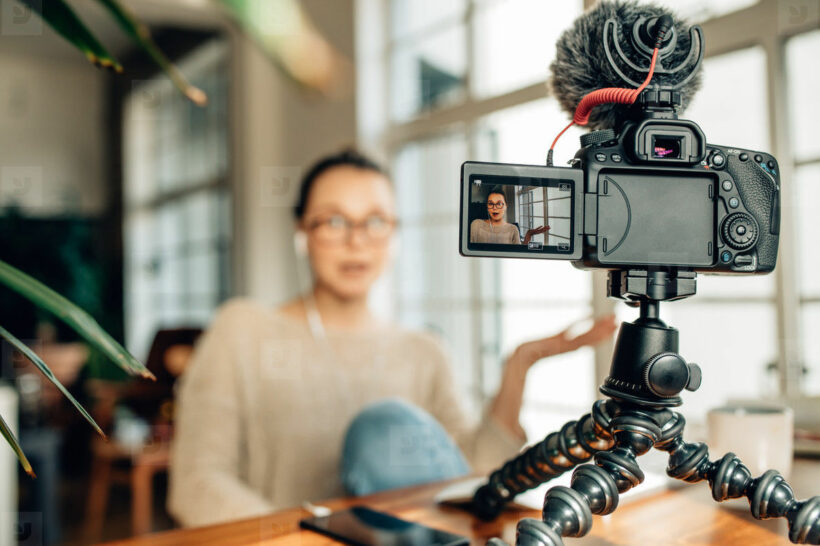 Job Description
The Thaiger needs an amazing Bangkok-based English-language "Video presenter (News Anchor/YouTuber)" for our website and social media platforms. You will have previous presenter, host or journalist experience but be ready to learn the tools of modern digital news and information delivery, in text and video. You can be male or female, preferably one or the other.
You will work directly with the CEO at our Bangkok office in Asoke and have an intuitive understanding of social media, experience with online news and an understanding of the Thai media landscape.
You will understand the urgency of the news cycle and be able to adapt and roll with the changes in media delivery. You'll be motivated and keen to perform at a high level.
You can be Thai or foreigner, but you must be able to communicate as an English native-speaker. If a foreigner, you would have lived in Thailand for long enough to have an intuitive understanding and inside knowledge of the news cycle and culture.
As the Video Presenter you will…
Be the Thaiger's news headline presenter to help produce interesting and exciting original content
Sourcing, writing script and presenting stories for multiple platforms and work as part of The Thaiger video content and publishing team to produce excellent content and high SEO level
Participate in helping to formulate news stories by pitching ideas and providing feedback on content
Quality check each story to ensure grammatical correctness, accuracy and clarity
Assist the Thaiger team continue our pursuit as Thailand and the region's biggest media company
Become a modern day media 'Svengali'
We're also looking for a full time video editor. They will work with our presenters and writers to edit the video material into high-quality finished product. If you are Thai, with good English-language proficiency, and interested in working with the Thaiger team, send a CV to tim@thethaiger.com and mark your application VIDEO EDITOR. We usually edit on the Davinci Resolve platform.
The Thaiger already produces a range of videos, including the daily 'Thailand News Today' and other general information videos.
You can apply through the Jobs DB website HERE.
Keep in contact with The Thaiger by following our
Facebook page
.
Never miss out on future posts by
following The Thaiger
.