Shots fired in Nontha Buri mall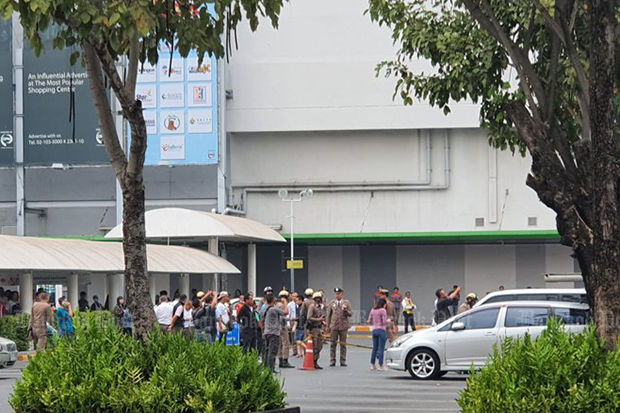 Police rushed to the Central Plaza mall in Nontha Buri province, just northwest of Bangkok, yesterday, after reports of gunshots inside the mall. The sound of shots was reported at about 4:20pm and people fled the building in the city's Muang district.
There were no reports of death or injuries. Local radio station Jor Sor 100 traffic radio later reported a suspect had been arrested and people had begun returning to the mall.
The country is still recovering from the slaughter at a mall in Nakhon Ratchasima on February 8-9, when a gunman killed 29 people and wounded 58, and the recent murder of an estranged wife by a man at a mall in Bangkok
A video clip by @ppappangjj showed shoppers fleeing for their lives to go outside the Central mall.
เพื่อนถ่ายมา วิ่งกันให้พรึบ เซ็นทรัลรัตนาธิเบศร์ pic.twitter.com/EmIJhLBQYd

— papapang (@ppappangjj) February 27, 2020
SOURCE: Bangkok Post
Keep in contact with The Thaiger by following our
Facebook page
.
Bangkok Airways cancels all domestic flights from April 7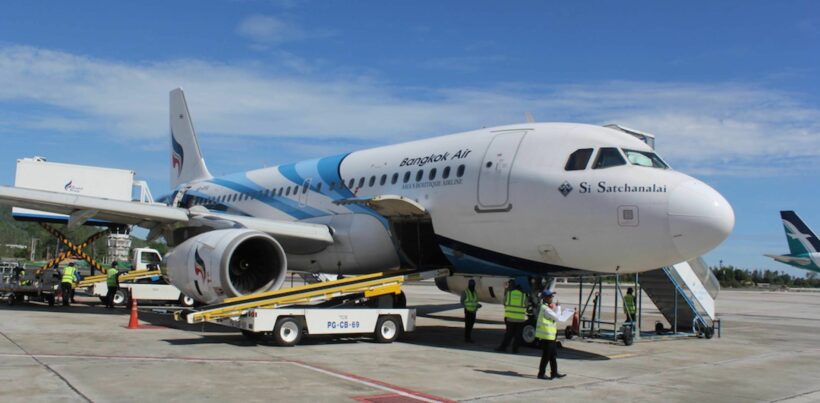 Bangkok Airways has announced today that they will cancel all it domestic flights from April 7 – 30. The company's vice president, Tresarum Sitakalin says the flights that are being cancelled are…
Bangkok – Chiang Mai
Bangkok – Phuket
Bangkok – Trat
Bangkok – Sukhothai
Bangkok – Samui
Samui – Phuket
"The company had previously decreased flight frequencies on these routes and also using some of their smaller ATR aircraft instead of their Airbus 320 aircraft."
"From April 7 onwards until April 30, we will cancel all flights."
Requesting for a refund can be done at www.bangkokair.com/refund or contact their ticketing offices at +662 270 6699 or Bangkok Airways Call Centre on 1771 . For passengers who purchased their tickets through travel agencies, please contact their travel agency directly.
SOURCE: The Nation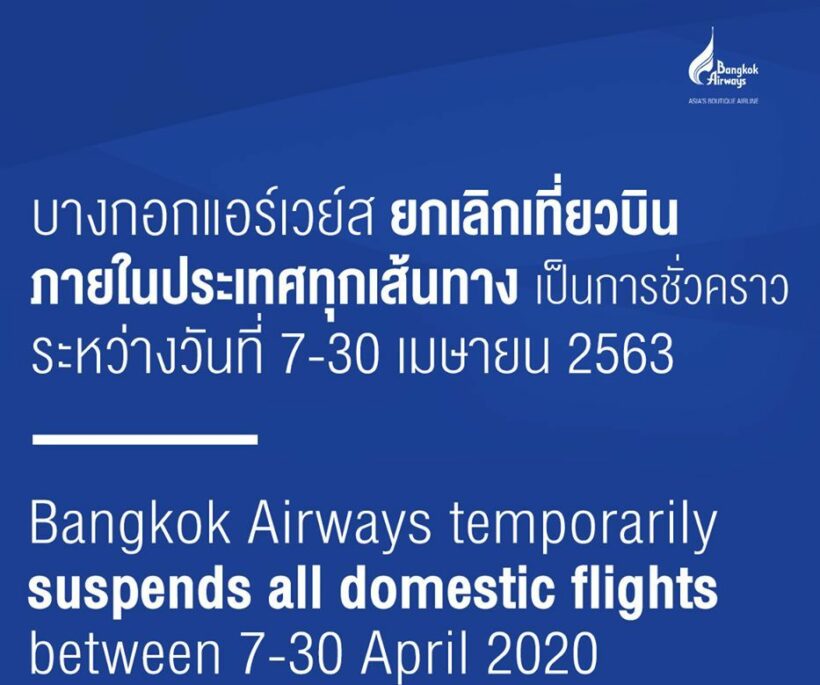 Keep in contact with The Thaiger by following our
Facebook page
.
Urgent repatriation notice for Swiss and German citizens as immigration rules tighten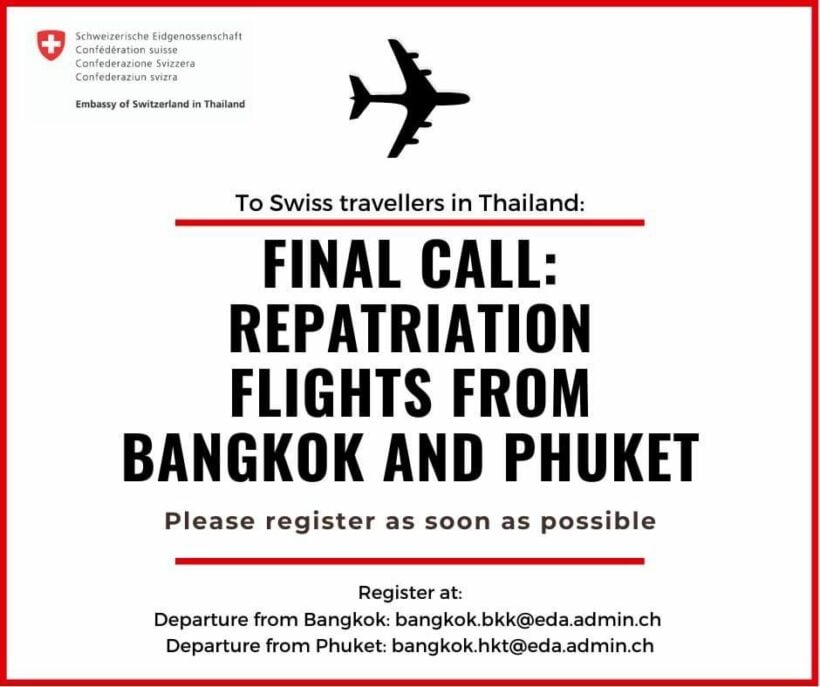 An urgent repatriation notice has been issued for Swiss and citizens in Thailand. According to Richard Barrow's Twitter feed, flights are being urgently chartered to evacuate citizens of both nations: A notice posted on the Embassy of Switzerlad's website reads…
For Swiss travellers in Thailand: Swiss charter flights from Thailand to Switzerland/update…
Bangkok – Zurich
– Good news: seats are still available for a 2nd charter on Sunday April 5 (at 13:05). To register, please send the requested information below for all concerned passengers to: bangkok.bkk@eda.admin.ch -> Deadline: Thursday April 2, 20:00
Phuket – Zurich
– The charter flight is now confirmed for Thursday, April 2, at 23:35. People who have registered will receive a confirmation soon.
– Good news: a few seats are still available. To register, please send the requested information below for all concerned passengers to bangkok.hkt@eda.admin.ch ->
Requested information to be sent…
1. Point of departure: Bangkok or Phuket
2. Family name, first name(s)
3. Date of birth
4. Passport number/Residence permit in Switzerland
5. Validity date of the passport or residence permit in Switzerland
6. Phone number where you can be reached at any time
• Please note that no health certificate is required to board on these flights. However, people with Covid-19 related symptoms are not allowed to travel. More information on these flights is available on our website (www.eda.admin.ch/bangkok)
A similar notise was posted for German nationals…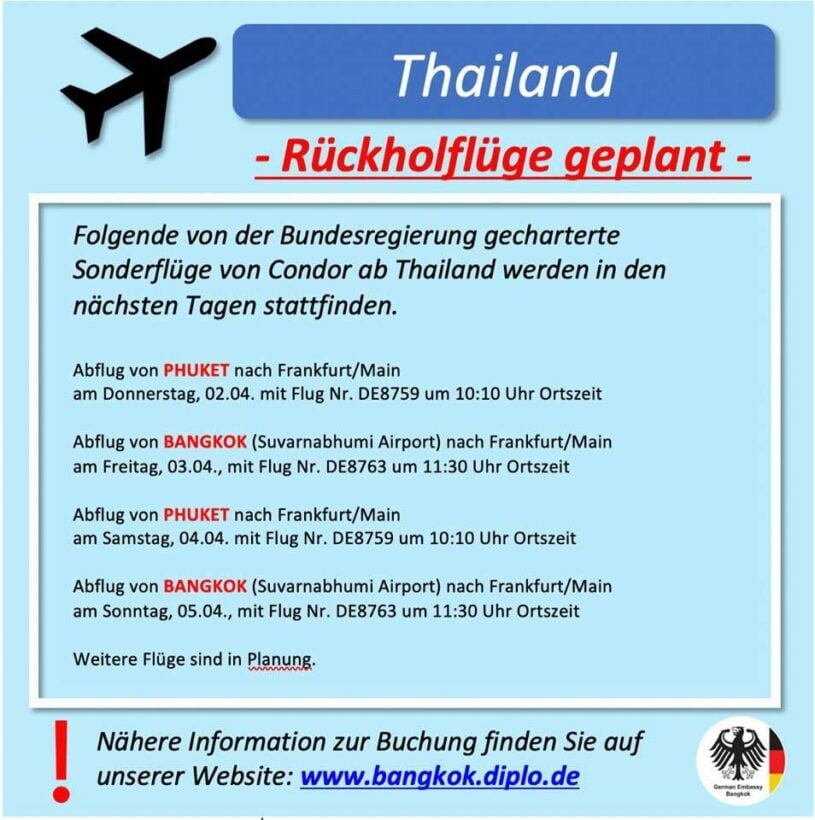 Due to the Covid-19 coronavirus crisis, travel restrictions and requirements in Thailand are sometimes difficult to navigate. One netizen told The Thaiger this morning that Immigration officials in Hua Hin were demanding the following for an extension of stay…
Application form (TM.7)

Fee 1,900 baht

2 photographs (passport photo)

Copy of applicant's passport (Data page, Visa page, Stamp page, TM6 card)

Letter of confirmation and request for a temporary stay from the embassy and consulate in Thailand

Proof of address: In case stay at Hotel – Letter of confirmation of stay from hotel – Hotel booking – Photograph of foreigner at hotel 2-3 pictures. In case rent a house/condominium – Rental agreement – Copy of Lessor's ID card and copy of Lessor's house book – Copy of house book from where you rent – Photograph of foreigner at house/condominium 2-3 pictures

In case of foreigner own the property – Copy of a house book – Copy of Title deed – Photograph of foreigner at the property 2-3 pictures

Map from house to immigration

Note: Foreigner must prepare all documents for 2 copies
SOURCES: Twitter | Embassy of Switzerland
Keep in contact with The Thaiger by following our
Facebook page
.
Woman convicted for 2005 stabbings, allegedly kills 5 year old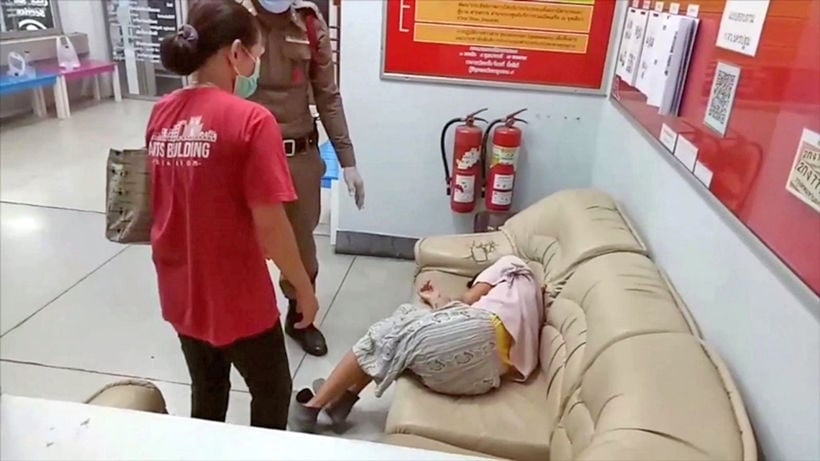 A mental patient who served prison time for the 2005 stabbings of 4 girls in Bangkok has turned herself in to police after allegedly stabbing a 5 year old girl to death.
50 year old Ms. Jitrlada Tantiwanitchasuk gave herself up to police in Nakhon Pathom province otside Bangkok yesterday. The 5 year old victim was pronounced dead on arrival at Nakhon Chaisri Hospital (NOTE: reports differ on the ages of the suspect and the victim)
Salee Uanmin, the girl's 49 year old grandmother, runs a food stall at a house which she rents from Jitrlada's mother.
A heartbroken Salee told police she was filling an order for six boxes of food from Jitrlada. She had put steamed rice into the boxes when she saw her 5 year old granddaughter, Tiprada Homsuwan, had fallen from her bed, and noticed her chest was bleeding.
Little Tiprada was rushed to hospital, but was pronounced dead. Shortly afterward Jitrlada surrendered herself at the local police station. Her family came to the station and told officers that she had just left a mental institution a week ago. Jitlada reportedly appeared to be in a trance and did not respond while being interrogated.
Her family said that she had been treated for mental illness for 20 years and was previously imprisoned for eight years after stabbing four Saint Joseph Convent School students .
In 2005, Jitrlada stabbed the 4 schoolgirls at Saint Joseph's Convent in Bangkok, and allegedly killed a four year old girl on March 29 the same year. She was found guilty of attempted murder and sentenced to eight years in prison. Upon release she was sent to Galaya Rajanagarindra Institute for mental treatment, and later discharged.
SOURCES: Chiang Rai Times | The Nation
Keep in contact with The Thaiger by following our
Facebook page
.