UPDATE: Elite forces storm Terminal 21, gunman holding hostages – VIDEO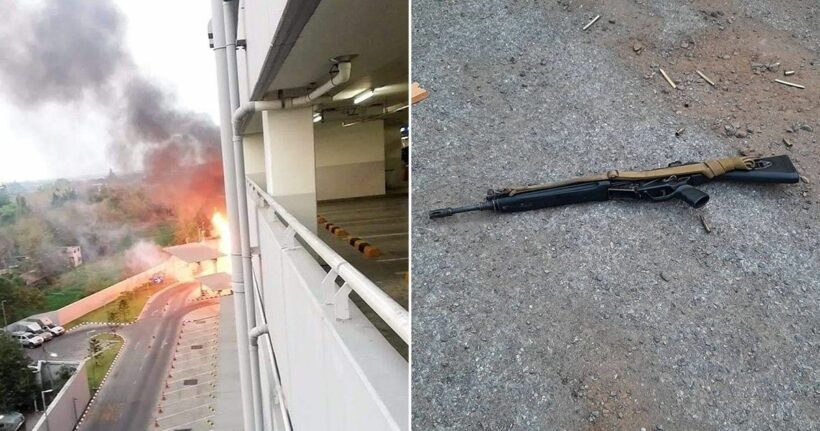 Following the shootings of innocent civilians by a Thai army sniper earlier this evening in Korat, north eastern Thailand, elite police and army forces of the Crime Suppression Division and Lop Buri-based Special Forces arrived at Terminal 21 shopping mall an hour ago. (Video of their arrival at Terminal 21 below)
The armed gunman is believed to be still be holed up in the Terminal 21 Shopping Mall with many shoppers trapped inside. Some are believed to be hostages. The gunman is armed with an HK military assault rifle. Police believe that he has a range of other weapons and ammunition he also stole from his army base. (Video of the gunman strolling around the corridors of Terminal 21 below)
At least 12 people are confirmed dead, including the gunman's army commander, an elderly woman, a motorbike taxi driver and a student. Others are feared dead and many are injured. The situation is fluid.
The gunman has been identified as Sgt-Maj Jakrapanth Thomma, an officer attached to the Surathampitak army barracks in Nakhon Ratchasima.
Jakrapanth allegedly shot his commander, 48 year old Colonel Ananrote Krasae, and a 63 year old woman Anong Mitchan, dead, kicking off his killing spree at around 5.30pm. He then shot and injured an army private at in a house in the provincial city district of Korat.
Police allege that a dispute erupted during a meeting over a debt issue, as a possible motive.
The gunman then stole an army Humvee 4-wheel drive and headed for the Terminal 21 shopping mall. He opened fire and shot people indiscriminately while driving. It's understood he could have killed as many as 10 people as he was heading towards the Terminal 21 shopping centre.
The shooting then continued inside the mall. Police and army troops were deployed to secure the area, including a 2 kilometre perimeter around the mall. Television footage showed shoppers frantically running toward the exits as shots rang out. The gunman also ran a livestreamining event of his rampage on his Facebook page. The page was taken down around 7.20pm this evening.
Amongst a rambling stream of messages posted by the gunman… "No one escapes death."
He then proceeded to diarise his exploits questioning the numbers of people he'd shot and asking questions…
"Should I surrender?"
Thai PM Prayut Chan-a-cha has been closely monitoring the incident as it unfolds and ordered health officials to provide emergency services "and take good care" of everyone affected by the incident.
SOURCE: Thai PBS World
Mass shooter inside Korat's Terminal 21

EXCLUSIVE: A security camera footage shows Sgt. Jakkrapanth Thomma inside Terminal 21 shopping mall in Nakhon Ratchasiman province during his shooting rampage that killed at least 12 people. Latest info indicates he's holding 16 people as hostages.https://www.khaosodenglish.com/news/crimecourtscalamity/2020/02/08/rogue-soldier-kills-12-in-rampage-police-say/

Posted by Khaosod English on Saturday, February 8, 2020
Police commandos arrive in Korat

"Hanuman" police commandos arrive in Korat city after a 40-minute helicopter ride from Bangkok to join an operation to kill or capture a gunman who murdered at least 12 people in a shooting rampage. https://www.khaosodenglish.com/news/crimecourtscalamity/2020/02/08/rogue-soldier-kills-12-in-rampage-police-say/

Posted by Khaosod English on Saturday, February 8, 2020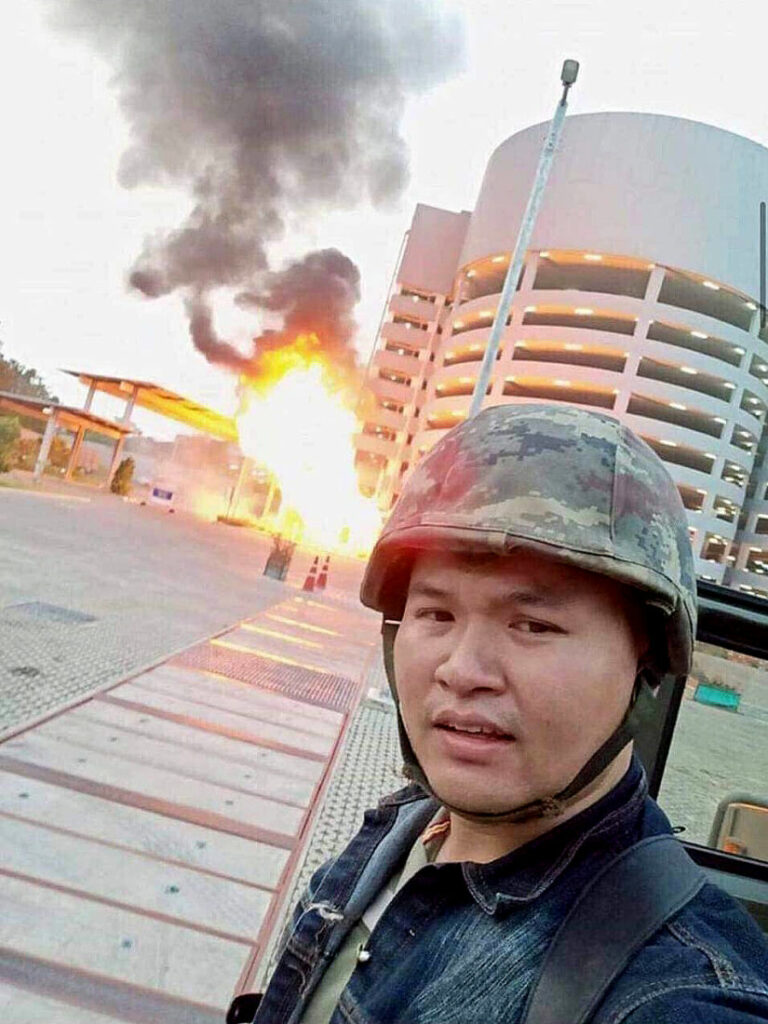 Keep in contact with The Thaiger by following our
Facebook page
.
Man claims he was attacked and robbed by "foreigners"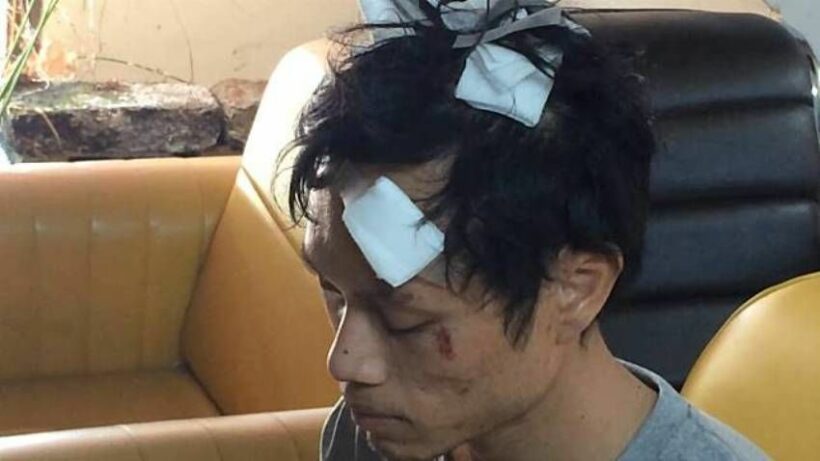 A student in Chiang Mai says he was mugged by "foreigners from Europe." Twenty-four year old Theerapat Saen-in posted his alleged ordeal on Thai social media earlier this week.
According to his post he was taking photographs at a view point on Doi Suthep when he was approached by "farangs." He says they bashed him on the head with a piece of wood before being attacking him further.
Saen-in then allegedly fled into the woods, fearing the foreigners might chase him and continue their attack. In the process, he claims, he fell down an embankment, knocking himself unconscious.
When he regained consciousness he returned to the scene to find his camera equipment missing. His tripod, backpack and money had all been taken, local media reported.
He says he got help from other tourists in the area and was eventually taken to hospital in Chiang Mai. Doctors cared for his injuries, including six deep wounds to his head. Doctors said the head wounds were consistent with an attack with a solid object and confirmed to police that, based on the wounds, the man was assaulted.
Saen-in asks for cooperation from the public, especially in the event they notise anyone trying to sell or pawn camera equipment. He has also asked anyone with information to please contact police.
SOURCE: Chiang Rai Times
Keep in contact with The Thaiger by following our
Facebook page
.
2 more suspects arrested in "wombs-for-hire" scandal
Officers of the Anti-Human Trafficking Division (ATHD) of the Royal Thai Police have arrested two more suspects in an illegal transnational commercial surrogacy ring, police said yesterday. 43 year old Kulisara Pomdet was arrested in Chanthaburi and 60 year old Jakkarat Kittiwanichkul in Chiang Mai on Friday night.
Police say the two were hired as brokers to lure Thai women to work as surrogate mothers. Jakkarat can speaks the languages of neighbouring countries and served as a translator for Kulisara during trips to those countries. A police source says the pair travelled between Thailand and Cambodia more than 100 times over the past two years.
On Thursday nine suspects, seven Thais and two Chinese, were arrested in joint raids in Bangkok, Pathum Thani and Sukhothai. They face charges of colluding in transnational criminal activities and engaging in commercial surrogacy, illegal under Thai law. The raids came after police found a gang of Chinese nationals was hiring Thai women as surrogate mothers.
The illegal surrogacy operation is believed to have started in 2012. At least 100 women across the country were hired as surrogate mothers, according to police. The surrogate mothers travelled to neighbouring countries for "assisted reproductive treatment" and returned to Thailand where they stayed until delivery. In some cases, they were sent to China, where they stayed until giving birth.
The deputy commissioner of the Central Investigation Bureau says the probe followed a tip-off from the Department of Health Service Support. Investigators questioned women in Pathum Thani province, north of Bangkok, who were hired as surrogates. They found that at least 15 babies born from assisted reproductive technologies were included in their household registrations,and that at least 50 babies from surrogate mothers had been taken out of the country. Assets seized from the nine include 16 vehicles with a combined value of 15 million baht, a house, and a Bangkok company worth about 20 million baht.
SOURCE: Bangkok Post
Keep in contact with The Thaiger by following our
Facebook page
.
Heroin smuggler busted in Chiang Rai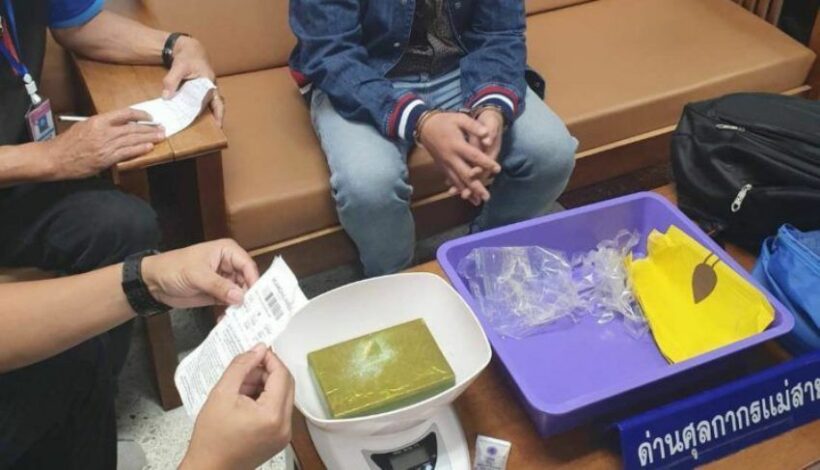 A man has been arrested in Chiang Rai's airport attempting to smuggle heroin. 27 year old Jatuporn Saeuan was searched and detained before boarding a flight to Bangkok when security officers found his behaviour suspicious.
Security officers say Jatuporn "kept wandering back and forth in front of the entrance" to Mae Fah Luang Airport, so they asked demanded to inspect his luggage. His luggage was put through the airport x-ray and he went through the personal scanner.
When he raised his arms for the scan, they notised a yellow plastic bag tucked into the back of his trousers. Security staff opened the package and found it contained a white power. Test results quickly indicated the powder was a narcotic. and security called police.
Police told Thai media that Jatuporn admitted travelling to Myanmar to buy the heroin, sneaking across the border at Mae Sai, Chiang Rai into Myanmar's Tachilek province. After buying the drug he sneaked back into Thailand with help from the dealer.
Jatuporn drove to Chiang Rai's Mae Fah Luang Airport where he was subsequently arrested. He admits he planned to sell the heroin in Bangkok.
He has been charged with possession of an illegal narcotic with the intent to sell. Under Thai law, he could face the death penalty, though capital punishment is rare in Thailand. In reality he faces a fine of up to 100,000 baht fine and/or 10 years in prison.
SOURCE: Chiang Rai Times
Keep in contact with The Thaiger by following our
Facebook page
.