Illegal Chinese casino in Pattaya operating after curfew – VIDEO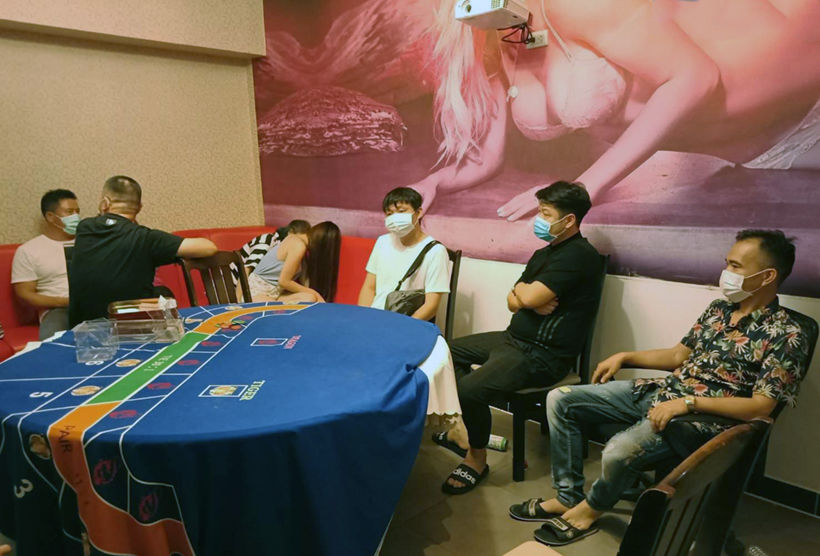 Police from several units, including the Transnational Crime Unit of Chon Buri, led a raid last night on an illegal casino in Pattaya where nearly a dozen people were gambling. It was located above a Chinese Restaurant.
Police went to the Fu Manow Chinese Restaurant at about 10:15pm after a tip that there was an illegal gathering happening in a secret VIP room above the restaurant. Such a meeting violates the current national curfew period of 10pm to 4am, under the Emergency Decree to help stop spread of the the Covid-19 coronavirus.
Police found a posh VIP karaoke room on the second floor along with 10 people gambling. 7 Chinese men, 2 Thai women and a Russian woman were gambling with about 100,000 baht, playing several different Chinese style gambling games on a custom table.
The owner of the restaurant, 50 year old "Beijing Heilongjiang" (clearly a pseudonym) was immediately arrested. He faces multiple charges including providing gambling facilities, violating the Thai emergency decree, curfew violations and possibly other charges as well.
The ten unnamed gamblers will also face significant charges including violating the Emergency Decree, gambling and curfew violations. All 10 were arrested and taken to Pattaya Police Station.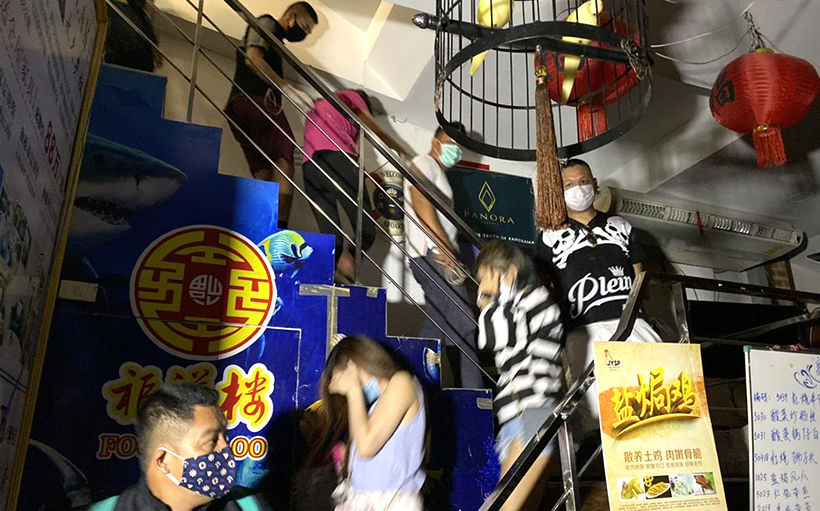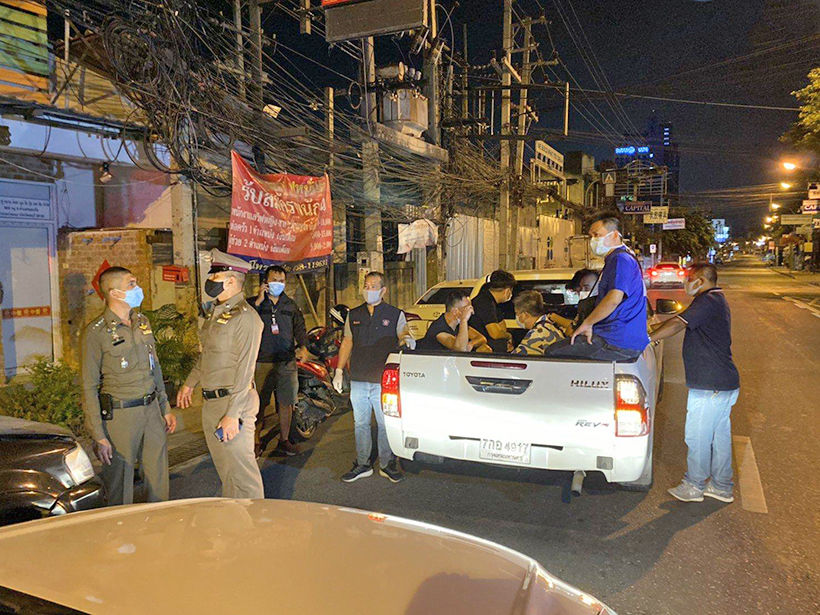 Police warn Pattaya residents that those who violate the Emergency Decree and continue to hold gatherings and parties that threaten public health by potentially spreading the Covid19 Coronavirus will be "dealt with severely".
Violation of the Emergency Decree carries penalties of fines of up to a 100,000 baht and/or up to 2 years in prison.
SOURCE: The Pattaya News
Keep in contact with The Thaiger by following our Facebook page.
Never miss out on future posts by following The Thaiger.
Chatuchak market is in worst crisis in 5 decades due to Covid-19, vendors say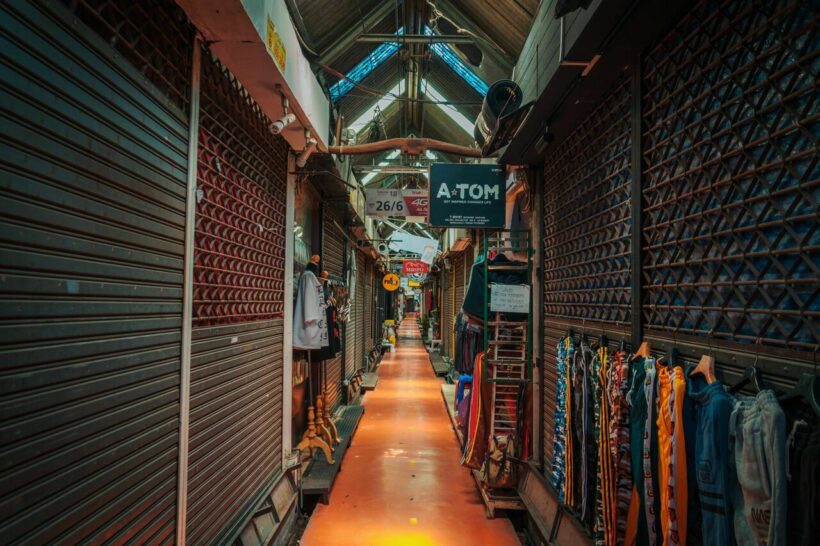 Chatuchak Weekend Market, Bangkok's biggest market and a popular tourist destination, is hit hard by the new wave of Covid-19. With the lack of foreign tourists due to travel restrictions over the past year, as well as more locals staying at home despite the market's strict disease control measures, the number of visitors at the market has dropped by 90%.
Vendors at the market say this is the worst situation in 50 years. Most of them report no sales at all. With little to no income, many shops at the market have shut down. Although the BMA is trying to relieve the situation by lowering the rental fees by half, that seems not enough to help the business. Some of the vendors have tried online trading, but sales are still low.
SOURCE: Thai Visa
Keep in contact with The Thaiger by following our Facebook page.
Never miss out on future posts by following The Thaiger.
Hotline set up for reports on alleged Covid-19 measure violations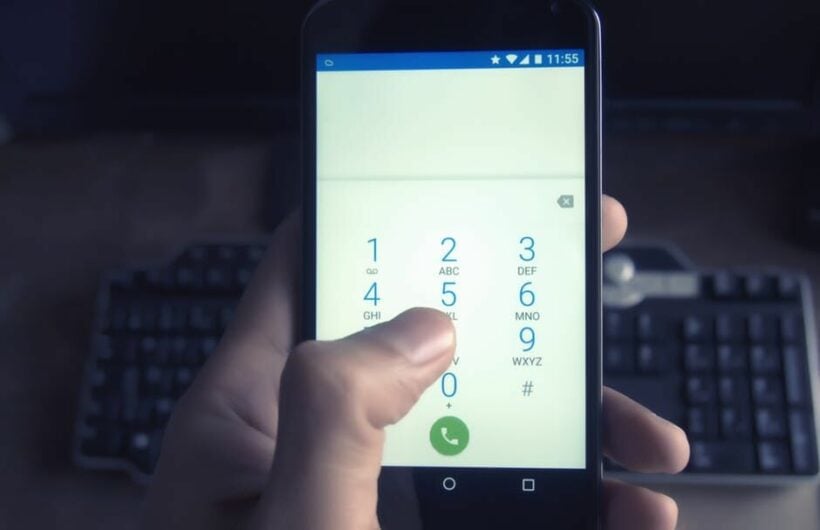 The government is now encouraging people to help report activities deemed to violate the government's rules and regulations to curb the spread of Covid-19 by calling the national hotline at 1111. People can report on any violations set by the Emergency Decree, which has been in place since last year and extended numerous times to combat the coronavirus.
The government says people can call the hotline for major violations, like labour trafficking across Thailand's porous border with Myanmar, which is said to have led to the new wave of infections affecting a large migrant community in Samut Sakhon. People can also phone in the hotline for minor violations, even like gatherings that don't abide by disease control measures.
According to the government spokesman Anucha Burapachaisri, hundreds of citizens were reported violating the Covid-19 restriction measures and laws despite the Emergency Decree.
The hotline is open for the report of the alleged Covid-19 violations and also general complaints related to Covid-19 situations. All complaints and reports are expected to be fully investigated by agencies in charge and all information of callers will be kept confidential. Service for English speakers is available upon request.
Since being set up, the hotline has received a total of 32,008 inquiries and general questions so far.
SOURCE: Pattaya News
Keep in contact with The Thaiger by following our Facebook page.
Never miss out on future posts by following The Thaiger.
First phase of Thailand's Covid-19 vaccinations to start on February 14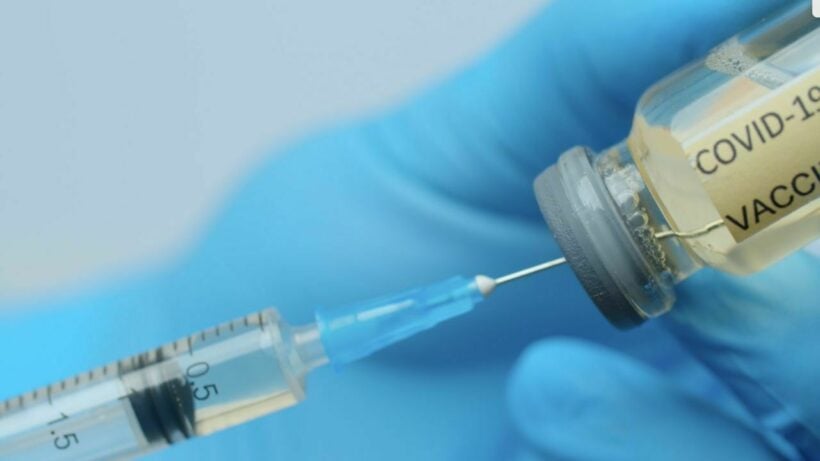 The government plans to begin Thailand's 3-phase vaccination plan on February 14, starting with healthcare and frontline workers as well as vulnerable groups.
At the Covid-19 vaccination administration subcommittee meeting today, Public Health Minister Anutin Charnvirakul said the first phase of inoculations starting next month will target 19,014,154 Thai people in 4 priority groups…
1,700,000 health workers in both public and private health care sectors.
6,163,095 populations with underlying conditions.
11,136,059 people aged over 60 years
Covid-19 task force who are in close contact with infected patients.
The vaccine availability remains limited and only target groups who are at high risk of infection will be vaccinated during the first phase of the vaccination plan, according to permanent secretary of public health Kiattiphum Wongrajit. The vaccines will be free and are not compulsory, Anutin says.
The AstraZeneca vaccine, developed in partnership with Oxford University, was approved by the Thai government for emergency last week. The first batch of 50,000 doses are expected to arrive next month. Thailand also expects 200,000 doses of China's Sinovac Biotech vaccine to arrive next month. The Chinese vaccine is expected to be approved by Thai drug regulators within the next 3 weeks.
The second phase of the 3-part plan is scheduled to run from May to December, offering vaccinations in all regions. Thai officials aim to have at least 50% of the Thai population vaccinated by the end of the year. The final phase will be rolled out in January 2022, with the goal to have enough vaccines to distribute to create herd immunity.
The government is also launched a Line Official Account called "Mor Prom", translated as "doctor's ready" to facilitate the vaccination administration. People can register to make appointments for vaccination, while health authorities can monitor the adverse effects of the vaccines. The platform is expected to launch on February 12 to serve the health workers before opening to the public in April.
SOURCE: Bangkok Post| Thairath online
Keep in contact with The Thaiger by following our Facebook page.
Never miss out on future posts by following The Thaiger.