Health officials tracing 24 contacts of new Covid case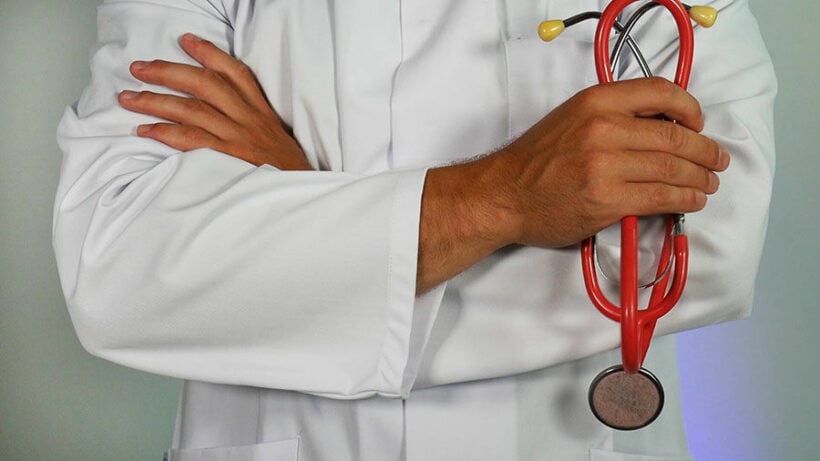 Health officials say their decision to trace 24 people who've had contact with a woman who tested positive for Covid-19 is merely a precaution, insisting there's no cause for alarm. The 35 year old woman, from the north-eastern province of Loei, returned from the United Arab Emirates on June 24 and entered state quarantine. While there, she was twice tested for the virus, returning a negative result each time. She finished her quarantine on July 9, at which point she returned to Loei.
Back home, it's understood she had close contact with 5 friends and family members. She then visited a friend who had given birth at Pak Chom hospital, where she had contact with a further 6 people. She says she also met friends at a restaurant but does not remember its name or the precise date, saying it was around August 12 or 13.
A report in Khaosod English says when the woman needed to go back to work in Dubai, she had to obtain a fit-to-fly certificate. For this, she travelled to Bangkok last Sunday with her parents and 2 friends. She stayed at the Buddy Hotel in the Din Daeng district of the capital and on Tuesday this week, attended Ramathibodi Hospital to be tested for Covid-19, when the result came back positive. Subsequent tests on Wednesday and yesterday also returned a positive result.
While in Bangkok, the woman had close contact with 2 maids working at the hotel, where 104 other guests were staying at the time. While attending her hospital appointment, she had contact with a taxi driver and 5 hospital workers.
It's understood the woman is asymptomatic but has been admitted to Ramathibodi Hospital for observation. The spokesman for the Centre for Covid-19 Situation Administration, Taweesin Visanuyothin, insists there is no cause for alarm.
"Everything is proceeding normally. There is no risk concerning locations. We can't even really call her a patient, as she's not ill."
Meanwhile, all of the women's family and friends are being tested for Covid-19 and Chiangklom Wittaya school in Loei, which both her sons attend, has undergone a deep cleaning. Officials are tracing the Bangkok taxi driver she had contact with and have also invited the 2 hotel workers to be tested. However, Walairat Chaiyafu from the Department of Disease Control says the 104 hotel guests are not at risk, as the woman did not have any contact with them.
"We do not count these 104 people to be at risk since they did not have close contact. But if they are concerned, they can come in for a test."
Surasak Leelaudomlipi from Ramathibodi Hospital believes the woman tested positive as a result of residual traces of the virus in her system, adding that it's unlikely she can transmit it to anyone else.
"She has no symptoms. But to be completely cautious, we are keeping her here at the hospital as a precaution. We want society to feel at ease that we are checking even the remnants of viruses. We are quite confident these remnants will not cause transmission."
Another doctor at the hospital echoes this sentiment, adding that it's highly unlikely the woman contracted the virus in Thailand.
"She had been infected possibly three months ago, not in Bangkok since she was here for such a short window of time. We are confident that the likelihood of her transmitting the infection is very low."
SOURCE: Khaosod English
📱 Download our app on Android or iOS for instant updates on your mobile
📧 Subscribe to our daily email newsletter
👍 Like/Follow us on Facebook
🔔 Subscribe to or Join our YouTube channel for daily video updates
Covid UPDATE: 2,070 new infections, provincial totals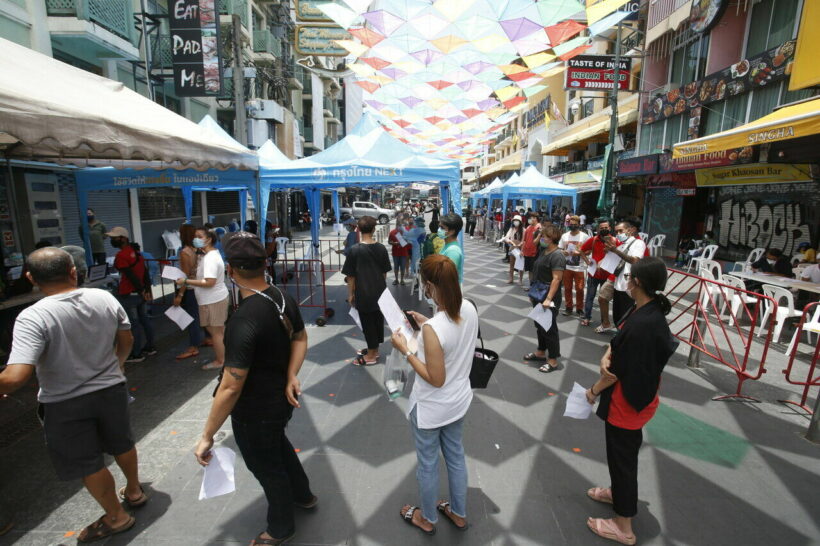 2,070 new Covid-19 cases and 4 coronavirus-related deaths were confirmed today by the CCSA, raising the total number of cases since the outbreak on April 1 to 21,230 and this month's Covid death toll to 27.
The reported number is the highest daily total ever reported in Thailand.
There are now 15,642 people being treated in hospitals for Covid-19, including 352 people who are in critical condition with with "severe pneumonia". 91 Covid patients are on ventilators. Another 4,231 people with Covid-19 are in field hospitals.
Here are the provincial totals in an infographic from the NBT…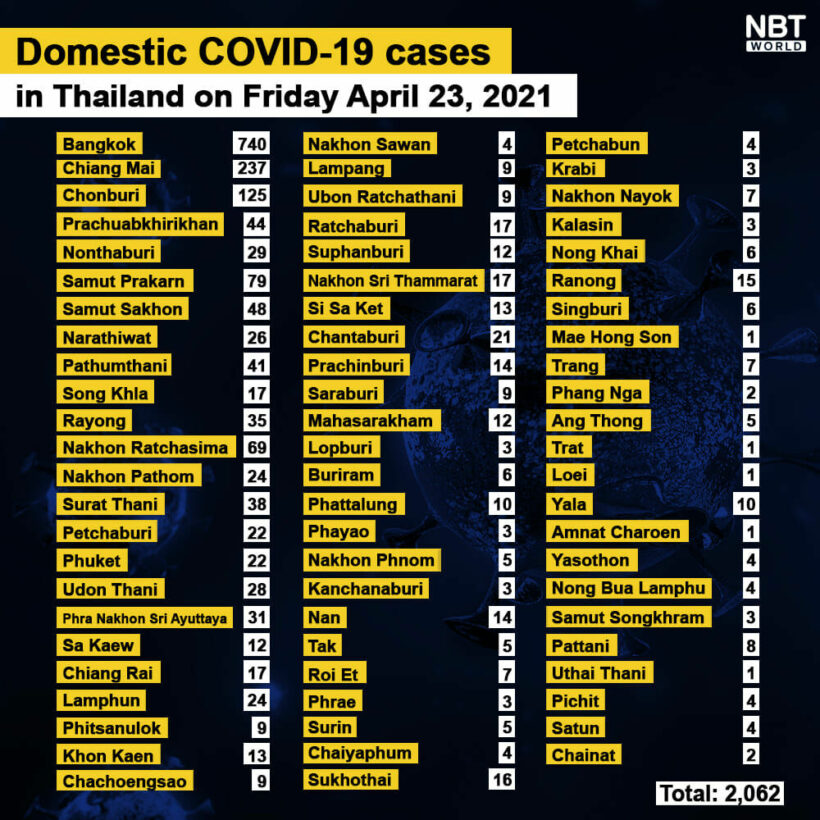 Here are some additional notes, also from the NBT site…
• New small cluster of Covid-19 infection found in elderly care nursing home in Bangkok while Chiang Mai also found other small cluster in Meditation venue
• More personnel have been deployed to staff the 1668 and 1669 Covid-19 hotlines
• Russian President Vladimir Putin has personally vowed to support Thailand's Covid battle and agreed to supply Thailand with Sputnik V vaccine via a "government-to-government" contract
• More provinces have ordered people to wear face masks in public in response to the so-called third wave
• The Bangkok Metropolitan Administration is planning to establish more 'hospitel' (hospital/hotel) for patients without severe symptoms to cope with the increasing number of serious virus patients
• Thailand's Immigration Bureau announced that its online service has been resumed (Thaiger readers are still not having much luck)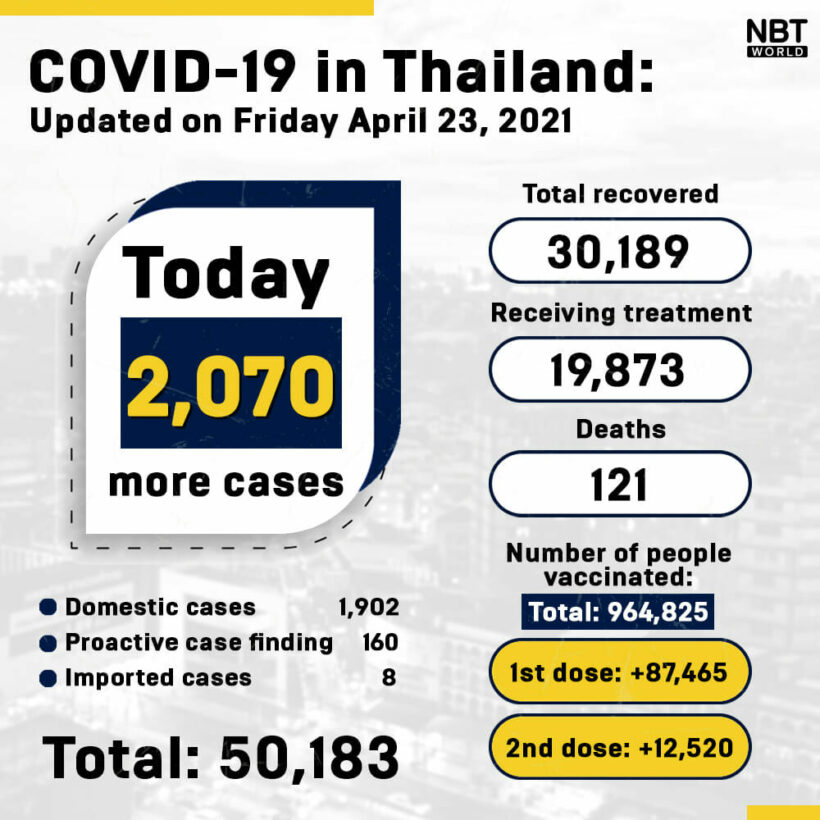 📱 Download our app on Android or iOS for instant updates on your mobile
📧 Subscribe to our daily email newsletter
👍 Like/Follow us on Facebook
🔔 Subscribe to or Join our YouTube channel for daily video updates
Buddhism officials call on temples to cremate those who die while infected with Covid-19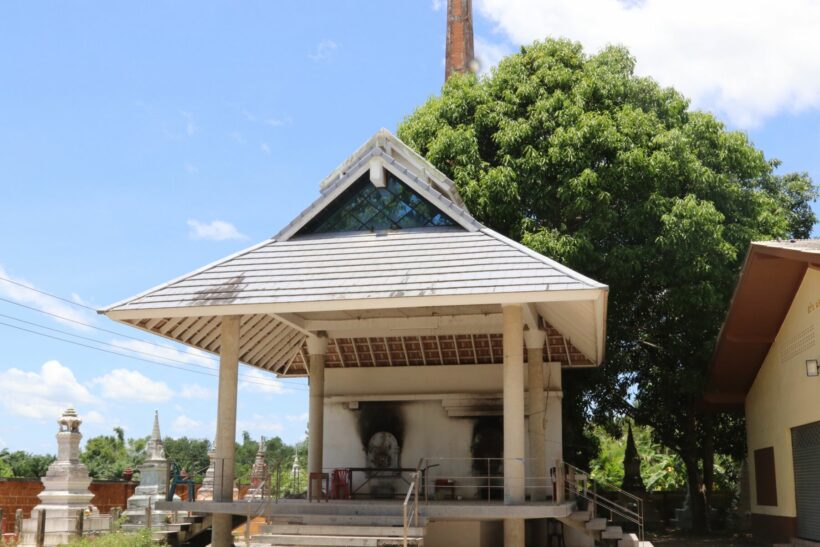 With Thailand's Covid-related death toll on the rise, Thai Buddhism officials calling on temples to cremate the bodies of those who died and were infected with the coronavirus. Many Thais believe that cremation helps the spirit move on.
Director of the National Office of Buddhism, Narong Song-arom, says the office has coordinated with temples across Thailand to make sure those who die while infected with Covid-19 have a proper cremation service, which is important in Thai culture.
"We want to make sure that Covid-19 victims receive their last rites."
A monk at Wat Phai Lom, where the bodies of 5 Covid patients were cremated, says that if the bodies are handled properly, there is no risk of infection or contamination. The abbot, Phra Kru Palat Sitiwat, says the body should be sealed in plastic and placed in a coffin. The coffin, along with the transport vehicle, should both be cleaned and disinfected before the coffin is taken to the incinerator. The crematorium is also disinfected before the prayer ceremony which takes around 20 minutes.
Narong adds that the funeral services can go on, even in high risk areas, as long as attendees abide by disease control measures like social distancing and disinfecting the area to help prevent the spread of Covid-19.
The abbot says some of the Covid victims were sent to Wat Phai Lom from other communities. He's now calling on other temples to cremate the bodies of those who died while infected with Covid-19.
A recent report in Thai media says a community in the Isaan province Loei refused to cremate the body of a woman who was not infected with Covid-19, but died in a virus hotspot in Chon Buri. The woman's family says the community was concerned about Covid-19 transmission because Chon Buri is a "red zone" province and her body was sent back to the coastal province for cremation.
"They were concerned that we would bring the virus to the community because we collected the body from a red zone province… We had a medical certificate stating that the cause of death was suffocation."
The US Center for Disease Control says there is little risk of contracting Covid-19 from a dead body. The virus is known to typically spread through respiratory droplets when an infected person sneezes or talks, and then the droplets land on a person nearby or are breathed in.
SOURCE: Bangkok Post
📱 Download our app on Android or iOS for instant updates on your mobile
📧 Subscribe to our daily email newsletter
👍 Like/Follow us on Facebook
🔔 Subscribe to or Join our YouTube channel for daily video updates
Fake Pfizer vaccines seized in Mexico and Poland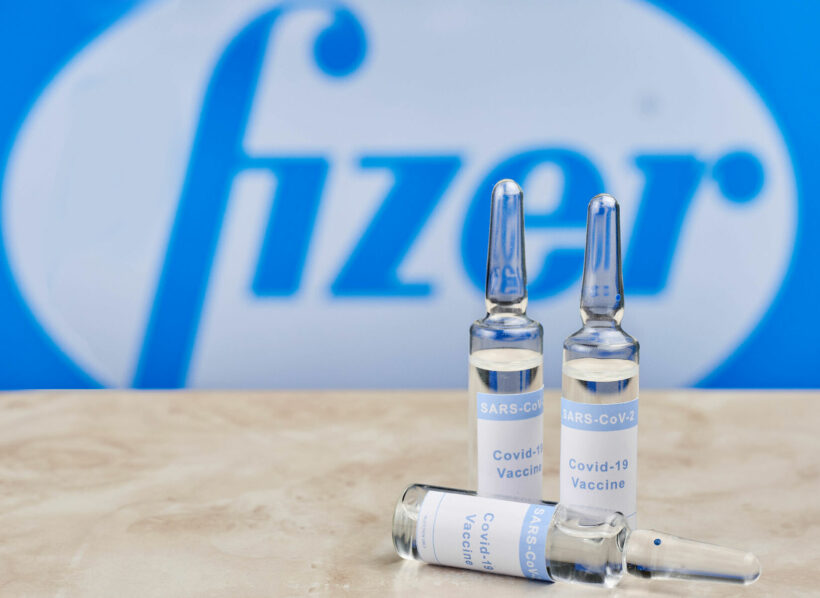 A wave of fake Pfizer vaccines have been seized in Mexico and Poland where counterfeiting Covid-19 jabs has become a big business. The US pharmaceutical company confirms that the jabs that have been collected were not authentic and were selling on the black market for up to US $1,000 per vaccine. A Pfizer spokesperson said that they're aware that anonymous online selling makes it easy to commit fraud and to pedal counterfeit Covid-19 vaccines and that this problem is growing as people are desperate for vaccination and to finally reach an end to the Coronavirus pandemic.
In Mexico, at least 80 people were injected with these fake Covid-19 jabs according to a report in the Wall Street Journal. Mexican officials said that they identified the counterfeit vaccines by checking the fake serial numbers and expiration dates. While the vaccines do not appear to be harmful in any way, they also definitely do not offer any protection against Covid-19. The jabs were found stored in beer coolers and some were identified to contain nothing more than distilled water.
The World Health Organization issued a warning last month that these fake Pfizer vaccines have been found in Mexico and may still be circulating. In Neuvo Leon, a northern Mexican state, Mexican authorities first identified bogus jabs being sold on the black market in February. Pfizer had tested these vaccines and confirmed they were not real Covid-19 jabs.
Mexico is also looking at a recent arrival of 6000 vaccines purportedly of the Russian Sputnik vaccine. This shipment was seized on a private plane en route to Honduras last month.
The shortage of availability of authentic vaccines in many parts of the world has led to a rise in counterfeit production and scams. Last month an army medic was accused of selling fake vaccines to Thai soldiers. As supply and production slowly increase this problem may lessen, but while production is not meeting demand there is a window of opportunity for scammers. Fake vaccines in China had been reportedly circulating since September.
Meanwhile in Poland officials confiscated counterfeit vaccines filled with a substance that's used in anti-wrinkle cream and beauty products. Polish police seized a box labelled as the Pfizer vaccine from a man's apartment. Pfizer easily identified the counterfeit product because they use different vials than what the company uses for its Covid-19 jab. In fact, the police also found identical vials from anti-wrinkle treatment products in the man's apartment. Fortunately, it looked like nobody had received a fake injection yet. The man was arrested and charged with fraud.
SOURCE: Thai PBS World and Wall Street Journal
📱 Download our app on Android or iOS for instant updates on your mobile
📧 Subscribe to our daily email newsletter
👍 Like/Follow us on Facebook
🔔 Subscribe to or Join our YouTube channel for daily video updates