Thailand News Update | Woman infected with Covid19 allegedly kidnapped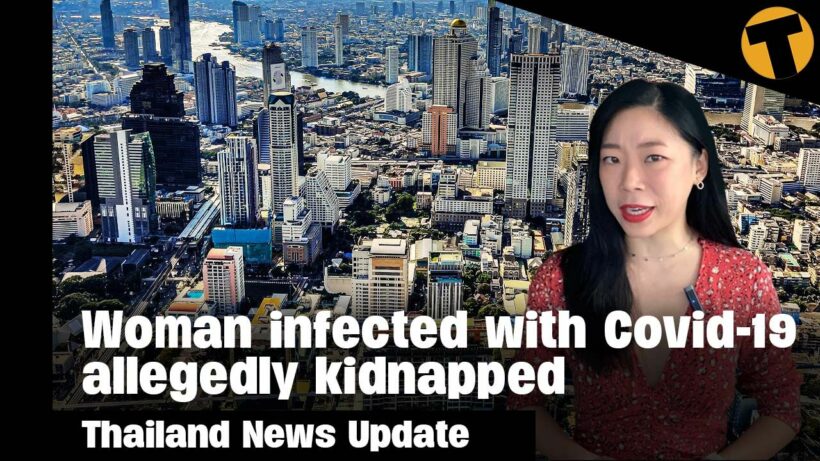 The Thai government is working with domestic insurance companies to come up with more relevant Covid insurance options to foreign tourists whose own insurance won't cover hospital or hotel isolation if they end up being quarantined with an asymptomatic infection.
The governor of the TAT says officials are in talks with the Office of the Insurance Commission. Yuthasak Supasorn says they're trying to price premiums starting around 800 baht per person to cover the cost of hotel isolation, which can cost anywhere from 30,000 baht and up, depending on the hotel and where it's located.
The CCSA last week announced that if tourists are not fully covered by their own insurance policies, they must cover the expenses themselves. Since test 7 go was introduced in November last year, there has been numerous cases of people fleeing their quarantine detention as well as squabbles about who is resonsible for paying the bills for extended stays.
---
Despite threats to Thailand's economy, at least car exports are expected to increase to 1 million units for the first time in two years. In 2020, when Thailand was first hit by Covid-19, car production for export dipped to as low as 704,000 units, down from 1 million units the year before the pandemic started.
In 2021 the export numbers rose to 957,000 cars.The Federation of Thai Industries attribute the growing output to increased demand from some of Thailand's biggest car importers.Thailand remains a major car manufacturing nation, especially in the pickup and work-truck segment.
Total car production in 2021, including for domestic consumption, stood at 1.68 million units, an increase of 18% from 2020.But there may be some challenges ahead if the world's semiconductor shortage is not settled, or if there's any further surprises emerging from the global pandemic.
---
Thai border patrols have arrested 107 Burmese migrants for allegedly crossing the border illegally into the western province of Kanchanaburi. They crossed into Thailand seeking jobs here. Authorities also arrested one Thai guide for providing assistance to people illegally entering the country.
Authorities turned the migrants, 66 men and 44 women, in to Muang and Sangkhla Buri police for legal proceedings for illegal entry, pending deportation. The migrants had paid, or planned to pay, from 10,000 baht to 27,000 baht each to Thai job brokers. This news comes after Thai authorities arrested and planned to deport hundreds of Burmese migrants last week in similar situations. These migrants usually paid brokers from 5,000 baht to 20,000 baht, although some even pay up to 50,000 baht.
Trafficking of humans along the leaky Thai/Myanmar border is an ongoing problem but has attracted additional attention during the Covid pandemic with the clumsy attempts to close Thailand's land borders.
---
A woman infected with Covid-19 was allegedly kidnapped from a quarantine hotel in Bangkok by a group of men posing as police officers. The 55 year old father filed a report with police on Saturday, claiming that his 23 year old daughter was kidnapped by a group of men claiming to be police.Apparently, one of the suspects had fallen in love with the woman, but she decided to step away after finding out that this man was hot-tempered, according to reports in Thai media.The woman tested positive for Covid-19 on January 15 and went into isolation at the ST Holiday Hotel in Bangkok.
The woman says she never told the man she went into isolation. But five days later, a group of three to four men came to the hotel, claiming they were police officers and the woman was wanted on theft charges for stealing 1 million baht.
The men, who were not wearing police uniforms or PPE gear, asked hotel staff and nurses to deliver a document to the patient saying she is under arrest.The men then forced the woman to a condominium.
At some point, she was able to contact her father to get help and emergency responders rescued the woman, bringing her to a hospital for the rest of her Covid-19 treatment.Police, this time real police, are gathering evidence in the case.
---
Last week, US President Joe Biden sent a letter to ASEAN leaders assuring them that the proposed special US-ASEAN summit is still on the agenda.His signed one-page letter made it clear that, despite the summit's postponement, the US is still committed to further strengthening its relationship and cooperation with ASEAN.
But, after nearly six years, since the start of the Trump Administration, Washington is yet to appoint a new envoy to the Jakarta-based ASEAN Secretariat.During the ASEAN summit in October, Biden invited the ASEAN leaders to Washington for a special summit, which was scheduled to be held this month.
It has now been postponed and no new date has been set, raising fears that this special summit might not take place, due, apparently, to the mounting domestic challenges facing the Biden administration.
---
Following the outcry from socially conservative groups, South Korean electronics giant Samsung has withdrawn an online advertisement in Singapore that portrayed a hijab-wearing Muslim mom hugging her drag queen son.
The ad from Samsung's "Listen to Your Heart" promotion was allegedly accused of advertising homosexuality and transgenderism by promoting wearable devices like noise-cancelling headphones and smartwatches, highlighting the mother's apparent loving bond with her cross-dressing son.
One organisation called it "an unfortunate attempt to push the LGBT ideology into a largely conservative Muslim community".Another criticism pointed out the ad's message of "infinite openness" and its potentially harmful impact on future generations of the majority Christian community, where ethnic Malay Muslims also make up a sizable minority in a city-state dominated by ethnic Chinese.
While there is rising support for LGBT rights in some areas of Singapore, there is also opposition to greater acceptance in the city-state which remains conservative when it comes to religious morals.Samsung said it would remove the ad from all public platforms.
---
The American pilot of an F-35 jet ejected as his jet crashed on to the deck of a US aircraft carrier in the South China Sea injuring seven. The incident happened yesterday. The pilot was conducting routine flight operations when the crash happened.
He safely ejected, was recovered by a military helicopter, and remains in a stable condition.Six others were injured on the deck of the carrier. Three required evacuation to a medical facility in Manila, Philippines, where they are in stable condition.The cause of what the statement called a "inflight mishap" is under investigation.
The 3.4 million-square-kilometre South China Sea has been the site of frequent naval activity in recent times as China continues to assert claims of sovereignty over almost all of the area by fortifying and militarizing islands and reefs.Meanwhile, the US military says they assert their right to operate freely in what they describe as "international waters".
China sent 39 warplanes into Taiwan's self-declared air defense identification zone on Saturday, a day after a joint US/Japanese peacocking of their naval firepower in the disputed area.
Subscribe or Join our YouTube channel today and become a Thaiger Legend or a Thaiger Cub for behind the scenes footage and other member-only perks.

Join the conversation and have your say on Thailand news published on The Thaiger.
Thaiger Talk is our new Thaiger Community where you can join the discussion on everything happening in Thailand right now.
Please note that articles are not posted to the forum instantly and can take up to 20 min before being visible. Click for more information and the Thaiger Talk Guidelines.