Everything is OK – KCon 2018 comes to Bangkok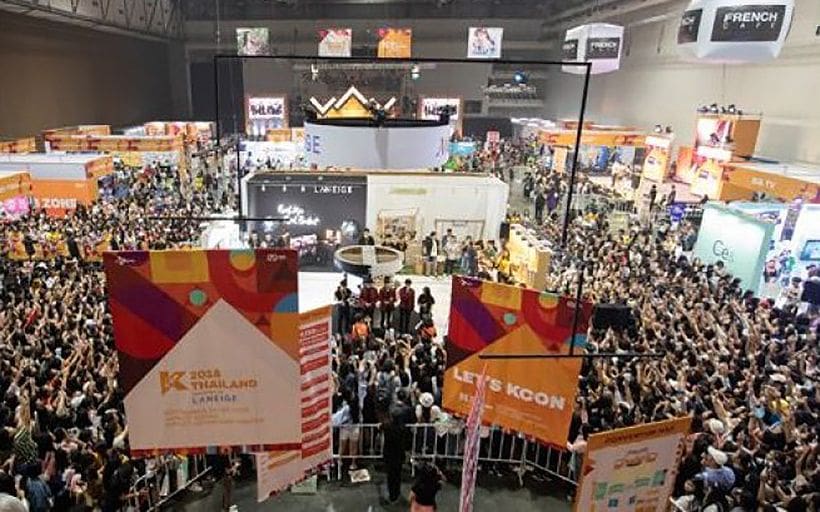 In case you've been living under a rock, K-Pop, the garish, highly-produced pop/RnB/hip-hop fusion coming out of South Korea, is the biggest 'thing' in international pop music sales at the moment. And KCon – a celebration of everything K-Pop – has just swept through Bangkok.
No fewer than 40,000 devoted fans of the Korean Wave massed at Impact Arena and the adjoining exhibition centre for KCon 2018, perhaps the biggest South Korean spectacle seen in Thailand to date.
There was K-fashion, K-beauty, K-food, K-dance, K-drama and of course unrelenting K-pop, with some of the biggest names in the genre performing. (Although BTS, the most popular of them all, is on a sell-out tour in cities around the US and London in October.)
With the pop tunes scheduled for the evenings, the huge turnout – mainly Thai teen girls but also plenty of visitors from elsewhere in Asia – spent the daylight hours checking out the non-musical action on two stages. To read the story any further probably requires a crash course in K-Pop, so don't worry if you get a bit lost in all the names and song titles.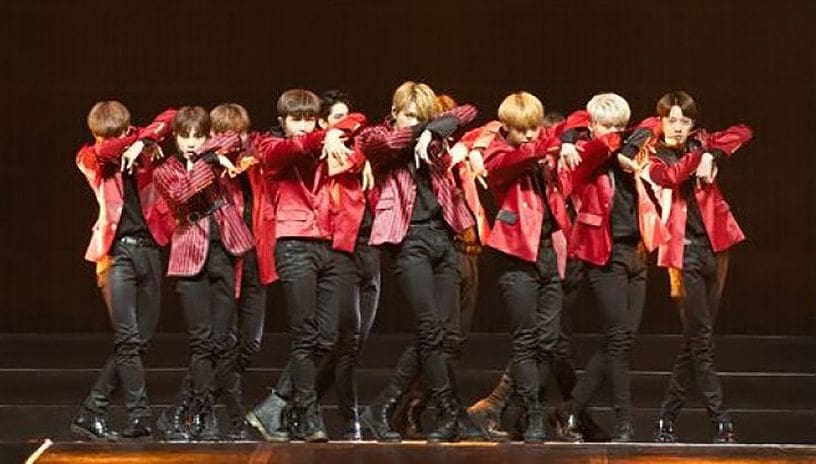 The Star Square offered events such as "Oppa loves Thai", "Thai Influencer" and a "K-Pop Cover Dance Workshop", but also, at something known as "Exclusive Fan Engagement", a chance to practise screaming at members of Golden Child and Nature.
The KCon Stage had Nature holding forth about beauty topics. Kim Chungha (Chungha) and Monsta X did sessions with Tofupop Radio and Cho Yumyong of YMC Entertainment and Lee Jooseob of MNH Entertainment presented the success of Chungha and Wanna One.
MNH put Chungha on the TV reality show "Produce 101", in which girl groups battle for survival, and she finished fourth, then joined other trainees in the "project girl group" IOI, which released the mini-album "Chrysalis".
She's found far greater fame as a solo artist and has released three mini-albums that spawned the hits "Why Don't You Know" and "Roller Coaster".
Wanna One – the first K-pop group to sell a million copies of a debut album – emerged from the same reality show, as an 11-member boy band, and have scored success with the tracks "Energetic", "Burn It Up", "Beautiful" and this year's "Boomerang", backed by a world tour.
Its members currently also pitch cosmetics, clothing, mobile games and food and beverages.
"We usually only see the music idols' abilities onstage, but for Wanna One and Chungha, their personal life stories make us understand and feel for them more," said Cho Yumyong.
"That's why the number of fans for both of them just keeps increasing. We impress on them when they're rehearsing that they have to do their best for the fans, and they never stop trying because they want to get better and better."
Lee Jooseob confirmed Wanna One and Chungha's popularity among the fans and added that, "No matter what content we attach to them, they just become more outstanding." Lee had just had a meeting with Nichkhun (Nichkhun Buck Horvejkul), the Thai guy in the South Korean boy band 2PM.
"He called me yesterday and made an appointment to meet me in the lobby of my hotel and we had a long talk. I was impressed to hear he was trying to read a book in Korean that would be difficult for even Koreans to understand. I asked him why and he said it would help him understand the language better."
Thai fans had set up K-pop booths where anyone could get their picture taken posing with a life-size cutout pop star. Others inked affectionate messages to the stars on giant boards.
The official opening ceremony in the arena noted the 60th anniversary of diplomatic relations between Thailand and South Korea, something that Nichkhun helps promote and for which he earned a thankyou certificate.
"It's a great honour for me to have the chance to go abroad and to get foreigners to love our country and culture," he said.
"I'd like to thank all the Thai fans who support Korean artists."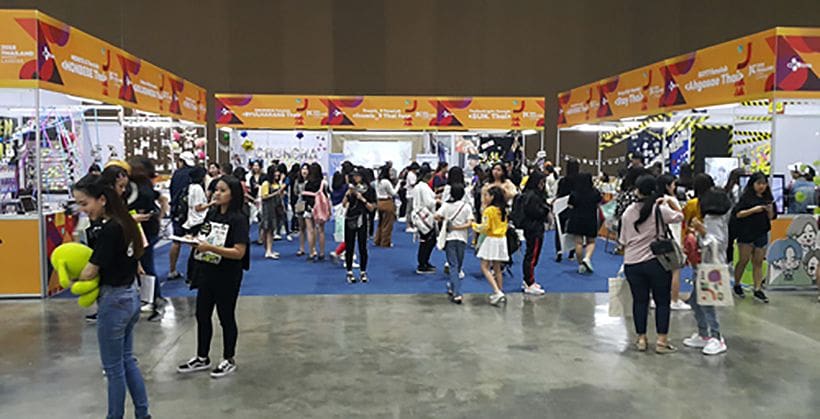 The musical proceedings began with Nature, an even more cosmopolitan group than 2PM, with Chinese and Japanese among the members. They sang their first single, "Allegro Cantibile", which is a remake of the track that opens the popular anime "Nodame Cantabile".
More of the genre's new acts followed onstage – Stray Kids (performing "My Pace" and "District 9") and Golden Child ("Let Me", "DamDaDi"). Together, the bands spelled out "THAI" – T for title song with sexy version, H for handsome, A for act cute and I for I Wannabe Like (with everyone agreeing they wanted to be like 2PM).
Chungha followed with "Why Don't You Know", "Roller Coaster" and "Love U" featuring DJ Soda, and Sunmi, formerly of the Wonder Girls, sang "Addict", "Siren" and "Gashina". The audience basically never stopped screaming and waving around white light sticks that were shaped like the numeral one, referring to Wanna One.
They'd have to wait a little longer for them, but they certainly didn't shut up when singer Shownu and rappers Jooheon and IM of Monsta X got the stage vibrating to the hip-hop beat of "Runway". The trio was soon joined by the rest of the group for "Jealousy", "Hero", "Be Quiet" and "Dramarama".
Okay, so finally it was time for Wanna One, and their frenzied female following – known as the Wannable – was melting into one big puddle.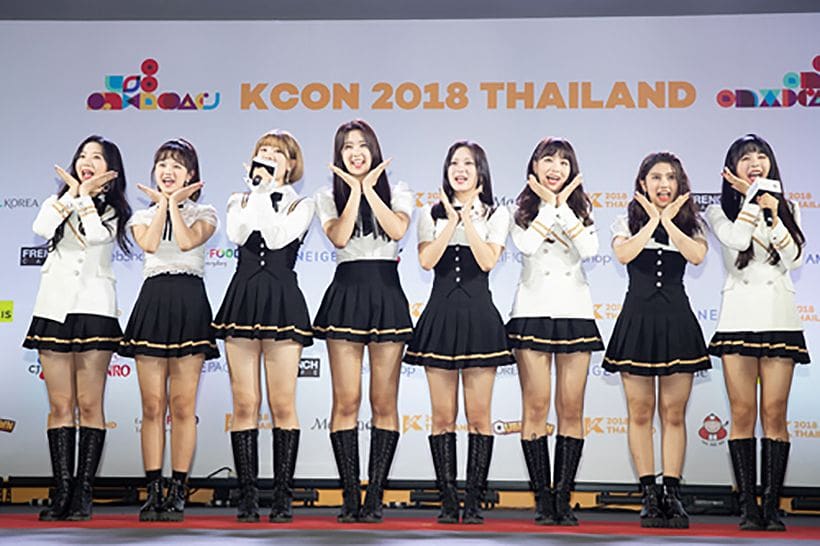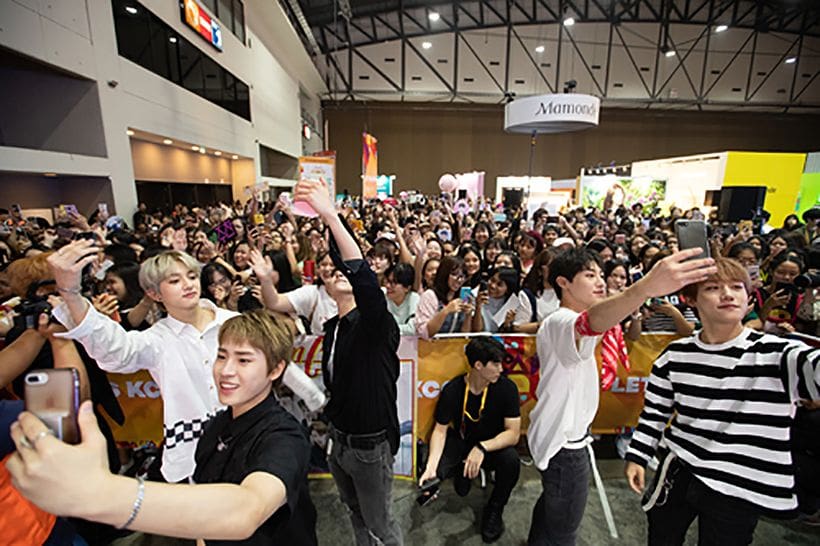 Find local events and browse venues in Thailand with Thaiger Events, or post your own today.

Read more headlines, reports & breaking news in Bangkok. Or catch up on your Thailand news.
Third runway for Suvarnabhumi Airport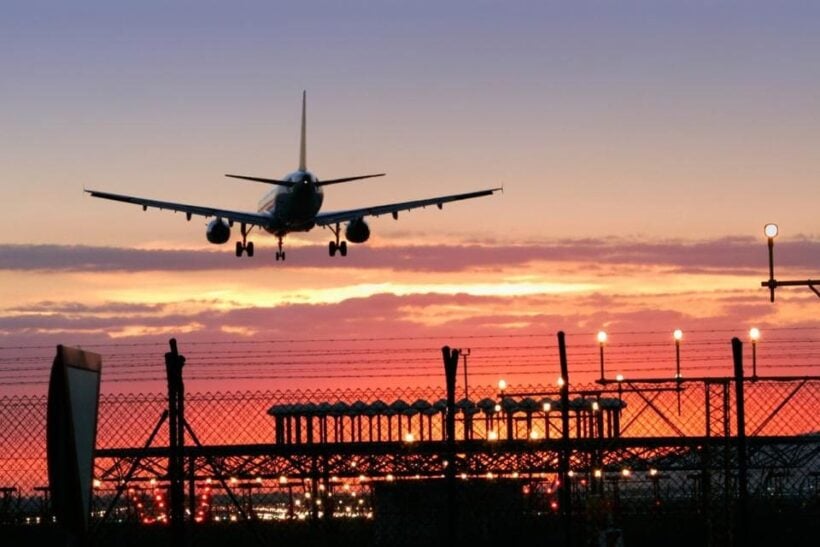 The Thai cabinet yesterday approved the construction of a third runway at Suvarnabhumi International Airport as part of the country's ambition to become the aviation hub of ASEAN.
The 21.7 billion baht project will increase the combined capacity of Suvarnabhumi international airport's runways to 94 arrivals and departures per hour from the current 64, said Lt-Gen Weerachon Sukonthapatipak, deputy government spokesman.
Suvarnabhumi Airport (aka. BKK) was opened in 2006 as Bangkok's second airport. Initially it replaced the tired Don Mueang Airport but Don Mueang was later revamped as a low-coast airport to service the growing traffic demands.
Meanwhile Suvarnabhumi Airport was, and still is, operating above its designed capacity. An earlier bid to build a third terminal has been mired in controversy and is currently shelved pending a new brief from Airports of Thailand with a new round of design bids called for in the future.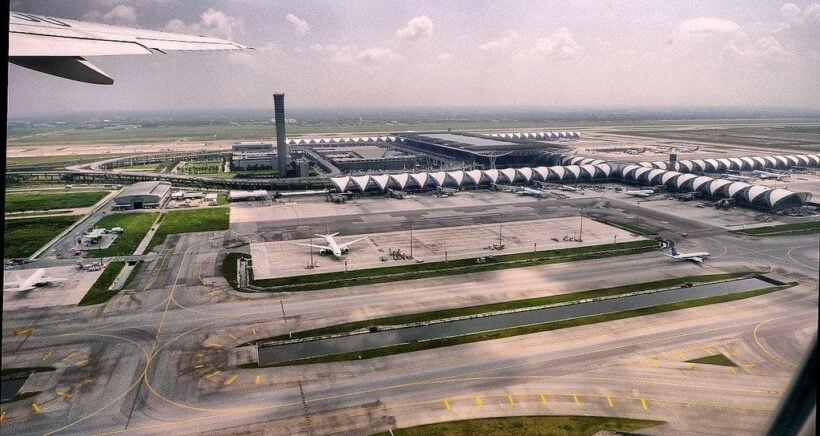 Thai suki restaurant customer injured as gas cooker explodes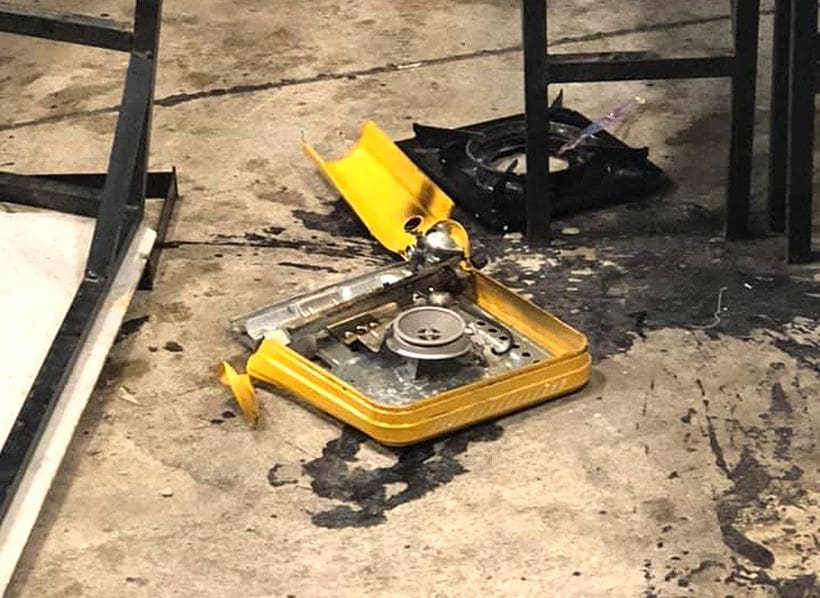 PHOTO: Facebook.com/สมพงษ์ เเก้วอาจ
A gas canister has exploded at a Moo Katha or 'suki'  restaurant in the Ram Inthra area of Bangkok. Moo Katha is a very popular kind of restaurant around the country.
Thai Rath reports that Sompong Kaew-art posted on his Facebook that he had been near the restaurant when he heard an explosion. Passersby first thought a tyre had blown out somewhere. But later they found out that a gas canister, used to heat the pan on the table, had exploded.
Poh Teck Tung foundation medics treated a woman at the scene before taking her to hospital. His Facebook post has since been read 40,000 times with 27,000 comments as Thais warned their friends about the exploding gas canister at the restaurants.
SOURCE: Thai Rath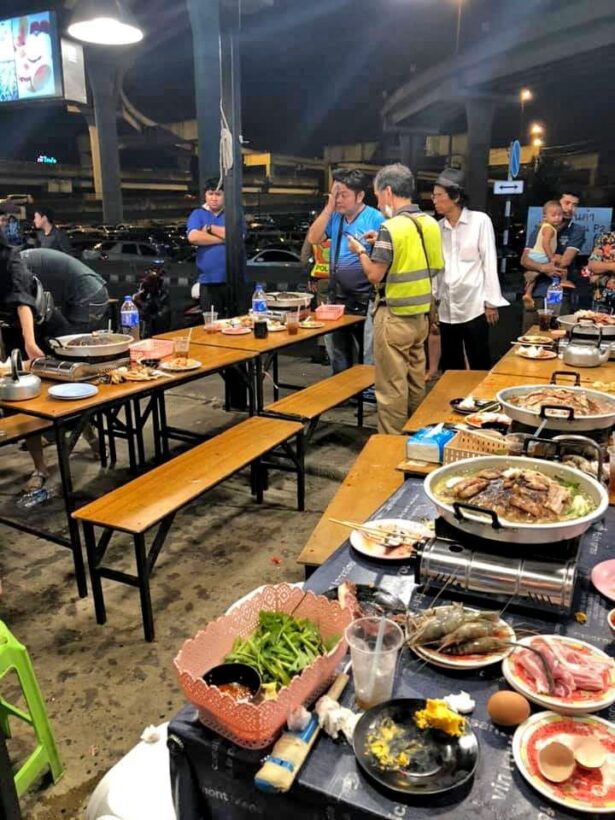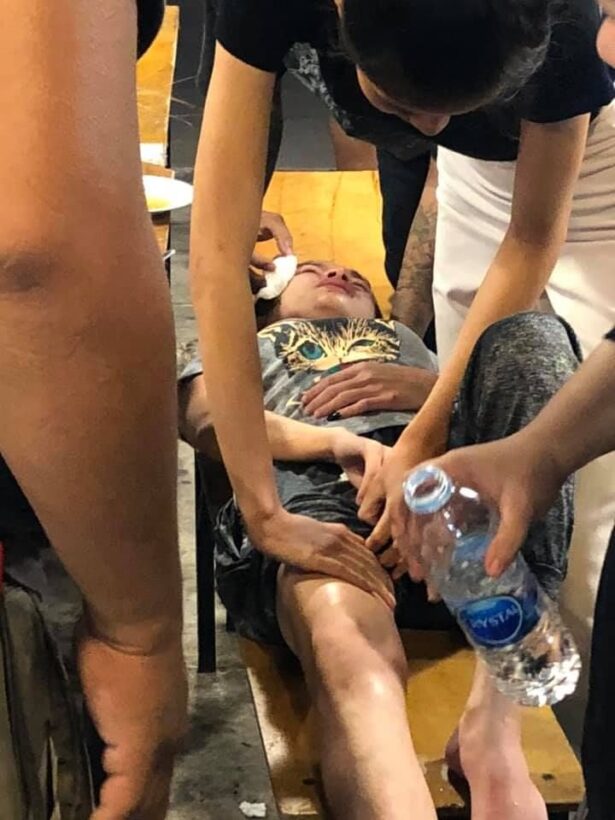 Junta warned to be careful targeting rivals with petty litigation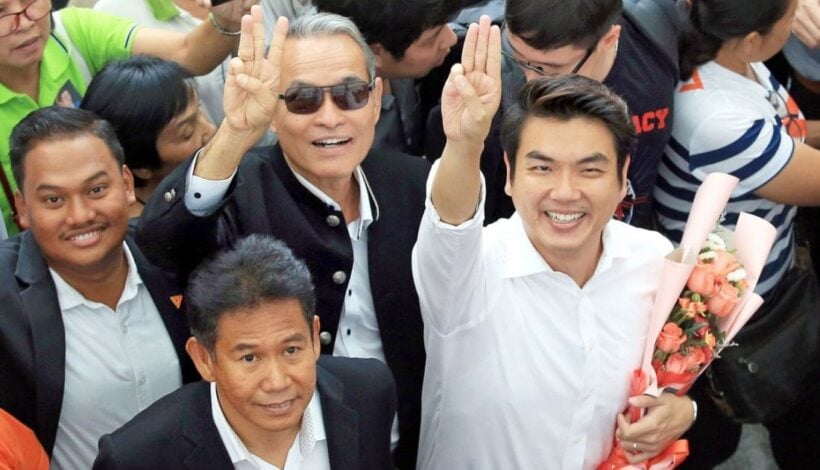 PHOTO: Piyabutr Sangkanokkul reports to police yesterday using the, now popular, anti-government three-finger salute – The Nation
by Kai Chanwanpen
While members of pro-democracy parties continue to be targeted with politically-motivated lawsuits, a political scientist is warning this tactic of eliminating political rivals through trivial matters of law could backfire and lead to a legitimacy crisis down the track.
In the latest case, the Future Forward Party secretary-general Piyabutr Sangkanokkul yesterday acknowledged the charges pressed against him by the ruling NCPO, whose chief is a prime ministerial candidate after the March 24 election.

"Seeking advantage over rivals is common in politics. But this cannot be without consequences. They could face questions of legitimacy even if they successfully conspire to attain their goal," said Attasit Pankaew, a political expert from Thammasat University.

"All the unfairness that can be seen right now will lead people to question if Piyabutr would have been hit with a lawsuit if he were not so popular in the election."

The pro- and anti-junta blocs have been going after each other since the election with politically motivated, and mostly relatively petty, lawsuits.

But when the court was petitioned to seek the disqualification of junta chief Prayut Chan-o-cha as a prime ministerial candidate because he was a public servant, the ruling went in favour of the incumbent.

While these kinds of political challenges are common around the world, Attasit said that public sentiment could play a major role in making any change.

"It's how the public responds to the treatment that could improve this culture," he said.

"Meanwhile, the authority has to provide an explanation and ensure that the due process of law is followed without victimising political rivals."

Piyabutr has been charged with contempt of court and breaching the computer crime law for reading out a statement in relation to the dissolution of Thai Raksa Chart Party in February.

Piyabutr, a former law lecturer at Thammasat University, yesterday denied the charges. He insisted on his innocence, saying as a law scholar the criticism was meant as an academic comment and that he believed in the justice system.

"The chief of the NCPO is the PM candidate of a political party, which was a rival of Future Forward Party in the election and he has assigned an official to prosecute me for contempt of court," he said.

"Let me make an observation: the judicial branch is a part of the sovereign state and cannot escape criticism, especially the Constitutional Court which rules on political conflicts and whose judgement is likely to be scrutinised," Piyabutr told reporters.

"Disagreement with a court judgement is not a crime."

SOURCE: The Nation