Manila traffic jams block ambulances, patients die on way to hospital
Gridlock in Manila is costing lives as ambulances stuck in traffic face severe delays in the race against the clock to reach the city's hospitals, medics warn.
Special lanes for emergency vehicles are not enforced, the infrastructure is outdated, and local drivers are often unwilling or unable to make way – a situation experts say is causing patients to die en route.
"You feel empty. It is as if you were not given a chance to do everything in your capacity to help," ambulance driver and paramedic Joseph Laylo told AFP.
"If the traffic was not that bad it could have saved the patient," he added, recalling how he lost a patient when congestion tripled the time to hospital.
Even with an encyclopedic knowledge of short cuts or aggressive driving such as blasting their horns or bumping unyielding vehicles, it is not always enough to arrive in time.
Driver Adriel Aragon is still haunted after losing a critically ill patient when it took 40 minutes to reach the hospital — the journey should have taken half that time.
"No matter how hard we honk, even if we use our siren, if the vehicles are not moving it doesn't matter," he said.
"That's what happened that time," Aragon added of the 2014 tragedy.
Five minutes before they reached the hospital the woman's pulse disappeared. She was pronounced dead after they wheeled her into the emergency room.
At peak hours, the main arteries of Manila are clogged with idling cars — a 25-kilometre (16-mile) end to end drive through the main highway can take as long as three hours.
Home to some 13 million, there is nearly one vehicle registered per person. The resulting gridlock costs the city $67 million daily in lost productivity, according to a 2017 Japanese government-funded study.
Life or death
Neither the government nor ambulance companies keep count of how many patients die in traffic each year, officials said, but emergency medical workers in the city have many horror stories.
Laylo says one patient died inside his ambulance after heavy traffic on a narrow road added 10 minutes to the journey from the patient's home to the hospital.
"It was about 5.7 kilometres. Normally it would take us less than five minutes, but it took us 15 minutes that time," Laylo explained.
"When you're trying to save a person's life, that is very slow," he said, still upset by the 2017 incident.
Images of ambulances stalled in unmoving traffic jams have sparked outrage on social media in the Philippines.
One of the most notorious examples – which has been viewed over 3.2 million times online – was filmed by a woman shocked that cars wouldn't or couldn't give way to the ambulance carrying her mother.
"I was very angry. I was worried too because we couldn't do anything about the vehicles blocking our lane," the woman, Jing Zamora, told AFP.
The trip took hours, when it should have taken minutes. Zamora's mother, who suffered a stroke, survived the trip to the hospital but died there a week later.
A swift medical response is key to recovery, according to the American Stroke Association.
Officials like Aldo Mayor, public safety chief of the Metropolitan Manila Development Authority, put at least part of the blame on other road users.
"Some people simply do not care. It is as if they are the only residents of this world," said Mayor, whose government agency manages the capital's chaotic traffic.
He added that Manila ordinances concerning emergency vehicles, including a 2017 regulation that reserves one lane for them, are rarely enforced due to personnel constraints.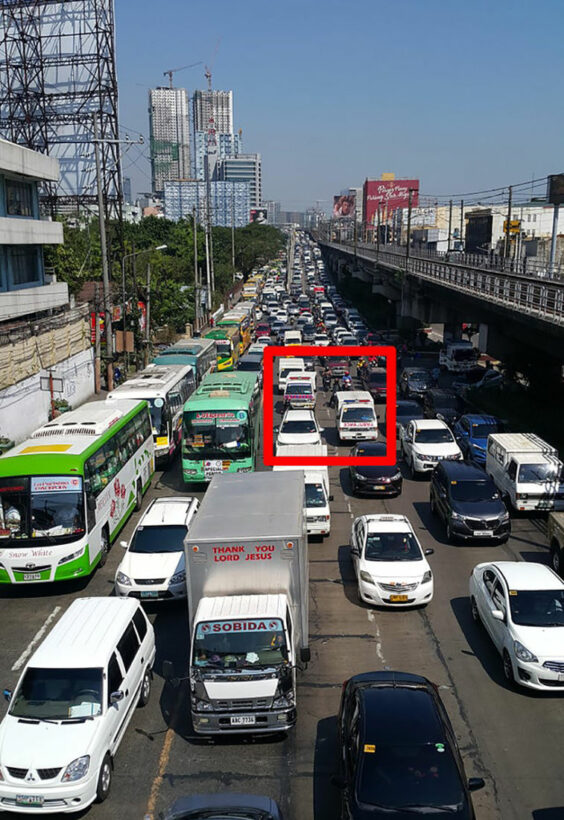 'Ambulances cannot levitate'
These problems come as Manila's population has roughly doubled since 1985 and its infrastructure has not kept up.
Its limited system of commuter rail is augmented by jeepney mini-buses and millions of cars.
The nation's thicket of bureaucracy and deep-rooted corruption have stalled or blocked efforts to build new roads, bridges and public transit.
President Rodrigo Duterte pledged to unblock the capital's choking gridlock, but halfway through his term the city's main thoroughfare, EDSA, remains a parking lot at rush hour.
The sheer number of cars on the roads is a major factor in whether ambulances can get their patients to hospital quickly, said Vernon Sarne, a long-time automotive journalist.
"Even when you want to give way, but the motorway is full, what can we do? The ambulance cannot levitate," he told AFP.
However Sarne noted that drivers have become cynical, thinking ambulances might be using their lights and sirens just to cut through the traffic for non-emergencies.
"As a motoring public we are jaded to the fact that everyone is taking advantage of us," he said, adding some politicians use emergency vehicles escorts to avoid the gridlock.
Yet ambulance operators in Manila hope public shaming on social media, like Zamora's viral video, can help.
"Because of social media, we found more and more people are giving way, giving (us) the benefit of the doubt," Michael Deakin, the head of one of the nation's largest ambulance companies told AFP.
SOURCE: Agence France-Presse
Keep in contact with The Thaiger by following our
Facebook page
.


Find more SE Asian News courtesy of The Thaiger.

Broke? Find employment in Southeast Asia with JobCute Thailand and SmartJob Indonesia. Rich? Invest in real estate across Asia with FazWaz Property Group or get out on a yacht anywhere with Boatcrowd. Even book medical procedures worldwide with MyMediTravel, all powered by DB Ventures.

Philippines lifts restriction on rice imports from Thailand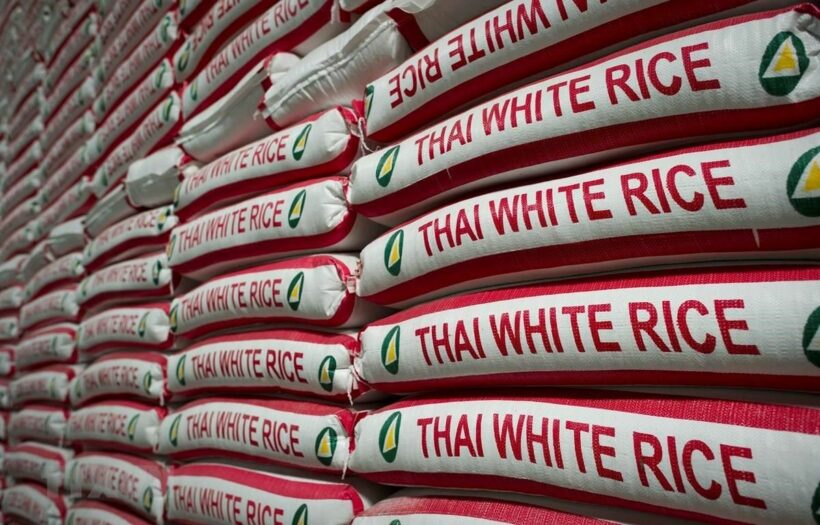 PHOTO: VietnamPlus
The Philippines has suspended a trial measure put in place to control imports of Thai rice following objections from Bangkok. The measure was initially put in place after the Philippine Department of Agriculture deemed existing regulations too lax.
Rice imports had been under the control of the country's National Food Authority until the government took over and attempted to impose tougher restrictions.
The Nation reports that Keerati Rushchano, an inspector-general at the Commerce Ministry and Acting Director-General of the Department of Foreign Trade, says officials attended a meeting in the Philippines on October 24 with the aim of setting up a regional "economic development cluster".
At the meeting, it was agreed that off-setting a drop in the price of rice with import restrictions would raise domestic inflation. Instead, the Philippines has agreed on subsidies for its farmers.
The Nation reports that in the first nine months of 2019, Thailand exported 543,344 tonnes of rice to the Philippines, a decrease of 61.65% year on year.
SOURCE: The Nation
Keep in contact with The Thaiger by following our
Facebook page
.
Powerful 6.4 earthquake kills five in the Philippines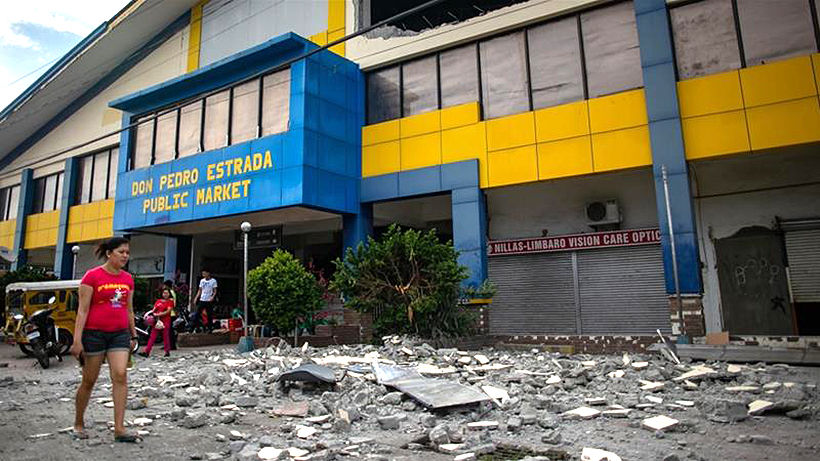 PHOTO: AFP
A strong 6.4 magnitude earthquake has struck the southern Philippines, killing five, including one child, destroying property and disrupting power supply. The death toll is expected to rise.
The powerful quake was felt across the Mindanao region, even causing a 3-storey shopping mall to burst into flames. Residents were evacuated and a child was killed when a house collapsed in the town of Datu Paglas.
AFP reports that the quake was 14 kilometres deep and followed by two aftershocks. The Philippines is part of the "Ring of Fire", a zone of constant seismic activity that stretches from Japan through Southeast Asia and across the Pacific.
Several injuries have been reported as a result of falling debris. The shopping mall that caught fire was evacuated when the quake struck, but it's not yet known if there were still people inside as the fire took hold.
The mall was still on fire three hours later as nearly 100 firemen battled to put it out.
Residents on the coast in Davao fled to higher ground fearing a tsunami, even though a government seismologist reassured people there was no tsunami risk as the quake had occurred inland.
It's understood that prisoners in the municipal jail in the town of Bansalan were also let out, but placed in handcuffs and held outside for the duration of the evacuation.
SOURCE: AFP
Keep in contact with The Thaiger by following our
Facebook page
.
Burmese surfing team head to SEAsia Games, a first for Myanmar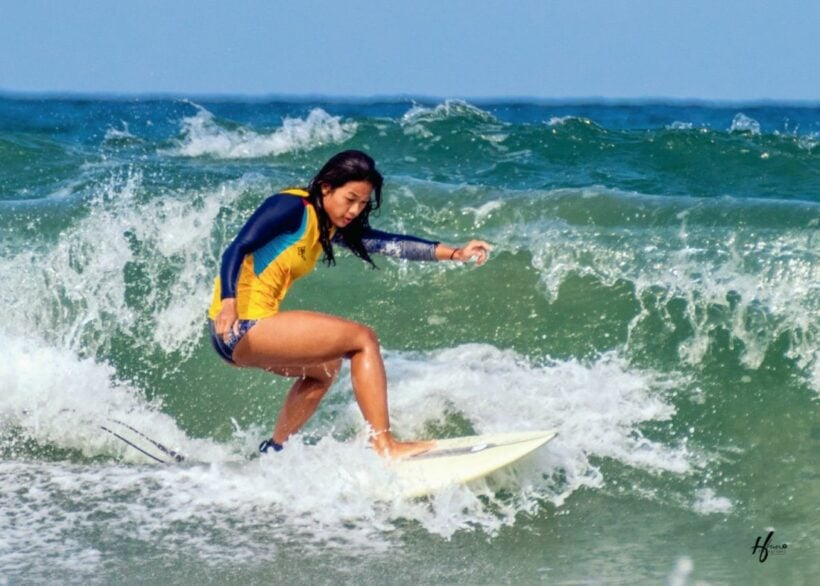 PHOTO: Burmese surfer Thwe Thwe Soe practicing off the coast of Ngwe Saung – Myanmore
Paddling hard and smiling, Thwe Thwe Soe flung herself up on the board just as a wave was breaking, spreading her arms out for balance before getting knocked off.
"I can't live without surfing. I did not expect to be chosen for the national team but I'm thrilled at the opportunity."
Thwe Thwe Soe was speaking after a day in the blue waters off the small coastal resort town of Ngwe Saung. Competitive surfing was barely known in Myanmar a few years ago but one local beach town is riding a wave of enthusiasm to the Southeast Asia Games for the first time ever.
The Southeast Asian country is flanked by surf-ready coasts to the west and south, but decades of military rule, lack of equipment and poverty kept aspiring athletes from testing the waters. The 25 year old encountered the sport while studying in southern California and has been hooked since, saying she "always feels happy" on the water.
Now she is going up against the region's giants at the December games in the Philippines. Thwe Thwe Soe has one of the best chances to medal among the handful of surfers going, but all are training hard.
"We surf for at least four to six hours a day," said American coach Robert Brickell, a 26 year old originally from New York.
The mild waves at Ngwe Saung present a paradox for competitive surfers – they are good to learn on but much tamer than the conditions in surfing hotspots. The team went to Bali in Indonesia for two months to get used to some "big wave surfing" and have made enormous strides in a short amount of time, Brickell said.
"My hope is that we can show everybody that people from Myanmar, we know how to surf, we know how to respect the ocean. And of course our hope is to win some meets."
The Surf Association of Myanmar was established only this year. The sport is slowly gaining prominence thanks to the impassioned surfers, most from a village near the beach and newcomers themselves. Ngwe Saung is the heartland of the growing craze and has now hosted several competitions.
"We hadn't heard of surfing before 2017. It will be a difficult competition but we will do our best for sure." said 19 year old Aung Min Naing.
SOURCE: Agence France-Presse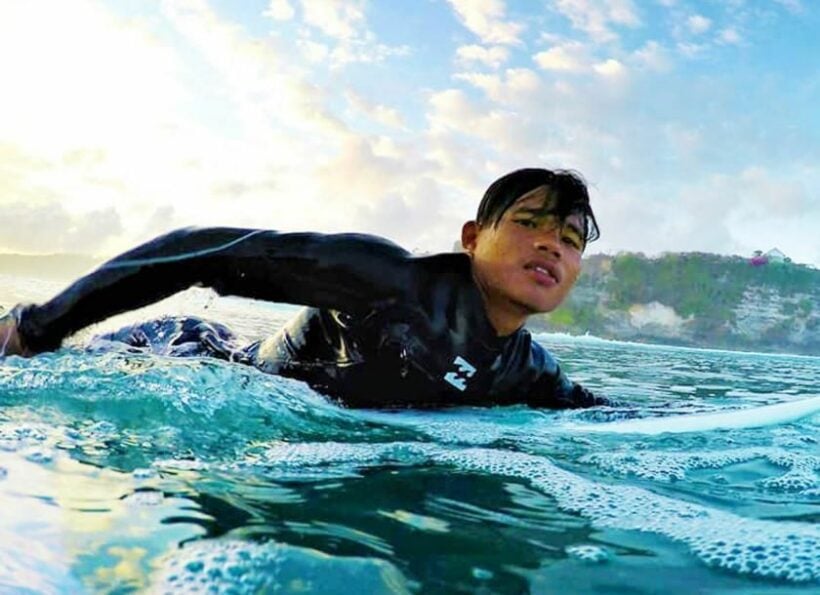 PHOTO: Aspiring new Burmese surfer, Aung Min Naing – MMTimes.com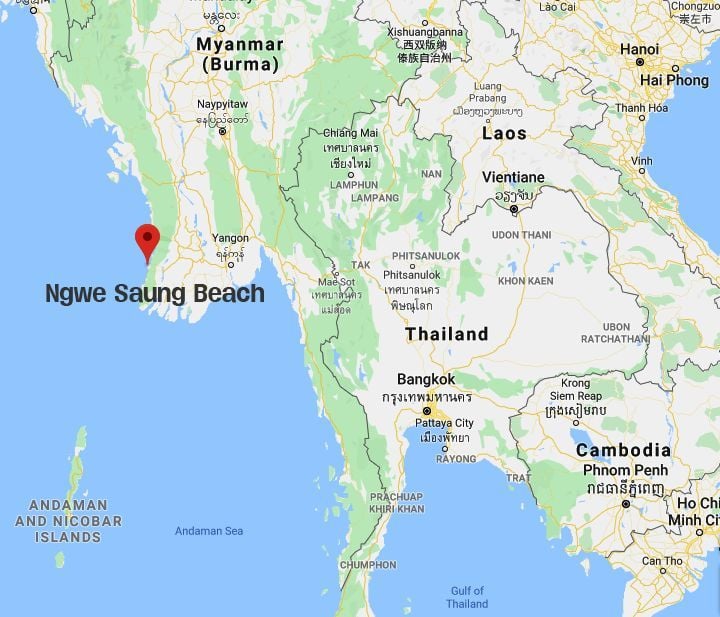 Keep in contact with The Thaiger by following our
Facebook page
.