Alleged Greek murderer of Phuket beautician remains at large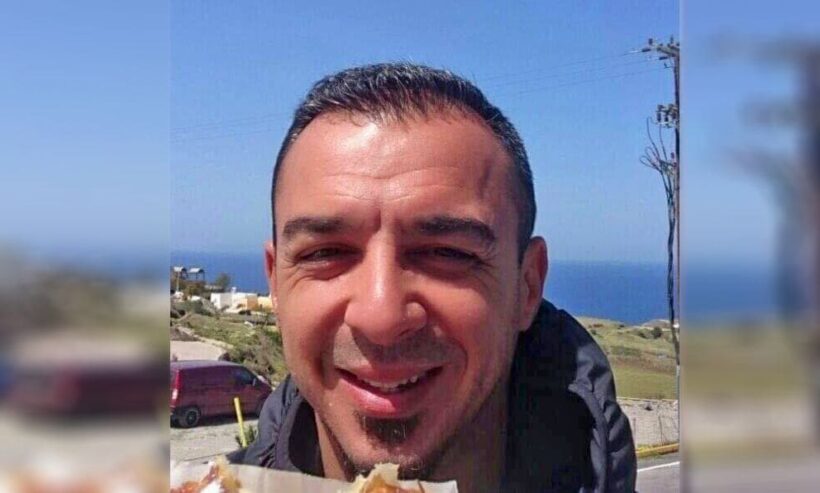 PHOTO: Dimitrios 'Dim' Chairopoulo, wanted and believed to be living in Greece
Local Phuket police are yet be informed of the latest in an international hunt for a Greek alleged murderer Dimitrios Chairopoulos. He remains wanted as a suspect in the murder of local beautician 43 year old Niramon 'Bea' Aewkaew in Phuket during February.
Cherng Talay police say they want an Interpol Red Notice issued so that they can track down and arrest 42 year old Dimitrios 'Dim' Chairopoulos, wanted for the murder. Bea and Dim were seen leaving their accommodation on February 11. It was the last time Bea would be seen alive.
Mr Chairopoulos was recorded as clearing Immigration at Phuket International Airport to board a flight to Dubai in the hours after Ms Niramon was last seen alive. He boarded an Emirates flight EK0379 to Dubai, departing Phuket at 2am. Police also confirmed that he arrived in Dubai on the same day.
"If he comes back to Thailand he will be arrested," said Chief Col Sen Kwannimit of the Cherng Talay Police.
A request for a Red Notice was submitted with the Foreign Affairs Division of the Royal Thai Police on February 19 but, for now, no formal international's notice has been published..
Cherng Talay Police confirmed that Dim was seen leaving the room at a guesthouse in Bang Tao where Ms Niramon's body was found on Saturday, February 16.
In the days leading up to her murder her family had been desperately trying to contact her.
'Bea' was the eldest of 5 children from Phatthalung province and had been working in Phuket as a beautician at the time.
One of her sisters, May' was contacted on February 15 by one of Bea's workmates trying to locate her.
Neither May or Bea's other sisters, relatives or friends were able to contact her. Bea had just moved to a new house so nobody knew where she was living. Another sister, Pichy, spoke to friends and was able, using Google Maps, to locate the guesthouse she was staying.
The owner of the room told the family that the air-conditioning was on in the room but there was no response. When the owner returned with a key he informed the family that Bea was found on the bed with a black cloth stuffed in her mouth and her hands and feet bound.
CCTV footage shows the couple leaving the room in the afternoon of February 11, the last time that Bea was seen alive.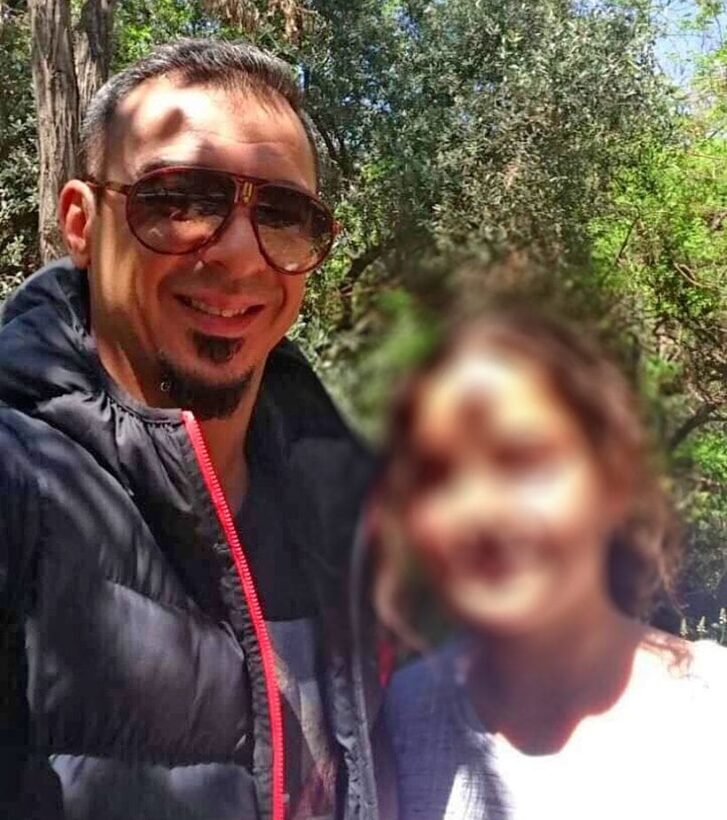 Dimitrios 'Dim' Chairopoulos with his daughter from another relationship
What we know about the alleged murderer?
Dimitrios 'Dim' Chairopoulos, who remains at large and thought to be in Greece, worked as security in a night club in Athens. He already had a daughter to another woman in Greece.
During his relationship and marriage with Bea he was said to be 'controlling' and 'jealous' by members of Bea's family. A close family friend told The Thaiger that the family had concerns for Bea's safety and were 'uncomfortable' with her ongoing relationship and marriage with Dim.
"We tried to get to know him at family functions but he was not easy to know and seemed very possessive of Bea," said one of the close family members who asked not to be named.
"He did threaten to kill her if she ever left him and Oh, another of her sisters, went with Bea to file a report of the threats at the Cherng Talay police station at the time," they explained.
That report was made to police in 2016. A year later the pair married and were still married at the time of the murder.
"He would drive past the beauty shops that Bea worked at and spy on her."
The family claim that, apart from his own possessions, he also stole Bea's phone before he headed to the Phuket International Airport on the evening of the murder.
So where is Dimitrios Chairopoulo?
At this stage the Greek Embassy has made no comment about the case or followed up with Greek Police about the pursuit for the fugitive man.
There are currently approximately 58,000 valid Red Notices worldwide of which only 7,000 are public. An Interpol Red Notice has not been issued to alert international police or Immigration officials to be on the look-out for Dim.
For now, the alleged murderer of Bea – an innocent Phuket beautician, beloved sister and family member – remains at large, most probably in Greece.
If anyone has any information about Dimitrios 'Dim' Chairopoulo's whereabouts or information that may lead police to arrest him, please send a confidential message to The Thaiger.


Read more headlines, reports & breaking news in Phuket. Or catch up on your Thailand news.
Mae Hong Son continues to be plagued with fires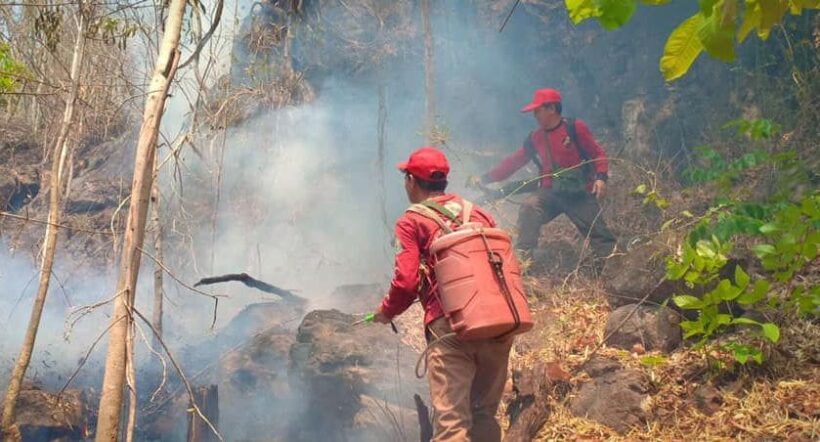 Mae Hong Son province continues to be plagued by forest fires despite the ban and the raging haze and smoke problems.
In recent months, Mae Hong Son has been struggling with haze most of the time with flights to its airport limited at the height of the crisis. Exposure to the serious air pollution has become a threat to the health of locals. Authorities continue to blame outdoor fires as the key cause of smog.
However, illegal outdoor fires continue to be detected.
Satellite images confirmed that there were at least 23 hotspots in Mae Hong Son yesterday. Of them, 13 were in Sop Moei district.
Kampanart Prachongpim, who heads Mae Hong Son's forest-fire control division, says that teams from several provinces had come to Mae Hong Son to help extinguish forest fires that were often caused by people. At least, two bushfires extinguished yesterday were caused by people going into the forest to collect forest produce. According to him, by the time these forest fires were put out, about nine rai of forest reserves had been destroyed.
Mae Hong Son is 100 kilometres north west of Chiang Mai, near the Myanmar border.

SOURCE: The Nation
The 5th Annual Stargazer talent contest returns to CC's Hideaway

This year the winner will receive 35,000 baht in prize money!
CC's Hideaway, located in Kata, proudly presents its fifth 'Stargazer Talent Contest' which will take place on April 27 between 6 pm and 11 pm. 
The goal of Stargazer is to create an opportunity for new individuals and groups to perform and promote their special talents and, with media and hundreds of guests in attendance, maybe even get their big break.
Stargazer is open to the Thai and expat communities alike. In previous years, the contest has attracted contestants from around the world, including Thailand, the US, Russia, Australia, Singapore, the UK, Italy, Canada, Kyrgyzstan and The Philippines.
Stargazer brings together a wide range of singers, bands, dancers, acrobats and actors who are scored by spectators and professional judges.
This year, the winner will receive 35,000 baht and a the Stargazer trophy, second place will receive 20,000 baht and third place will receive 10,000 baht. There is also the 'People's Choice' award, as chosen by the audience.

Past winners include Same Size Crew, Bboys dance team (2015), Khun Maatam Rapter from Chiang Mai who sing's like an lady (2016), Spectrum dance team (2017) and Daisy & Alvin, popular local Phuket performers (2018).
In line with CC's Hideaway commitment to give back to the Thai community, the resort will donate a portion of the revenue generated by Stargazer to the Life Home Project Foundation whose mission is to offer children who are affected or infected with HIV/AIDS a more dignified life, prevent the spread of this disease in Phuket and fight against the stigmatisation of people living with it. 
To apply, email [email protected] with a short biography, a photo and a link to a video of your performance. Contestants must be aged 13 or over.
Entry is free for the first 25 people who come before 7 pm and is 250 baht thereafter, including a drink. Guests and contestants are encouraged to dress in neon colours.
For more details, visit HERE, call 076 333 222 or email [email protected]
https://web.facebook.com/thethaigernews/videos/1688011211276700/
Tim Newton speaks to last year's winners, Daisy and Alvin Tumulak
Summer storms leave 6,900 homes damaged this month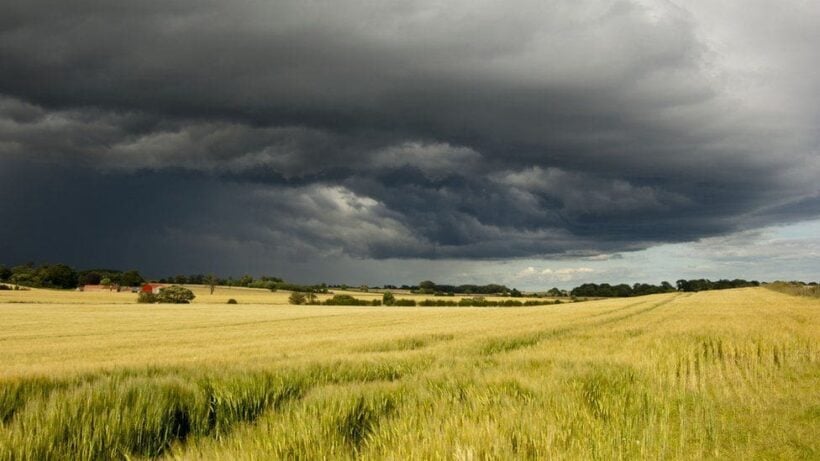 More than 6,900 houses, mostly in a patch through the central-north regions of Thailand, have been hit by summer storms since the beginning of April, according to the Disaster Prevention and Mitigation Department.
Chayapol Thitisak, the director-general, says the department has received reports that 6,940 houses in 1,010 villages in 307 tambon of 115 districts had been damaged by storms since April 5. Twenty-nine provinces have been affected.
He said nine villagers were reported injured during the period as a result of storm damage.
Chayapol said his department has coordinated with Army bases and government agencies concerned to provide help to the affected villagers.
The summer storms, quickly developing tropical storm-cells, are prevalent this time of the year, usually when cooler air from China starts to interact with the rising south-western monsoon. They can be quite violent, sudden and bring strong winds, torrential rain and even hail.