Alleged Greek murderer of Phuket beautician remains at large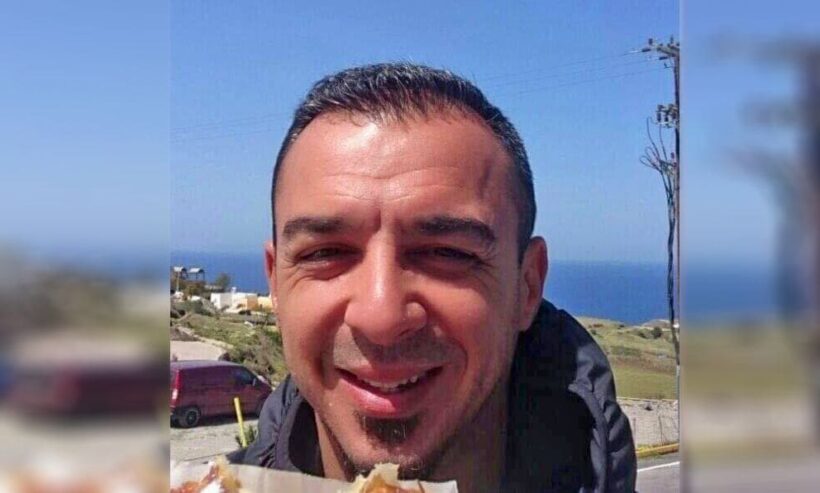 PHOTO: Dimitrios 'Dim' Chairopoulo, wanted and believed to be living in Greece
Local Phuket police are yet be informed of the latest in an international hunt for a Greek alleged murderer Dimitrios Chairopoulos. He remains wanted as a suspect in the murder of local beautician 43 year old Niramon 'Bea' Aewkaew in Phuket during February.
Cherng Talay police say they want an Interpol Red Notice issued so that they can track down and arrest 42 year old Dimitrios 'Dim' Chairopoulos, wanted for the murder. Bea and Dim were seen leaving their accommodation on February 11. It was the last time Bea would be seen alive.
Mr Chairopoulos was recorded as clearing Immigration at Phuket International Airport to board a flight to Dubai in the hours after Ms Niramon was last seen alive. He boarded an Emirates flight EK0379 to Dubai, departing Phuket at 2am. Police also confirmed that he arrived in Dubai on the same day.
"If he comes back to Thailand he will be arrested," said Chief Col Sen Kwannimit of the Cherng Talay Police.
A request for a Red Notice was submitted with the Foreign Affairs Division of the Royal Thai Police on February 19 but, for now, no formal international's notice has been published..
Cherng Talay Police confirmed that Dim was seen leaving the room at a guesthouse in Bang Tao where Ms Niramon's body was found on Saturday, February 16.
In the days leading up to her murder her family had been desperately trying to contact her.
'Bea' was the eldest of 5 children from Phatthalung province and had been working in Phuket as a beautician at the time.
One of her sisters, May' was contacted on February 15 by one of Bea's workmates trying to locate her.
Neither May or Bea's other sisters, relatives or friends were able to contact her. Bea had just moved to a new house so nobody knew where she was living. Another sister, Pichy, spoke to friends and was able, using Google Maps, to locate the guesthouse she was staying.
The owner of the room told the family that the air-conditioning was on in the room but there was no response. When the owner returned with a key he informed the family that Bea was found on the bed with a black cloth stuffed in her mouth and her hands and feet bound.
CCTV footage shows the couple leaving the room in the afternoon of February 11, the last time that Bea was seen alive.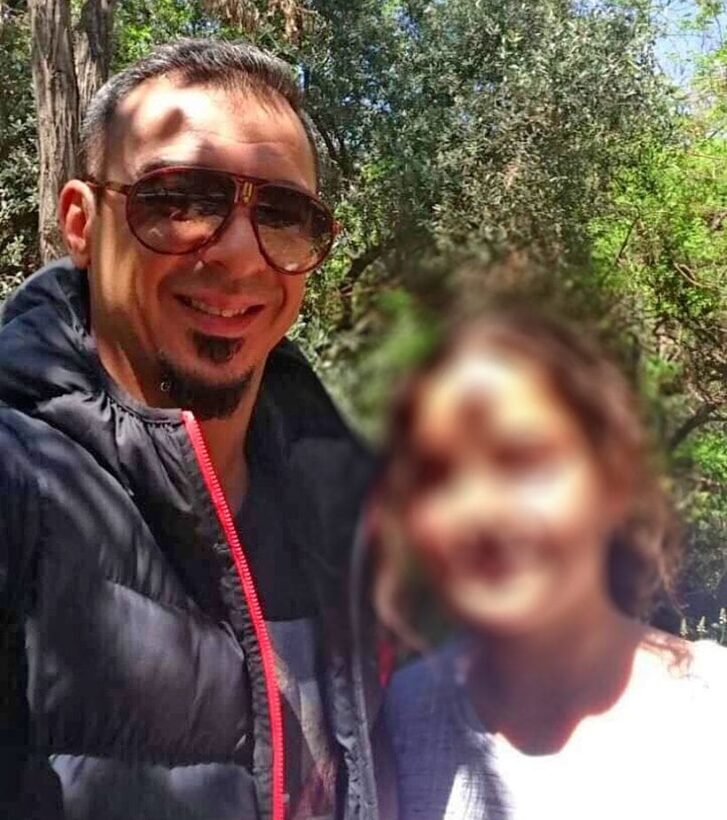 Dimitrios 'Dim' Chairopoulos with his daughter from another relationship
What we know about the alleged murderer?
Dimitrios 'Dim' Chairopoulos, who remains at large and thought to be in Greece, worked as security in a night club in Athens. He already had a daughter to another woman in Greece.
During his relationship and marriage with Bea he was said to be 'controlling' and 'jealous' by members of Bea's family. A close family friend told The Thaiger that the family had concerns for Bea's safety and were 'uncomfortable' with her ongoing relationship and marriage with Dim.
"We tried to get to know him at family functions but he was not easy to know and seemed very possessive of Bea," said one of the close family members who asked not to be named.
"He did threaten to kill her if she ever left him and Oh, another of her sisters, went with Bea to file a report of the threats at the Cherng Talay police station at the time," they explained.
That report was made to police in 2016. A year later the pair married and were still married at the time of the murder.
"He would drive past the beauty shops that Bea worked at and spy on her."
The family claim that, apart from his own possessions, he also stole Bea's phone before he headed to the Phuket International Airport on the evening of the murder.
So where is Dimitrios Chairopoulo?
At this stage the Greek Embassy has made no comment about the case or followed up with Greek Police about the pursuit for the fugitive man.
There are currently approximately 58,000 valid Red Notices worldwide of which only 7,000 are public. An Interpol Red Notice has not been issued to alert international police or Immigration officials to be on the look-out for Dim.
For now, the alleged murderer of Bea – an innocent Phuket beautician, beloved sister and family member – remains at large, most probably in Greece.
If anyone has any information about Dimitrios 'Dim' Chairopoulo's whereabouts or information that may lead police to arrest him, please send a confidential message to The Thaiger.
Keep in contact with Thaiger by following our Facebook page.
Never miss out on future posts by following Thaiger.
Red paint in Burmese streets mark 700+ deaths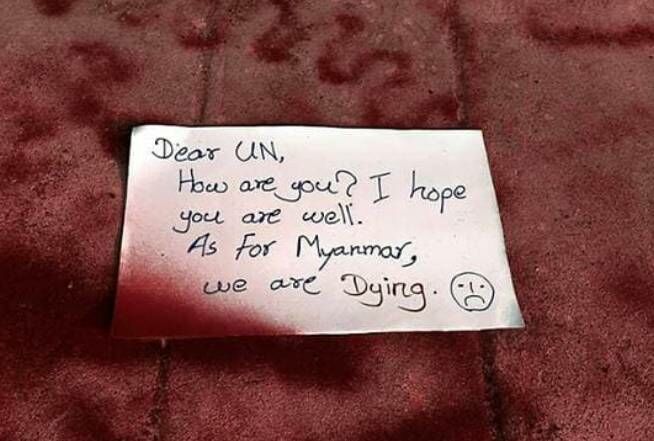 Marking over 700 deaths in the Burmese military crackdown, anti-coup protesters in Myanmar are splashing red paint across the streets of Yangon to represent the blood of those killed in the growing crisis. Myanmar has ground to a halt as the military junta attempt to silence opposition to their February 1 takeover with deadly force. 714 deaths have been verified by local monitoring groups, but they warn the actual number may be much higher.
The economy and daily functioning of the country is immobile, the internet has been cut off to many citizens, even Myanmar's Thingyan New Year festival, similar to Thailand's Songkran holiday, has been cancelled. Instead of water fights in the street, protesters explained they used the holiday to draw a parallel, splashing red paint "blood" instead to draw attention to the Burmese deaths at the hands of the military.
"The purpose of the "bleeding strike" is to remember the martyrs who died in the struggle for democracy. We should not be happy during this festival time. We have to feel sadness for the martyrs who are bleeding and we must continue to fight this battle in any way we can."
Simple but powerful signs and notes were found amongst the blood protest with phrases like, "blood has not dried on the streets," "overthrow the era of fear," and "hope our military dictatorship fails." Perhaps most poignant was a note found on red-painted streets reading, "Dear UN, How are you? I hope you are well. As for Myanmar, we are dying."
The UN fears that a Syrian-style conflict is around the corner for Myanmar, calling on countries to take immediate steps against the military junta, citing possible crimes against humanity. High Commissioner for Human Rights Michelle Bachelet draws the Syria comparison, worried a full-blown Burmese civil war could parallel the Syrian war that has led to 400,000 deaths and 6 million refugees. While some countries have enacted sanctions, infighting has delayed meaningful action with the EU claiming Russia and China are blocking possible UN arms embargos.
Meanwhile, the military added many more people to the list of over 260 people including doctors and celebrities they are seeking to arrest for crimes such as spreading dissent or treating injured protesters. 7 protesters in Yangon, 3 in absentia, were sentenced to death for the alleged murder of a suspected informant.
In the northwest of Myanmar, a milk delivery couple were killed by military storming the town of Tamu. And in the Mandalay region, protesters drove motorbikes with red flags supporting imprisoned leader Aung San Suu Kyi.
SOURCE: Channel News Asia
Keep in contact with Thaiger by following our Facebook page.
Never miss out on future posts by following Thaiger.
Pattaya tourism remains open without quarantine, for now anyway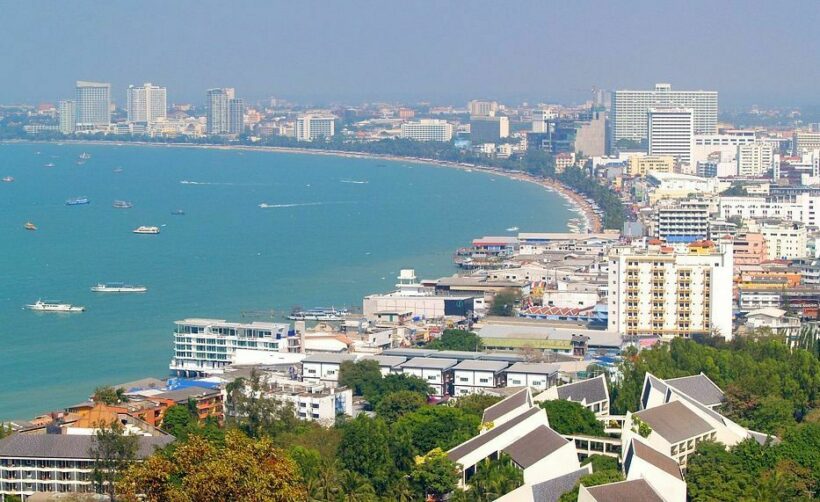 As province after province closes down more sectors, imposing stricter regulations, administers mandatory Covid-19 testing, and enacts quarantines for domestic travellers (in some cases), Pattaya is taking a different approach: heartily welcoming tourists to their city.
Colourful Pattaya Mayor Sonthaya Kunplome spoke yesterday saying that everyone from everywhere is welcome in Pattaya, and will not be required to quarantine or self-quarantine for 2 weeks. The lack of isolation may encourage travellers depressed over cancelled Songkran holiday festivities and trips.
But the decision os not his The Governor of Chin Buri will be making the call whether to impose additional restrictions for people coming to Pattaya, especially from the 3 hot zone districts in Bangkok.
But he maintains, rather than shutting down completely, the city of Pattaya had called upon all of its employees to work together to create an environment safe for tourists. The staff are deployed throughout the city to implement and enforce Covid-19 safety protocols and monitor them to make sure locals and tourists follow regulations and keep Pattaya safe from Coronavirus spread.
While bars, nightclubs, and massage shops remain necessarily closed by order of the CCSA, Pattaya city officials are working hard to keep popular tourism areas like Koh Larn and Pattaya Beach Road open to travellers to enjoy. City hall is working with volunteers and local police and enacting measures like allowing parking on both sides of the beach roads to try to help tourists and vendors in Pattaya to have a safe and enjoyable Songkran holiday.
This alternative approach stands in stark contrast to most of the rest of the nation where Songkran celebrations were cancelled and semi-lockdowns are in place. 2 days ago 37 Thai provinces imposed a 14 day quarantine on travellers from Bangkok, Nonthaburi, Pathum Thani, Nakhon Pathum and Samut Prakan – areas around Bangkok that are now considered a Red Zone for Covid-19 infections.
Phuket is currently another holdout, with minimal restrictions on tourists visiting, for the time being anyway.
SOURCE: Pattaya Mail
Keep in contact with Thaiger by following our Facebook page.
Never miss out on future posts by following Thaiger.
Hotel blog suggests Phuket should push ahead with July reopening despite Covid surge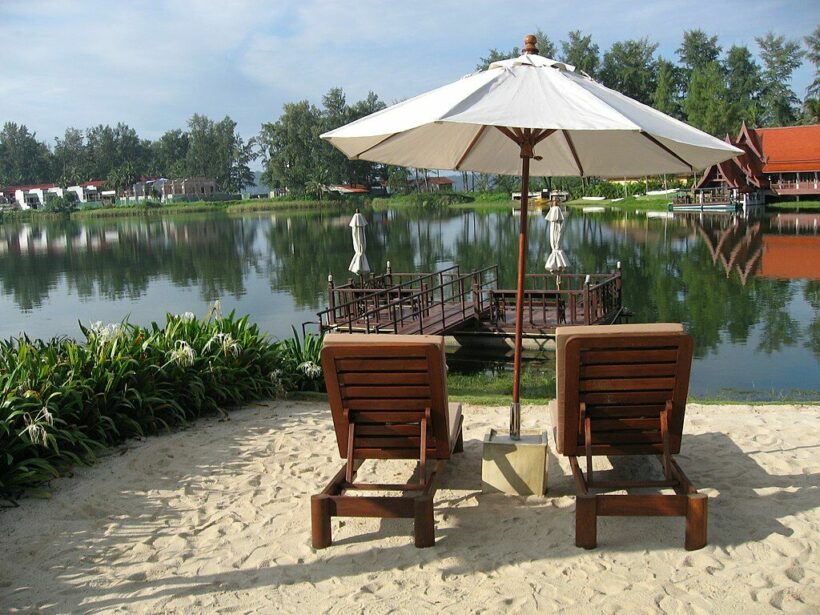 A hotel information blog is claiming that, despite growing Covid-19 numbers, Phuket should stick to its schedule in reopening to travellers without quarantine in July. That's only 2 and a half months away.
In an interview with the Director of Travel and Tourism Consulting at GlobalData, they stressed that while it is crucial to reign in the spread of Covid-19 and the B117 strain now manacing Thailand, the risk must not overshadow the need teo push forward with vaccinations and the march towards eliminating the quarantine by July in order to save the tourism industry and all those dependent on it.
"The Phuket pilot program is essential in creating a path towards economic recovery for Thailand, a country heavily dependent on tourism. More than 17% of Thailand's gross domestic product is attributed to tourism and the Covid-19 pandemic has lead to the worst economic free-fall in over 20 years"
The blog acknowledges the inherent risk and possible appearance of foolishness to prioritise the plans to reopen and carry on with the same rollout schedule. But they urge Thai authorities to consider that July 1 is still 2 and a half months away, leaving ample time to recover and make progress towards the approaching Phuket reopening. A vital aspect of the reopening plan lies in vaccinating over 70% of Phuket's provincial residents, a sizable task, but one that brings great benefit with or without the scheduled reopening.
"Pushing ahead to achieve this goal puts Phuket on track to welcome back tourists, perhaps in a "bio-bubble", and restart the economy. The economy is desperate with household debt growing, pushing the government to enact emergency decrees to provide relief. These households need the return of tourism and the influx of cash international tourists will bring."
The blog hopes that Thai authorities can balance the necessary Covid-19 safety measures in Phuket to protect the Thai population with the economic need to bring back tourism. They believe that with sufficient measures in place, vaccinated locals could welcome vaccinated international tourists back to Phuket reopening safely in July.
SOURCE: Hotel News Resource
Keep in contact with Thaiger by following our Facebook page.
Never miss out on future posts by following Thaiger.