Pattaya police crackdown on middle eastern bike renters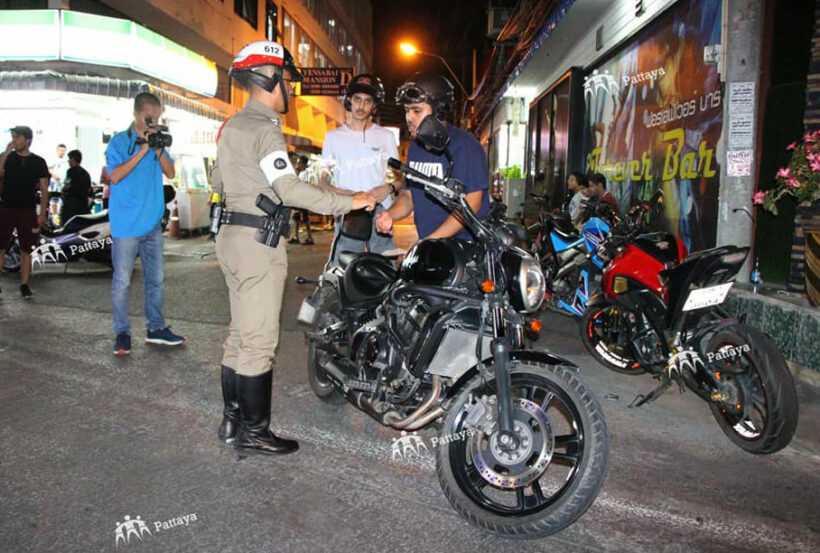 PHOTO: Pattaya Update News
Regular and traffic police have been out in force overnight were out in force in Soi Yen Sabai and Soi VC, South Pattaya following about complaints about middle eastern men keeping residents awake with noise from motorbikes.
Pattaya Update News reported that some fled before police arrived but many other had their bikes seized. a total of 20 motorbikes were seized. Many had illegally modified exhausts to create additional noise, a popular exhaust modification.
Pattaya Update News says that the crackdown was on all tourists but especially young men of middle eastern appearance.
Police were also investigating bike rental shops that had rented the high power bikes out claiming that the renters didn't have international licences. Shops were fined 2,000 baht for each illegal rental.
SOURCE: Pattaya Update News
ตํารวจจราจรพัทยา ปิดทางเข้าออกจับแก็ง อาหรับซิ่งจักรยานยนต์ ตามซอย หลังชาวบ้านร้องเรียนไม่หลาบจํา เมื่อเวลา 00.10.น.วันที่ 23 ม.ค.62 พ.ต.ต.อรุษ สภานนท์ สารวัตรจราจร สภ.เมืองพัทยา และ ร.ต.อ.ยศพัชร์ ห่อเพชรธนพงศ์ รอง.สารวัตรจราจร พร้อมด้วยกําลังเจ้าหน้าที่ตํารวจจราจรและอาสาเกือบ10 นาย ปิดทางเข้าออกระหว่างซ.วีซี และซ.เย็นสบายพัทยาใต้ หลังจากมีชาวบ้านที่อาศัยอยู่ภายในซอยมานานหลายปีได้รับความเดือดร้อนจากแก็งกลุ่มชาวอาหรับได้มีการขับรถจักรยานยนต์แข่งกันในซอยและเสียงท่อดังจนทําให้นอนกันไม่ค่อยหลับวันไหน ทางตํารวจ ลงจับกันทีพวกมันก็จะนํารถเข้าไปจอดซุกซ่อนตามร้านอาหารของชาวอาหรับพวกกันทําเป็นไม่รู้ไม่ชี้เหมือนไม่มีอะไรเกิดขึ้น หลังจากทางตํารวจ กลับหมดพวกมันก็เริ่มออกก่อกวนอีกแต่วันนี้ทางตํารวจ ก็สามารถ จับกุมแก๊งชาวอาหรับพร้อมรถจักรยานยนต์จํานวน กว่า20 คันไว้ได้ และทางตํารวจจึงได้บันถึกตรวจยึดรถทั้งหมดไว้เป็นของกลาง ขณะทางเจ้าหน้าที่ได้จับกุมอยู่นั้นได้มีกลุ่มชาวอาหรับ จํานวนมากได้โห่ร้องลั่นซอยขับไล่เจ้าหน้าที่ตํารวจโดยไม่พอใจที่ทางตํารวจเข้าไปจับแต่พวกมันทําแบบนี้ถือว่าไม่ให้เกียรติหรือเกรงกลัวกฏหมายของไทย แต่อย่างไรไอ้พวกนี้มันต้องมีคนดูแลพวกมันถึงกล้าทําตัวกันแบบนี้ มันคิดว่ากูโดนจับเดียวกูก็ให้คนมาเอาออกให้ เสียค่าปรับไม่เท่าไร พวกมันถึงหึกเหิมทําตัวใหญ่โต นี่ขนาดบ้านเมืองของเรา มันยังทํากันแบบนี้ ไม่เกรงกลัวเลย ต่อมาทางผู้ประกอบการเจ้าของรถได้เดินทางมา ทางเจ้าหน้าที่ตํารวจ จึงได้ขอความร่วมมือให้ช่วยประชาสัมพันธ์พูดคุยเรื่องของการใช้รถขับรถแข่งกันในซอย และเบิ้ลรถท่อดัง จนทําให้ชาวบ้านที่เขาหลับนอนกันเดือดร้อนกันเป็นจํานวนมาก ชาวบ้านร้องเรียนกันทุกวัน เมื่อทางเจ้าของรถได้พูดคุยให้เข้าใจเหมือนจะเข้าใจแต่กลุ่มชาวอาหรับส่วนมากจะไม่ค่อยพอใจ แต่อย่างไรก็ตามทางตํารวจ ก็ต้อง ดําเนินการจับกุมต่อเนื่องเมื่อกลุ่มชาวอาหรับแก็งซิ่งยังทําตัวเป็นแก็งกวนเมืองสร้างความเดือดร้อนให้กับชาวบ้านอีก ทางตํารวจก็นิ่งนอนใจไม่ได้จะดําเนินการกับเจ้าของรถและแก็งอา หรับ ต่อไป..

Posted by รักสยาม นิวส์ on Monday, 22 July 2019
Thief steals from a Pattaya bar's merit money tree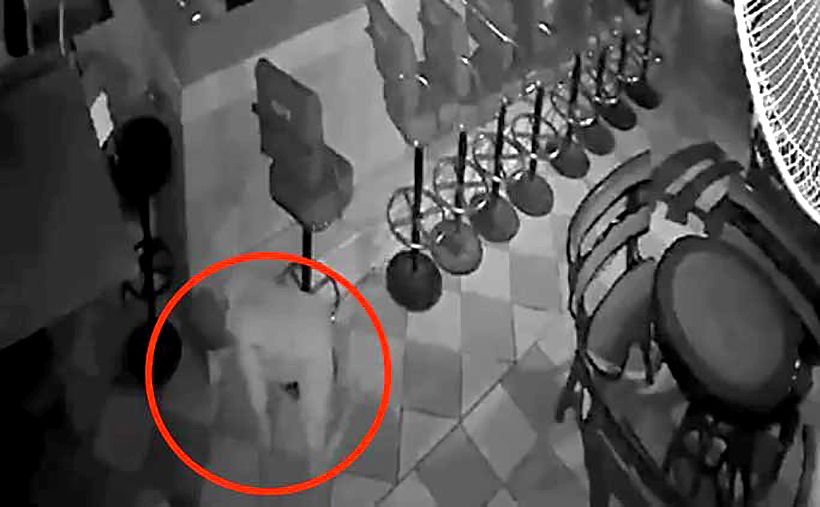 CCTV surveillance footage from the Bart Navy Bar on Pattaya Beach Road reveals a thief crawling in and stealing from the merit making money tree in the bar.
The We Love Pattaya Facebook page describes the thief as a "sinner".
#พัทยาเตือนภัย โจรใจบาป ขโมยเงินทำบุญ เกลิ้ยง !! กล้องวงจรปิดบันทึกภาพ โจรใจบาปแอบคลานเข้ามาในร้านบาร์เบิรด์เนวี่บาร์…

Posted by เรารักพัทยา on Monday, 19 August 2019
The time stamp indicates that the"sinner" was operational around 4.30am yesterday (Monday) morning.
The bar in Soi 7 Pattaya is well situated about 200 metres from the Pattaya police station.
Merit trees are set up in many bars to collect donations for "tham bun" (merit making) which are then donated to local temples and charities.
SOURCE: ThaiVisa
Greater Pattaya hosts hotel and tourism forum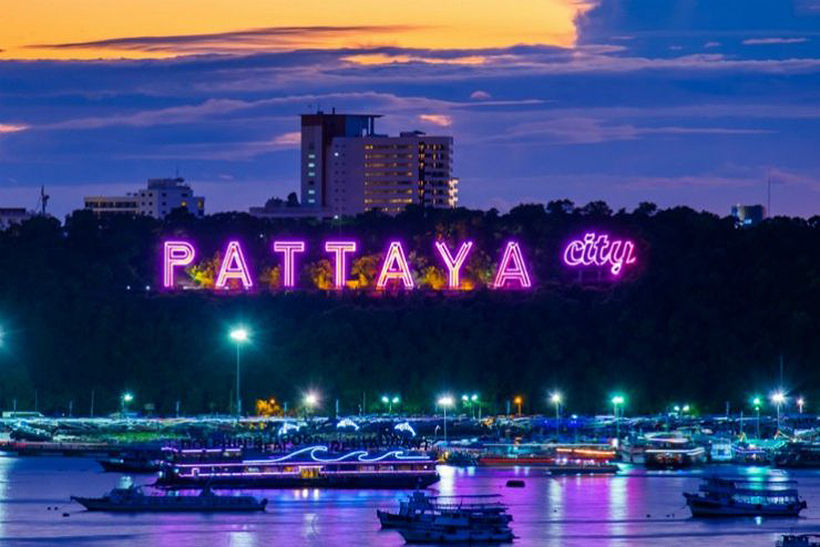 On Thursday, September 5 a hotel and tourism market update event covering Greater Pattaya will be held at the Holiday Inn Pattaya.
Jointly organised by industry leaders STR, Horwath HTL, C9 Hotelworks and the AMCHAM Thailand, the event will feature key hospitality operating and performance metrics.
A special panel on the emerging trend of hotel residences will include senior executives from InterContinental Hotels Group, Baker McKenzie and leading Thai property portal FazWaz.
The event is relevant for hotel and tourism managers, developers and those wishing to understand more about current market trends. For hotels undertaking their 2020 Business Plans, the data presentation will be invaluable.
Attendance is free, registration is required.
For register please click HERE.
Sattahip drug addict arrested and jailed after threatening wife and children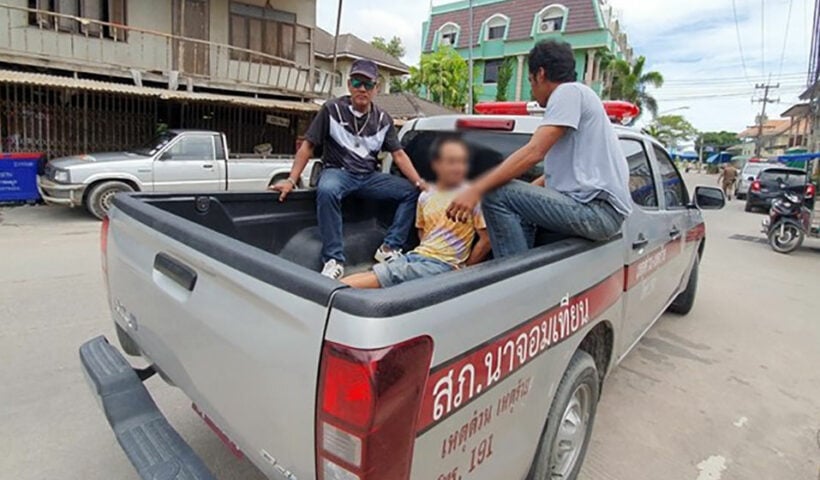 PHOTO: Pattaya Mail
Sattahip police have arrested a person with drug problems who allegedly threatened to kill his wife and two children. 39 year old Jarat Injom was found hiding in the bedroom of his Moo 4 village house where he had barricaded himself after 34 year old wife Sangwein Prasannet called police.
The wife told authorities she'd been married to Jarat for eight years and they had two children, aged 5 and 8. But for the past two years he has been addicted to crystal methamphetamine (ice).
She told police that he often acted crazy and aggressive but she had never sought help in the past. But today he threatened both her and her children with a knife, so she called police.
The man has been arrested and is currently in detention pending further legal proceedings.
SOURCE: Pattaya Mail