Two Burmese migrants killed in Lampang van crash, 7 others injured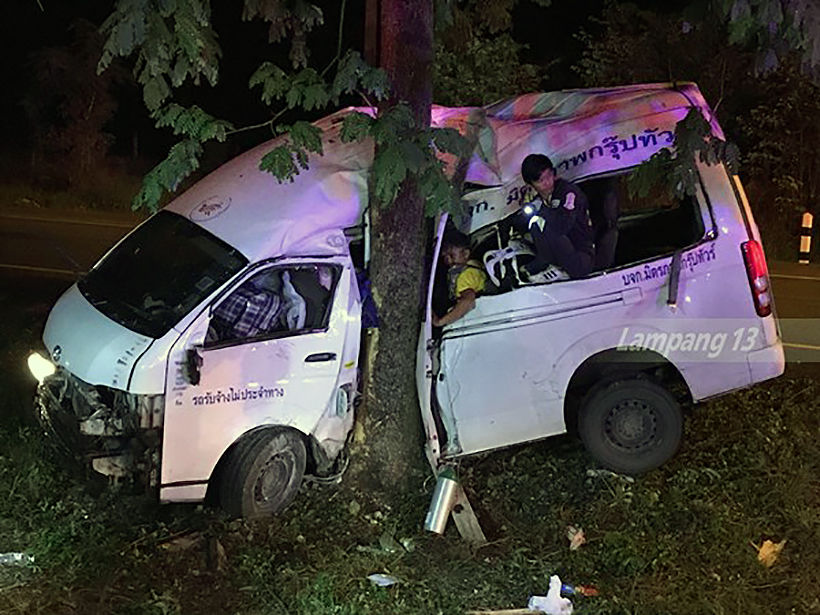 PHOTOS: Lampang13.com
Two Burmese migrants have been killed and seven others injured when a passenger van crashed on the road from Tak to Chiang Rai.
The van transporting them from Tak to Chiang Rai hit a tree on a Lampang road early today (Tuesday) around 3.40am in Lampang province. The van fell into the ditch in the middle of the divided road and hit a tree.
Police say the 36 year old Thai van driver, Phitsanu Sitthisungnone, was injured along with his seven Burmese passengers. The eight injured were rushed to the local district hospital. Police will question the driver when he has recovered consider charges against him. Police believe the driver probably fell asleep and lost control of the van.
SOURCE: The Nation | lampang13.com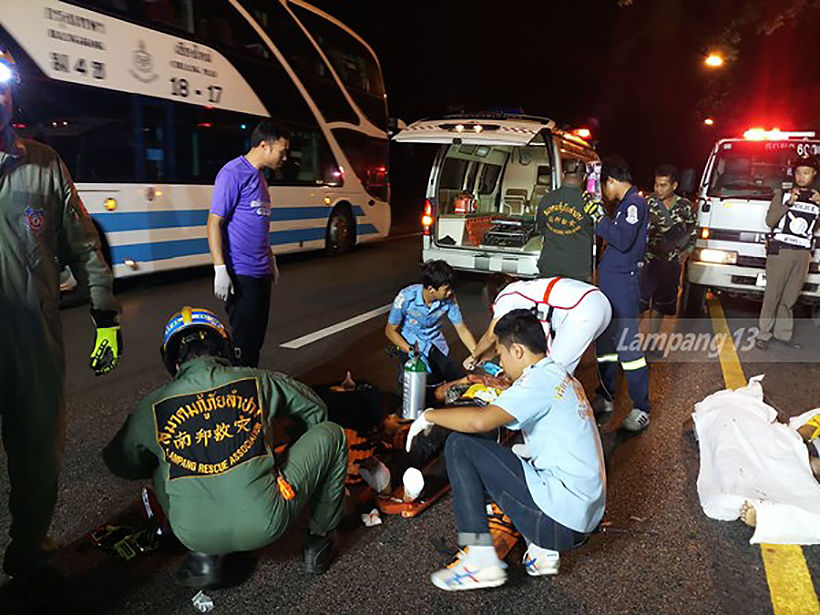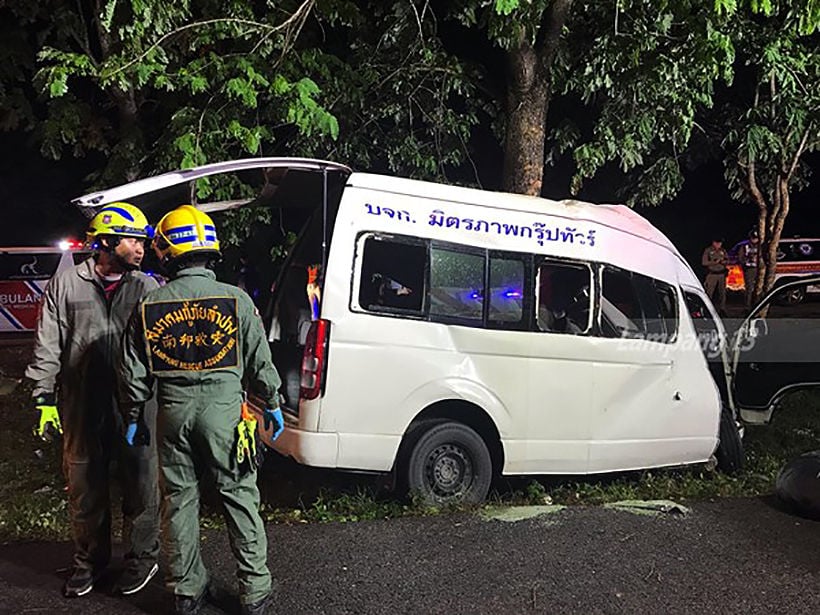 Keep in contact with The Thaiger by following our
Facebook page
.
Earthquake could hit Chiang Mai and Chiang Rai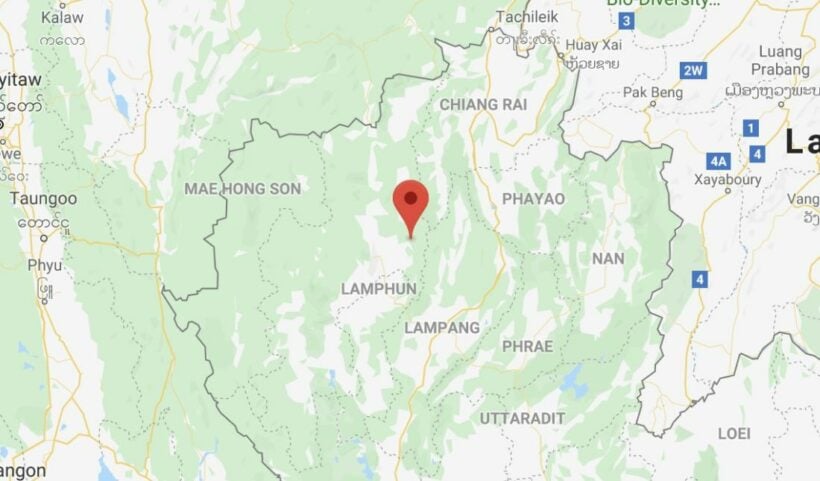 A magnitude 4.1 tremor shook seven districts of Chiang Mai and Chiang Rai on Friday night, prompting the Department of Mineral Resources to warn that the two northern provinces could face a magnitude 5 earthquake within ten years.
The prediction is based on analysis of movements in the Mae Tha fault lines, including the 5.1 ML quake in December 2006, centred under the Mae Rim district of Chiang Mai.
Geological studies in Ban Pong Samakkhi, Chiang Mai, indicate that the area experienced a 5.9 ML quake about 2,000 years ago.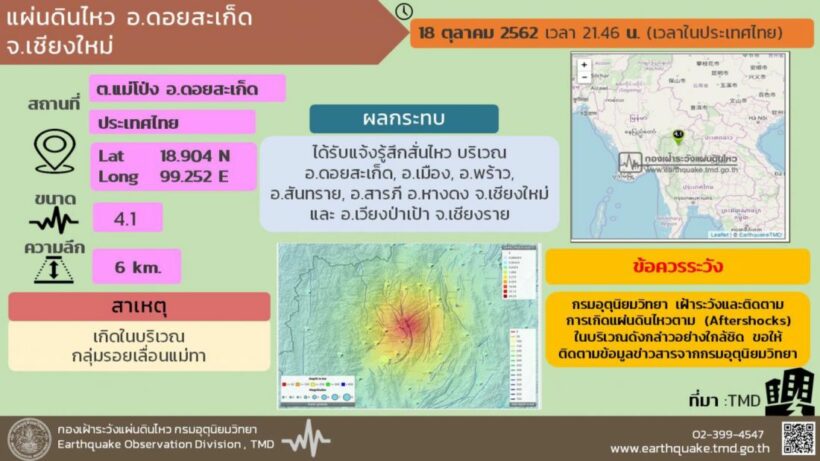 Photo : earthquake.tmd.go.th
Friday's temblor occurred at 9:46 pm, with its epicentre about six kilometres below the surface in Doi Saked district.
The tremor was felt in the Muang, Prao, San Sai, Doi Saket and Hang Dong districts of Chiang Mai and Wiang Papao district of Chiang Rai, though there have been no reports of casualties or property damage.
SOURCE: thaipbsworld.com
Keep in contact with The Thaiger by following our
Facebook page
.
Thai woman arrested after 13 year old Burmese girl forced into prostitution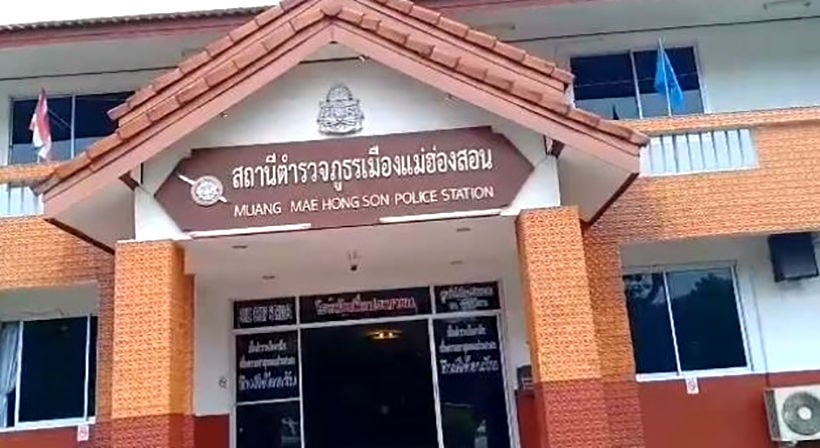 by Tossapol Boonpat
Police have arrested a local Mae Hong Son woman for allegedly procuring a 13 year old girl as a prostitute for sex with a string of local men. Mae Hong Son is west of Chiang Mai in northern Thailand, on the Myanmar border.
Mae Hong Son police say the woman, whose name had not been names at this time, was arrested at a guesthouse after the Shan girl, from a Burmese state in eastern Myanmar, implicated her as the person who forced the girl into the sex trade.
A police source claims the girl, who recently completed Prathom 6 at a local school, claimed she had been forced to have unprotected sex with about 10 men since June, meeting them in a convenience store at a petrol station and accompanying them to the guesthouse on Liang Muang Road.
The disturbing case came to police attention earlier this week after she sought treatment at Sri Sangwan Hospital for gonorrhoea that was so severe in a patient so young that questions were raised by hospital staff.
SOURCE: The Nation
Keep in contact with The Thaiger by following our
Facebook page
.
Outrage on social media over child sitting on roof of moving car in northern Thailand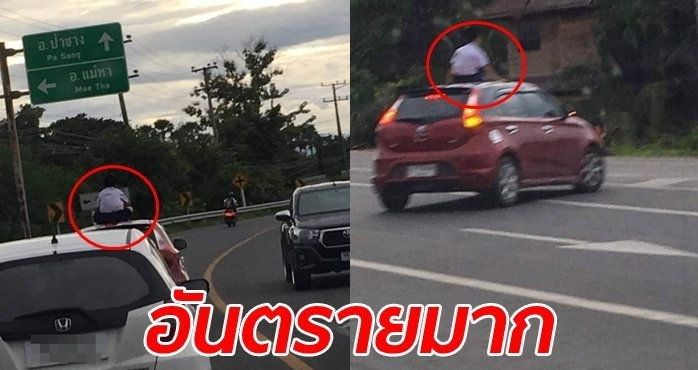 PHOTO: Sanook
Photos of a young child sitting on the roof of a moving car have caused outrage on social media.
The pictures, posted on Facebook yesterday, show the child in school uniform, sitting on the roof of a car as it travels along a main road in Lamphun province, northern Thailand.
Debate rages over the images, with many pointing out how heartbroken the parents would be if anything were to happen to the child as a result of their recklessness. One person suggests the parents may have placed the child on the roof deliberately, as a way of attracting public attention.
Another claims to be so angry that he would like to teach the parents a lesson, and points out that if an accident were to happen, the other party would feel terrible for injuring or possibly killing a child.
The Facebook user who posted the pictures questioned what the car driver was thinking.
"This is so dangerous, how could you allow this? My brother sent me this picture. What made the parents think that a child sitting on the car roof while it is driving is considered okay? This is so dangerous. This took place at the Tha Jak Intersection, Lamphun Province. If it seems like I'm blaming someone then I apologise, but this is truly very inappropriate."
According to one Twitter user, the mother of the child has been questioned by police and claims it was the child's grandfather who was driving at the time.
She adds that her son loves sitting on the roof of the car and does so regularly. Apparently, she didn't expect it to cause such a stir.
The police have fined her and given her a warning.
SOURCE: Thai Residents
Keep in contact with The Thaiger by following our
Facebook page
.