Fire destroys construction camp in eastern Thailand – VIDEO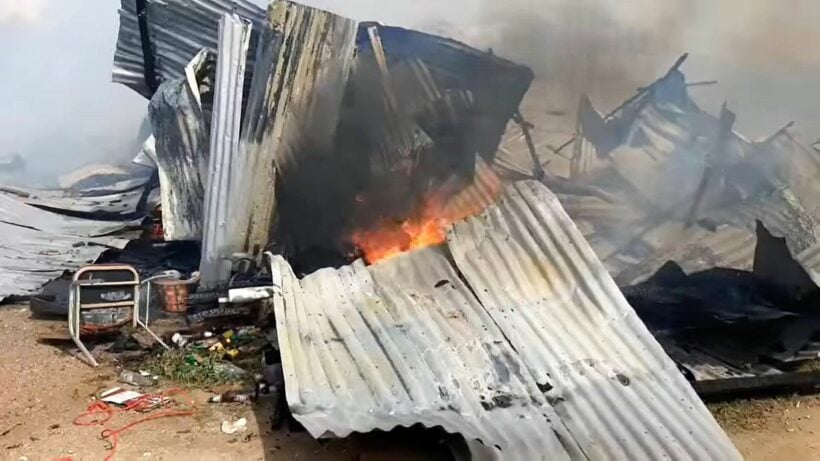 A fire has destroyed a construction camp in the town of Si Racha in the eastern province of Chon Buri, with more than 300 workers escaping injury. According to The Pattaya News, the fire broke out early yesterday morning, around 9am, and most of those living at the site had already left for work.
The blaze swiftly tore through the camp, destroying between 150 and 200 of the temporary homes where the workers, many of them migrants, are housed. Most of the 300 workers who live there were already at work and those still at home were able to escape without harm.
The local fire department and police attended the scene, where it took nearly 40 minutes to extinguish the blaze. Officials say they suspect it was started by a short circuit somewhere, but a full investigation is being launched to confirm the exact cause.
SOURCE: The Pattaya News
Keep in contact with The Thaiger by following our Facebook page.
Never miss out on future posts by following The Thaiger.
Another drug bust near the Mekong River, 500 kilograms of cannabis seized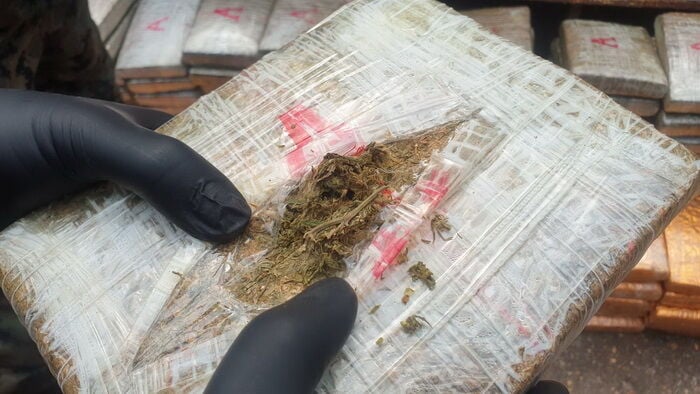 In another drug bust in Northeastern province Nakhon Phanom, police arrested a man and seized 500 kilograms of compressed cannabis. Just yesterday, border patrol police in the province seized 920 kilograms of compressed cannabis from a boat on the Mekong River. In both cases, police suspect the cannabis came from Laos, just across the river.
Police say they searched a black Nissan Navara pickup around 1am in the province's Na Kae district. Police opened the truck's bed cover and found 12 sacks with 500 packages of dried, compacted cannabis. Each package of cannabis weighed 1 kilogram, similar to the previous bust on the river.
28 year old Saravut Butngam was arrested. Saravut previously worked in construction, but has recently been unemployed. He allegedly told police that a man called him with an opportunity to make 50,000 baht. He was told to drive the pickup truck from a petrol station in the Na Kae district to a specified location in the neighbouring province Sakon Nakhon, police say. From there, another driver would take over.
Border police commander Sippanan Sornkhunkaew says he suspects the cannabis seized in the province was trafficked from Laos across the Mekong River. He says he believes the cannabis was planned to be trafficked to Southern Thailand and then smuggled across the border, possibly to Malaysia.
On Sunday morning, police confiscated 920 kilograms of cannabis from a boat on the Mekong River. When police approached the boat, men jumped off onto a smaller boat and fled the scene. The dried, compacted cannabis was wrapped in 1 kilogram packages.
SOURCE: Bangkok Post
Keep in contact with The Thaiger by following our Facebook page.
Never miss out on future posts by following The Thaiger.
How to Wai like a Thai, with Som | VIDEO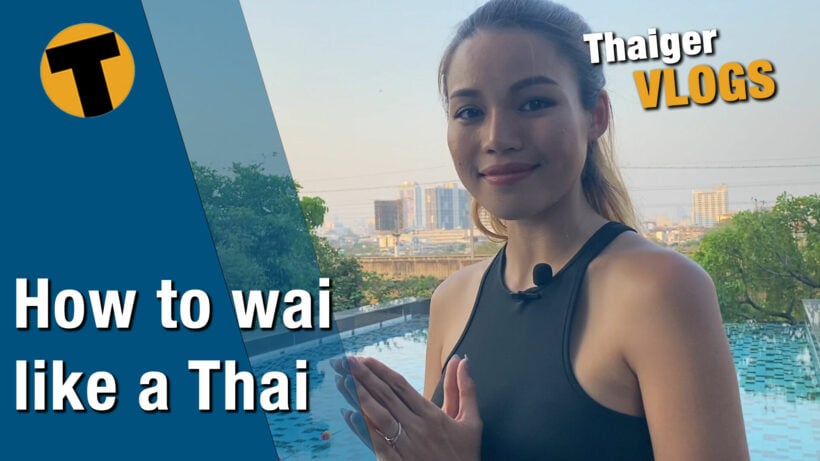 The wai, the polite gesture Thais use for greetings, farewells, prayers and even apologies, dates back to the 12th century, where both hands clasped together in front proved that you weren't holding a weapon. That's the folklore anyway.
Recently, the greeting has increased in general popularity around the world as a anti-Covid 'safe' replacement for the western handshake. So, how, when and with whom should you wai? Here's a few easy tips to learn how to wai. Today Som teaches us some of the basics of the lovely Thai 'wai' (pronounced 'why').
As a foreigner you don't look Thai, dress Thai and you probably can't eat full-strength Thai curry either. So this means you're exempt from Thailand's most nuanced courtesies. There's a lot of subtlety in the Thai wai so, chances are, you're not going to get it right. But your best efforts will be appreciated.
How to wai when you're uncertain? At a minimum, when someone wais to you, return the gesture with a kind smile and an acknowledging nod. In restaurants and shops: You'll often receive a wai from shop and restaurant staff. It's not necessary to wai in return to anyone providing you with a service of this nature. Instead, a nice (grateful) smile is plenty. To children / those younger than you:
Also, there's no need to wai to a child or anyone who's clearly younger than you – so, baby boomers, you're increasingly in the clear! The wai is a mark of respect to elders.
Keep in contact with The Thaiger by following our Facebook page.
Never miss out on future posts by following The Thaiger.
Thailand News Today | Bangkok protest fallout, northern fire bans | March 1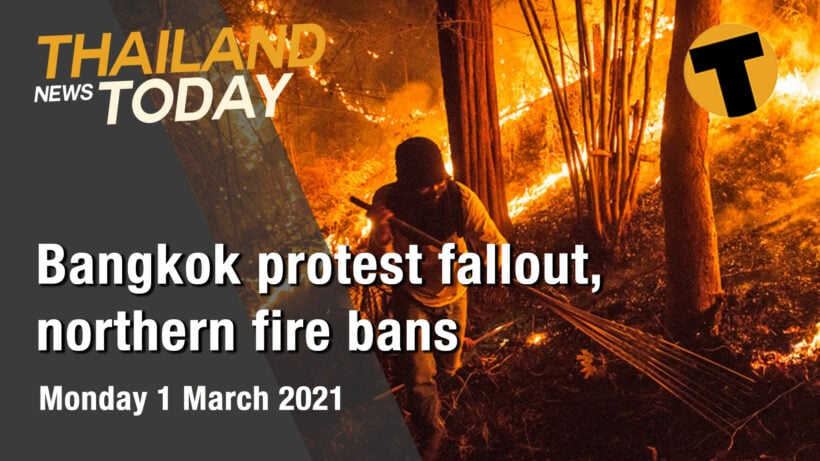 Coming up today… the fallout from yesterday's latest protest violence in Bangkok, the first vaccine in Thailand who got it, and a major drug haul along the Mekong.
But first we'll start up north where Lampang Province is joining other northern provinces todday by putting a total fire ban in place from today, March 1, until the end of April. Chiang Mai also started a ban on all deliberately lit fires from today and Lamphun, just south of Chiang Mai, already has one in place.
The bans are timely after a horrid weekend of air pollution in many of Thailand's provinces over the long weekend, even as far south as the tourist destination of Phuket where visibility was down to about 1 kilometre and the smell of smoke was noticeable.
Whilst up in the north… 4 Thai women were arrested at a security checkpoint in Tak's Mae Sot district after they illegally crossed the border from Myanmar into Thailand.
Illegal casinos and fancy hi-so massage parlours in Myanmar in areas near the border, have attracted wealthy Thais and Burmese. The establishments have also attracted plenty of Thais looking for well-paid work across the border.
In a major bust along the Mekong River, a notorious hotzone for drug trafficking, border patrol police seized 920 kilograms of dried, compacted cannabis from a boat along the Nakhon Pathom riverbank, bordering Laos.
Now to the weekend violence as the protests resume where they left off last year…
At least 22 people were arrested during the major Bangkok protest yesterday. It turned violent as pro-democracy activists marched toward the Thai PM's residence. It's been reported that one officer died during the rally, reportedly due to heart failure.
At least 33 people were injured… that includes 23 police officers. The clashes happened in front of 1st Infantry Regiment barracks on Vibhavadi Rangsit Road and involved around 1,500-2,000 activists fromthe Restart Democracy movement, part of the Free Youth group. The group has been protesting against the government and calling for reform of the country's constitution and monarchy since protests began in July of last year.
And Thailand's Covid-19 vaccine campaign started with Public Health Minister Anutin Charnvirakul who received the first of China's Sinovac vaccine yesterday. PM Prayut Chan-o-cha was initially planned to be the first to kick off Thailand's immunisation plan with the AstraZeneca vaccine, but due to problems with paperwork, the PM's injection was postponed.
Keep in contact with The Thaiger by following our Facebook page.
Never miss out on future posts by following The Thaiger.