Baby in a rush in Chon Buri, born with 12 fingers and 12 toes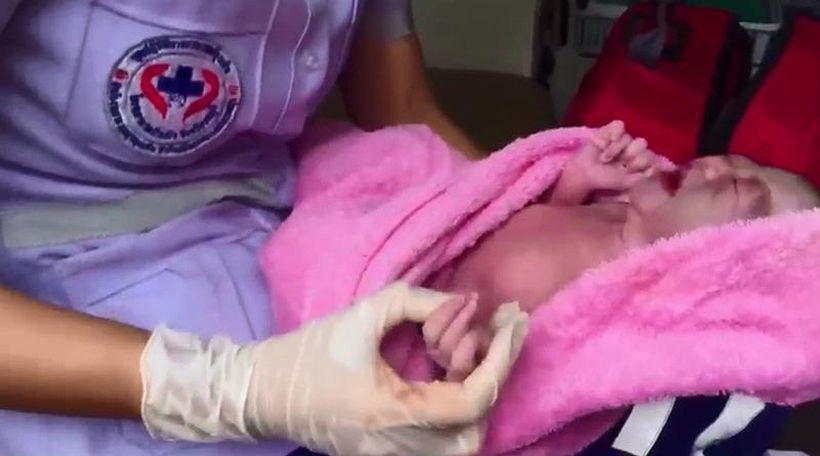 PHOTOS: sanook.com
A mother has given birth to a healthy baby girl on the side of the road in Chon Buri. It does happen, sometimes the baby can't wait until mum arrives at hospital. But this special bundle of joy has 12 fingers and 12 toes. But this was no surprise to the mother and grandmother who also have six fingers on each hand.
The mother Sunisa, gave birth in a pickup on the side of the road while on her way to hospital yesterday. The baby couldn't wait.
The emergency team at the Ban Bueng Hospital received notice about the impatient baby and headed out to where the pickup was parked, on road 344 Ban Bueng in front of the Princess Chulabhorn Science School.
The hospital emergency medical team the local rescue volunteers found 23 year old Sunisa well into her labour. The team helped the mother and the baby was born naturally 20 minutes later. Medical officials say she screamed a "hello" to the team and to her mother as she popped out.
They realised that she had 6 fingers on each hand and 6 toes on each foot. The team and the people watching the event happening became very excited (mainly because many Thai's are fascinated by these events and use them to pick lottery numbers).
This is the mother's 3rd child, although the additional fingers and toes were no surprise for the family because Sunisa and her mother also have 6 fingers on each hand.
The people who witnessed Sunisa giving birth are planning to buy the number 24 (6+6+6+6) and the license plate number (2289) in hopes of winning the next Thai lottery (on August 16).
'Polydactyly', the condition of additional fingers or toes, happens approximately 1 in every 1,000 births.
SOURCE: Sanook.com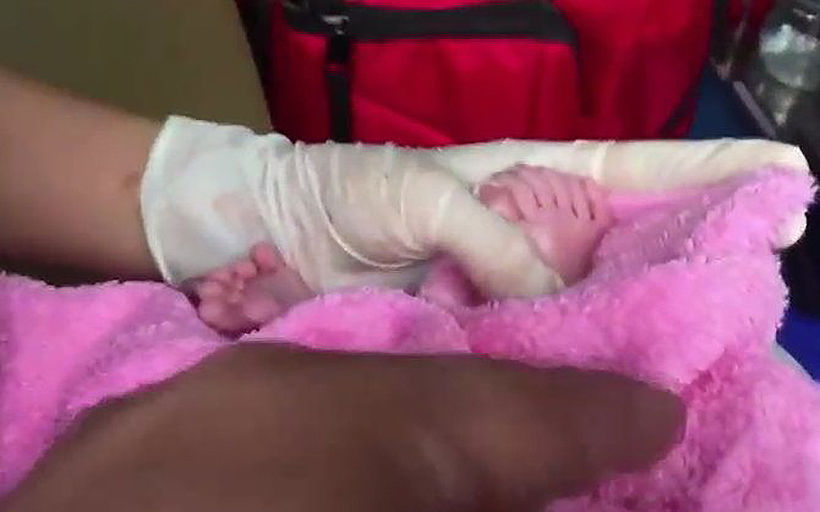 Keep in contact with The Thaiger by following our
Facebook page
.
Thai Airways denies cancelling flights to 4 Asean destinations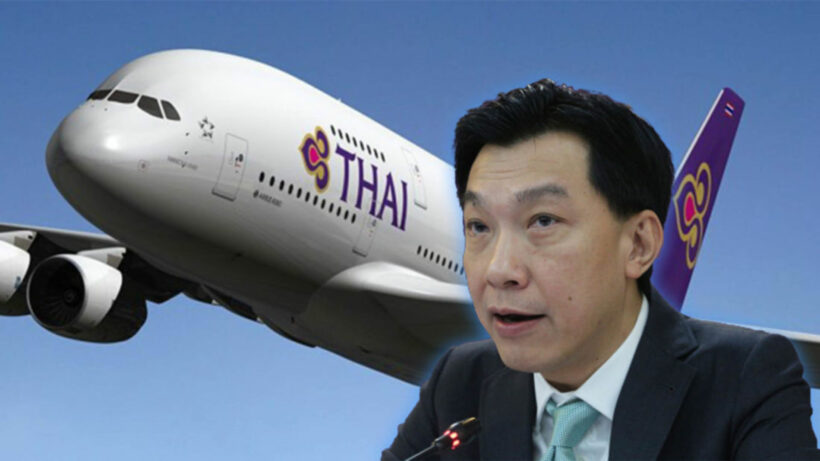 Thai Airways has dismissed reports that it will stop flying to four Asean destinations, namely Laos, Cambodia, Vietnam and Myanmar.
In a statement issued Tuesday October 22, Thai's president insisted there is no truth to reports that the airline will stop flights to the four destinations.
He said that the company is preparing its corporate strategy, and a thorough analysis must be conducted on all routes based on market conditions, and at present the airline has not made any changes to its routes nor are there plans to cease any flights.
In a speech to executives at Thai Airways' headquarters on the same day, the president announced that the national flag carrier is in deep financial crisis, and may have to fold unless all staff members unite to work harder.
SOURCES: nationthailand thaipbsworld
Keep in contact with The Thaiger by following our
Facebook page
.
Six top officials sacked on King's orders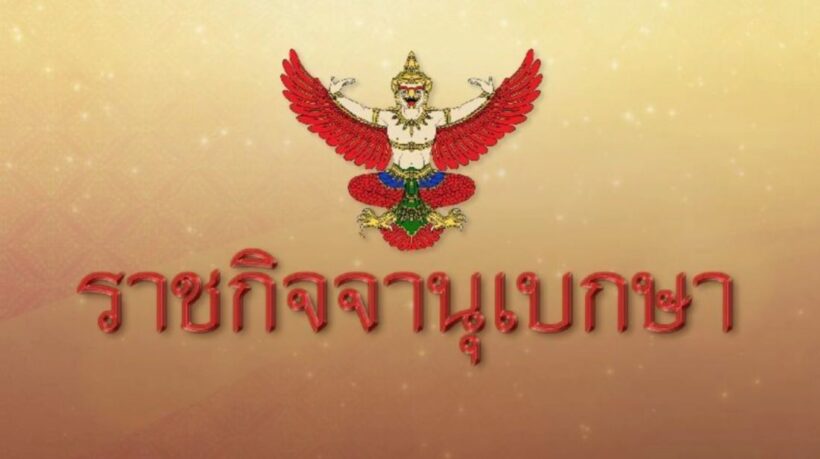 His Majesty the King has sacked six senior palace officials attached to Royal Guard units and the Royal Household Bureau, stripping them of their rank and recalling their royal insignias, citing severe disciplinary misconduct and accusing them of exploiting their positions for personal gain. The dismissals were announced in two royal commands, reported Wednesday October 23 by the Royal Gazette.
The first command ordered that Lieutenant General Sakolket Chantra of the Royal Household Bureau be dismissed and stripped of his rank and royal decorations, saying he had acted deplorably by misusing his state position for his own and others' gain and failed to perform his duty in line with regulations, causing serious damage to the state. The order took effect retroactive to September 1.
The second command, also dated October 23, ordered the dismissal of five state officials, who were also stripped of military rank and any royal decorations.
They are Major General Khun Tharinee Rodson, Khunying Thidarat Thamraksa, Major General Warinporn Kanisornsophon, Lieutenant Peera Mongkolchairerk, and Lieutenant Chayanan Pangsang, all attached to units of the Royal Guard.
The command cited their deploable conduct which breached disciplinary rules. Like Lieutenant General Sakolket, they abused their official positions for their own and others' gain and failed to comply with regulations, causing serious damage to the state.
The command took effect retroactive to Tuesday.
Earlier in the week His Majesty stripped Sineenat Wongvajirapakdi of her "Chao Khun Phra" or noble consort title as well as her military rank, due to her "undesirable behaviour" as a Royal servant and being disloyal to the Royal Family.
The statement said Sineenat was against the appointment of Queen Suthida and gave orders under the name of Their Majesties for personal benefit. She also reportedly engaged in activities without His Majesty's approval, causing confusion among the public.
SOURCES: bangkokpost.com
Keep in contact with The Thaiger by following our
Facebook page
.
Out of 37 countries, Thailand has the worst pension system, says Bloomberg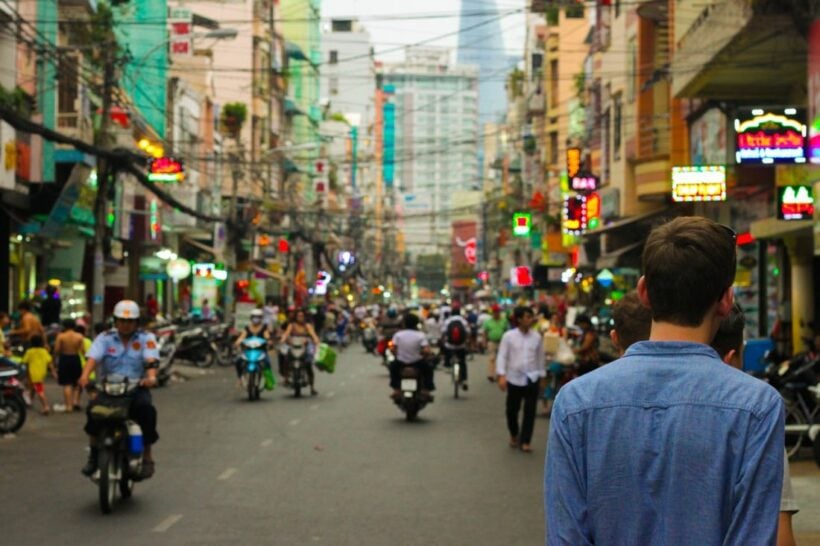 Thai Residents reports that on Sunday, Bloomberg published an article on the world's best pension systems, using information gathered from the 2019 Melbourne Mercer Global Pensions Index.
The survey looked at the pension systems of 37 countries with metrics including employee rights, savings, the number of homeowners, growth of assets, and growth of the economy. The purpose of the analysis was to determine what was needed to improve state pension systems and to gauge the level of confidence citizens had in their state pension system.
The Netherlands and Denmark were found to have the world's best state pensions, with Australia, Finland, Sweden, Norway, Singapore, New Zealand, Canada, and Chile next. Out of all 37 countries, Thailand finished last, with what the report described as an extremely ineffective and ambiguous system.
"Thailand was in the bottom slot and should introduce a minimum level of mandatory retirement savings and increase support for the poorest."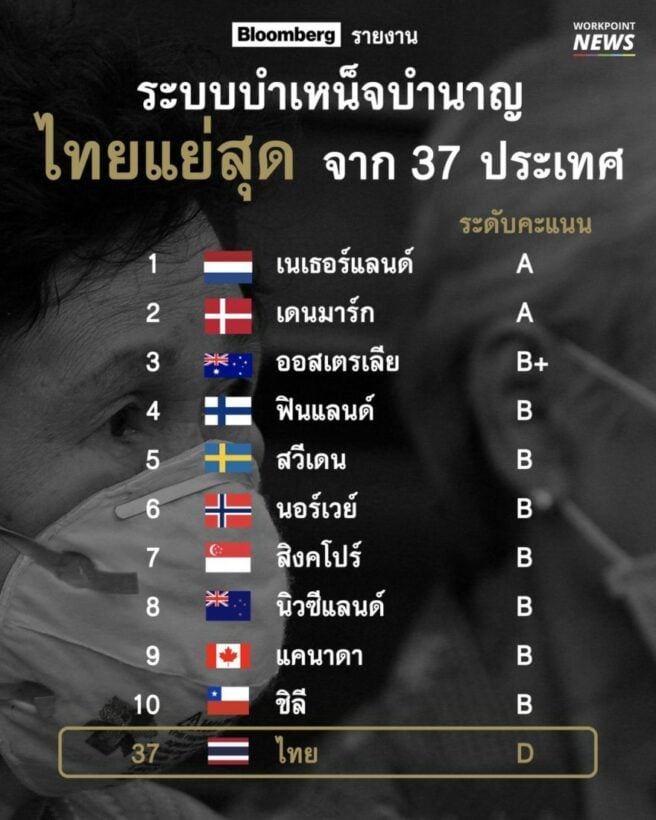 Photo: WorkpointNews
Thai Residents states that only those employed within the government system in Thailand are eligible for a pension based on salary. For most Thai citizens, pension amounts vary from 600 baht to 1,000 baht a month, depending on the recipient's age.
A report carried out by The Securities and Exchange Commission (SEC) advises Thai citizens to have at least 4 million baht saved by the time they retire, but Thai Residents reports that 60% of Thai retirees have less than 1 million baht in savings, with one in three citizens who have reached retirement age are forced to continue working in order to survive.
SOURCE: thairesidents.com
Keep in contact with The Thaiger by following our
Facebook page
.