Police intercept huge meth shipment and a tonne of marijuana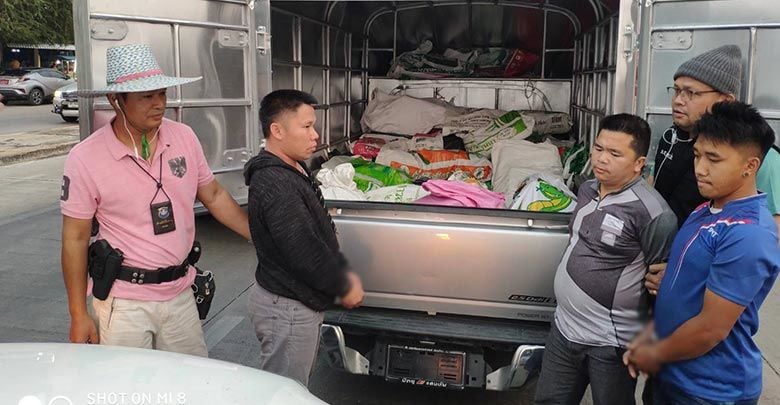 The Narcotics Suppression Bureau have reported a number of cases in the Chiang Mai province, northern Thailand. Both dugs cases involve a truck and an attempt to hide the illicit drugs in large sacks which were packed with dog food.
In the first case, 38 year old Jiradech Isipriya from Chiang Mai as well as 3 other members of a Kamphaeng Phet gang, were trying to transport 5.3 million methamphetamine pills to deliver to a customer. Officials received a tip off that the gang were about to ship a large delivery to a central Thailand province.
Police claim the gang had been ordered by a "big boss" to transport the shipment of drugs from Chiang Mai south into central Thailand provinces Central Thailand. Police report that on March 3 at 6.20pm officials stopped a suspicious truck at Payuha Checkpoint in Nakhon Sawan Province. They searched the truck and found large bags of dog food, mixed in with bags of methamphetamine tablets. The suspects admitted to police that they have done the same delivery at least 3 times before.
In the next case, police stopped another "suspicious" truck (there seem to be a LOT of suspicious trucks floating around northern Thailand) that police had to chase after the vehicle drove straight through the checkpoint.
When police saw the truck they signalled the pick-up to stop. But instead, the driver attempted to drive through, crashing into 2 police vehicles on the way. Officials kept following the vehicle until it was intercepted before driving off the road. 2 men were arrested, both from Chumpon Province. Inside the truck were 1,000 kilograms (1 tonne) of marijuana.
SOURCE: Thai Residents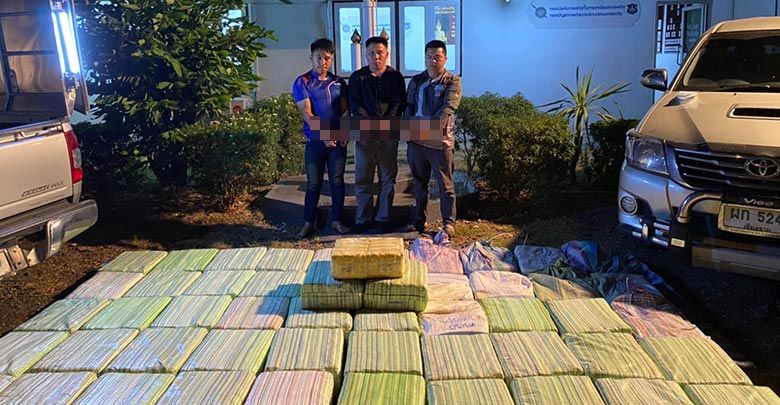 Keep in contact with The Thaiger by following our
Facebook page
.
North still choked with dangerous smog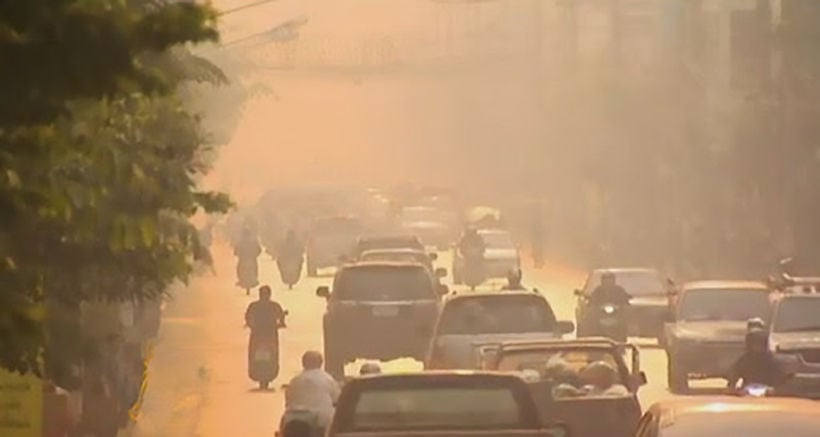 Chiang Mai takes the number one spot for air pollution yet again today, as a thick shroud of smog blankets huge areas of the province. Thailand's Pollution Control Department reported today that dangerously thick smog covered the upper northern provinces of Chiang Mai, Chiang Rai and Mae Hong Son. A red alert signifying severe air pollution was posted for the three northern provinces.
Levels of PM2.5 (smoke and dust particles 2.5 micrometres and less in diameter) ranged from 32-241 microgrammes per cubic metre of air in the North over the past 24 hours. The governmnent-set "safe" level is at 50mcg, double the international standard.
PM2.5 was measured at 108mcg in Mae Sai district in Chiang Rai.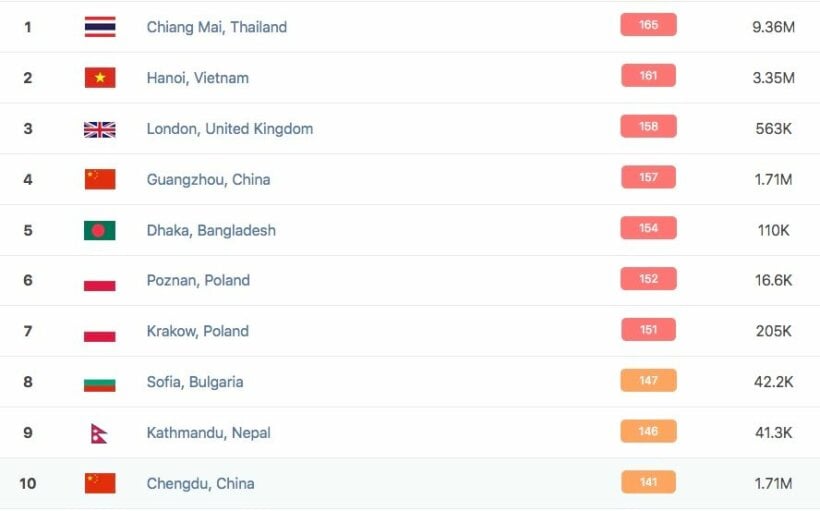 In Chiang Mai, PM2.5 rose to 101mcg in tambon Chiang Phuak of Muang district, 100 in tambon Sri Phum, and 241 in tambon Muang Khong of Chiang Dao district.
In Mae Hong Son, the PM2.5 level reached 121 in tambon Chong Kham of Muang district.
Lower, but still unsafe levels of dust were reported in Mae Chaem and Muang districts of Chiang Mai; Mae Mo and Muang districts of Lampang, Muang district of Lamphun, Muang district of Phayao, Chalerm Phrakiat district of Nan and Mae Sot district of Tak.
Air quality was deemed "good" in the city district of Uthai Thani, at 32mcg, Wichian Buri district of Phetchabun with 36 and the city district of Nakhon Sawan at 37.
According to the Pollution Control Department, PM2.5 levels ranged from 44-48mcg in Kamphaeng Phet, Phichit, Phitsanulok and Uttaradit provinces.
SOURCE: Bangkok Post
Keep in contact with The Thaiger by following our
Facebook page
.
Police say most Chiang Mai curfew violators drunk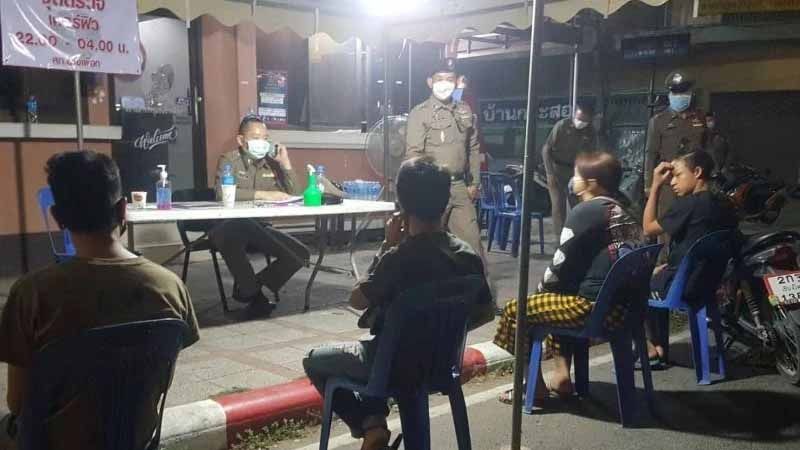 More than 250 people have been arrested in Chiang Mai province since the national state of emergency was enacted on April 3 to fight the spread of the Covid-19 coronavirus, after breaking its subsequent curfew. Police say most were drunk.
Another 43 people were arrested overnight on Tuesday for violating curfew. Police report that amongst those arrested, 2 were in possession of illicit drugs as well. Many of the remaining people "had also been drinking."
Police say they have so far arrested 278 people for violating the curfew in Chiang Mai.
"Anyone caught breaching the curfew is being fined 1,500 baht and faces being imprisoned for 15 days. After release, they're subject to 7 days of home detention and a 1 year probation period."
There have yet to be any reports of police officers with the virus, though 17 are in quarantine and under close observation.
Chiang Mai's governor yesterday issued an alcohol ban, prohibiting all alcohol sales from April 10 to 20.
"Anyone found in violation of this will face up to a year in jail and or a fine of up to 100,000 baht."
SOURCE: Chiang Rai Times
Keep in contact with The Thaiger by following our
Facebook page
.
Chiang Mai bans booze to battle coronavirus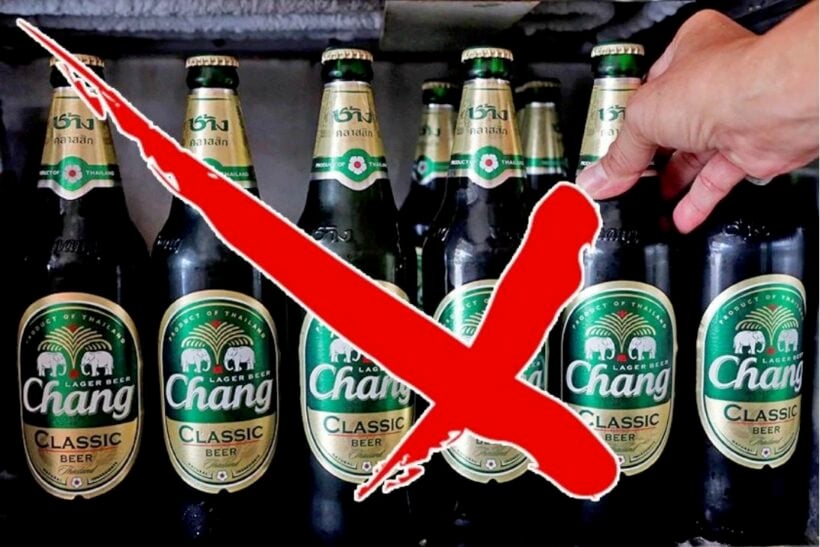 There's likely to be a rush on for booze over the next few days in Chiang Mai. The northern province is banning alcohol sales for 10 days, from April 10 – 20 in its local battle with the Covid-19 coronavirus. Provincial governor Charoenrit Sanguansat issued the order yesterday.
He says the Chiang Mai Communicable Disease Committee has already issued emergency measures to deal with the outbreak in Chiang Mai, but the situation has not improved.
"To enhance measures to monitor, control, and prevent the spread of the virus by focusing on risks of infection and people's needs, the Chiang Mai Communicable Disease Committee has ordered retail and wholesale stores to temporarily stop alcohol sales."
He added that the announcement was made under the Communicable Diseases Act, and the national state of emergency declared last week
"Entrepreneurs who violate this order will be punished with not more than a year in prison or a fine not exceeding 100,000 baht, or both, under Section 52 of the Communicable Diseases Act, or they will face not more than 2 years in jail or a fine of up to 40,000 baht or both, under Section 18 of the Emergency Decree."
"This order will be in effect from April 10 to 20."
SOURCE:The Nation
Keep in contact with The Thaiger by following our
Facebook page
.