Three new coronavirus cases raises Thailand total to 53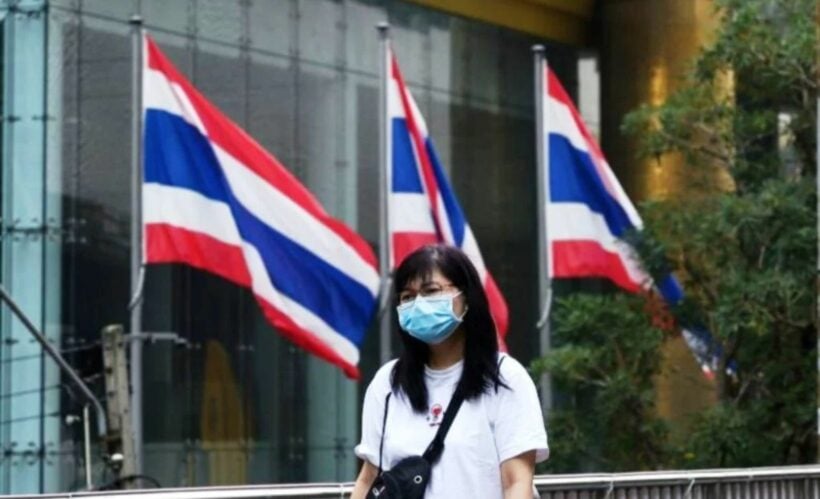 The number of confirmed Covid-19 coronavirus cases in Thailand has now reached 53 with 3 new cases announced yesterday. The Thai Ministry of Public Health announced that the new cases brought the Thai total to 53, with 33 patients already fully recovered. One person has died and the others remain in hospitals for treatment.
One of the new cases is a 41 year old woman, who hadn't been travelling overseas but was in close contact with a Thai man, Thailand's 45th case, who has already been treated at Bangkok's Rajavithi Hospital.
The other two cases are a 46 year old Thai woman who has just returned from Italy. Her 47 year old husband did travel with her but fell sick last Saturday with a high fever and muscle aches.
He went to a hospital first, testing positive for coronavirus. His wife was then tested. Both had been in voluntary home quarantine. They are now receiving treatment in Nakhon Pathom province.
A total of 188 Thais, returning from working illegally in South Korea (the so-called 'ghosts'), including 88 men and 100 women, are currently quarantined at the Sattahip naval base, south of Pattaya.
5 of the group are pregnant, 4 are children and 11 remain "unwell'.
Yesterday it was reported that the number of tourist arrivals fell 44.3% in February, compared to February 2019, due to the coronavirus outbreak. Visitors from China, Thailand's largest market for tourists, tumbled 85.3%, according to the TAT Governor Yuthasak Supasorn.
Keep in contact with The Thaiger by following our
Facebook page
.
Never miss out on future posts by
following The Thaiger
.
10 new Covid-19 cases in quarantine, all asymptomatic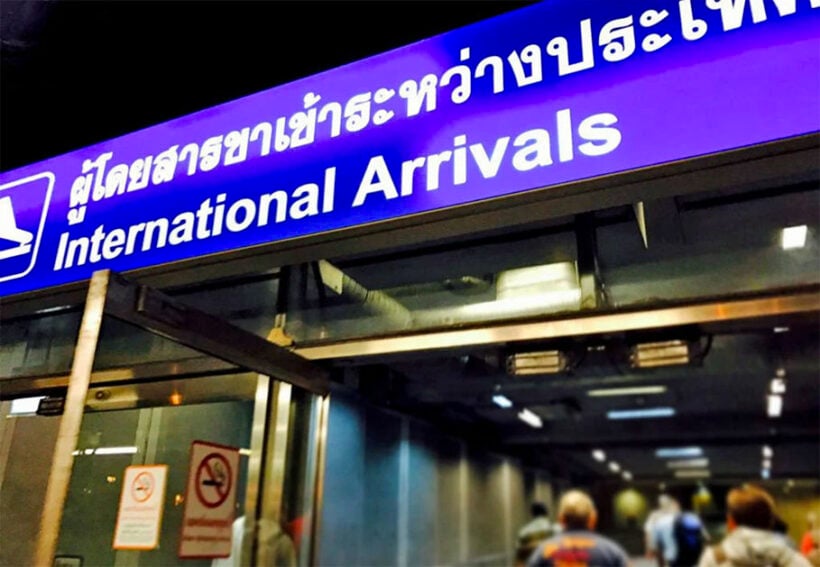 10 new Covid-19 cases were detected in quarantine including a 7 month old boy, according to the Centre for Covid-19 Situation Administration. Thailand's total number of confirmed Covid-19 cases is raised to 4,008 with 3,811 recoveries and 60 deaths. 137 people are currently receiving medical treatment for the coronavirus.
3 people travelling from the United States tested positive for Covid-19. The 23 year old American woman arrived on November 27 and the 63 year old Thai woman and 65 year old and Thai man arrived the next day. They all tested positive for the coronavirus while in quarantine and were asymptomatic.
A 50 year old Thai woman travelling from Sudan tested positive for Covid-19. She arrived on November 24 and tested positive 2 days later. She was asymptomatic.
4 Russian nationals travelling from Russia, and on the same flight as a previously confirmed coronavirus case, tested positive for Covid-19. The 39 year old man, 7 month old boy, 29 year old man and 28 year old woman arrived on November 23 and tested positive 5 days later while in quarantine. They were all asymptomatic.
2 Pakistani nationals travelling from Pakistan tested positive for Covid-19. They arrived on November 15. The 30 year old woman tested positive 12 days later and the 32 year old man tested positive 14 days later. They were asymptomatic.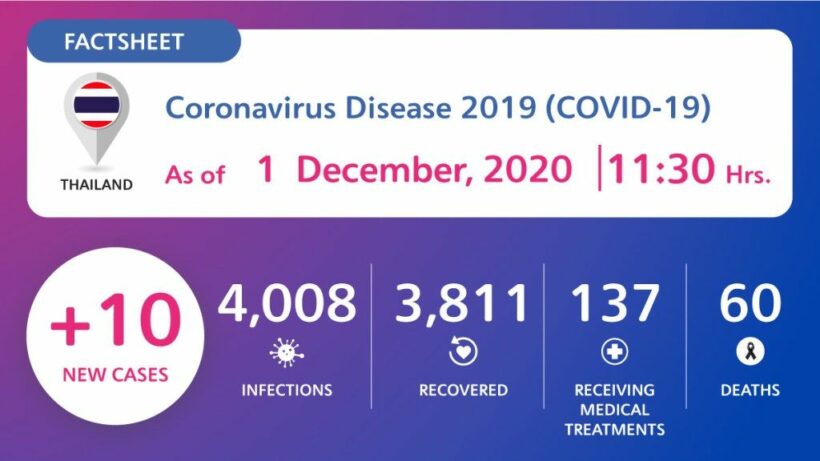 SOURCE: Bangkok Post
Catch up with the latest daily "Thailand News Today" here on The Thaiger.
Keep in contact with The Thaiger by following our
Facebook page
.
Never miss out on future posts by
following The Thaiger
.
No lockdown in Chiang Mai after local Covid-19 case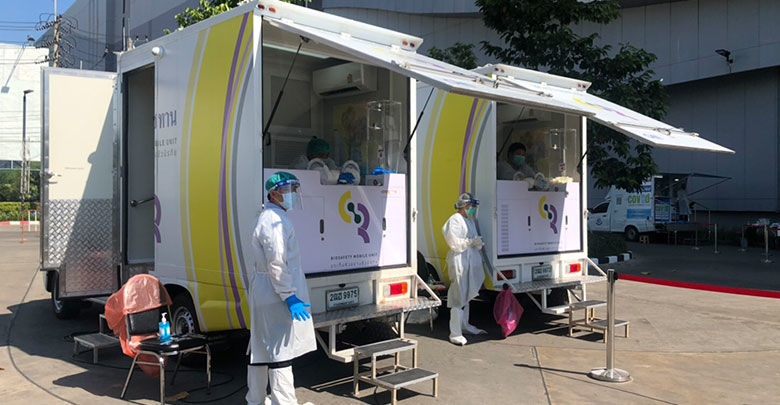 There will be no lockdown in Chiang Mai after the recent Covid-19 case where a woman tested positive at a local hospital after returning from Myanmar. Director general of the Public Health Ministry's Department of Disease Control, Opas Karnkawinpong, says the locals in Chiang Mai are taking health precautions and he doubts the case will cause an outbreak.
"Widespread Covid-19 transmission is unlikely because people in Chiang Mai are still predominantly wearing masks on a daily basis. The ministry will continue monitoring the situation for a further 14 days."
Tourist destinations, like Chiang Mai, have taken a beating since international travel restrictions were put in place in late-March. The province now relies on domestic tourism for income and the Bangkok Post says Opas's statements were made to allay fears of an outbreak.
The 29 year old Thai woman tested positive for Covid-19 during a visit to a Chiang Mai hospital where she reported flu-like symptoms. The woman had worked at a bar in Myanmar and is feared to be a "super spreader." 2 other women who worked at the same bar tested positive for Covid-19 in Chiang Rai after returning from Myanmar.
On November 23, while still in Myanmar, the original patient developed a fever, watery diarrhea and lost her sense of smell. The next day, while she still had a fever, she travelled by public van and entered Chiang Rai's Mae Sai district. Reports say she was somehow able to evade the mandatory quarantine. She then caught a bus to Chiang Mai.
In Chiang Mai, the woman visited friends and went to a mall where she shopped, had meals and watched a movie. On November 26, she went to the hospital and was tested for Covid-19. Authorities say she came in close contact with 328 people, 107 of them were considered at high risk, but Opas is asking people to remain calm and not to overreact.
"The ministry has been testing all those who came into contact with the patient and there has yet to be a positive result"
For the related cases in Chiang Rai, Opas says they are not as worried about a potential outbreak because the women, ages 23 and 26, apparently did not go out in public. After hearing about her colleague's case, the 26 year old decided to get tested for the coronavirus. Only 4 people in close contact with the 2 women are considered to be at a high risk while 22 people are asked to take precautions and monitor their health.
The recent local Covid-19 cases and the rising number of infections in Myanmar have prompted Thai officials to tighten security along the Thai-Myanmar border. The Chiang Rai governor Prachon Pratsakul says many Thais working in the neighbouring country are returning with the virus to get treated in Thailand.
SOURCE: Bangkok Post
Catch up with the latest daily "Thailand News Today" here on The Thaiger.
Keep in contact with The Thaiger by following our
Facebook page
.
Never miss out on future posts by
following The Thaiger
.
Phuket officials concerned about virus risk from undocumented migrant workers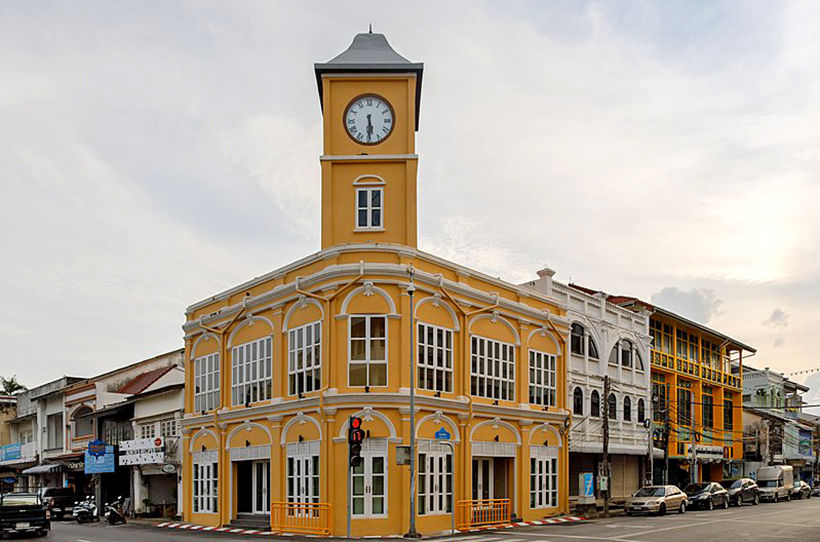 The discovery that 3 Thai nationals infected with Covid-19 returned from Myanmar and bypassed health checks and quarantine, has officials in Phuket on high alert. Over the weekend, it was discovered that a 29 year old Thai woman had illegally crossed from Myanmar and subsequently tested positive for Covid-19 after admitting herself to a Chiang Mai hospital. 2 other women who worked with her have also tested positive for the virus.
Phuket's deputy governor, Pichet Panapong, says news of the 3 infected Thai women who managed to enter Thailand without undergoing any health checks or mandatory quarantine, has officials on the southern island worried. He adds that local authorities are monitoring Burmese workers, calling on them to follow disease control measures if returning to Phuket from Myanmar. (It would appear he missed the bit about the 3 infected women being Thai, not Burmese)
In a report in the Bangkok Post, Pichet says officials are considering setting up a quarantine facility for any migrant workers already in Phuket illegally, adding that of the 59,900 registered migrant workers on the island, 80% are Burmese. The Thailand/Myanmar border is longer than 2,000 kilometres with hundreds of official and "natural" border crossings.
"People can also act as eyes and ears for the authorities. If they find something suspicious in their communities, they should alert immigration police or local police."
Phuket has 21 alternative quarantine properties, offering over 2,500 rooms in total, but arrival numbers are low. It's understood that only 11 people have applied to enter Phuket in the period December 4 – 12, and so far, only a single application has been received for January. There are currently 726 people in local quarantine, 20 in alternative local quarantine, and 4 people carrying out yacht quarantine. Since Phuket agreed to receive foreign-registered yachts, 6 vessels have entered its waters, with all passengers and crew carrying out quarantine on board, 6 kilometres from shore.
Pichet says that, at a meeting of the communicable disease control committee, the Thai Yachting Business Association submitted a proposal to manage cruise ships, and officials have also received a request to extend the opening hours of shopping malls over the New Year holiday.
SOURCE: Bangkok Post
Keep in contact with The Thaiger by following our
Facebook page
.
Never miss out on future posts by
following The Thaiger
.