Justice minister orders probe in prison deaths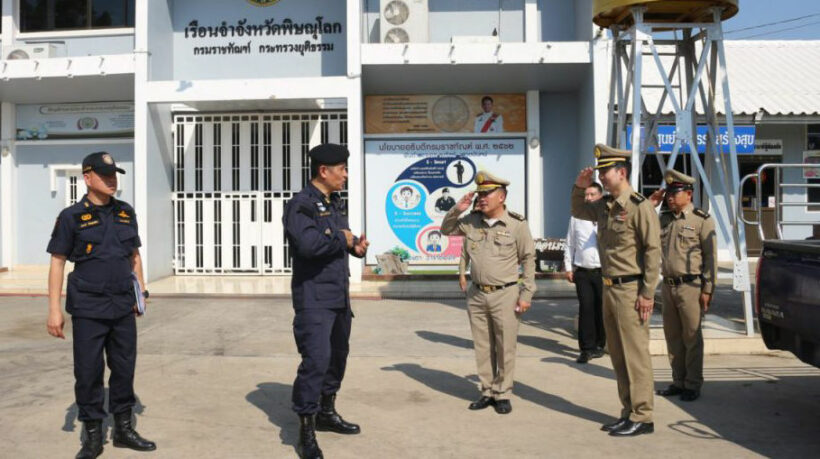 An investigation is now proceeding into the deaths of four inmates at the Phitsanulok Provincial Prison who died with "extremely low potassium and high levels of thyroid hormone in their blood", more commonly thought to be food poisoning.
The Thai Justice Minister Somsak Thepsuthin, who ordered the probe, says he suspects prison administrators were inadvertently, or possibly even deliberately, negligent. He says he'll take legal action against anyone found at fault, to seek compensation for the families.
Doctors say the four inmates, who died between December 29 and January 4, had elevated levels of thyroid hormone, which led to fatal complications. Hundreds more inmates at the prison have shown similar symptoms, prompting a medical team to conduct blood tests on 3,500 prisoners.
Twenty four inmates with severe symptoms were sent for treatment to two local hospitals, according to provincial health chief Piya Sirilak. Another 690 with high thyroid hormone levels are now under medical surveillance. Authorities believe the thyroid dysfunction might be the result of eating meat tainted with a thyroid hormone, but say test results will take a few weeks.
The family of one of the dead, a 27 year old who was convicted of a drug offence, are petitioning Minister Somsak for a clear answer about his death. They insist their relative was a sportsman and in good health, with no previous chronic ailments. They were unable to speculate that his health deteriorated in prison due to malnutrition. He was to be released on January 30.
Corrections Department director-general Narat Sawettanan visited the prison on Monday and declared the problem "under control."
"Conditions should return to normal in seven days."
He says if it's confirmed that prison food led to, or even contributed to the deaths, he'll take disciplinary action. Phitsanulok Prison has more than 3,000 inmates and only 120 guards and 2 nurses. Narat pledges to provide more manpower "until the matter is resolved and the population is restored to health."
As for adding more doctors and nurses, he says there's simply not enough manpower, considering the number of inmates. Narat points out that funding has recently been approved for a second hospital for the Corrections Department, which might increase the number of available doctors and nurses, but he isn't sure it will be enough.
Narat claims he reprimanded administrators for not sending the four ailing inmates for treatment sooner. All four men died whilst sleeping in their cells, each of which holds 50-100 prisoners. CCTV footage showed no hint of foul play. Narat told reporters he's waiting for the department's inspector-general to report on the quality of the food at the prison.
SOURCE: Thailand Today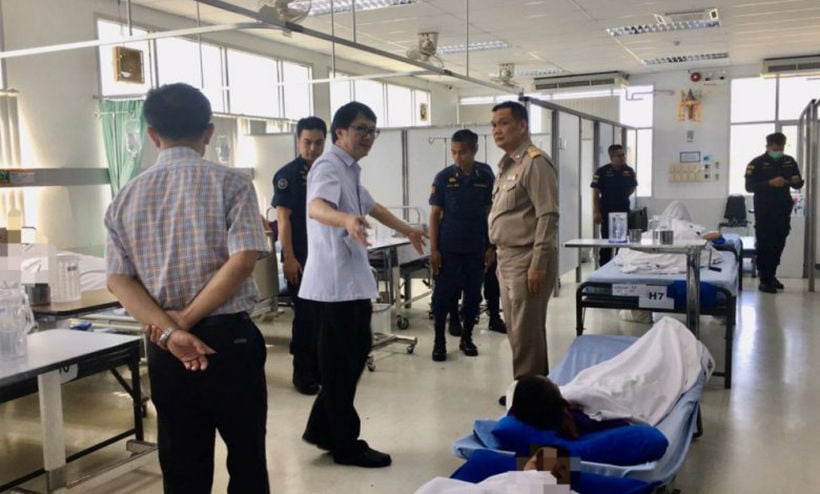 PHOTO: 77kaoded.com
Keep in contact with The Thaiger by following our
Facebook page
.
Never miss out on future posts by
following The Thaiger
.
Venomous octopus grilled and up for sale at Pathum Thani market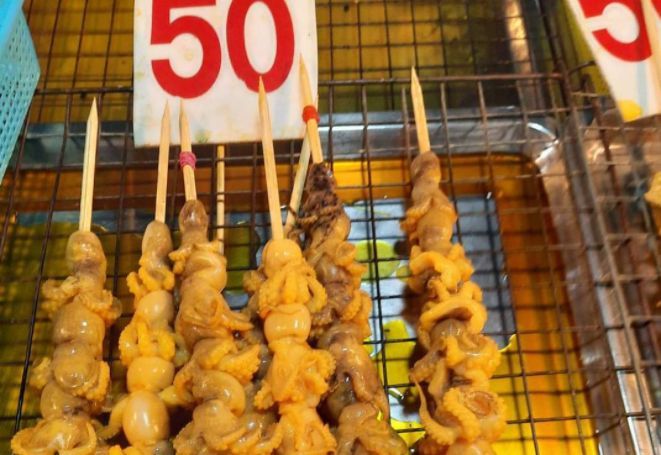 A venomous blue ringed octopus was found grilled up on a stick and up for sale at a Pathum Thani. The Department of Marine and Coastal Resources posted photos of the octopus on their Facebook page, warning people to watch what they eat.
While the octopus is small, about the size of a golf ball, its venom contains the powerful neurotoxin tetrodotoxin which blocks sodium channels, causing motor paralysis and respiratory arrests within minutes of exposure. It has enough venom to kill 26 humans. There is no antivenom. The department says the venom can endure heat up to 200 degrees Celsius, so grilling the octopus won't destroy the toxins.
The department is advising customers to look out for the blue ring pattern.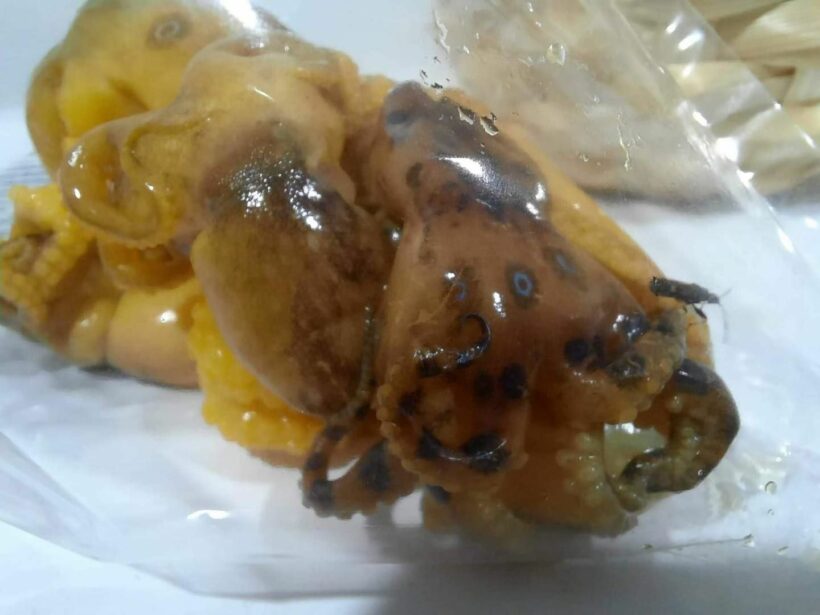 SORUCES: Nation Thailand| Wikapedia
Keep in contact with The Thaiger by following our
Facebook page
.
Never miss out on future posts by
following The Thaiger
.
Local singer dies after crashing his car while on a video call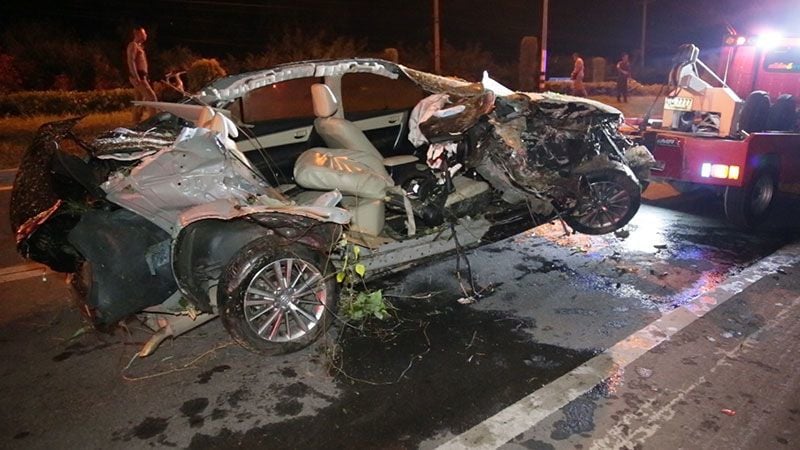 A Thai singer died after crashing his car into a lamppost while on a video call with his girlfriend. Thai media did not report on the estimated speed, but photos of the wreckage show severe damage. The roof ripped off the Toyota Altis and the car is almost unrecognisable.
23 year old Akkarachai, known as Ice, was found dead at the scene on Pahonyothin Road, or Route 1. He performed at many night venues and events around the Central Thailand province Chai Nat. Ice's friend told police that he was on his way home to his girlfriend's house in Nakhon Sawan about 25 kilometres away. While on the phone with his girlfriend, there was suddenly a loud noise and the phone went dead.
Chai Nat police warn people not to use their phones while driving.
SOURCE: Thai Visa
Keep in contact with The Thaiger by following our
Facebook page
.
Never miss out on future posts by
following The Thaiger
.
Monk arrested for alleged involvement in large methamphetamine delivery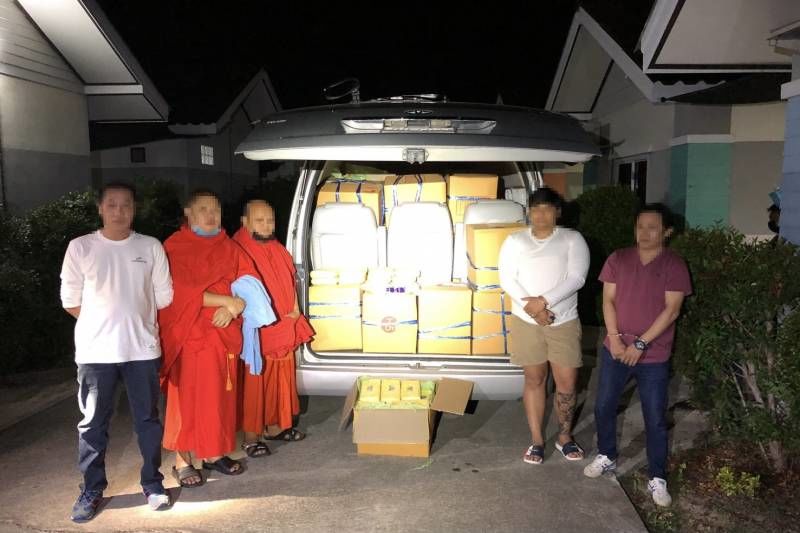 Police arrested a monk on drug charges and seized 4.8 million methamphetamine pills from a resort in the Central Thailand province Chai Nat. The man, a senior monk from Chiang Rai, was allegedly hired to help deliver large qualities methamphetamine 3 times and paid 300,000 baht per delivery. The monk allegedly told police that he needed the money to enroll in a master's degree program.
A photo shows the monk standing in front of a van packed with boxes. Along with the 4.8 million methamphetamine pills, police found a gun with 14 bullets and 11 mobile phones. According to Thai media, it was a significant drug trafficking bust, cracking down on a large network in the Chiang Dao and Chai Nat area. The monk allegedly sat in the van during deliveries to "trick" police and avoid getting searched at police checkpoints.
SOURCES: Chiang Rai Times | Thairath
Keep in contact with The Thaiger by following our
Facebook page
.
Never miss out on future posts by
following The Thaiger
.