Cambodia delays damming the Mekong for 10 years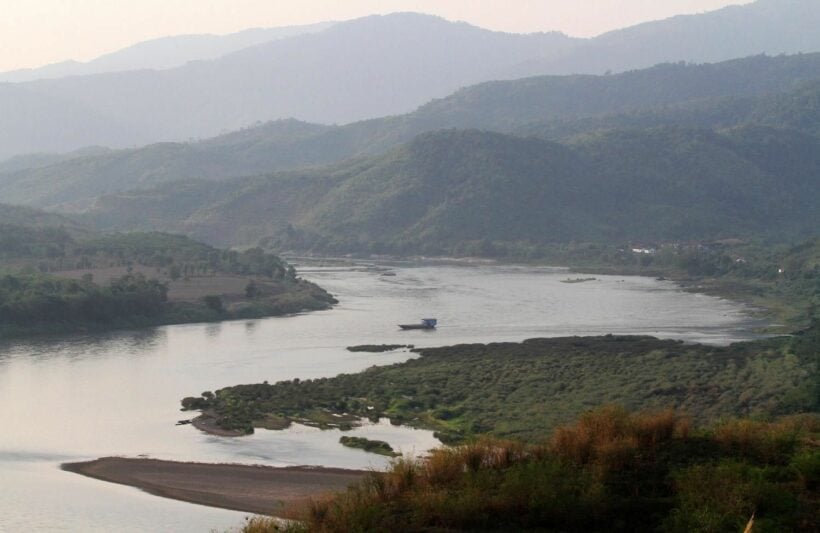 Cambodia announced yesterday that it will shelve developing new hydroelectric dams on the Mekong River for the next decade. A senior Cambodian official made the announcement as Cambodia reviews its policy to seek solar energy as well as energy from coal and natural gas.
The Mekong river sustains some 60 million people and flows through six countries… China, Myanmar (Burma), Thailand, Laos, Cambodia and Vietnam. Environmentalists warn that more dams in the system will harm fisheries and farming along the Lower Mekong (Cambodia and Vietnam).
Cambodia's decision makes neighbour Laos, which has opened two new dams on the Mekong in the past 6 months, the only country in the Lower Mekong Basin planning hydroelectric power.
The director general of energy at Cambodia's Ministry of Mines and Energy told Reuters the government is following a study by a Japanese consultant recommending that Cambodia source its energy needs elesewhere.
"According to the study, we need to develop coal, LNG, imports from neighbouring countries and solar energy. In this 10-year plan, from 2020 to 2030, we have no plans to develop a mainstream dam. "
Cambodia had previously announced plans for two dams, but both projects are now on hold. Across the border in Laos, power from the new Don Sahong dam, began flowing into Cambodia's grid in January.
A surge in demand was fueled by a construction boom accompanying Chinese investment last year gave Cambodia its worst power outages in years. Officials say the shortage were due to low water levels at hydropower dams, partly due to new Chinese dams upstream.
Cambodia currently uses hydropower for about 48% of its domestic electricity production, according to the state utility Electricite du Cambodge. With demand growing fast, Cambodia imported about 25% of its electricity last year. With the bulk of it transmitted from Vietnam and Thailand, according to the utility's statistics.
SOURCES – Chiang Rai Times | Reuters
Keep in contact with The Thaiger by following our
Facebook page
.
Fruit exporters urge Thai growers to maintain sanitary standards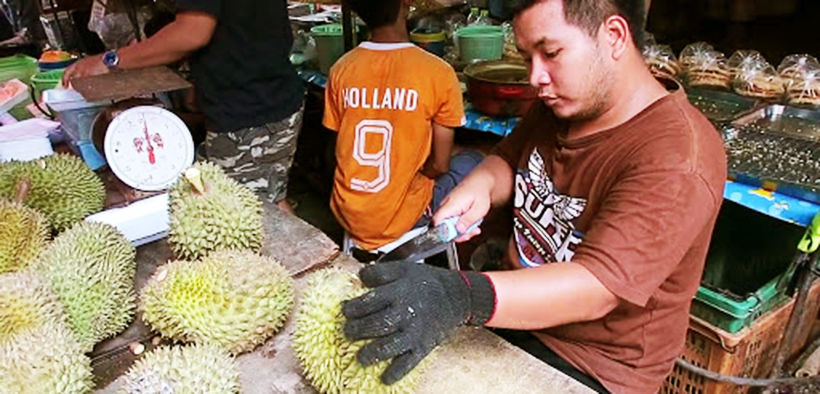 "Despite the Covid-19 crisis having a large negative impact on the economy, exports of fresh fruit from Thailand are still operational as demand from China continues, fruit exporters have urged Thai growers to ensure higher sanitary standards to protect the industry from the effects of the pandemic."
This from the president of Thai Fresh Fruit Traders and Exporters Association, Paiboon Wongchotesathit.
To safeguard the export market, Paiboon urged exporters to apply high sanitary standards to ensure that the shipments are not tainted with the Covid-19 virus, especially fruit like durian, longan and mangosteen which are the main fruits that Thailand imports. He also asks exporters to make sure that workers wear face masks and to supply hand gel for food pickers and packers so their hands are frequently cleansed.
"If the workers are infected and transmit the virus to customers through droplets on products, the whole export industry will be ruined."
On a positive note, according to Paiboon, currently, durian prices range from 145 to 150 baht per kilogram, higher than last year's rate of 130 to 135 baht per kilogram and given the fruit's popularity in China, the number of exporters have risen to 1,000 business operators from 300 (3 years ago).
"Fruit exports, especially durian, will be able to achieve growth this year because Chinese consumers are likely to cut back on travel and focus on import and export."
SOURCE: Bangkok Post
Keep in contact with The Thaiger by following our
Facebook page
.
"Surgical masks no guarantee against coronavirus" – medical experts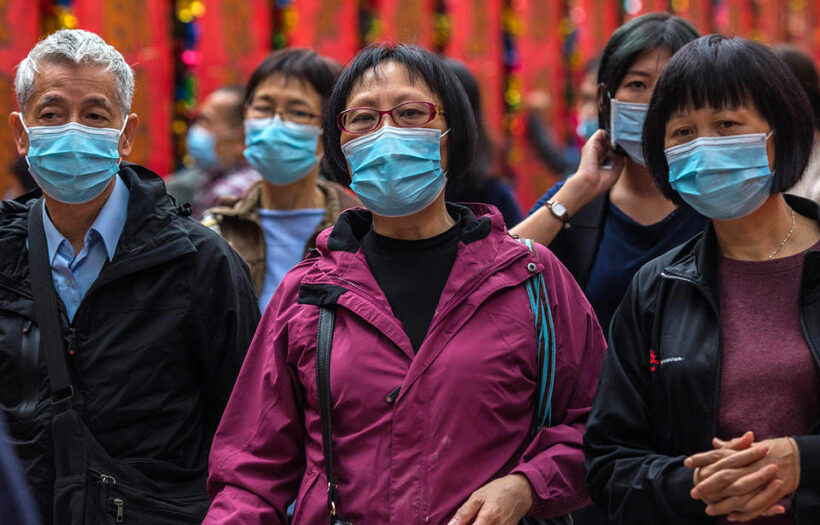 The Wuhan Coronavirus is making news around the world and the sight of people wearing face-masks is now becoming common – whether they're in a high-risk area or not. The World Health Organisation (WHO) has upgraded the global threat level to "high." Many countries have banned or reduced flights from China and are stepping up screening efforts at their airports. Malaysia is the latest ASEAN member to join the growing number of countries that have imposed a temporary ban on Chinese nationals arriving from Wuhan and surrounding Hubei province. The Philippines has also banned flights from Wuhan, and sent back 500 Chinese tourists who came from the city.
As Asian commuters cover their noses and mouths with paper thin covers, medical experts dispute the usefulness of mass-produced surgical masks to block transmission of the flu-like virus.
"It is not one of the recommended barrier measures" for those who have not been contaminated, according to France's health minister. A senior researcher at the Osaka Institute of Public Heath told the media that high-quality masks could be effective, referring to more expensive, tight-fitting respirators used to filter fine dust and pollution.
"But as always, there is no 100% guarantee."
Still, on Bangkok's streets many people put faith in surgical masks.
"I'm very concerned about the virus," one citizen told reporters. "Everywhere I go, I also bring alcohol and hand sanitiser to clean my hands and avoid areas with Chinese tourists."
Others wore heavier duty PM2.5 masks, in a city shrouded for weeks by damaging pollution. One Bangkok chemist said the outbreak has led to the most intense panic-buying of medical items he has seen since the SARS epidemic of 2002-2003.
"All our mask suppliers are out of stock. The masks are made in China and the country itself is out of stock."
The World Health Organisation is advising regular hand washing with soap, alcohol rubs and avoiding touching one's face as well as crowded places as effective habits to protect against infection. The advice has not stopped a run on the masks, stockpiling or price hikes, from Cambodia to Tokyo, Hubei to Hong Kong, where queues stretch outside retailers with stocks.
But while Southeast Asian governments are stepping up efforts to prevent the virus from entering their countries, their efforts may be hampered. They may be able to effectively monitor who enters and leaves their respective countries legally, but what about those who slip under the radar?
Increasing border patrols, enhancing screening efforts, blocking people from entering and even sending back Chinese tourists may be effective, but the ASEAN region also has the issue of human trafficking.
According to the 2016 Global Slavery Index by human rights group Walk Free, some 25 million people are trapped in modern slavery in the Asia Pacific region, or 62 % of the global total. The US Department of State's Trafficking in Persons reports for 2018 and 2019 paint a grim picture for most ASEAN countries in terms of human trafficking. The coronavirus highlights the deadly consequences that could arise when problems like human trafficking are not dealt with.
SOURCE: The ASEAN Post
Keep in contact with The Thaiger by following our
Facebook page
.
Thailand is the leading ASEAN nation in annual suicide rates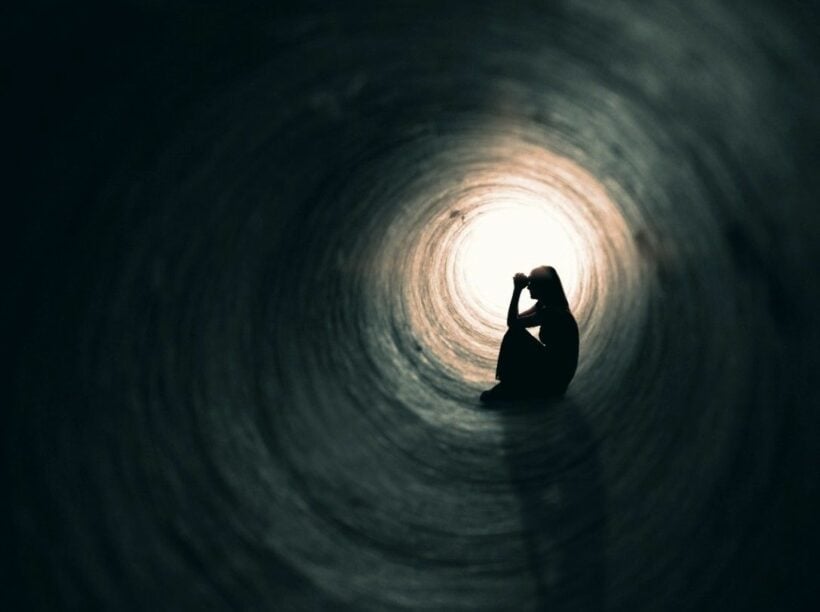 "Thailand, which ranks in 32nd place with 14.4 of suicides per 100.000 population – or nearly 10,000 suicide deaths last year."
Every 40 seconds, someone loses their life to suicide and nearly 800,000 people die due to suicide every year, according to the World Health Organisation. In Thailand, suicide is the second leading cause of death among 15-29 year olds, after road injury.
Thailand, which ranks in 32nd place with 14.4 of suicides per 100.000 population – or nearly 10,000 suicide deaths last year – holds the unenviable position of number 1 among ASEAN countries on the WHO suicide list, followed by Singapore (Rank 67 with the ratio of 11.2) and Laos (Rank 84 with the ratio of 8.6. The Philippines has the ASEANS's least rate (Rank 163 with the ratio of 3.2). Brunei wasn't on the 183-country list.
While noting that the number of countries with national suicide prevention strategies had increased to 38 in the five years since the publication of WHO's first global report on suicide, WHO Director-General Dr Tedros Adhanom Ghebreyesus stressed that this was still far too few and governments need to commit to establishing them.
"Despite progress, one person still dies every 40 seconds from suicide," said Ghebreyesus.
"Every death is a tragedy for family, friends and colleagues. Yet suicides are preventable. We call on all countries to incorporate proven suicide prevention strategies into national health and education programmes in a sustainable way."
If you or anyone you know is in emotional distress, please contact the Samaritans of Thailand 24-hour hotline: 02 713 6791 (English), 02 713 6793 (Thai) or the Thai Mental Health Hotline at 1323 (Thai).
The "40 seconds of action" campaign held last October provided an opportunity for people to help improve awareness of the significance of suicide as a global public health problem; improve knowledge of what can be done to prevent suicide; reduce the stigma associated with suicide; and let people who are struggling know that they are not alone.
The WHO also urged people to share their messages, photos, illustrations and videos that are not of a private nature on Twitter or Instagram using the hashtag #40seconds and #WorldMentalHealthDay.
SOURCE: The Nation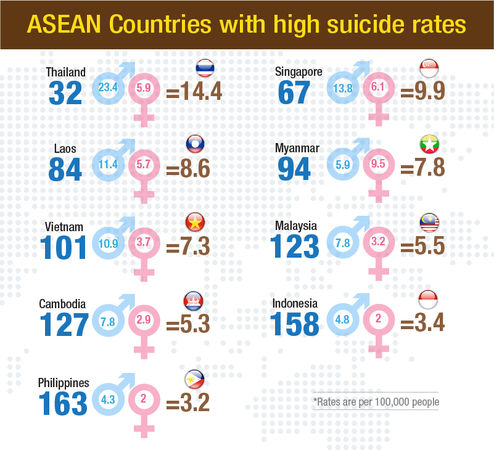 Keep in contact with The Thaiger by following our
Facebook page
.