Biker decapitated in Lampang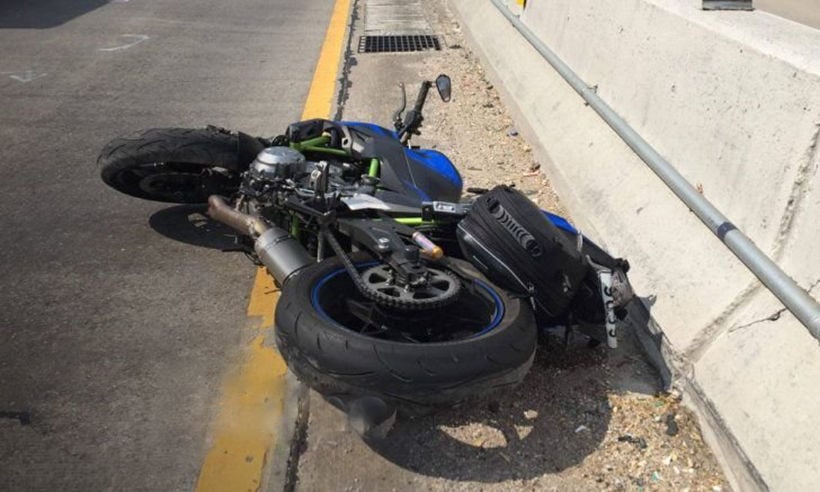 Police and rescue services in the northern Lampang province were confronted with a gruesome scene after the driver of a Kawasaki Z650 hit a metal lamp post in the middle of a downward section on the Lampang-Chiang Mai superhighway.
The biker's head, out of its helmet, was on one side of the road, his body on the other.
The biker was identified as 28 year old "Tossawat" from Chantha Buri. He was the last in a convoy of several big bikes heading to Chiang Mai, when he lost control on the Doi Khun Tan hill.
His friends informed relatives of the tragedy which happened around 1:30 pm
Keep in contact with The Thaiger by following our
Facebook page
.
Land mine severs man's foot in Phrae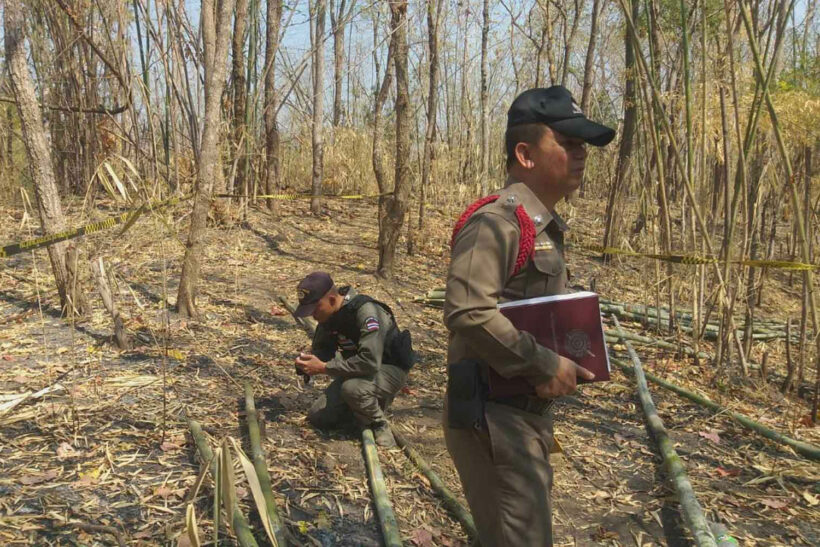 A man in the northern province of Phrae had his foot blown off by a land mine yesterday morning while cutting bamboo. Police say the incident occurred at about 8am in a community forest. A medical team and a bomb squad were sent to the scene to investigate.
21 year old Yossakorn Chuchart told police that he and his father, 43 year old Tawatchai, went into the forest to cut bamboo to make chopsticks. He says he was working about 200 metres away from his father when he heard an explosion. He rushed to his father and found his right foot was severed at the ankle. Tawatchai was rushed to Den Chai Hospital.
The headman of Ban Huay Kut village says most of the villagers make their living from forest products, including bamboo chopsticks. There have been two similar mine explosions in the past, but the villagers were not hurt.
"This is the most serious incident to date."
Members of the bomb disposal team collected evidence to determine the type of mine and investigate why it was planted there, and by whom.
SOURCE: Bangkok Post
Keep in contact with The Thaiger by following our
Facebook page
.
Soldiers seize 100 kilograms of crystal meth in Chiang Mai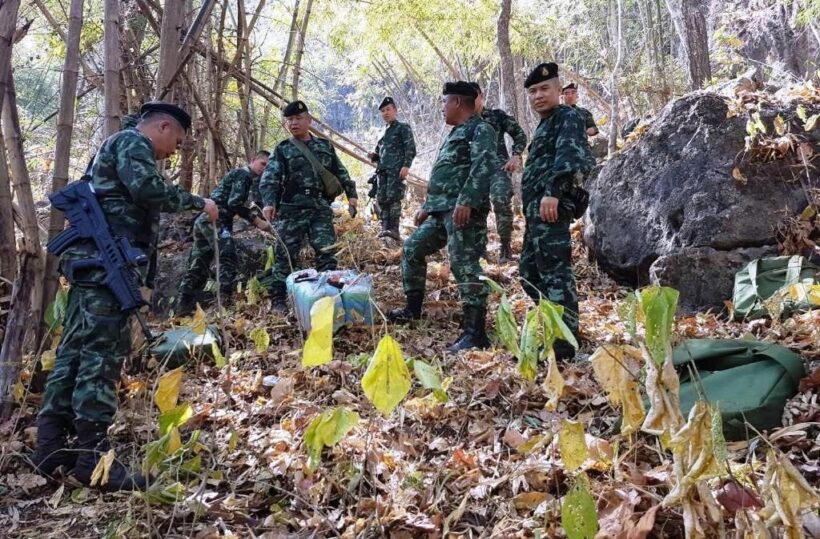 A clash with drug runners in Chiang Mai province today resulted in the seizure of around 100 kilograms of crystal methamphetamine, commonly known as "ice," valued at about 100 million baht. Soldiers, acting on a tip-off, laid an ambush and were waiting for the drug runners.
About 10 smugglers are thought to have been wounded in the the clash, which included forces of police from the Narcotics Suppression Bureau and army rangers. The shootout occurred near the Burmese border in the Mae Ai district of Chiang Mai. Police say the drug runners retreated across the border and left about 100 kilograms of crystal meth at the site.
Elsewhere, police in northern Thailand's Lampang province arrested a driver and seized more than 172,000 meth pills, or "ya ba," and about 70 kilograms of crystal meth. The drugs were found during a search of his pickup truck at a road checkpoint..
Police say said the pickup was loaded with vegetables enclosed in a steel cage. Police discovered a large sack hidden under the vegetables. The sack contained 172,200 meth pills and 35 packages of crystal meth, weighing about 70 kilograms in total.
Police say the drugs have a street value about 100 million baht. The driver allegedly confessed he was moving the drugs from Chiang Rai to central Thailand. He was taken to a Lampang police station and charged with transporting illegal drugs with intent to sell.
SOURCE: Chiang Rai Times
Keep in contact with The Thaiger by following our
Facebook page
.
Northern Thailand warned to brace for stormy weather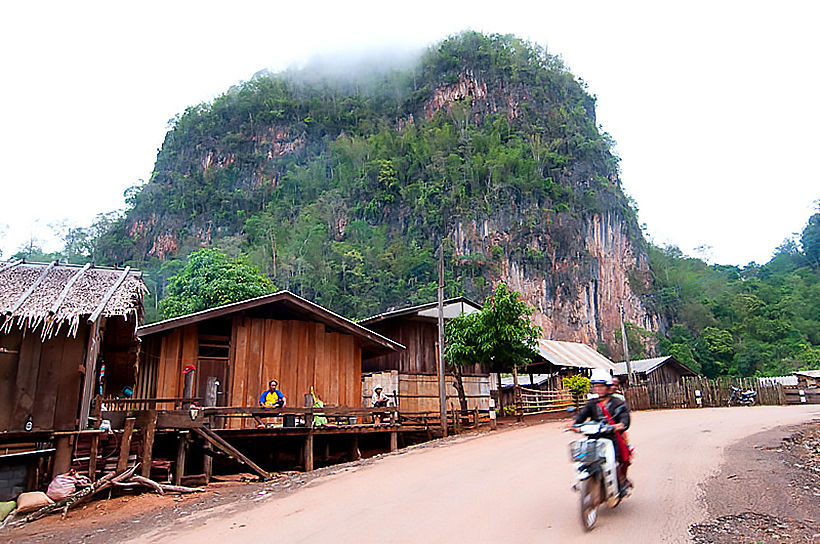 Thunderstorms and high winds are forecast for Thailand's North and Northeast. The Department of Disaster Prevention and Mitigation (DDPM) is warning northern and northeastern provinces to brace for stormy weather from tomorrow to Thursday.
DDPM director-general Monton Sudprasert said yesterday that high pressure from China and strong winds from the west will create thunderstorms, high winds and harsh weather.
Provinces expected to be hit include Chiang Rai; Chiang Mai; Mae Hong Son; Lamphun; Lampang; Phayao, Phrae; Nan; Tak; Sukhothai; Uttaradit; Phitsanulok and Kamphaeng Phet. Loei, Nong Bua Lamphu, Udon Thani, Nong Khai, Bueng Kan, Sakon Nakhon, Nakhon Phanom and Mukdahan will also be affected.
Monton added that officials are closely monitoring the danger from storms and strong waves in the South, especially in Nakhon Si Thammarat, Songkhla, Pattani and Narathiwat, and warned people to beware of strong winds knocking down unstable structures.
The warnings come as the level of fine particulate matter (PM2.5) in Bangkok yesterday was found to be within Thailand's "safe" limit. While the level during the day, the figure at around noon remained at between 20 and 47 microgrammes per cubic metre (µg/m³), well within the Pollution Control Department's standard of 50µg/m³. Smog in other provinces remained bad, especially in the North.
Monton says the minister of the interior has told his department to monitor the situation closely. Nine provinces in the North have been declared "no burn" zones until at least the end of April. Local authorities have also been told to increase penalties against violators of the ban on outdoor fires.
SOURCE: Chiang Rai Times
Keep in contact with The Thaiger by following our
Facebook page
.