Pattaya motorbike repairman arrested over sexual harassment of a 14 year old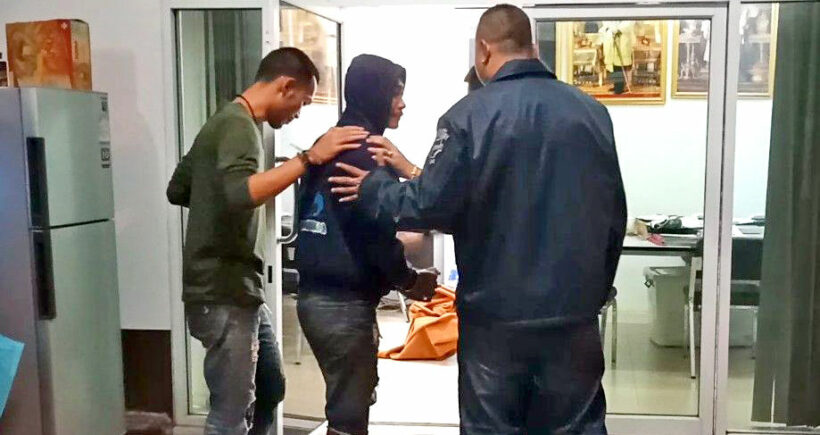 A 24 year old motorbike repairer was arrested early yesterday morning for the alleged sexual harassment of a 14 year old girl at a Nong Prue motorbike repair shop in Pattaya. The repair shop was located on Soi Khao Noi.
A urine test turned up positive for drugs, according to local police. The arrest follows a tip-off from the Children Families Protection Centre that a q14 year old  had been sexually harassed.
The suspect allegedly told police that the teenager came to the motorbike repair shop to fix a motorbike.
"He asked her to wait inside a back room as there was a fan and it was cooler. After that he allegedly followed her and demanded she get on a bed to perform sexual acts", according to the police report.
He allegedly began to touch her but the girl told him that she is pregnant. The suspect stopped and she fled, informing her family. The man is facing legal action and remains in custody pending charges.
SOURCE: The Pattaya News
Keep in contact with The Thaiger by following our
Facebook page
.
More arrest warrants issued over Bangkok's August bomb attacks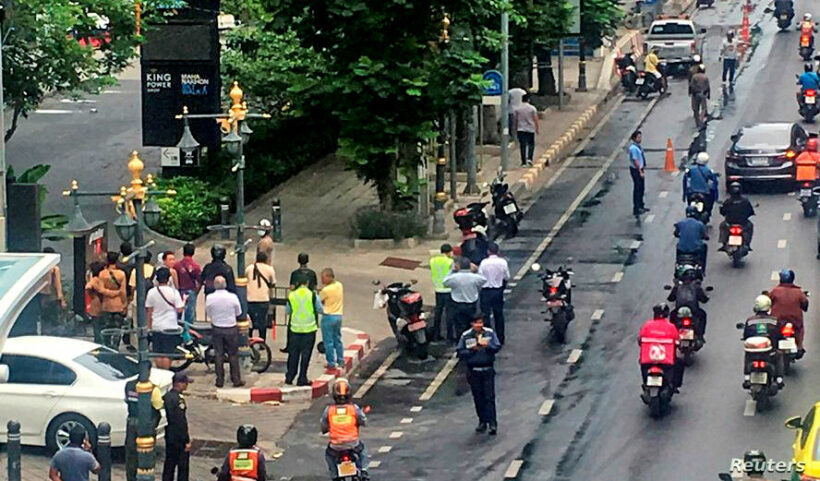 PHOTO: Voice of America
The Criminal Court issued arrest warrants for five more suspects yesterday over their alleged involvement in the simultaneous bomb and arson attacks in Bangkok back on August 2.
Police presented evidence against them to the court yesterday to obtain warrants for their arrest. They are accused of being members of an unlawful syndicate and collaborating to carry out, or tell others to carry out, terror attacks, attempting to and having launched bomb attacks to harm others and damage others' properties.
Earlier, police investigators have obtained arrest warrants against 13 other suspects. The Nation lists the current list of suspects awaiting arrest…
1 ) Ammari Maming
2 ) Assamee Abuwae
3 ) Ussaman Pohlor
4 ) Mayaki Malasing
5 ) Sattha Ahwae
6 ) Ussaman Jehteh
7 ) Sukree Duraman
8 ) Hakeem Punyung
9 ) Hasae Baeloh
10 ) Nassaru Maprasit
11 ) Ussaman Lateh
12 ) Hasan Ahwae
13 ) Mayusoh Hayisamah.
Police investigators have arrested three suspects, namely Lu-ai Saengae, Wildun Maha, and Muhammadilhum Sa-i. Lu-ai and Wildun were arrested on board a bus in Chumphon early on August 2 after the bombs they allegedly planted in front of the Royal Thai Police headquarters were detected on August 1 and were safely disabled.
SOURCE: The Nation
Keep in contact with The Thaiger by following our
Facebook page
.
Interpol issues alert for Norwegian wanted for Phuket murder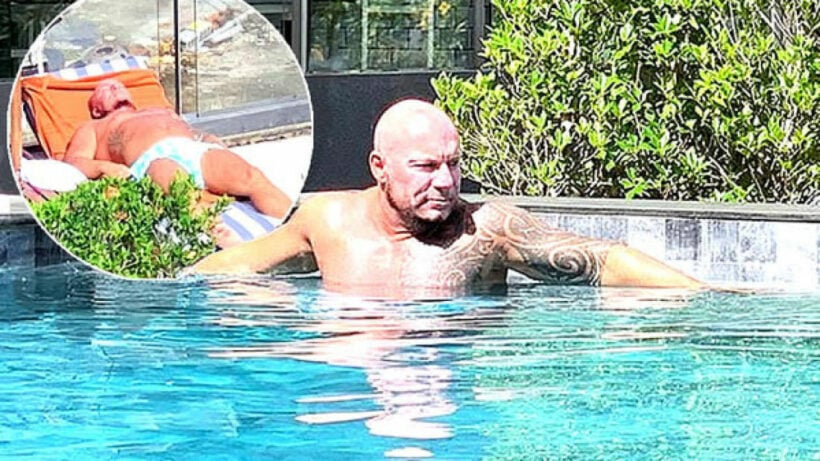 PHOTO: www.thaiexaminer.com
Interpol has issued a red alert for Roger Bullman, the Norwegian wanted for allegedly killing British national Amitpal Singh Bajaj, at a resort in Karon last August. Pol Captain Taecsin Deethong-on of Karon Police Station says the alert was issued following a request from Thai police.
Bajaj was on holiday with his wife and child and got into a violent altercation with Bullman, who was staying in the room next door. It's understood the Norwegian was drunk and making a lot of noise in the early hours of the morning and had already been visited twice by hotel security.
In an interview with the UK's MailOnline, Bajaj's wife, Bandhna, rejected reports based on police questioning of the Norwegian that her husband had protested about Bullman singing loudly on the balcony.
According to her account, Bullman had been noisy and angry that night and reportedly broke down a wooden partition between the two balconies, charged into their room, and started attacking her husband.
Police said that in the course of the fight, Bullman, a bodyguard from Oslo and a martial arts expert, allegedly held Bajaj in a chokehold and continued to throw punches at him until Bajaj became unconscious. Bajaj was taken to a local hospital where he was declared dead.
Thai police say it's too early to say if Bullman has managed to flee Thailand, adding that reports he has travelled to Vietnam have not been confirmed.
The police have been criticised from sources close to the victim's family for releasing Bullman a few hours after the alleged crime, on a bail guarantee of 200,000 baht, despite him being a flight risk.
SOURCE: The Nation
Keep in contact with The Thaiger by following our
Facebook page
.
Man dressed as postman robs shop while claiming to be carrying a bomb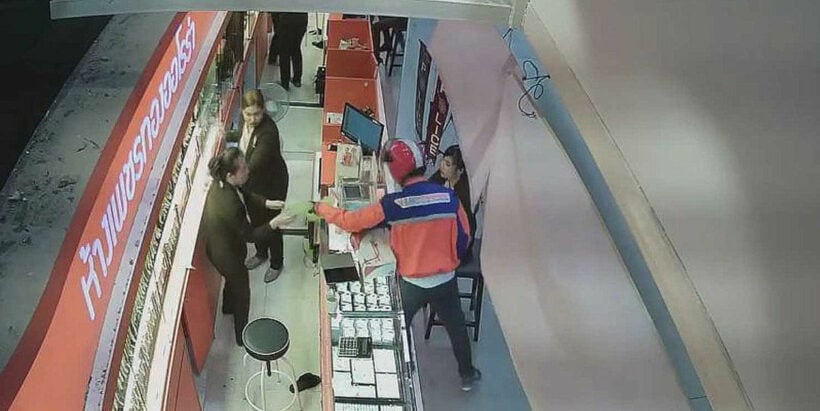 PHOTO: Bangkok Post
A man has walked into a gold shop in Samut Prakan, south of Bangkok, dressed as a postman and claiming to be carrying a bomb. He then proceeded to rob the store.
Thai Residents reports that the man entered the shop, located inside a Thai Watsadu store, carrying a Thailand Post delivery box. He threatened staff and customers with a gun and claimed there was a bomb inside the box.
He then ordered a staff member to place several gold necklaces in a bag, before fleeing the shop in a van bearing a Thailand Post sticker. It's understood he got away with over 70,000 baht worth of gold.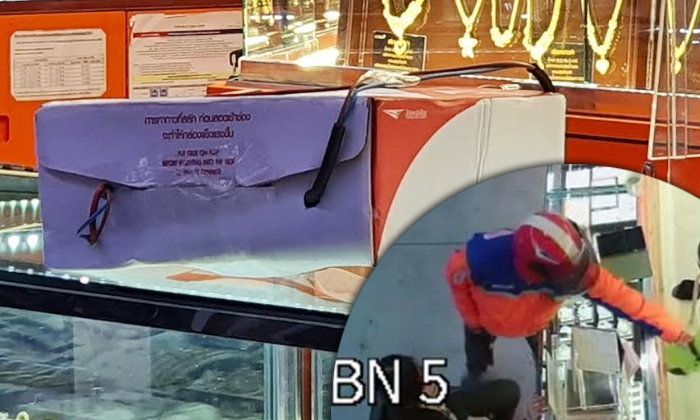 Police Captain Somkiet Nacharoen says the robbery left the staff shaking in fear. They had moved outside for fear that the box left behind by the robber really did contain a bomb.
Bomb disposal experts carried the box, which had wires trailing from it, to a remote area of the parking lot, 300 metres from the Thai Watsadu building, surrounding it with tyres before opening it.
It was found to contain a large rock with a hole in which the wires were inserted. No explosives were found.
Investigating officers discovered that the getaway vehicle used by the robber did belong to Thailand Post and police suspect the man may be a Thailand Post employee.
Fingerprints have been taken from the delivery box and officers are examining CCTV footage from the store to help in their investigation.
SOURCE: Thai Residents
Keep in contact with The Thaiger by following our
Facebook page
.