4 pregnant women among 32 human trafficking victims dumped in forest in southern Thailand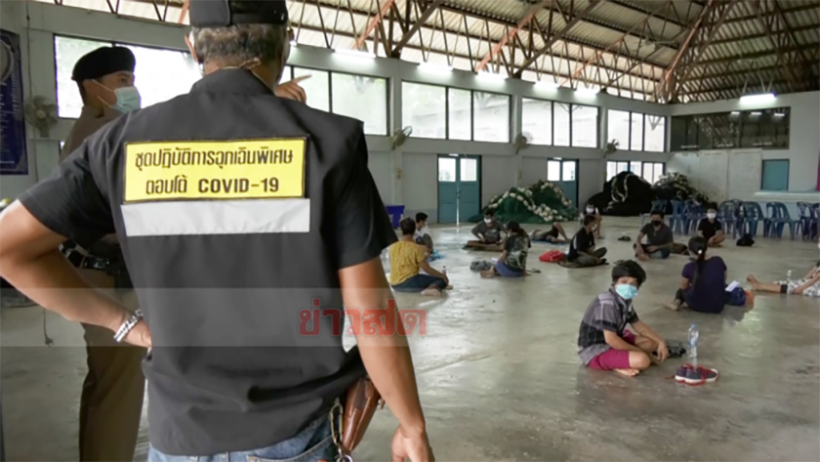 4 pregnant women are among 32 Burmese dumped in a forest in the southern province of Chumphon after being illegally trafficked into Thailand. It's understood the group had all been working in Malaysia until the Covid-19 crisis erupted and they lost their jobs. Thai Residents reports that they pooled all the money they had to engage a human trafficking gang to help them cross into the Kingdom, paying the traffickers 20,000 baht per person.
It's understood the victims were hoping to eventually reach their home country of Myanmar by passing through Thailand. The group was smuggled into Thailand at the Sadao border in the southern province of Songkhla, with plans to cross into Myanmar at the Ranong border. However, on arrival at Chumphon, the traffickers realised there was an immigration checkpoint in place and instead, lured the group into a palm plantation, where they abandoned them.
A villager subsequently found the group, with the village chief notifying the police. The group is now being quarantined and tested for Covid-19, with 6 men and 1 woman found to have a high fever. The 7 have been separated from the rest of the group and sent to Chumphon Khet Udomsak Hospital.
In total, the group consists of 24 males and 8 females, 4 of whom are pregnant. All are between the ages of 21 and 47 years old and now face prosecution for entering the Kingdom illegally. Officials have also launched an investigation to find the traffickers.
SOURCE: Thai Residents
Keep in contact with The Thaiger by following our Facebook page.
Never miss out on future posts by following The Thaiger.
Thai man accidentally kills himself with homemade bomb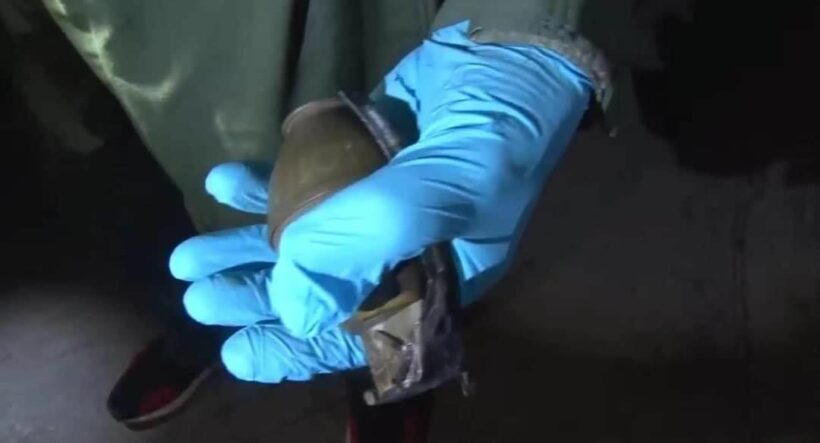 A young Thai man has accidentally killed himself with a homemade bomb in the Muang district of Kanchanaburi province this morning. 22 year old Amornthep Thongchomphu was found dead with his arm blown off after the bomb exploded in a field near his home.
Local police went to the scene at about 11am, outside the man's house in Ban Nong Kung village of tambon Ban Thum. Police found the man's dead body along with a scorched, ruptured PVC pipe. Village headman Boonruam Somwongsa says Amornthap stayed alone in the house as his mother worked abroad, sending home money. He was apparently jobless and was not known to socialise.
Boonruam says the man allegedly had a dispute with a neighbour previously and on 2 occasions had thrown a small bomb at his neighbour's house, leading him to file a complaint. Boonruam says it was likely that Amornthep was making another bomb to throw at his neighbour when it accidentally detonated.
The Ban Ped police chief says another small homemade bomb was found at Amornthep's house, with its components being possibly bought from online.
SOURCE: Bangkok Post
Keep in contact with The Thaiger by following our Facebook page.
Never miss out on future posts by following The Thaiger.
Motorbike taxi attacked tourist in Pattaya because he was annoyed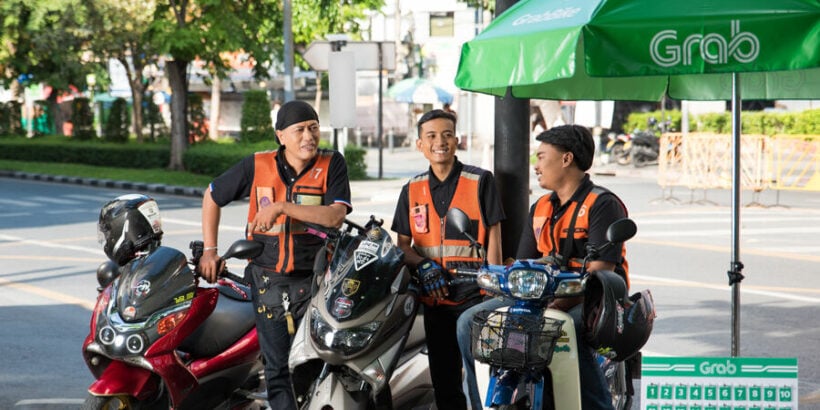 A Pattaya motorbike taxi driver is saying he was annoyed when he attacked a Chilean man out of nowhereearly yesterday morning. Amorn "Jeab" Boonmee was arrested after confessing to allegedly slapping and kicking 24 year old Salvatore Andres Castromedina, breaking his nose. According Khaosod English, Amorn says he acted in a "blind moment of fury" because he was annoyed by the man.
"I apologize. I was annoyed at the tourist who came up to speak to me and I didn't understand what he was saying. He wouldn't go when I told him to. I'm someone who gets annoyed easily, especially at people who talk a lot."
Amorn allegedly attacked the man on Pattaya's famous Walking Street at about 2am on Thursday with CCTV capturing the alleged incident.
Police say the incident has damaged Pattaya and Thailand's overall image as well as its tourism. Investigators say they are waiting for a full medical report of Castromedina's injuries before deciding what charges to bring upon Amorn.
According to Khaosod English, Castromedina said via an interpreter that this was his first time in Thailand. He went on to explain that he was asking the taxi driver for a ride to Soi Buakhao before being attacked.
According to Khaosod English, another motorbike taxi driver was seen in the CCTV footage. 45 year old Rittisak Kulsumaso says he tried to stop Amorn from attacking Castromedina.
"I really didn't want this to happen. It's already hard to make money. [Castromedina] had also been drinking alcohol."
Rittisak says he is the one who took Castromedina to the police station to file a report. He also says he turned himself in after the incident took place. Castromedina was sent to the hospital after the attack for medical treatment. According to Khaosod English, a picture shows police officers giving Castromedina a basket of chicken essence soup, wishing him a speedy recovery.
SOURCE: Khaosod English
Keep in contact with The Thaiger by following our Facebook page.
Never miss out on future posts by following The Thaiger.
Police officer arrested for allegedly stealing grenade launcher and other weapons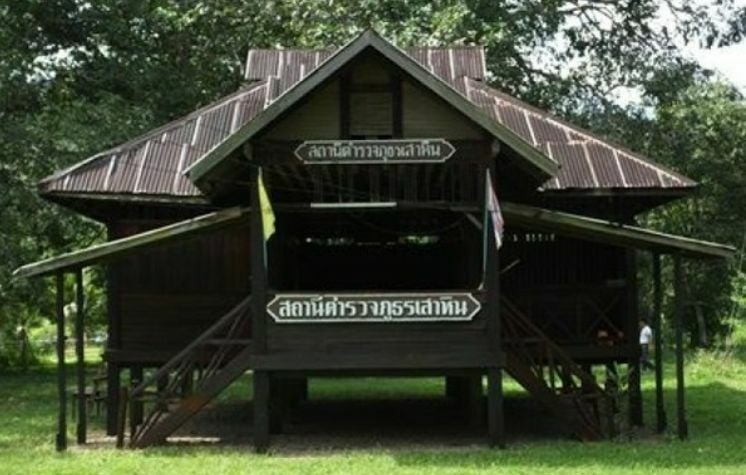 A police officer was arrested for allegedly stealing a M79 grenade launcher and other weapons from a police station armoury in Mae Hong Son, a province in Northern Thailand bordering Myanmar. Police say officer Santichai Luerat planned to sell the guns and ammunition to a buyer who would then sell the weapons to members of an ethnic minority across the border in Myanmar.
Sao Hin Police Station commissioner says he noticed a number of weapons were missing from the station's amoury – a M79 grenade launcher, 9 guns, 21 rifles and a flak jacket. A video recorder was also stolen, police say. Police have confiscated 4 of the stolen guns, 6 rifles and the flak jacket, but the rest of the weapons are still missing.
Santichai is an officer from the Kong Koi Police Station and lives near the Sao Hin station. Reports do not say what charges the officer faces or if he was transferred from his post. Police are still investigating and searching for the missing grenade launcher, guns and rifles.
SOURCE: Nation Thailand
Keep in contact with The Thaiger by following our Facebook page.
Never miss out on future posts by following The Thaiger.