Thailand News Update | Thai suicide rate skyrocketed during pandemic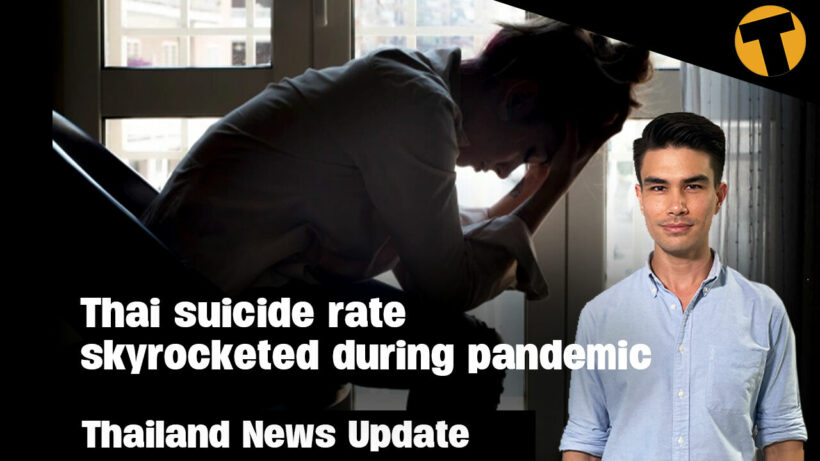 On Saturday, Thailand's Department of Mental Health has reported the drastic impact of Covid-19 on mental health, with its director-general revealing that the suicide rate in Thailand is 5.9 times what it was in pre-Covid days.The department's data found that people are 2.1 times more likely to develop stress, and 4.8 times more likely to develop depression, than they were pre-pandemic. The director-general said one factor in the plummeting mental health is the slow spread of the Omicron variant, preventing any meaningful progress on the situation. He noted in the report that, in some cases, people have committed suicide when their business stopped making enough profit due to government-mandated closures and restrictions. A study by UNICEF from 2020 to 2021 found that 28% of Thai adolescents experienced high levels of stress, 32% risked depression, and 22% were at risk of suicide.
---
A network of new Vaccinated Travel Lanes is starting to open up around South East Asia as governments find so-called "safe ways" to reopen their borders whilst still maintaining some precautions. The Omicron variant continues to surge in many of the regional Asian countries despite similar surges and declines already over in many countries in the EU, the US, UK and Australia.The newly announced vaccinated travel lanes still fall well-short of the pre-Covid-freedoms of visas-on-arrival and no pre-approvals for arrival in destination countries.Now, new air lanes will involve Malaysia, Thailand and Cambodia that are set to go into effect from March 15 in joint efforts to reopen their international borders. Malaysia's Transport Minister says that the main appeal for travelers using the Vaccinated Travel Lanes is that people won't be required to be quarantined when they arrive in their new destination. In reciprocal arrangements, the partnering governments will schedule up to six flights daily. In the case of the Malaysia and Thailand arrangement, it will allow 6 flights between Kuala Lumpur and Bangkok, and 4 flights between the KL and Phuket. For the Cambodian route, there would be at least 2 daily flights between KL and Phnom Penh. Other ASEAN governments are also looking to facilitate similar routes where travelers from each country won't be required to quarantine at either end. But a pre-flight PCR test and full vaccination will be required for travelers under the program.
---
Despite Russia banning Facebook in the country just 3 days ago, the Russian Consulate in Phuket has posted on its own Facebook page yesterday to announce that Russian citizens in Phuket will be able to stay at least a month longer than the original date on their visa. In other words, an automatic visa extension. To do this, Russian travelers must go to Phuket immigration with an original letter from the consulate, their passport, and a document confirming where they are currently living in Phuket. The Russian consulate is sending letters to Phuket immigration requesting the official extension.Phuket immigration has not made any official announcements about extensions for Russians, or Ukrainians, at this stage. But the Russian consulate's Facebook post stressed that the extension for Russians is mainly for those who are stranded due to canceled flights and the problems for both Russian and Ukrainian citizens accessing money at this time. In December, Russians made up Phuket's biggest tourist demographic, with over 17,000 travelers arriving that month. When the Test and Go program was rebooted at the start of February, Russians were also the most numerous travelers coming back to Thailand.
---
Thai Police have reported a large amount of blood found in the room of Shane Warne at the rented villa he was staying at in Koh Samui. Despite the latest revelations Police don't believe there was any foul-play involved in Mr. Warne's death. He died of a suspected heart attack on Friday afternoon. Shane Warne was revered in the cricket world as one of the greatest of his era and played for Australia from 1992 – 2007. New photographs have emerged of the room where Mr. Warne was staying at the Samujana Villas in the popular บ่อผุด district of Koh Samui. Blood stains were identified on the carpet, on 3 towels and a pillow, according to Thai-language newspaper Matichon. But police say the blood mostly came from the frantic efforts to respite Mr Warne.The legendary Australian spin bowler had gone for a nap on Friday afternoon after he and his three friends had decided to meet at 5pm for a drink.At 5.15pm one of the three friends went to wake Shane from his slumbers but found him unresponsive. He was pronounced dead after arriving at the Thai International Hospital in Chaweng.
---
A notorious walkway connecting Bangkok's Lumpini and Benjakitti parks will be renovated this September. The renovation will provide better biking and running lanes, with flowers lining the sides. There will even be parking and rest areas. The walkway was first built in 1999. The walkway is being referred to as the 'green bridge', and the Bangkok Metropolitan Administration says it's meant to be a new landmark for the city. City Hall said it allocated 260 million baht to renovate the walkway. The renovation is set to begin this month.The walkway used to be known as the 'twilight zone' due to its poor lighting. In the new design for the upgraded bridge, lighting has been added to make it safer. In 2021, it was reported that the bridge couldn't be made wheelchair friendly because of budget limitations.
---
After Paypal warned of suspending its services in Thailand starting March 7, the company announced over the weekend that it will in fact keep providing services in the country until the end of the year.Paypal had warned it would close services in Thailand after Thai authorities wanted it to verify all users' identities, in order to prevent money laundering. But now, Paypal has released a statement apologizing for any confusion, and clarified that it has canceled the account limitations scheduled to start in Thailand on March 7. Current users can now use Paypal's consumer and business services until the end of the year. Paypal will meanwhile work to comply with the country's financial regulations, and update products and services. The statement said Paypal will share more details with customers later this year.
---
Video

Join the conversation and have your say on Thailand news published on The Thaiger.
Thaiger Talk is our new Thaiger Community where you can join the discussion on everything happening in Thailand right now.
Please note that articles are not posted to the forum instantly and can take up to 20 min before being visible. Click for more information and the Thaiger Talk Guidelines.