Phuket Vegetarian Festival program 2018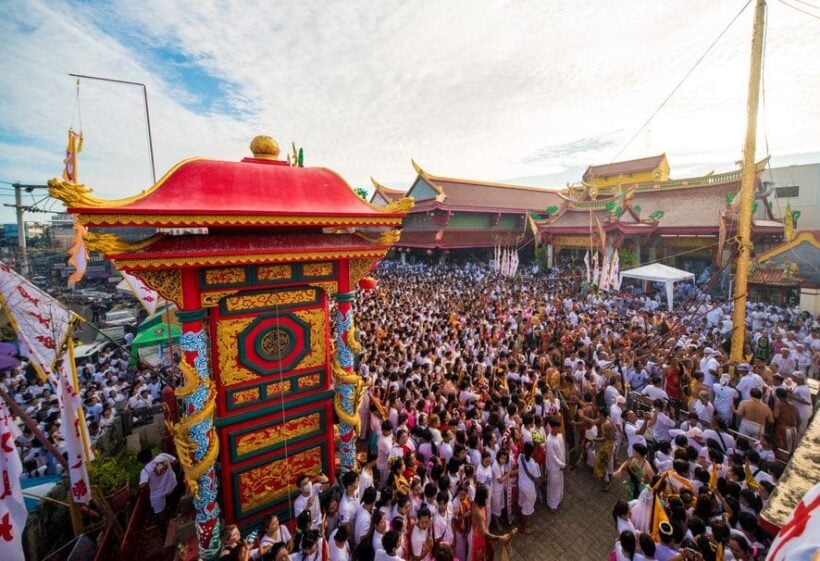 The annual Vegetarian Festival is back and promises to be a big year for the annual nine day celebrations starting next Monday.
Some of the rituals are based around self-mutilation and daring acts of fire walking. A lot of the processions and ceremonies can be quite scary, especially for the young or squeamish. There will be lots of noise, lots of people and people going into trances before undergoing different levels of voluntary mutilation. These days there are medical staff behind the scenes should anyone drop out of trance and need medical help, a luxury not afforded the devotees in the past.
The Vegetarian Festival is becoming a popular tourist attraction but it's also observed by younger locals and some tourists as well. Observers and participants avoid eating meat, seafood, poultry or dairy products during the period of the festival. The belief is that observers will have better health, purer mind, and gain merits from taking vegetarian foods.
You will see many restaurants with yellow flag, indicating that they provide pure, vegetarian food. This is your chance to try delicious new food as the streets will be filled with food stalls serving up vegetarian dishes.
The annual festival kicks off with religious rituals which are held at the main Chinese shrines on the island – Seng Ko Teng Thiao. The Lantern Pole is supposed to attract the 36,000 gods of the Chinese pantheon.
All shrines will raise their poles between 3-5.45pm, except for Sheng Leng Tong (which holds their ceremony earlier).
The opening night ritual of the Koteng lantern pole raising will be held at the Juitui Tao Bo Keng Shrine, the ancient Chinese shrine in Old Phuket Town. Apart from Juitui Tao Bo Keng Shrine, approximately 30 shrines around the island will conduct the annual ceremony including Bang Niew Shrine, Samkong Shrine, and Kathu Shrine. After the ritual, the Masong (people who invite the spirits of Chinese gods to possess their bodies) will be parading around.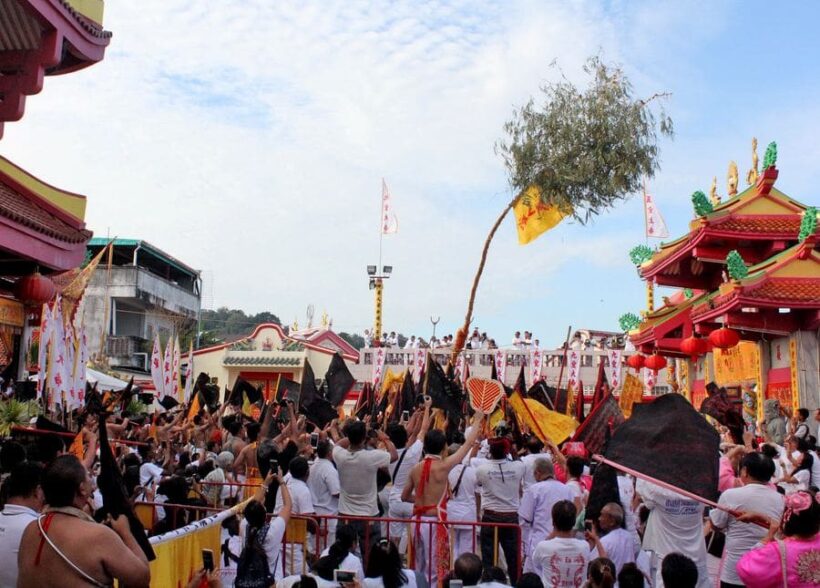 Processions in Phuket Town
The daily processions are something you will unlikely see anywhere else in the world, at least not as intense as the Phuket parades – noise, music, fireworks, smoke, masongs in trances, body piercings and mutilations. The parades are a complete assault on your senses. Whilst there are many local children involved in the event, the western tourist, and especially kids, may find some of the activities quite overwhelming.
(Times listed in the 24 hour clock)
Tuesday, 9 October | Sapam Shrine street procession from 07:00
Wednesday, 10 October | Samkong Shrine street procession from 07:19
Thursday, 11 October | Ban Tha Rue Shrine street procession from 07:30
Friday 12, October | Bang Neow Shrine street procession from 07:00
Saturday, 13 October | Jui Tui Shrine street procession from 08:00
Sunday, 14 October | Kathu and Yokkekeng Shrines street procession from 07:00
Monday, 15 October | Sui Boon Tong Shrine street procession from 07:00
Fire Walking Ceremonies
Thursday, 11 October | Jui Tui Shrine Fire Walking at Saphan Hin from 20:09
Thursday, 11 October | Fire Walking at Sui Boon Tong Shrine from 21:00
Thursday, 11 October | Fire Walking at Ban Tha Rua Shrine from 20:00
Thursday, 11 October | Fire Walking at Yokkekeng Shrine from 20:00
Thursday, 11 October | Fire Walking at Sapam Shrine from 21:00
Saturday, 13 October | Fire Walking at Bang Neow Shrine from 20:00
Saturday, 13 October: Fire Walking at Samkong Shrine from 20:00
Saturday, 13 October | Fire Walking at Cherng Talay Shrine from 20:09
Sunday, 14 October | Fire Walking at Kathu Shrine from 15:00
Other Ceremonies
Friday, 12 October | Bladed-ladder climbing at Bang Neow Shrine from 20:00
Friday, 12 October | Bladed-ladder climbing at Samkong Shrine from 20:00
Friday, 12 October | Oil bathing and tying children's wrist at Ban Tha Rua Shrine from 20:45
Friday, 12 October | Bladed-ladder climbing at Cherng Talay Shrine from 19:59
Friday, 12 October | Nail bridge crossing and oil bathing at Sapam Shrine from 20:00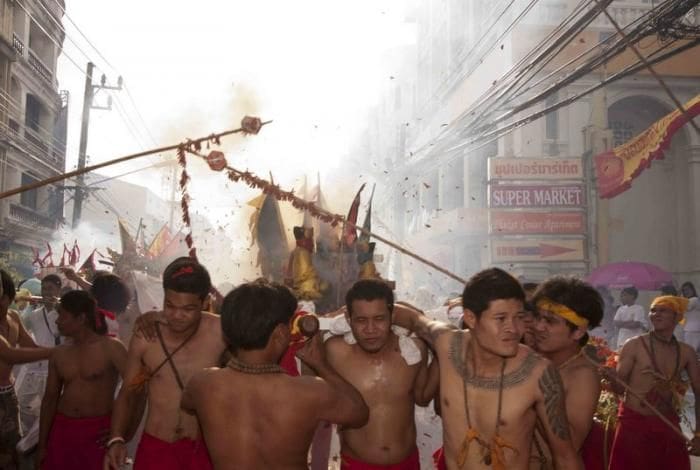 Final Day of the Festival
Wednesday, October 17, 2018
If you've been 'purifying your body' during the festival then it will be time for you to cross the bridge of purification set up at each shrine. The devotees will be 'rewarded' with a stamp on their shirt as proof of their commitment to the nine days. The crossing of the bridge of purification is held between 6-8pm.
Then, grab your ear plugs and don't wear anything flammable – the last part is just NUTS! After 9pm all shrines join together in a mega street parade in Phuket Town. This is the Nine Emperor Gods Farewell.
Each shrine involved in the festival has their own Emperor God. The procession accompanies each group to Saphan Hin, from where the gods will depart Phuket (no Immigration queues!).
This three hour cacophony of noise, smoke and fireworks borders on dangerous so should be attended with an escape route in mind, safety goggles (really) and patience. The crowds are massive and YOU are part of the parade – there are spectator stands.
Then, on Thursday, October 18, each shrine will hold their own Lantern Pole lowering ceremony which usually run from 3-5pm.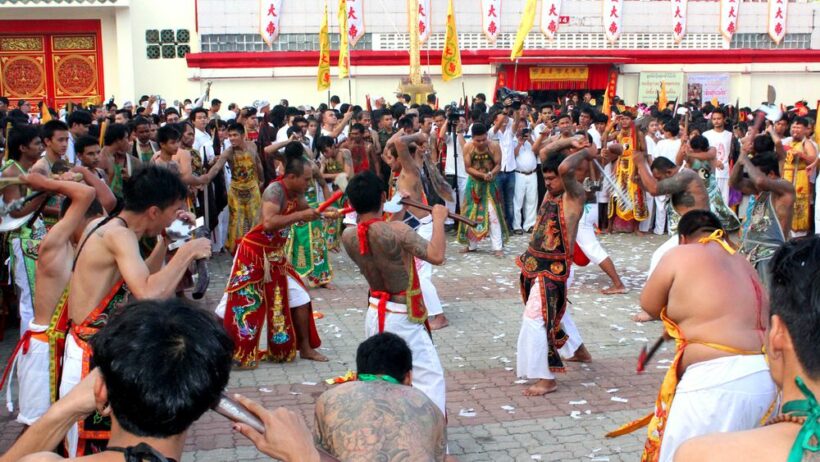 Find restaurant and food listings around Phuket at Thaiger Bites.

Looking to jettison some items before jetsetting away or chartering a yacht? Look no further than Thaiger Classifieds where you can find and post items, work, property and more for free.

Read more headlines, reports & breaking news in Phuket. Or catch up on your Thailand news.
Olta is the newest 'olternative' in Bangkok's Suan Phlu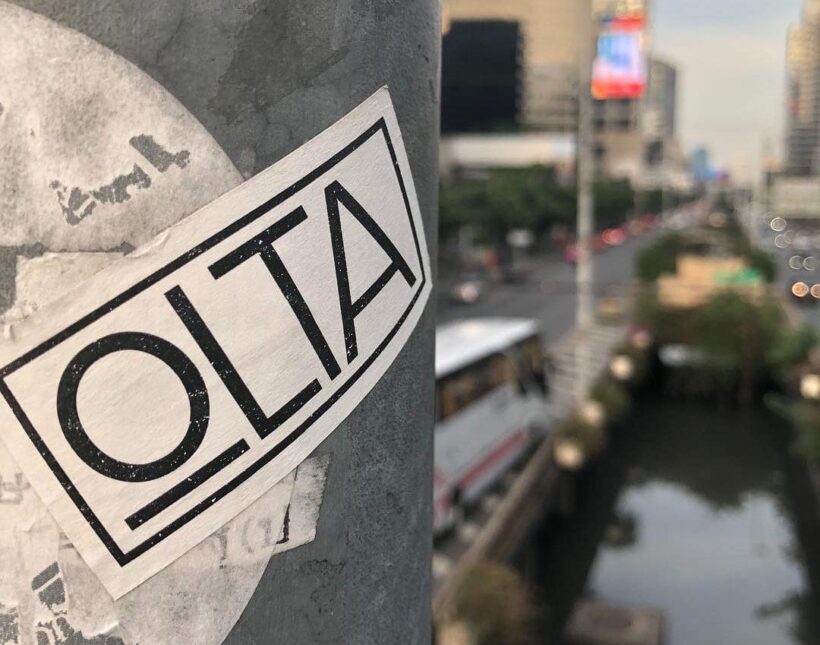 Scottish Chef Jamie Wakeford, of noted Phuket restaurant Bampot Kitchen, is rolling out a new restaurant in Bangkok.
Themed as 'modern British', and named Olta, the outlet has just opened in the Suan Phlu neighborhood.
The Suan Phlu area is described as one of Bangkok's latest dining enclaves, with new fashionable openings arriving every month. Currently, Suan Phlu is currently the IT restaurant area in the capital. This street is interesting for foreigners because it is in early stages of gentrification – the old shop houses are still there, along with the great street food stalls you expect, but now these have been joined by a new generation of funky modern venues appealing to locals, expats and tourists.
Suan Phlu is located on upscale Sathorn Road, close to many of the large five-star hotels – The Metropolitan, Banyan Tree and The Sukhothai. If you are arriving by BTS, it is easiest to get off at Chong Nonsi and take a short taxi.
Hitting the road to Bangkok, Wakeford is mixing up classic dishes and local taste with a talented innovative approach at Olta.
A cozy bar completes the offering. Looking for what's new in Bangkok? Olta certainly should make the top of the list.
Best wishes to Jamie Wakeford and his new BKK team.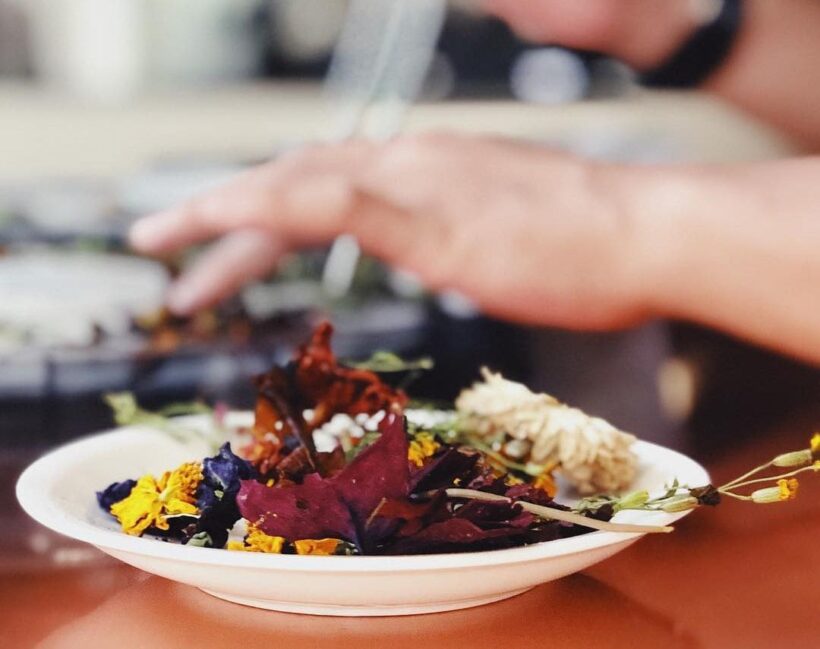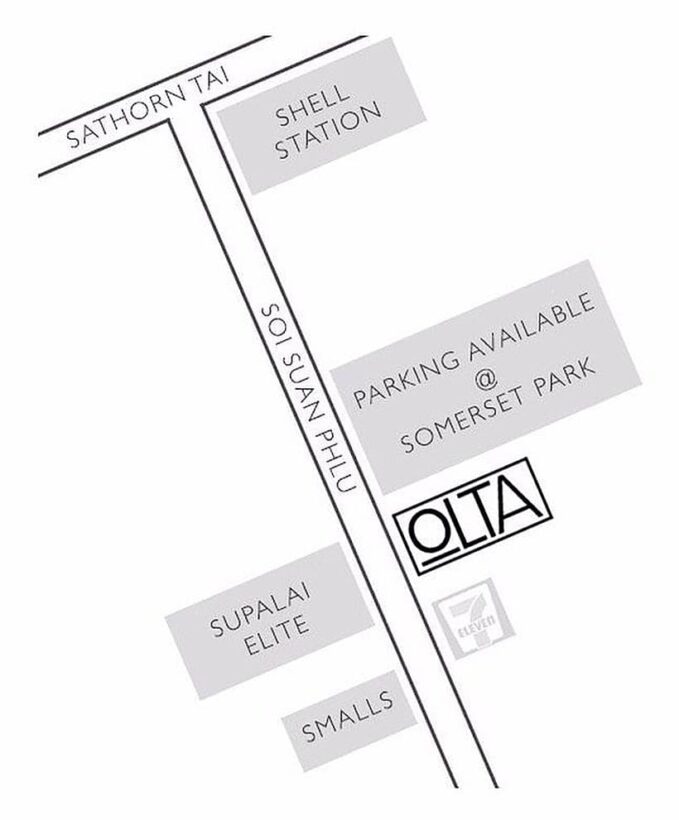 Thai Tapas at Ginja – a truly remarkable taste sensation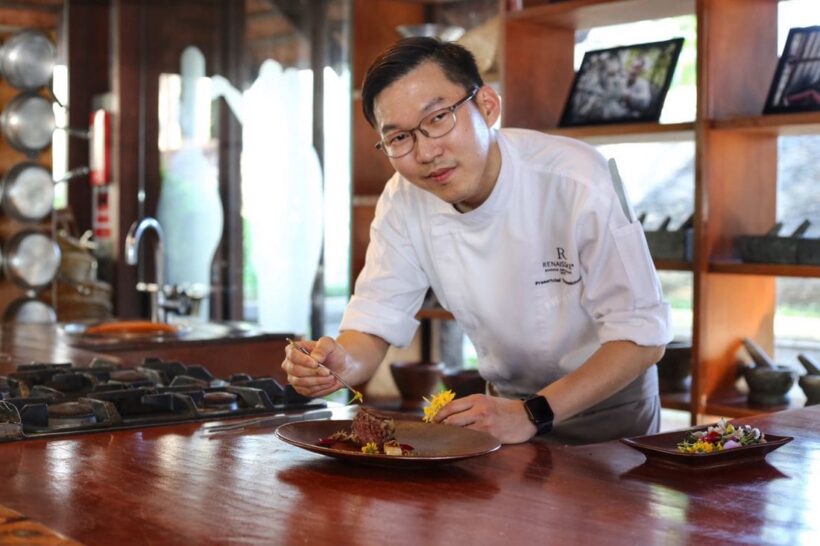 I am invited to special dinners many times a week and most are wonderful nights exploring new flavors and presentation at some of the island's best restaurants. Last night was exceptional and beautifully presented at the award-winning Ginja Taste in Mai Khao.
JW Marriott Phuket Resort & Spa invited Chef Prasertchai Trongvanichnam (aka. Chef Jack, Chef de Cuisine of Flavor Restaurant,Renaissance Bangkok Ratchaprasong Hotel) to Phuket.
He recently won the prestigious title of Iron Chef Thailand Competition. Last night he presented the first of four very special Thai Tapas nights at Ginja Taste. It runs nightly until February 7.
The Thai Tapas degustation menu features creative and adventurous dishes revolving around the theme of molecular gastronomy. Each course has its own story.
Sampling menu included Ceviche – flamed tuna topped with coconut drops, lemongrass & onion powder and mint gel; 24-Hour Sous Vide Black Angus (grass fed) short ribs massaman crusted & coconut gnocchi; Truffle potato in mushroom dust & pumpkin puree; Crispy pork belly, steamed kale, turnip and chili pesto; Butterfly pea granite just to name a few.
Price is 2,800++ baht per person for 6-course set menu and 3,500++ baht per person for 10-course set menu. The Iron Chef Thailand Winner's a la carte menu is also available.
The writer can HIGHLY recommend the "Chili & chocolate sphere with pineapple textures", probably the most remarkable dessert I have ever tasted! Congratulations Chef Prasertchai Trongvanichnam.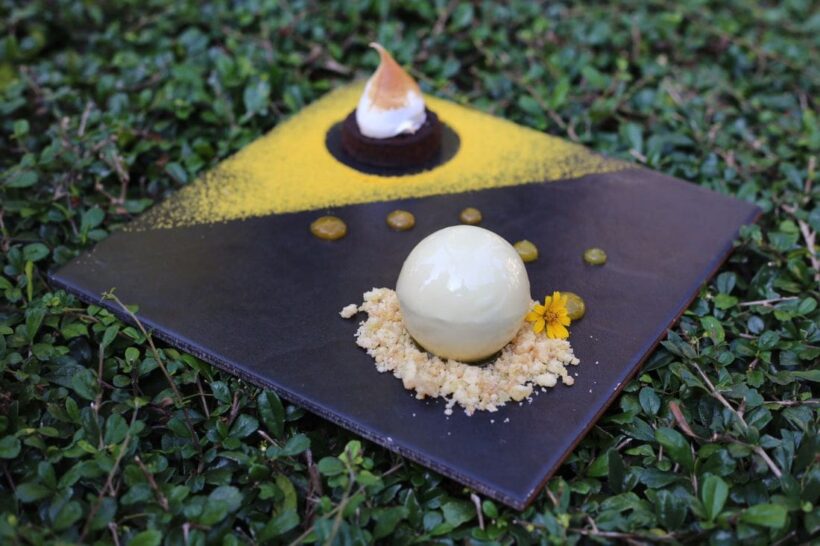 For more information or reservations, contact the dining experience team. There's parking available and the JW Marriott staff will point you in the right direction.
Telephone: 076 338 000
Email: [email protected]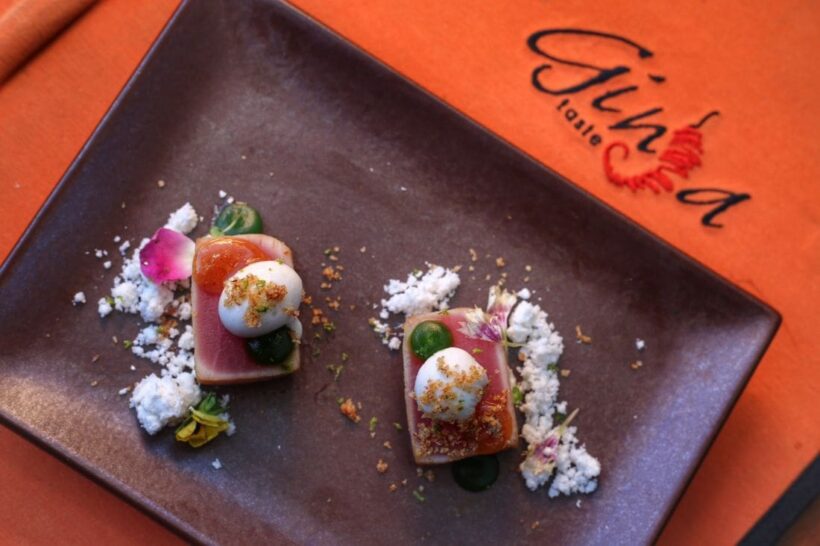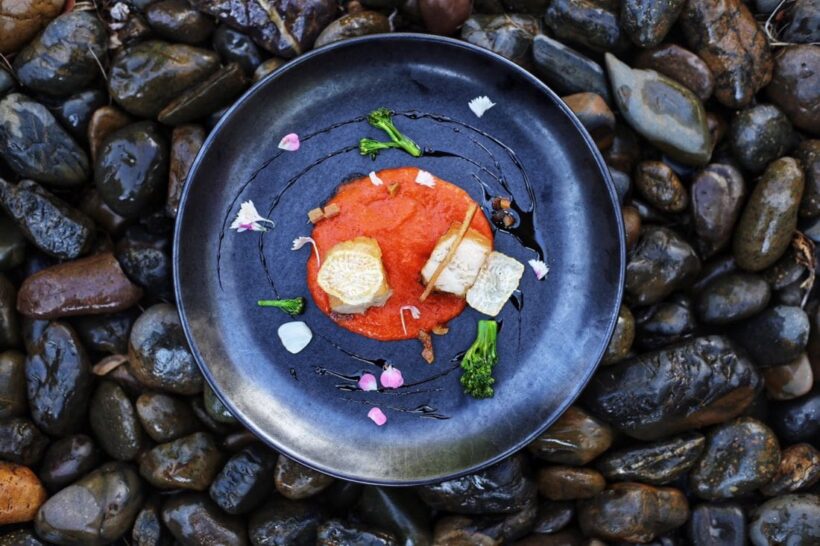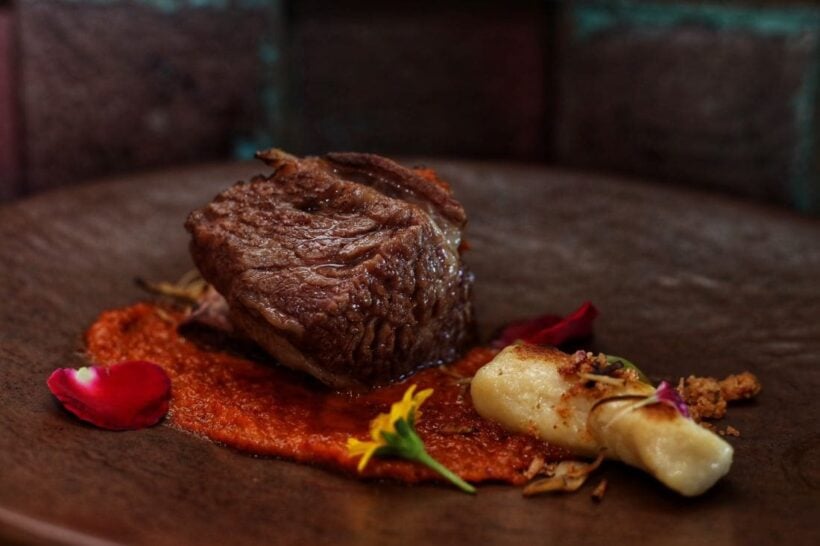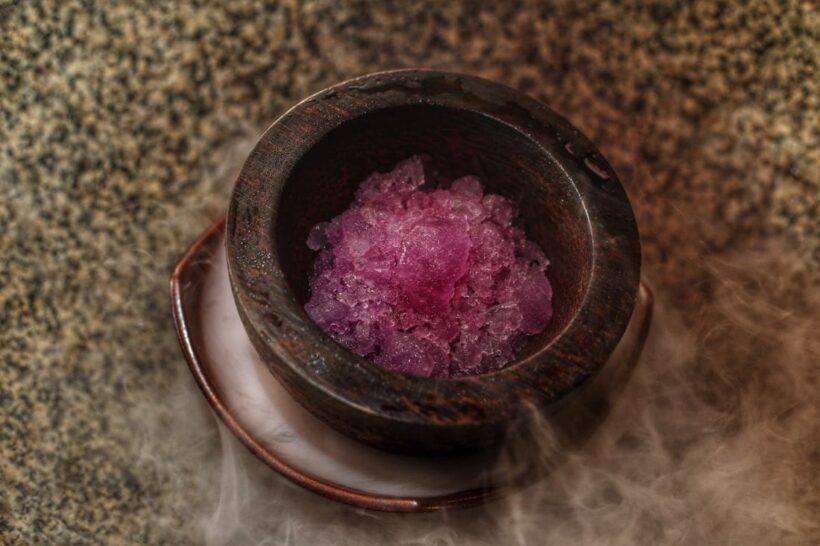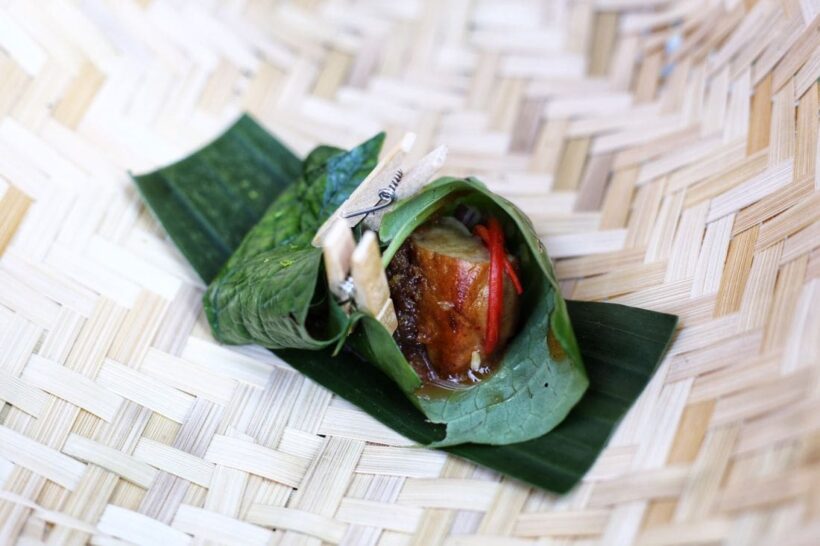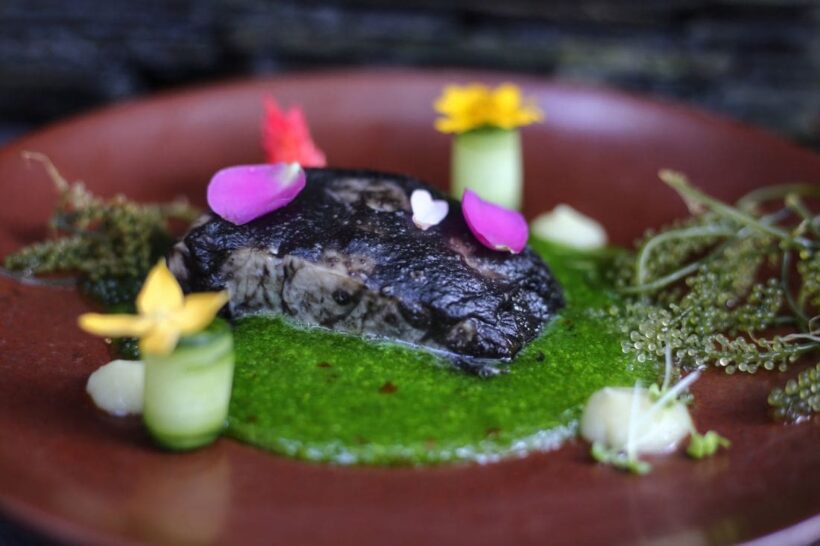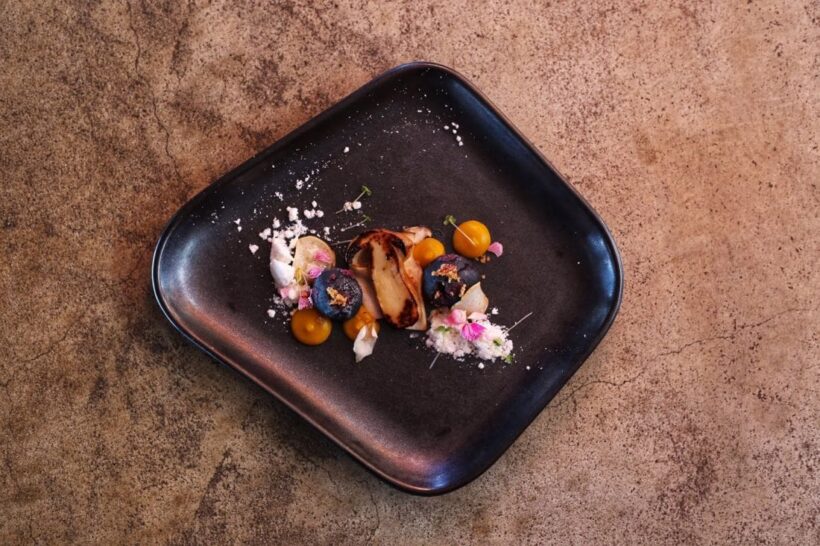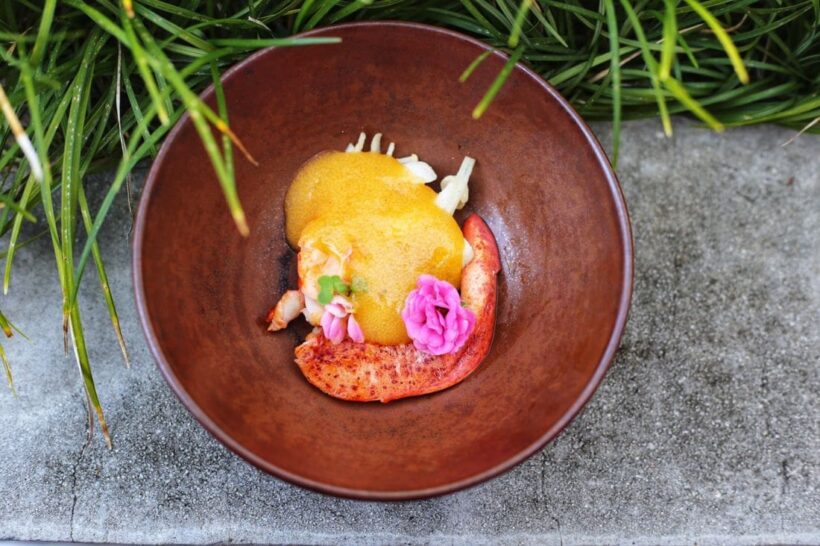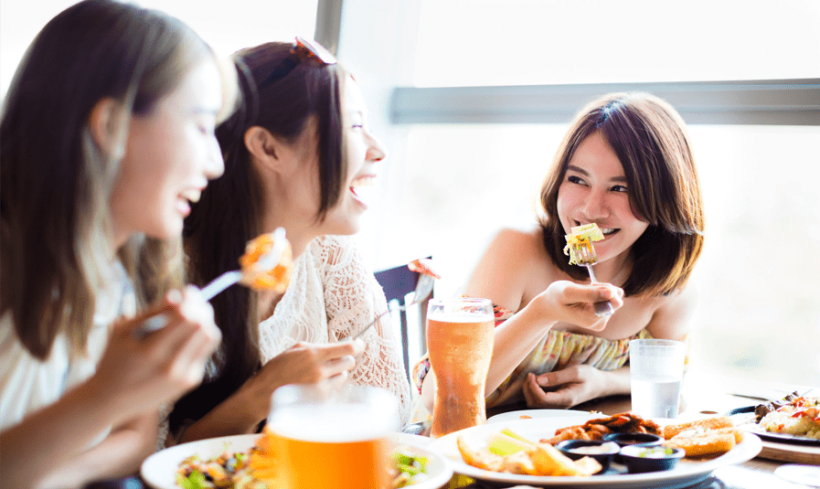 Brunch has become a weekend staple on the island and its seems everyone has their own take on this beloved mix of two meals… a chance to slow down, enjoy some amazing food and try a little bit of everything.
Whether you want something casual or prefer taking a boat to a private island, Phuket gives you the options to do it your way. 
Here are Phuket's Top 10 Brunches on the island, with options for everyone. You don't have to max out your card to indulge in a good brunch, just bring an empty stomach.
TWINPALMS SUNDAY BRUNCH
Offering a fabulous array of cuisine in a stylish setting and one of the first brunches to launch on Phuket and has a steadfast reputation of being the place to be seen.
Begin with a Bloody Mary and enjoy the freshest lobster, king crab, prawns, oysters, mussels and sushi and sashimi, all offered in abundance.
Light salads are dotted around to complement the food and for those who crave something a little heavier the roasted meats and hot dishes will not disappoint. Cheese lovers will be delighted to find that the selection is varied and suitably stinky and may be all washed down with a rich glass of port.
Of course, desserts are truly scrumptious, and the signature chocolate fountain is a devilishly delicious pot of sweetness for fresh berries to be dunked into.
Guests may choose whether to enjoy half a bottle of wine or to opt for a free flow of champagne, prices vary according to taste.
Every Sunday 12pm until 3pm.
THB 1,690++ including 1/2 bottle of wine (red/white/sparkling) per person
THB 7,380++ per couple, including a bottle of Champagne


The Naka Island : Sunday brunch on the island
Every first Sunday of the month, escape from the busy city life and enjoy the beauty of nature with the "Sunday Brunch on the Island" at Naka Yai, which is only a 10-minute boat ride from Ao Por Grand Marina. Enjoy the most exquisite culinary pleasures with fresh seafood, authentic Thai food, pastas, Live BBQ stations, variety of desserts, and much more. After the brunch, enrich your mind by lounging on the tropical beaches, splashing in the pool or exploring our Naka Yai Island by joining the destination discovery program.
Situated within lush coconut groves and stunning beaches with unobstructed views of the emerald green Andaman Sea and Phang Nga Bay, The Naka Island, a Luxury Collection Resort & Spa, Phuket invites discerning travelers to stay in elegant villas, savor gourmet dining experience at the restaurants, and enrich their life with memorable experiences and spa retreats, all enhanced by personalized service.  
THB 2,600++ Water and soft drink included 
THB 3,200++ Half bottle per person from selected wines 
THB 3,900++ Half bottle per person of Nicolas Feuillatte Champagne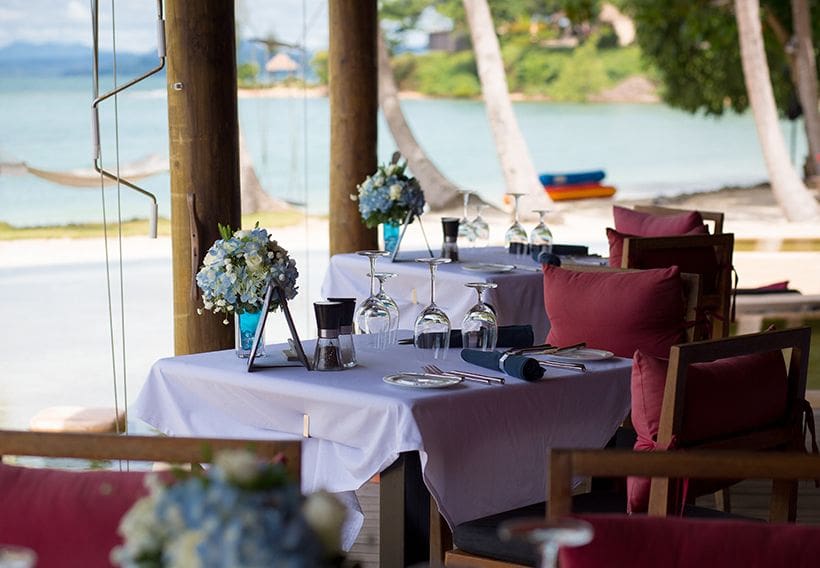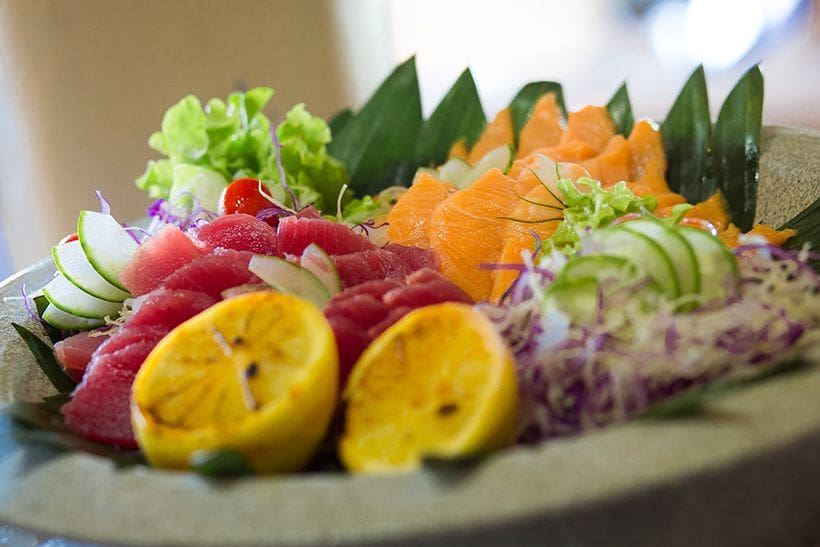 Banyan Tree
The Banyan Tree Brunch experience returns with a generous selection of live fresh, local and imported seafood with exceptional Lobster dishes, Japanese starters, mouth-watering meats, Asian wok and Western grill treats. Gourmet cuisine, exceptional service, Live Jazz and tranquil surroundings, Our brunch has something for everyone!
THB 2,800 Net – Food buffet
THB 3,400 Net – Includes free flow beer, select cocktails and soft drinks
THB 4,000 Net –  Includes free slow select wines and bubbly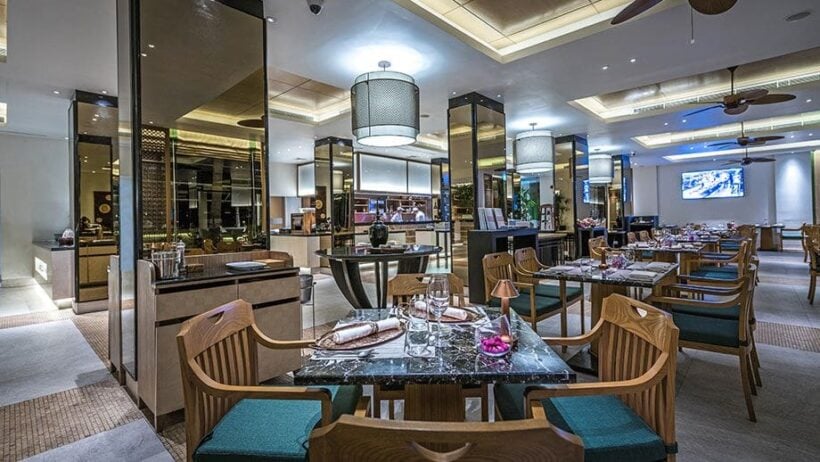 Xana Beach Club Sunday Fun Brunch
XANA's Sunday Fun Brunch is an ideal weekend escape for the whole family, with a special discount for children aged 6-12, and complimentary dining for all kids under 6 years old. What's more, a 'Kids Corner' will be set up for children to help make this dining experience a fun family activity for all. 
THB 1,450++ Sunday Fun Buffet Brunch
THB 2,250++ with free flow of house wine, sparkling wine, beer and signature cocktails
PHOTO: Hotels.com

The Nai Harn Phuket 
Guest can savor delectable creations prepared by culinary maestro, Executive Chef Mark Jones, while enjoying spectacular views over Naiharn Bay and listening to the sounds of Resident DJ Sun. For the first three Sundays in January Savoy London American Bar Legend Salim Khoury will stir and shake your martinis.
THB 2,200 NET – per child aged from 6 to 18 (with free flow juices and soft drinks)
THB 5,500 NET – per adult (with free flow Metodo Classico and Martini Bar)

Trisara 
A mid-morning repast on our sunwashed decks with live jazz and the melody of waves tumbling onto shore. A curated menu of exotic and familiar fare, delivered in small plates, the very best seafood and open Barbeque leaves plenty of room for tasting and conversation. Phuket's must-do Sunday dining experience.
THB 2,600++ Food only
THB 3,200++ Food with a bottle of wine for 2
THB 3,900++ Food with a bottle of Champagne for 2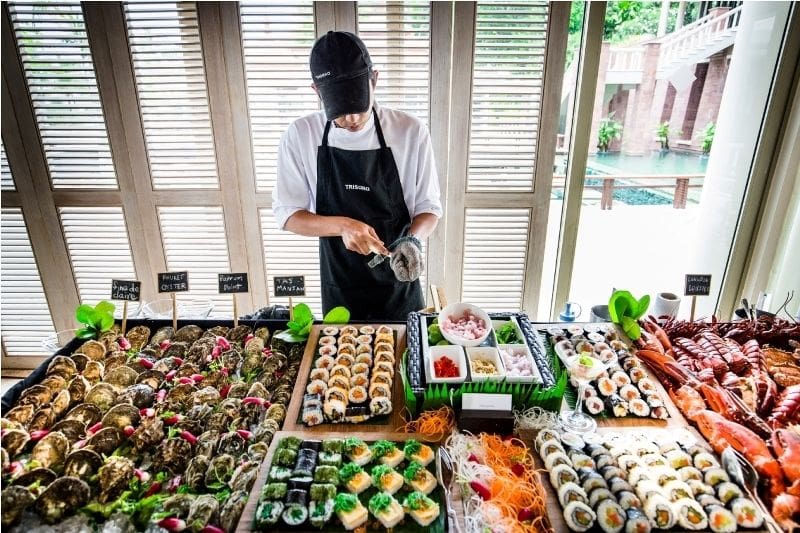 Hilton Phuket Arcadia 
The recently refreshed Sunday family brunch at Hilton Phuket Arcadia offers great culinary options for locals and foreigners with an international menu containing a wide variety of Thai and western dishes. Live music performers and a great family atmosphere complement the fantastic food selection, making this Sunday Brunch a must for families and friends staying around Karon beach.    
THB 999++ Food only 
THB 750 ++ Drink package including house wine, sparkling wine, beer 7 cocktails
Photo: A day to chill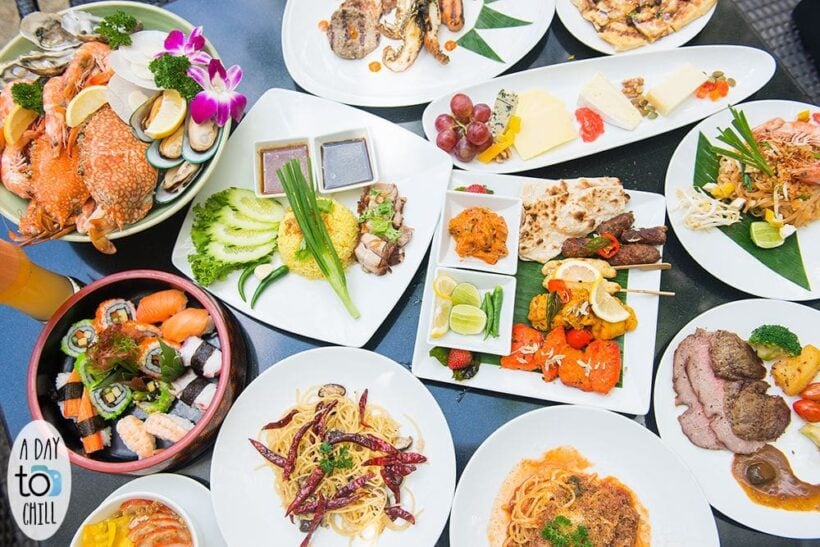 The Boathouse 
Happening every last Sunday of the month, enjoy a full gastronomic delicacies ranging from Oyster Selection, Maine Lobster, Foie Gras, Charcutiere Platter, Prime Beef, Great French Cheeses and more.
THB 1,990++ including free flow soft drinks
THB 2,990++ including free flow wines
THB 3,990++ including free flow Piper Heidseick Brut

The Slate 
A proud tradition of what is often considered as Phuket's most renowned Sunday brunch, we continue to hold strong with an exeptional landscape of gastronomy presented at the dreamscapes 'River' restaurant and poolside at Underground Cafe. 
THB 2,450++ including free flow soft drinks
THB 3,450++ Including free flow wine, sparkling, local larger and craft beer 
THB 4,050++ Veuve for 2 –  A bottle of Veuve Clicquot (75cl) to share
THB 6,200++ Including free flow Veuve Clicquot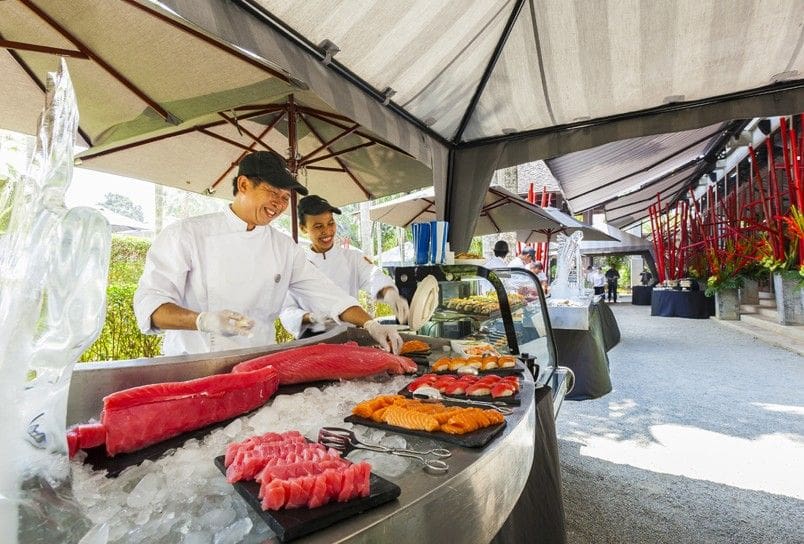 Novotel Surin
The delightful brunch features both international and Thai dishes, every Sunday from 12:00 pm to 3:00 pm. International cuisine includes the live sushi bar, Greek salad, bread corner, pizza and pasta selection. Thai dishes include Roasted chicken, Green curry with fish ball, stir-fried chicken with mushroom and cashew nuts, Tom Yam Goong, Banana Roti live station and more!
THB 599++ Including water and juices