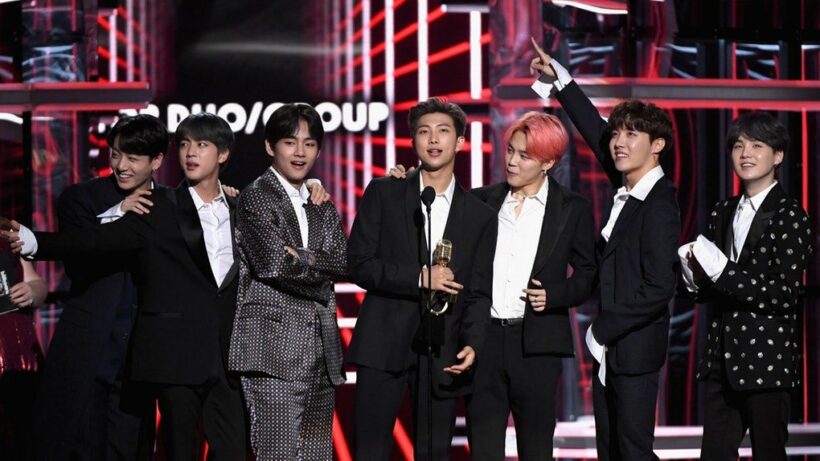 …temporarily. The announcement about BTS was made on Twitter by their South Korean management company and label Big Hit Entertainment. Don't stress AMRY, they'll be back together in a couple of months!
Big Hit says the kings of pop need time to regroup and recharge their batteries. The announcement followed another dazzling display of their finely-tuned pop skills at the Lotte Family Festival, a local gig they've been supporting for many years, in Seoul.
"We would like to announce that for the first time since their debut, BTS will be going on an official and extended period of rest and relaxation."
"The power break will provide "an opportunity for the members of BTS, who have relentlessly driven themselves towards their goal since their debut, to recharge and prepare to present themselves anew as musicians and creators."
"This will also provide them with a chance to enjoy the ordinary lives of young people in their 20s, albeit briefly."
BTS, aka. Bangtan Boys are now among the most recognisable 20-somethings on the planet, as part of the world's hottest pop band (known in South Korea in K-Pop speak as an 'idol' group).
BTS is RM, Jin, j-hope, Suga, V, Jimin and Jung Kook.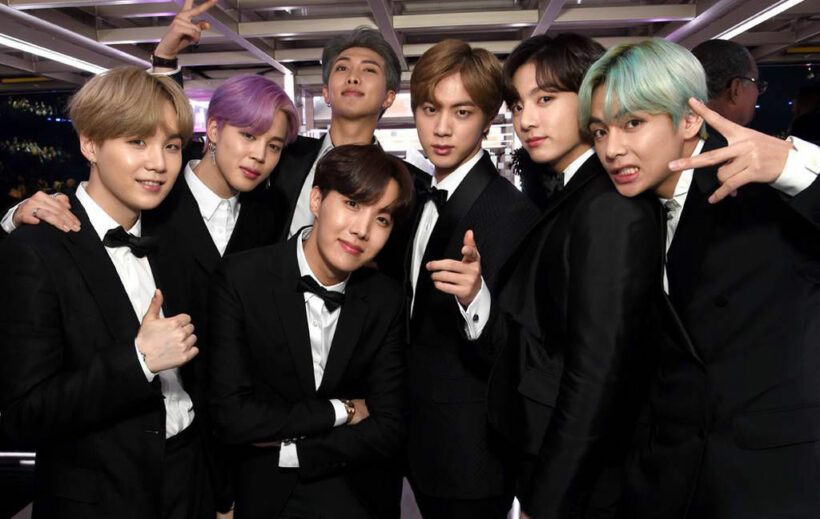 Debuting in 2013, the road to success hasn't been particularly easy. In the world of music there would be no fiercer competition than in K-Pop. And for many years BTS were not regarded as a threat to the K-Pop crowns. But the seven young men, on their own terms, made their way into K-Pop history and then, significantly, broke through the bamboo ceiling and into world mainstream pop music – in charts, in albums, in fandom – in almost every measurable way.
BTS shattered the jinx that bedeviled K-pop for decades – breaking into Western markets where being Asian has made it almost impossible to break into the top echelons of the white and shiny Western pop world. They've sold out multiple stadium tours in the world's capitals, won awards in multiple music markets, addressed the UN and been on all the big variety shows in the US and other countries. And they've done most of this in the past four years – there was one particular album and series of songs/music videos that propelled them from K-Pop wannabes to international stardom.
Most of this success has been by weaponising the BTS fandom, better known as ARMY. The pop world has never known such numbers of support for a single group of fans. This has been harnessed through clever use of social media, cinematic music videos, members sharing personal Twitter updates and an 'organic' approach to reaching out to their listeners. Some of it is gritty, most of it is fun, but mostly the social media paints a picture of seven young men with extraordinary talent reaching out to a world with a strong message. There is a BTS 'universe' and theme which twists its way through the playlist, some of the albums are based on poetry and world literature.
Somehow BTS has been able to go deep and meaningful whilst beating a pop, R&B and hip-hop rhythm throughout.
In terms of caparisons, mostly unfair, BTS are the first act to register three number one spots on the Billboard album chart since The Beatles IN ONE YEAR.
Going to a BTS concert is an eye-opener where packed stadiums wave their Army Bombs (sounds scary, but that's the name of the lightsticks the BTS fandom wave around at concerts) and sing along, mostly in Korean!
Whilst their mostly famous for their well-crafted music (that they variously contribute to in terms of writing and production), skilled vocals and sharp choreography, anyone following them must be amazed at how they've stayed together for nearly seven gruelling years in the world pop scene. Seven highly talented and creative individuals working together in ANY field for such a long time, under the microscope of the music and celebrity world, is almost unheard of.
They genuinely enjoy each other's company and support the many solo projects of their team members. You not only get to hear great music, watch astonishing music videos and dazzling dance routines. You also get to see seven young men having a great time, always faithful and thankful to their ARMY.
There is certainly no other pop act in history that has SO much video material online, in terms of sheer numbers of files and views. Apart from the music videos there are also dance practices, arguments, behind-the-scenes glimpses, makings-of videos, trips overseas. Their most popular YouTube video is the music video of 'DNA'.
There are many other of their music videos receiving 300, 400, 500,600 million views. There's no shortage of choice for the fans whilst the septet are having a short break.
The temporary break has been met mostly with a lot of support from their ARMY fanbase…
"Huhuhu, I'm so happy for all of them that they deserved that vacation."
"Finally, the lovely boys are getting their vacation."
"The boys who taught us to love ourselves are now having a vacation they deserve. I'm crying."
This ARMY should NOT be messed with…
"Leave them alone (whilst they vacation), don't make me fly to Korea to break your kneecaps if ya'll do something stupid."
BTS have their next stadium tour date in Saudi Arabia on October 11, along with two other recently announced Seoul stadium concerts as well. So they won't be away too long.
And whilst they've certainly earned the break, the first real break since they debuted back in June 2013, they have become some of the wealthiest 20-somethings in the world so they'll be taking their break in style.
In June, Big Hit became South Korea's ninth unicorn – an unlisted company valued more than US$1 billion, according to Seoul brain trust the Hyundai Economic Research Institute. That success is almost solely on the back of the success of BTS.
The group currently has a Concert film out, 'Bring The Soul', here's a quick preview…
Keep in contact with The Thaiger by following our
Facebook page
.


Find more SE Asian News courtesy of The Thaiger.

Broke? Find employment in Southeast Asia with JobCute Thailand and SmartJob Indonesia. Rich? Invest in real estate across Asia with FazWaz Property Group or get out on a yacht anywhere with Boatcrowd. Even book medical procedures worldwide with MyMediTravel, all powered by DB Ventures.

Find local events and browse venues in Thailand with Thaiger Events, or post your own today.

'One Night In Bangkok'. The song, 35 years later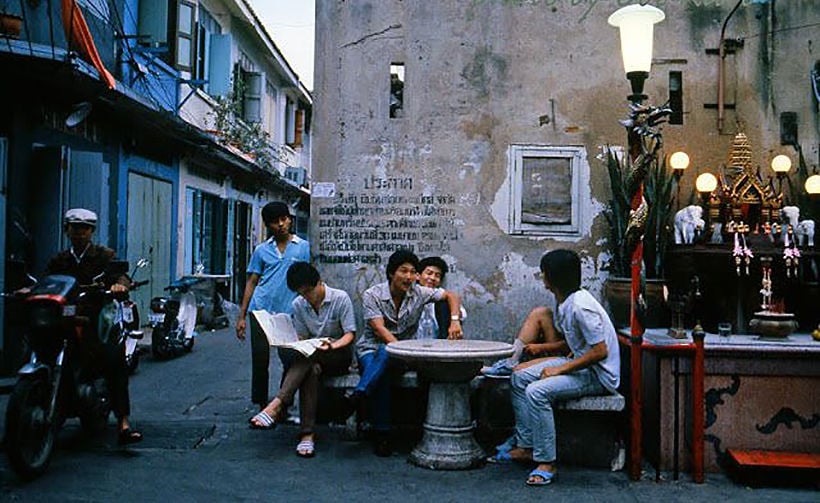 PHOTO: Doi Kuro, Bangkok 1980
When 'One Night In Bangkok' was released in 1984 it was an unlikely hit- the opening song from a (at the time) little-known stage pop-opera called 'Chess'. The song made Number 1 in South Africa, West Germany, Switzerland and Australia, and Number 3 in Canada and the United States. It has remained a staple of Classic Hit radio ever since. Have a listen below…
The musical was the first outing for the two 'Bs' in ABBA – Benny Andersson and Bjoern Ulvaeus. Their pop grooves had made ABBA one of the most famous music groups in the world between 1973 and 1982 with a string of hits including 20 singles in the Billboard Top 100 from eight albums, etc, etc. The lyrics of the song were penned by Tim Rice (Jesus Christ Superstar, Evita, Joseph and his amazing technicolour dreamcoat, Aladdin, The Lion King, Beauty and the Beast).
In the opening song of 'Chess', the American chess champion Freddie Trumper gets ready for a chess game with his Russian counterpart. He ridicules Bangkok's 'pleasures' and tourist attractions – the Chao Phraya River ("muddy old river"), Wat Pho ("reclining Buddha"), and the red-light distractions. The choruses are more complimentary.
At the time the sarcasm of the song didn't go down well with the Thai Mass Communications Organisation (now the NBTC) issuing a ban on the song in 1985, saying its lyrics "cause misunderstanding about Thai society and show disrespect towards Buddhism", a line still trotted out about inappropriate Instagrammers and their selfies in front of Thai temples.
Thirty-five years later the song still paints a picture of a contrasting 'oriental' city alive with lights (including red lights), colour, pungent smells, culture and history.
We're not sure if the ban was ever lifted but I hear the song played on Thai stations from time to time. At the time, when Bangkok was less on the tourist map than now, the song was a lone reference point for westerners.
How does it stand up thirty-five years after becoming a world-wide hit? Comment on our Facebook Page.
One Night In Bangkok
Bangkok, Oriental setting
And the city don't know that the city is getting
The creme de la creme of the chess world
In a show with everything but Yul Brynner (referring to the actor's starring role as the King of Siam in 'The King and I')
Time flies, doesn't seem a minute
Since the Tirolean spa had the chess boys in it
All change don't you know that when you
Play at this level there's no ordinary venue
It's Iceland or the Philippines or Hastings or,
Or this place!
One night in Bangkok and the world's your oyster
The bars are temples but the pearls ain't free
You'll find a god in every golden cloister
And if you're lucky then the god's a she
I can feel an angel sliding up to me
One town's very like another
When your head's down over your pieces, brother
It's a drag, it's a bore, it's really such a pity
To be looking at the board, not looking at the city
Whaddya mean?
Ya seen one crowded, polluted, stinking town
Tea, girls, warm, sweet
Some are set up in the Somerset Maugham suite
Get thai'd, you're talking to a tourist
Whose every move's among the purest
I get my kicks above the waistline, sunshine
One night in Bangkok makes a hard man humble
Not much between despair and ecstasy
One night in Bangkok and the tough guys tumble
Can't be too careful with your company
I can feel the devil walking next to me
Siam's gonna be the witness
To the ultimate test of cerebral fitness
This grips me more than would a
Muddy old river or reclining Buddha
And thank God I'm only watching the game… controlling it
I don't see you guys rating
The kind of mate I'm contemplating
I'd let you watch, I would invite you
But the queens we use would not excite you
So you better go back to your bars, your temples
Your massage parlours
One night in Bangkok and the world's your oyster
The bars are temples but the pearls ain't free
You'll find a god in every golden cloister
A little flesh, a little history
I can feel an angel sliding up to me
One night in Bangkok makes a hard man humble
Not much between despair and ecstasy
One night in Bangkok and the tough guys tumble
Can't be too careful with your company
I can feel the devil walking next to me
Songwriters: Tim Rice / Benny Goran Bror Andersson / Bjoern K. Ulvaeus
Keep in contact with The Thaiger by following our
Facebook page
.
Thailand, the land of festivals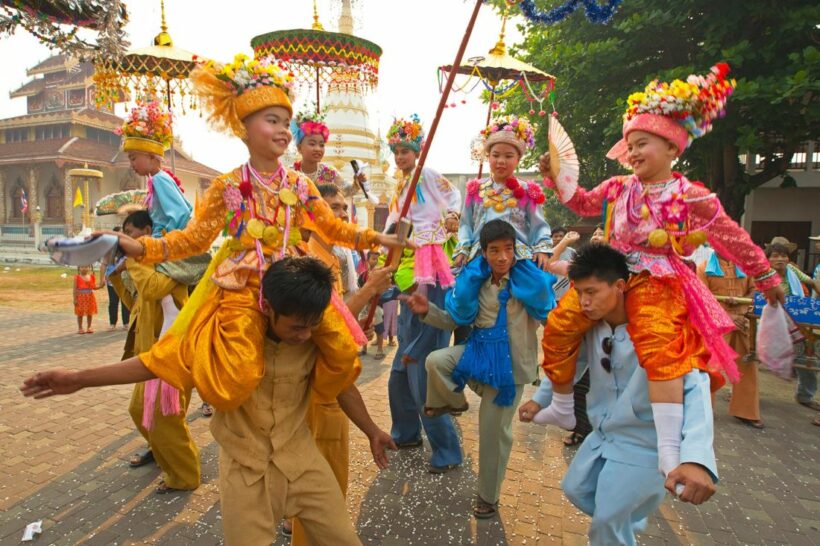 Fireworks, colour, smoke, noise, costumes, absence of occupational health and safety. That could describe any of the many, many festivals held around Thailand each year. Different regions, different festivals. Some reflect an ancient culture and a rich history, other make absolutely no sense but we enjoy them anyway. We'll go through some of the main ones and a few you'll NEVER see anywhere else in the world.
We'll start with Songkran because that's the start of the Thai new year. It's held on April 13. Having already blown most of the budget on fireworks for the western new year on January 1 and the Chinese New Year festivities, this time they use water as a means of 'purification', saying goodbye to the country's hot season and welcoming the monsoonal rains. It involves a lot of water. In the past it was a gentle festival held at temples washing Buddha images.
It's meant to be like this…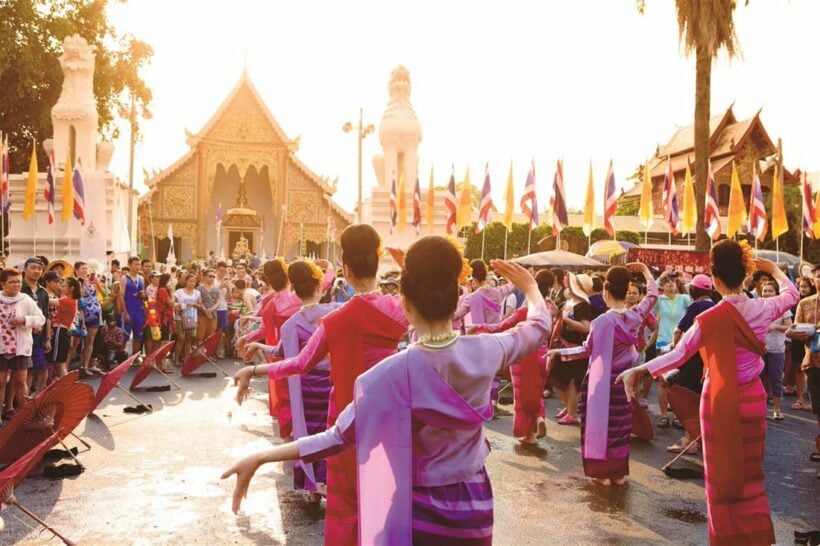 But it's actually like this!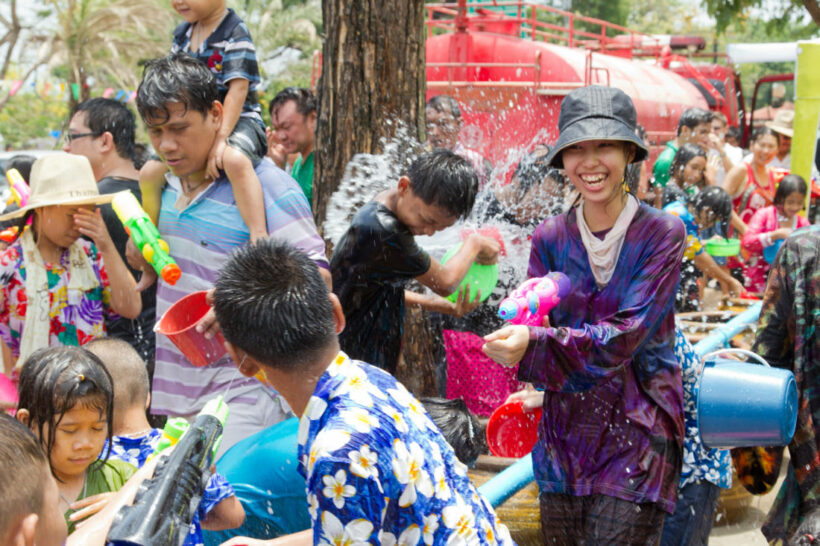 Somehow it's morphed into a huge water fight, in some places, running over many days up to week (in Chiang Mai and parts of Pattaya). Ladeling water gently onto Buddha statues has been replaced by all-out water fights, loud music, foam and a party that has no rules.
If you're outside during Songkran, especially in the main tourist zones, you WILL get splashed, probably drenched. The more the authorities try and play down the fun in Songkran the more tourists arrive each year determined to party in an event that's somewhere between a video-game and the last half of 'Titanic'.
And that's just ONE festival!
The Vegetarian Festival, principally held in Phuket with it's Chinese heritage, is an assault on all your senses. Parades are held around the island by various community groups with participants wearing white and followed up by either one or many mah-song. These mah-song have been 'possessed' by a spirit and display tourettes-like ticks, grunts and choreography that suggests their claims may indeed be true. If it's all an act, it's a very convincing one because, apart from all the cavorting down the street, they also have their cheeks and other parts of their body pierced – not by an earring or something tame like that – we're talking spears, swords, petrol pumps, guns. It's insane! These days there's an ambulance following behind and probably more mah-song succumb to blood loss than is ever reported.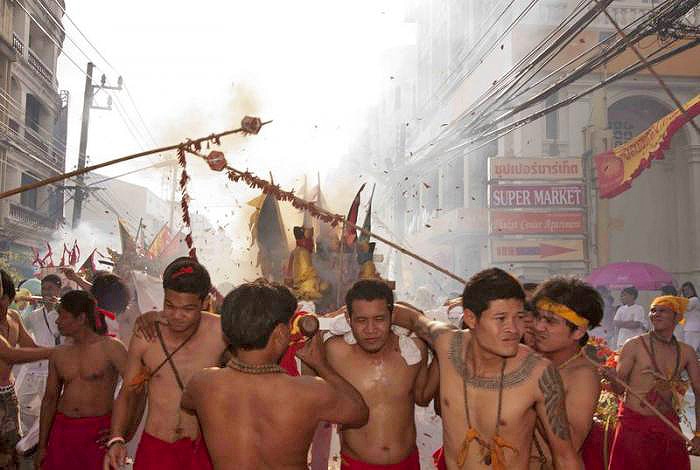 Phi ta khon (or Ghost Festival) is held in the Dan Sai district of north-eastern Thailand (near the Lao border) each year and usually follows a parade of people dressed up in rags with ghost masks.
Phi Ta Khon is the name given to a group of celebrations held over three days in the province of Loei. The most striking is the first day, the Ghost Festival itself, when the town residents invite the protection of the river spirit Phra U-Pakut, and then parade wearing the ghosts masks made of husks and coconut leaves.
But they also carry with them large phallic axes which are meant to reflect… oh, Google it.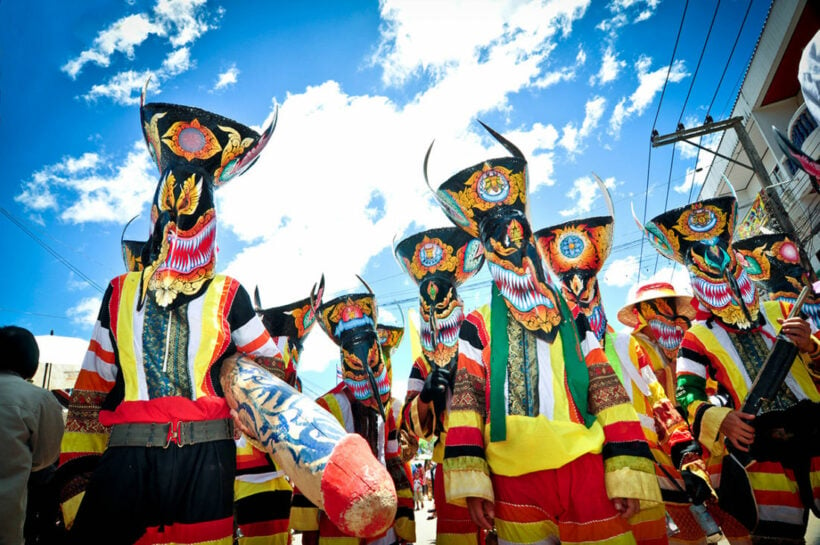 In Esan and around the Laos border areas there are many rocket festivals each year around May to June. Probably the biggest is the Yasothon Bun Bang Fai Rocket Festival. Imagine groups building their own rocket with the winner able to fire their rocket to the highest altitude. Like Songkran, the idea is to welcome in the forthcoming wet season (by piercing the sky to encourage rain).
The rockets used to be made out of bamboo but are more likely to be constructed out of PVC pipes these days and powered by 'black powder' which is regulated by certain rules (we doubt this claim!!). So there's gun powder, loud music, alcohol and men in competition to fire home-made rockets high into the Esan sky – what could possible go wrong?! Some of the rockets reach heights of several kilometres and can travel a lot further down range.
Read more about the rocket festivals HERE.
Chinese New Year is big in China and it's also huge in Thailand. Partly because there are many ethnic Thai-Chinese born in Thailand but also because there are so many Chinese visiting the Kingdom these days. The Chinese New Year festivities stretch from shopping centre sales to regional street parades to ceremonies for families and businesses.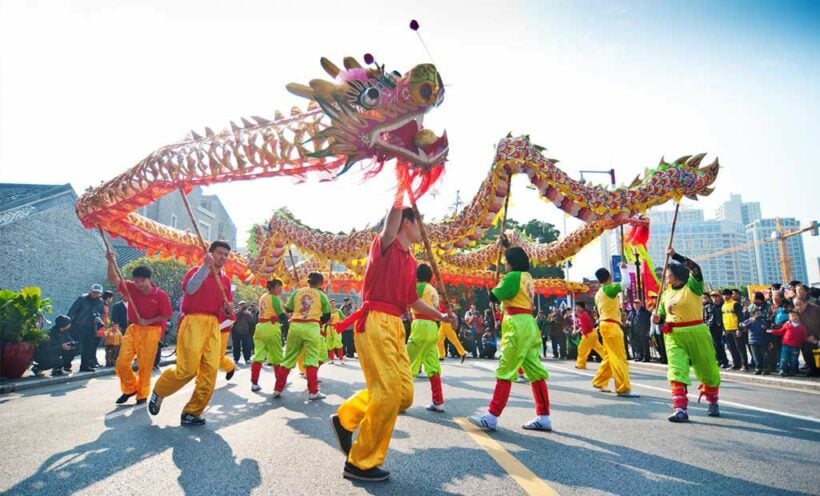 For a Buddhist country, Christmas is ironically enthusiastically celebrated. It involves presents, eating, celebrations, coloured lights and people spending money so it was always going to fly in Thailand. Thais remain completely bemused by Santa Claus, 'baby Jesus' and Christmas carols but, commercially, they've certainly embraced it now.
I have never seen better decorations or a celebration of Christmas than I have in Bangkok. My best Christmas moment was when I found a statue of Santa Claus nailed to a cross – a slight cultural faux pas where they'd confused Easter and Christmas and come up with a perfectly 'Thai' Christmas decoration.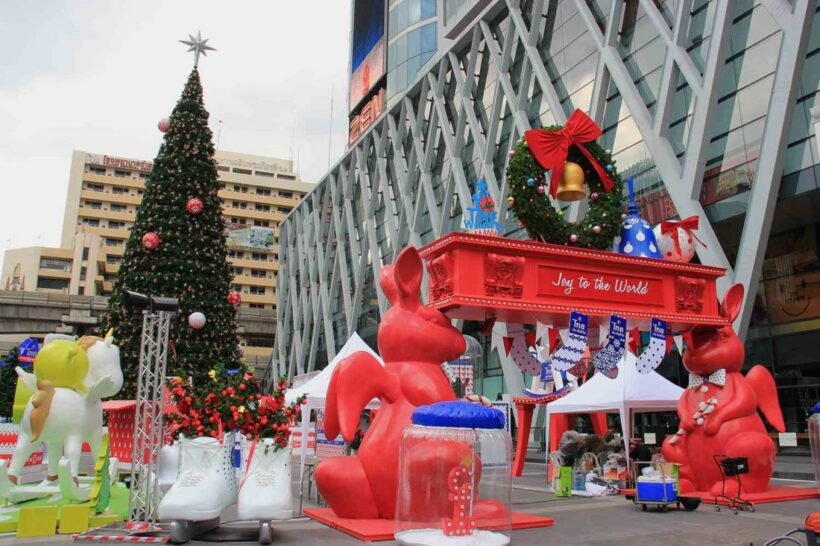 Keep in contact with The Thaiger by following our
Facebook page
.
Top 10 things the internet has replaced, or destroyed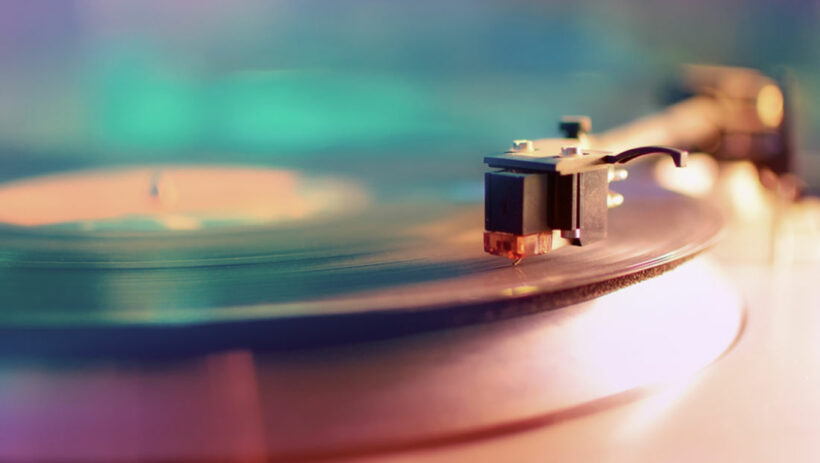 The internet continues to change everything, for better or for worse. Whilst it's creating entire new industries it's also putting a lot of people out of work and killing older business models. Add this to the rise and rise of smartphones as a source of just about everything, and you have a completely disruptive situation. The genie is out of the bottle and there's no turning back.
We can be nostalgic and try to assure ourselves that it 'was better in the old days' but, in most cases, the newer internet deliveries of old business models are much better, much more convenient and much cheaper, often free.
Warning: If you're under 30 you may need some explanation of some of these things.
Here are 10 industries that have been changed forever or completely killed off.
1) Telephones/Landlines
There was a time when we spoke on a plastic receiver, in a fixed location in our home. Or if you were really Gucci you might have had multiple phones scattered around the home (we won't get into those hand-sets next to the toilet in hotels).
You can't blame people for replacing their home phone with something that fits in their pockets and does the same thing, and so so much more.
Landlines used to be in 9 of every 10 homes. That situation is drastically changing as the cost, flexibility and quality of calls from a smartphone changes everything. Goodbye landlines, hello mobile phones/messaging/social media/chat lines.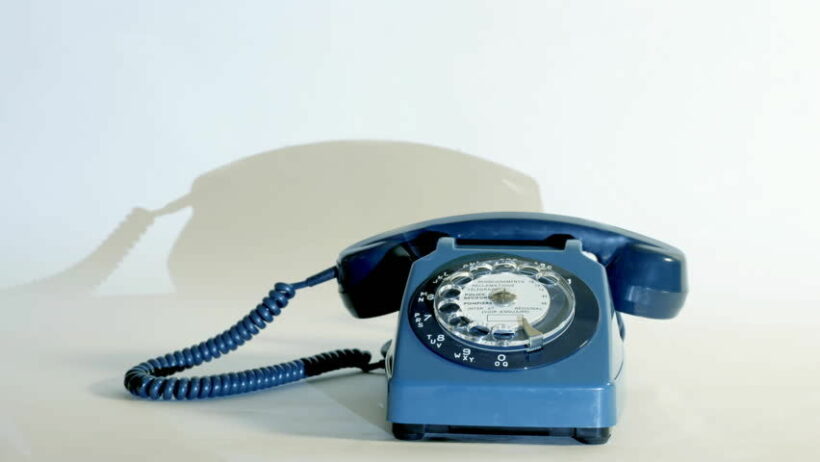 2) Print Journalism
Check out Newspaper Death Watch to check the daily list of banners that are either closing forever or trying to adapt to the online world. Print publishing, once part of the mainstream triumvirate of 'print, radio and TV' is now truly niche – expensive, irrelevant, late, labour-intensive and loaded up with 'advertorial' to try and pay the bills.
On the other hand, the internet is more accessible, easier to navigate, mostly free, caters to the reader rather than the advertiser, is almost instantaneous and timely.
So newspaper publishers just drag their old business model over to the web and 'job done', right? Not even close. Making money online is much more difficult and just replacing the printed ads with online banners doesn't work.
Most smaller newspapers-going-online fail whilst the built-from-the-ground-up online news and information providers have a much better chance of succeeding. There is a whole new breed of larger and smaller news organisations and aggregators that have much better circulation/reach/eyeballs than the old printed version. They also represent a much broader view of the world, mostly with opportunities to interact.
The good news is that the new 'news' business models have a LOT less impact on the environment and save millions of trees being pulled down.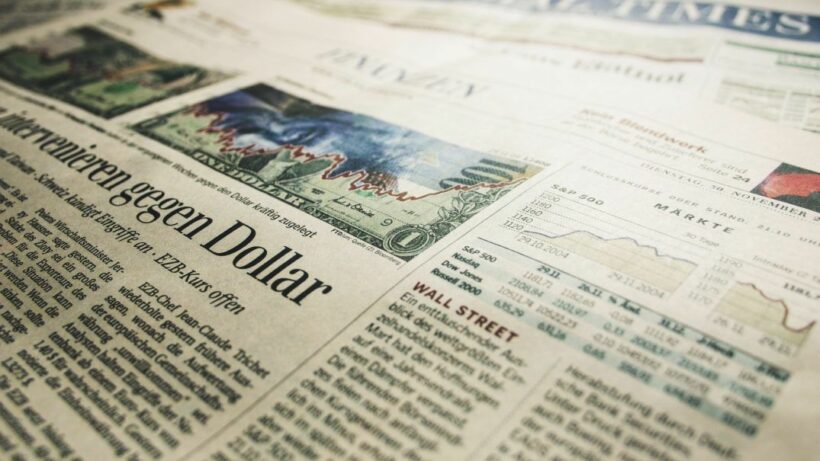 3) Cable Television
Netflix. One brand says it all and the hugely popular online streaming service, and others, is killing cable. Cable will still exist in some locations but has been superseded by a much more attractive and dynamic, and better quality, new range of online services. Hopefully it will slowly rid our landscape, particularly in Thailand, of the hideous black cabling that is part of the old 'cable' network.
The prices are lower, the quality is better, the range is greater. And you can watch things when you want to and pause to grab a snack.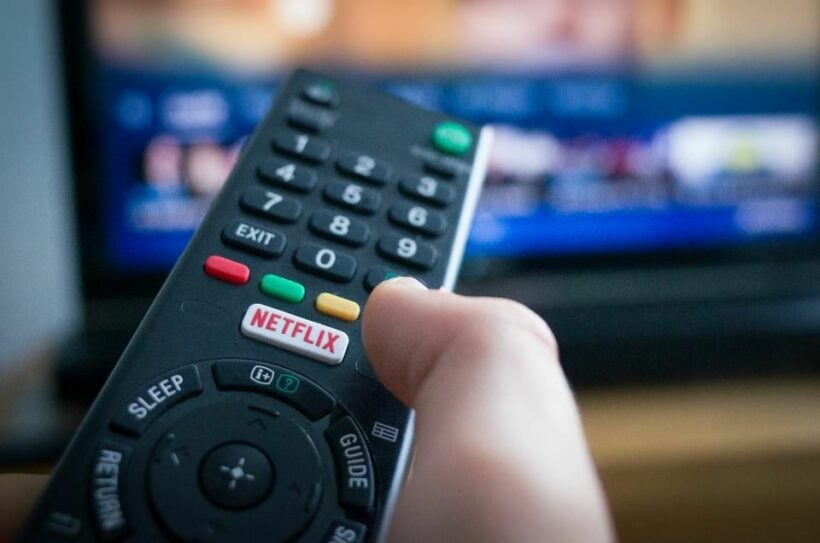 4) Music
Video killed the radio star. Well, not quite. But the internet has made even more profound changes to the music industry than just about anything else we can think of.
It's not the first time the music industry has had to cope with change. From cylindrical drums, to bakelite records (7″ and 12″), to CDs, mp3 files and now online streaming. Music sharing services initially disrupted (or panicked) the music industry and then iTunes and other paid services started building a new, sustainable business model.
One thing, sadly, remains the same – the artist is usually at the bottom of the food chain in and the final recipient of any residual profits. But iTunes, Pandora, Spotify, YouTube, torrents (illegal and legal) are where the music industry happens now. The quality is better, the supply almost endless, the delivery is instant.
Google, YouTube and iTunes are now the defacto 'record company' and are the source of a huge library of music of all styles, from the past and new. It probably also means that if you don't have a fabulous music video to go with your music you're unlikely to reach a profitable audience.
But, like every other industry that's been affected by the internet, creative and clever people have been able to reach out with the new tools and have, at least, the opportunity of reaching new audiences beyond borders.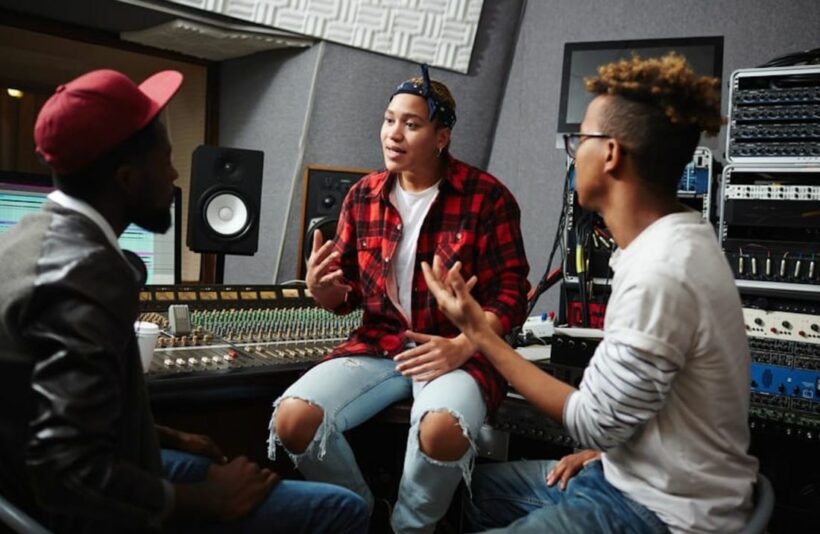 5) Porn
Old – Porn magazines.
New – Pornhub.com and a million other online services.
Enough said.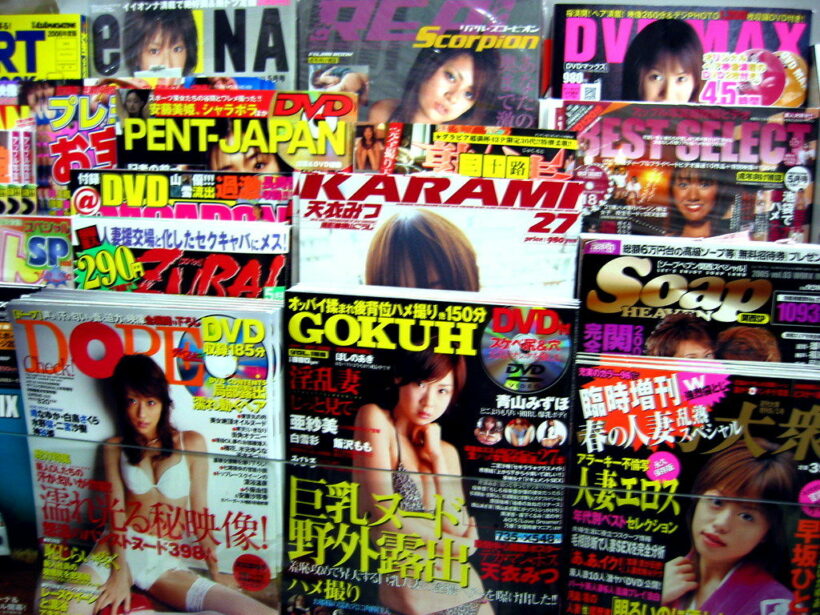 6) Travel Agents
We used to trot down to the local travel agent, flick through the glossy brochures and then 'consult' with our friendly, local travel agent before booking the flights and accommodation. All that 'booking' stuff was done by a pleasant travel agent.
Now our smartphones and laptops are our travel agent. Everything from info, reviews, booking platforms and reports on aircraft arrivals. EVERYTHING for your next holiday can be done with the internet.
In the US, as of 2013 there were only 13,000 travel agents remaining. That was down from the 34,000 peak in the mid-90s. That remaining 13,000 is expected to drop another 70% by next year. Travel agents have become a luxury rather than a necessity. Of course some people will still like to get all the 'details' sorted by someone else so some travel agents will exist in a niche market.
7) Encyclopedias
Mention "Encyclopedia" and most people under the age of 30 will have no idea what you're talking about. One of the early additions to the www was Wikipedia where you can find just about anything you want, almost instantly, without having to wade through 20 heavy hard-copy encyclopaedias that took up three bookshelves in the living room (if you were lucky enough to have a set).
The information is now free, increasingly accurate, regularly updated and resource-rich.
In 2012 Encyclopedia Britannica halted publishing after 244 years. Of course the set of encyclopaedias took up a lot of space and cost well over $1,000. Wikipedia is free. Or just ask Alexa or Siri.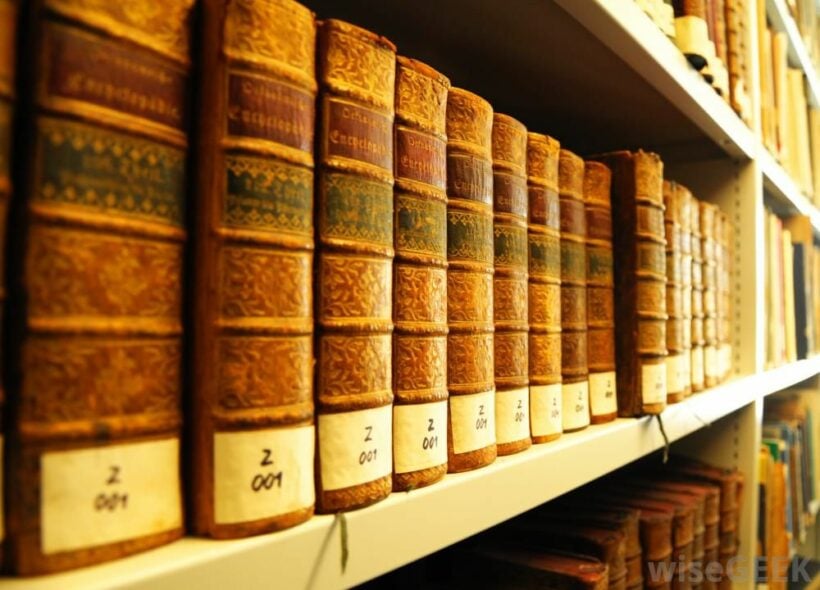 8) Maps
When was the last time you got out a printed map or street directory?
Google Maps, and a few other specialist mapping services, have dispensed with physical maps. You don't have to be a cartographer these days and the internet-based map services will usually tell you where to go, in a language and accent of your choice.
Apart from never being able to refold them back into their original shape, old printed maps probably caused as many accidents as destinations they helped people find.
And, whilst not perfect, at least the modern online map apps are constantly updated and can also tell us the traffic conditions along the route, suggest alternatives and tell us how long it will take to get there.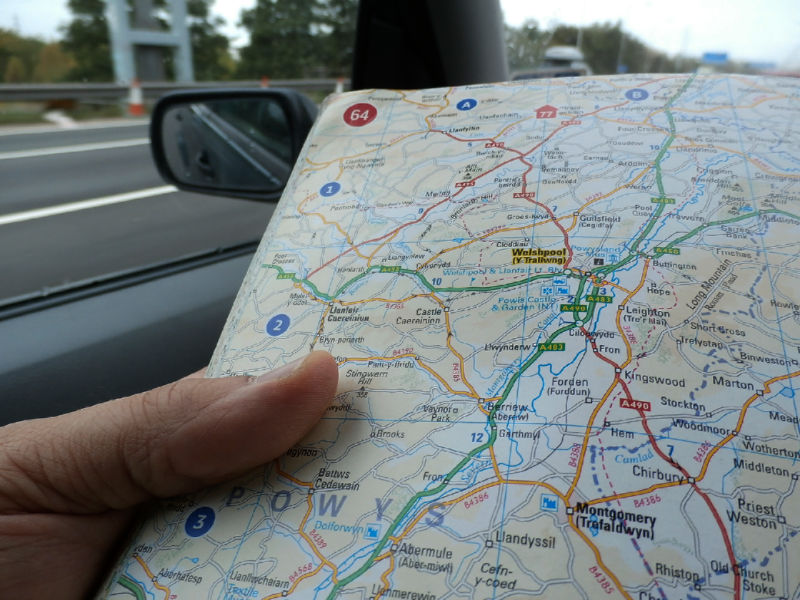 9) Book stores and newsagents
There are bookstores still around but they are usually a privately-run 'hobby' rather a serious business anymore. Kindle, iBooks, Nook, free online PDFs – these are newer, cheaper and more convenient medium replacing. Readers are now able to access books for less and take them wherever they go – books are heavy!
You can take 1000s of books with you on your next flight and sometimes the author or a famous voice will read the book to you. Want to read a new book? It downloads in seconds. But if fingering your way through a real book is still your thing there will be swap-shops and boutique book stores for years to come, probably with a coffeeshop and comfortable seating.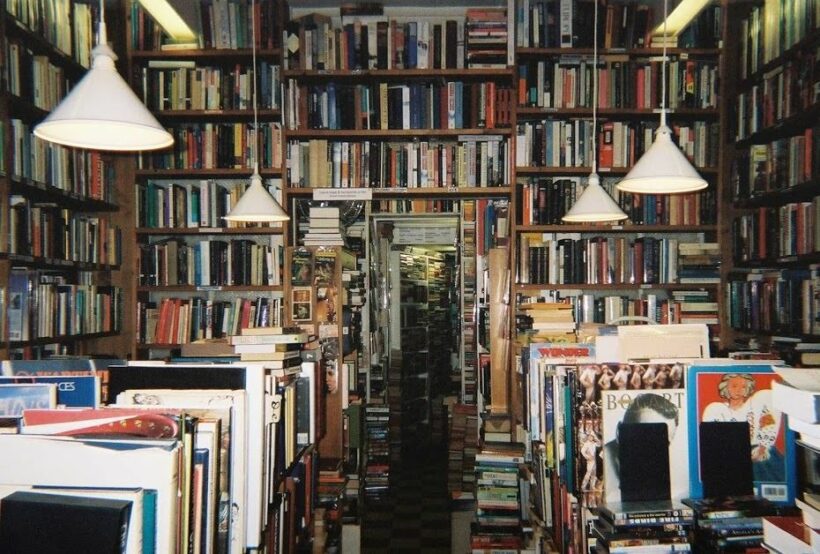 10) Video stores
Video what?
Blockbuster used to be one of those brands you associated with a Friday night, and probably a home-delivered pizza. You would spend hours walking along the racks, hoping to find something you hadn't seen, or that would tickle your fancy.
Built on the crappy VHS tape technology, the video store was the way an entire generation saw most movies. Then it was DVDs (and BlueRay), an advance, but was soon to get killed off by the internet.
Now you're not strolling past racks in a street store, you're scrolling through even more high-quality titles delivered directly to your TV, for a lot less money. And the pizza gets delivered to your home (from an app).
Streaming services like Netflix, Hulu, iTunes and YouTube have replaced the video store, for the better. The industry is slowing cracking down on the pirate 'sharing' services and making a sustainable business model.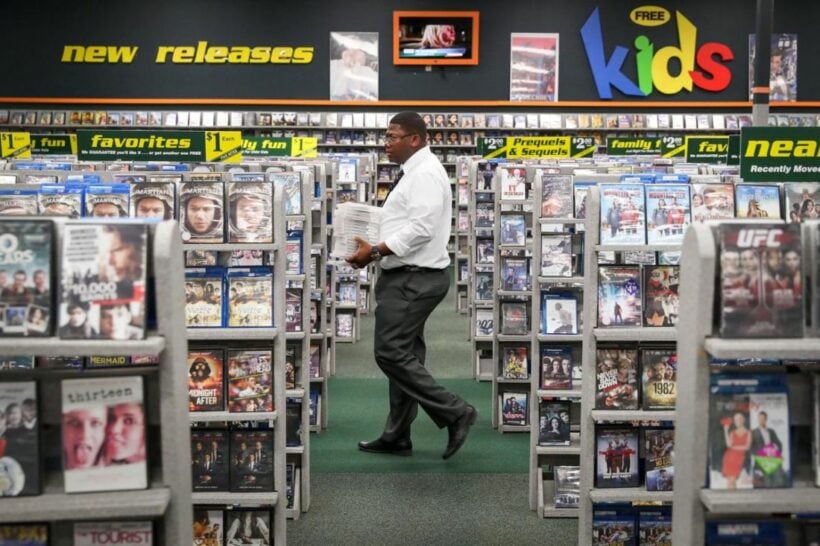 Keep in contact with The Thaiger by following our
Facebook page
.