Phuket
Central Floresta releases a statement following Tribhum 'volcano' fire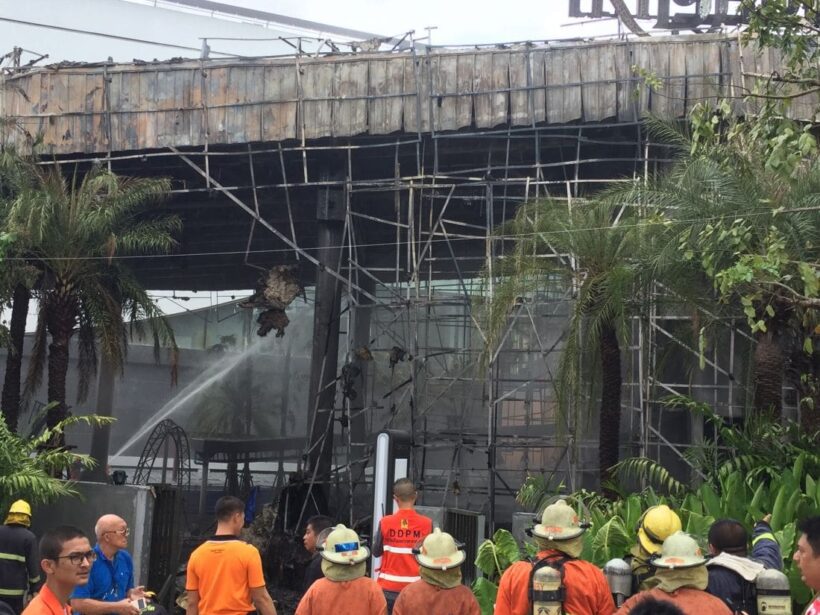 Central Floresta has spoken out after a fire almost destroyed a theme park under construction but stressed that the incident hadn't affected other costumer services at the new shopping centre. The cause of fire is being investigated and a statement will be made after a full check of all systems and interviews with workers on the site, and the new attraction's management.
One of Central Floresta's new themed feature attractions, 'Tribhum' was badly damaged in a dramatic fire that started just after opening of the centre on Saturday morning.
Read more about the blaze that stunned drivers around the Darasamuth intersection on Saturday morning HERE.
Following the incident, Central released an official statement saying… "smoke appeared at 10.30am on Saturday at the outside of the department store at the site of construction of an amusement park that hasn't opened yet."
"It took ten minutes to control the incident. There were no injuries. The main building of the department store was not affected. The store has been opened as normal. The cause of fire is being investigated. Best regards Central Department Store Phuket."
The actual fire took almost an hour to bring under control, sending acrid black plumes of smoke high into the skies over Phuket that were photographed up to 10 kilometers away. Some staff were told to evacuate, then also decided to evacuate customers from the shopping centre as well. Access was denied for some customers for up to an hour.
"I tried to enter the lower floor food court just before midday but we were told to wait. Ten minutes later we were allowed to enter but we could see people walking around inside during the time. There was no panic," according to one shopper who contacted The Thaiger.
Part of the fake skin of the 'volcano' was burned off the underlying structure. Plastic sheeting has been thrown over the site of the incident to hide the damage. The new 'Tribhum' attraction was slated for an opening sometime in November. Questions are now being asked about the flammability of the materials used to cover the feature 'volcano' exhibit.
The operating company hasn't made any statements about the incident at this stage.
https://www.facebook.com/thethaigernews/videos/534964193629121/
https://www.facebook.com/thethaigernews/videos/254700075250281/