Baby elephant rescued from muddy pit in Chumpon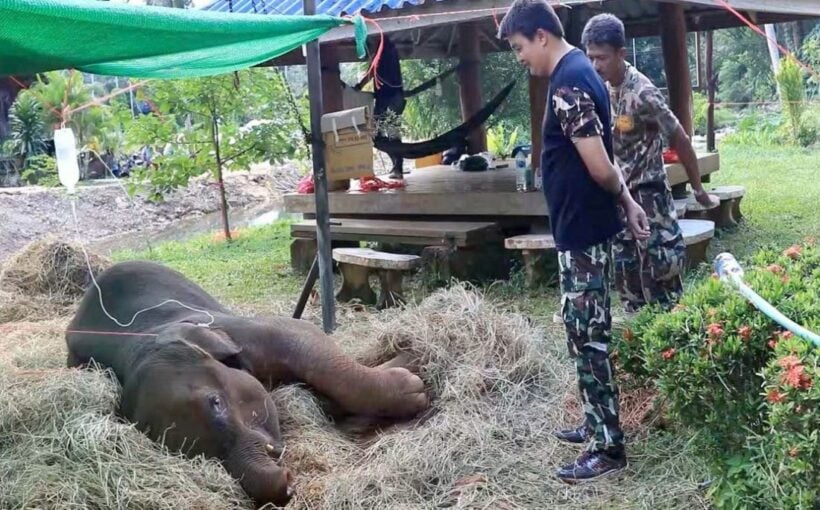 by Prasit Leehakhunakorn
A two year old male elephant, 'Chao Duan', has been rescued after it fell into a 70 centimetre deep and four metre wide muddy pit where it was stuck for two days in Chumphon province.
The elephant is now recovering under the loving care of veterinarians, although its hind legs remain immobile for now. Nam Tok Ngao National Park head Somjet Chanthana recalled that the Chao Duan's right side torso was in the water and its hind legs were paralysed, as a result it was trapped in that spot for two days before it was spotted by forest officials on a patrol.
The elephant's short tusks also contributed to its inability to get out of the pit on its own, he said. The officials at the time did not get too close because Chao Duan's mother and other herd members were still in the vicinity.
On the third day, the mother and the herd left so officials moved in with a backhoe and a veterinarian to aid the elephant.
Chao Duan was then taken to veterinarian Sirinan Boonnant, who is treating him with saline and vitamins and physical therapy for its hind legs, Somjet said.
Tomorrow, a veterinary team will check on the elephant's condition and decide if it can be moved for further treatment to the Elephant Hospital in Krabi province.
Chao Duan's herd comprised 13 elephants – two male adults, eight female adults and three baby elephants including Chao Duan – and they usually roamed the forest in Pato, Lang Suan and Sawi districts in Chumphon, officials said.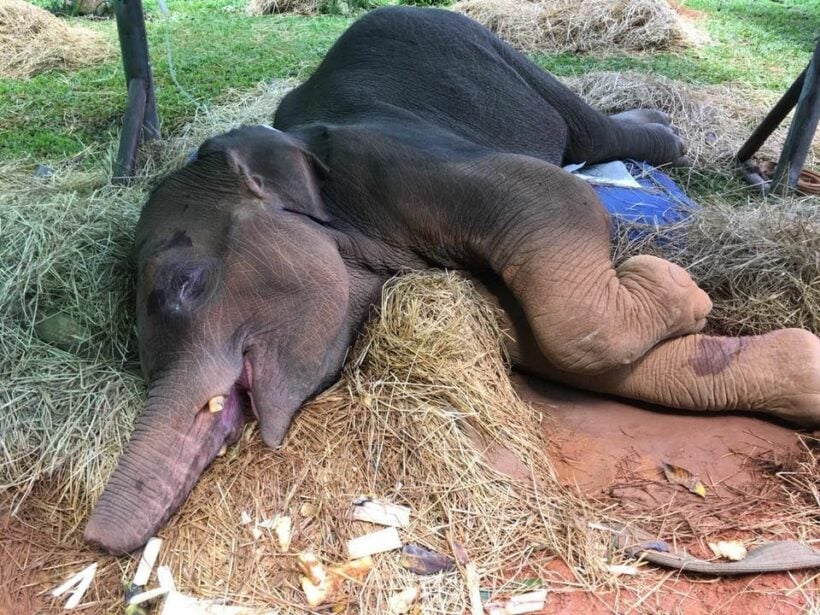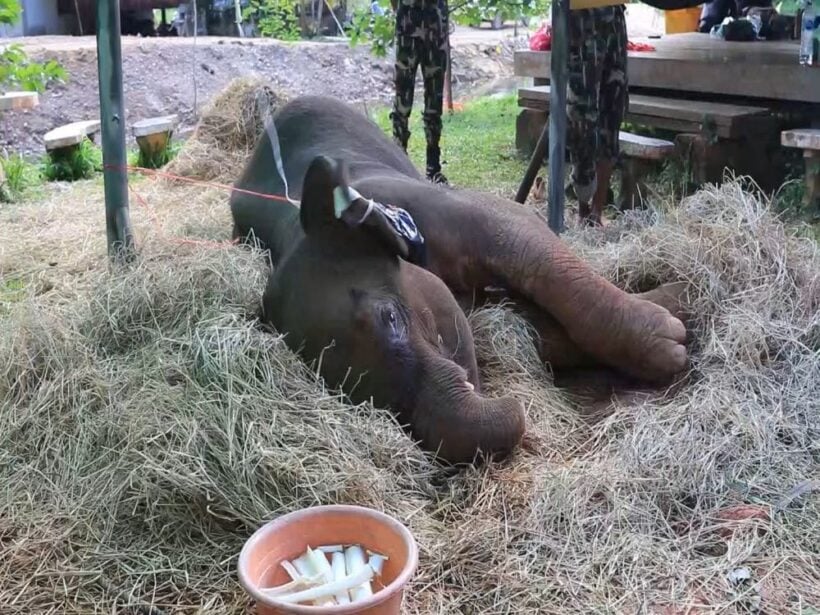 STORY: The Nation


Read more headlines, reports & breaking news in South Thailand. Or catch up on your Thailand news.
Chumphon woman, working in Phuket, wins first prize in lottery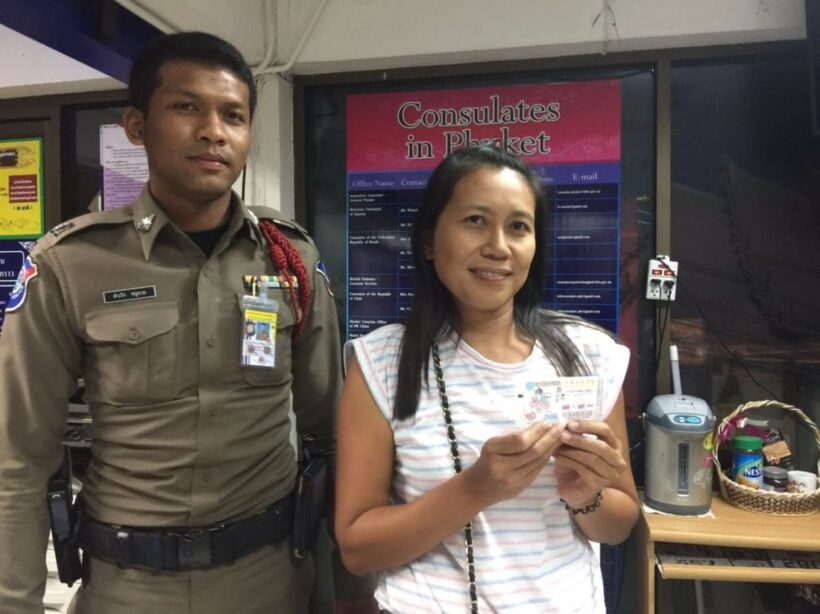 A woman from Chumphon, who helps out her sister in Phuket, returned to her hometown last week where she bought a lottery ticket.
The ticket won her the first prize in the lottery.
38 year old Thai woman Chonrada Laimer from Chumphon went to Chalong Police Station yesterday with the first prize lottery ticket number 197079. The weekly lottery numbers were announced yesterday. She claims 6 million baht as the first prize.
Khun Chonrada says, "I am from Chumphon. I help my sister to sell goods in Rawai during high season. I had to visit my home in Chumphon last week and bought the lottery ticket there. It is the number of my car number plate. Then I returned to Phuket."
"I am very happy. I will use this money to fix my parent's house. I will still help my sister to sell goods."
More dead whales along the southern Gulf coast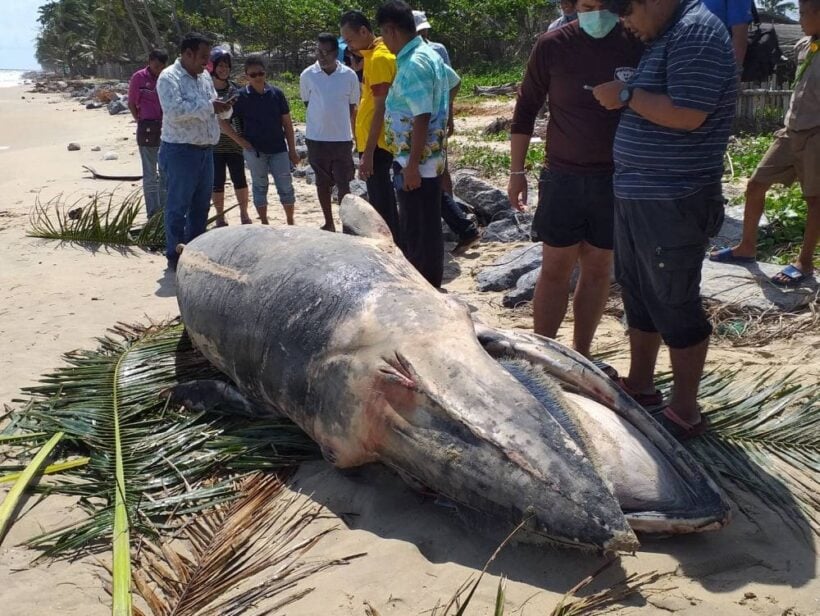 Two young Omura whales have been separately found on Songkhla's beaches. They were probably from the same herd. The bodies had already started decomposing when they were found.
Pak Tae Ra villagers in Ranote district alerted a regional maritime research centre that a big whale was found on the beach. The centre's chief Suthep Juela-ong found the remains of an Omura whale, weighing 800-1,000 kilograms and 5.65 metres long. It was estimated that the whale has been dead for at least two weeks, Suthep said.
The centre's officials will collect tissue samples and check the cause of death, he said, adding that the preliminary test indicated that it probably died from illness as no outer injuries were found on the body.
Meanwhile another dead Omura whale was found on Chalathat beach in Songkhla province yesterday.
It was about 5.95 metres long and is thought to have died at least two weeks ago as well.
The whales were possibly from the same herd.  Tissue samples are being collected. Both whales are estimated to be around one year old.
A few days ago a three month old Omura whale was found dead on a beach in Chumphon province. It is thought to have died from an infection after getting separated from its mother.
Read that story HERE.

STORY: The Nation
Burmese human-trafficking suspect escapes from Songkhla police cell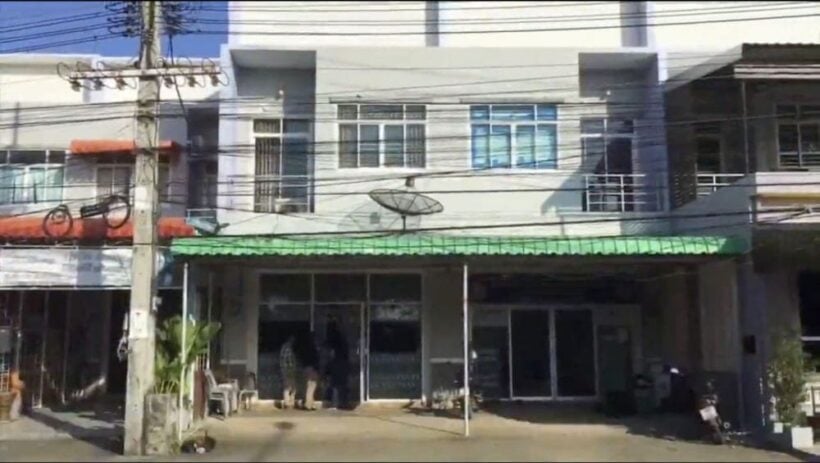 PHOTOS: The Nation
A Burmese suspect has broken free from a detention room at a police station in Songkhla today where he was detained pending a human trafficking investigation.
Police say 27 year old Zaw Win somehow unlocked the padlock on the detention cell at the Bang Klam police station in Bang Klam district at about 7am this morning.
A security camera showed Zaw Win with a damaged leg limping out of the police station. Zaw Win was sent from Bangkok to be detained at the police station on Wednesday.
He was suspected of being involved with a human trafficking ring that smuggled Rohingya into Thailand before they would be smuggled further to Malaysia.
Zaw Win was arrested in Bangkok after 14 Rohingya were found hiding in a forest in Moo 6 village in Tambon Tha Chang in Bang Klam district on January 1. Police conduced an investigation and said Zaw Win was a suspected member of the gang and police later learned that he was hiding in Bangkok.

SOURCE: The Nation