56 elephant skeleton fragments found in a Chon Buri mine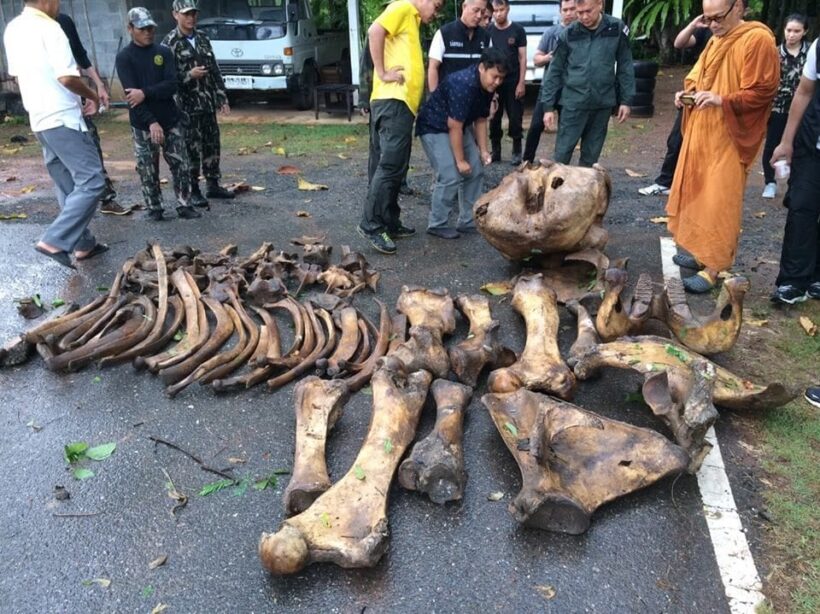 PHOTOS: DNP
56 bones from an elephant skeleton have been found inside a mine area in Chon Buri yesterday.
The Department of National Parks, Wildlife and Plant Conservation (DNP) reports that officials and veterinarians yesterday examined the 56 skeleton fragments of a male elephant found inside a mine in Chon Buri, just 300 metre from a protection zone.
The elephant was estimated to be around 40-50 years old when it died. Veterinarians believe that the elephant has died at least four to five months before the skeleton was found.
The case has been reported to the Bor Thong Police.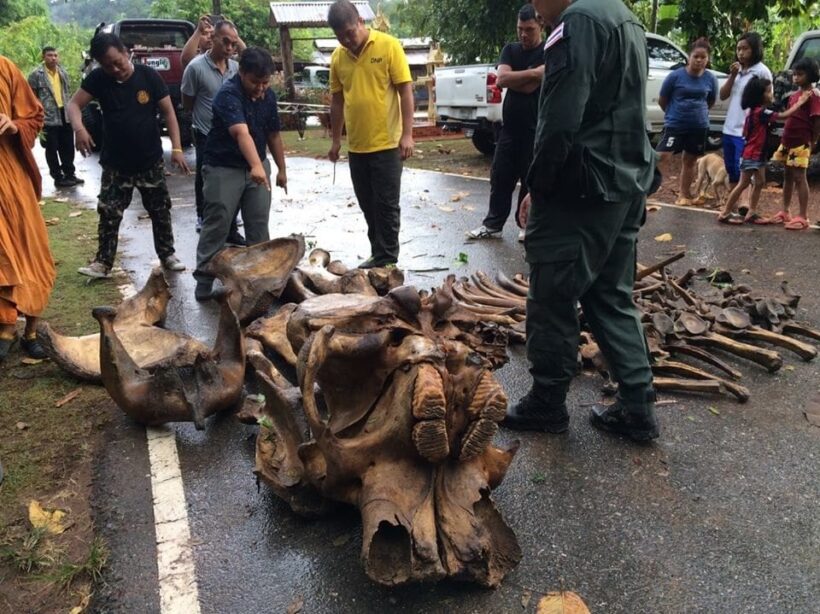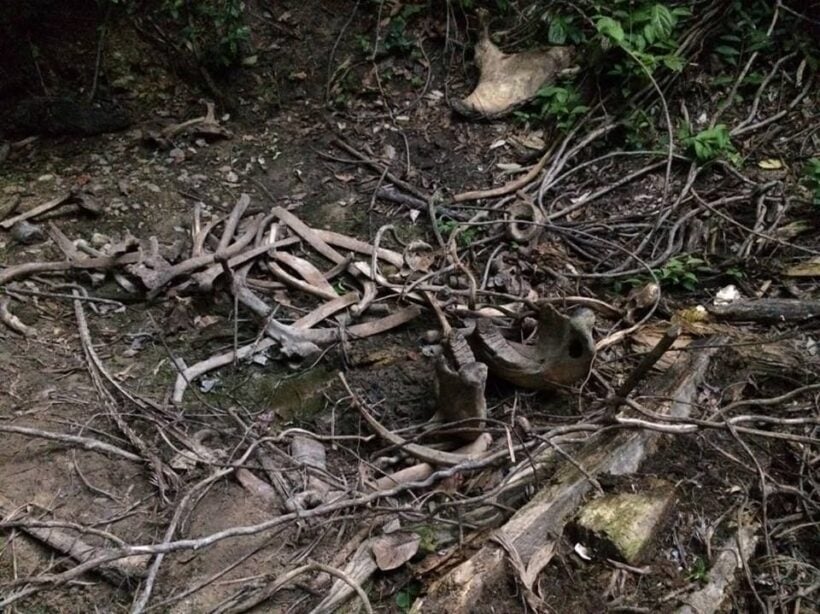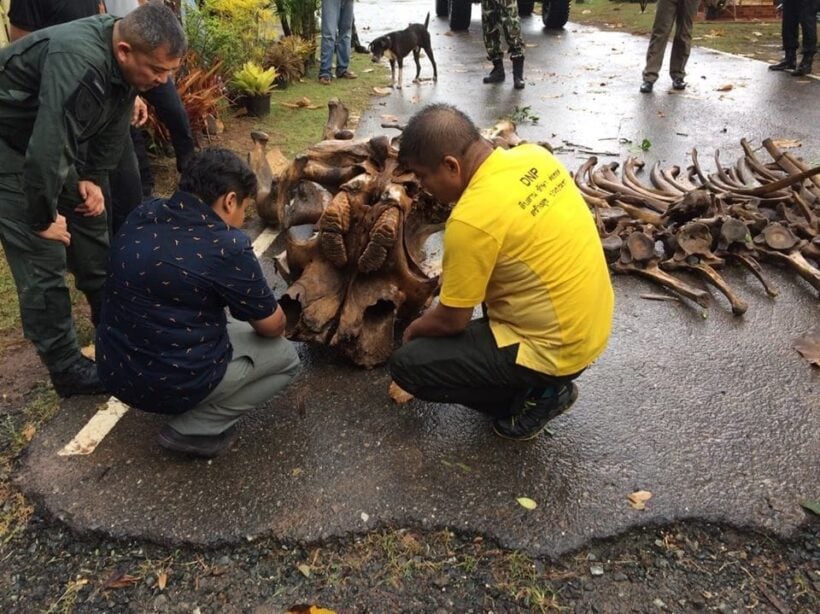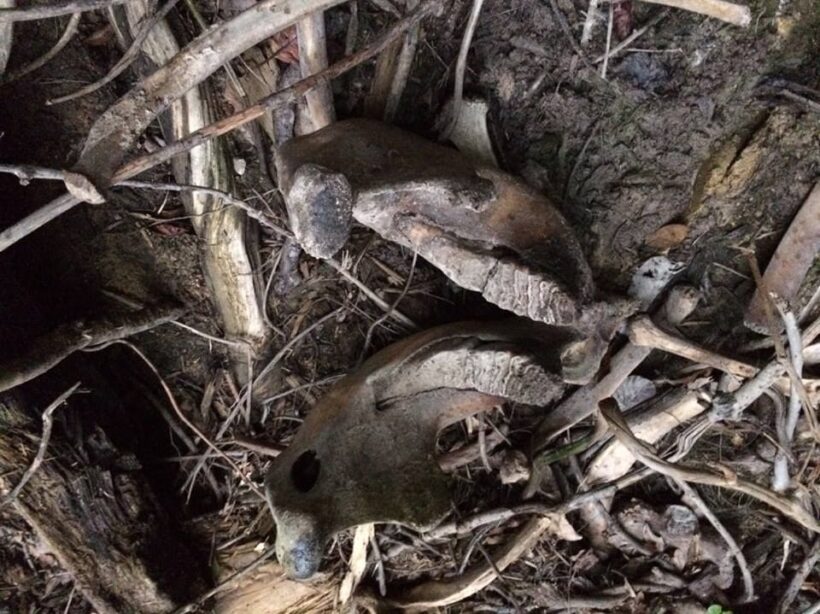 Keep in contact with The Thaiger by following our Facebook page.
Never miss out on future posts by following The Thaiger.
Border districts screening cars for smuggling illegal migrants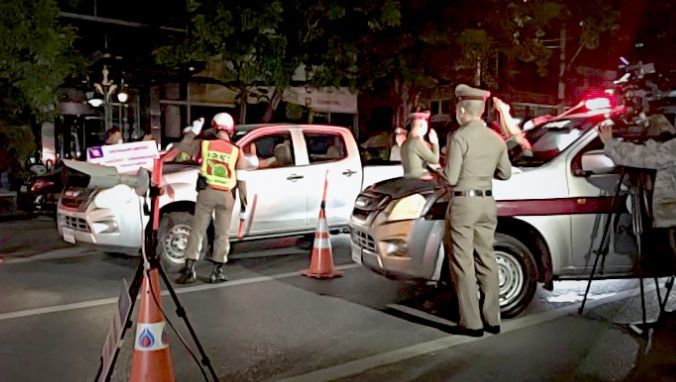 Security officers in Thailand's 3 border districts are under strict orders to screen all cars at security checkpoints for illegal migrant smuggling. The orders come after the arrests of 3 Thais who allegedly smuggled illegal migrants into the country using their own cars, with all cases being linked to each other.
The smugglers tried to escape being detected by authorities as they used their own cars instead of the typical trucks that have historically alarmed police. One of the 3 drivers arrested was 44 year old Sasiphen Sillapachai, the wife of a tambon administration organisation official in Sangkhla Buri. 38 year old Prawit Kaewdam and 40 year old Atchara Chinsoranan were the others arrested.
Sasiphen was driving a car carrying 4 migrants when she was stopped in Thong Pha Phum on Friday. Prawit and Atchara were caught at a checkpoint in Sangkhla Buri on the same day following a search of their 2 Toyota Fortuner vehicles, one with 2 illegal migrant workers and the other with 1. All of the suspects confessed to being paid 14,000 baht each to smuggle the migrant workers.
The order applies to checkpoints in Sangkhla Buri, Thong Pha Phum and Sai Yok districts, and is focusing in particularly on the Ban Namkerk and Rantee bridge checkpoints in Sangkhla Buri.
Such smuggling of illegal migrant workers from Myanmar, where nearly 140,000 Covid-19 cases have been reported, has been blamed for setting off a 2nd wave of infections in Thailand, which has seen infections more than triple over the past five weeks since the pandemic began last year.
Smuggling gangs in Kanchanaburi and other border provinces have been aided by corrupt police, local officials and military officials who look the other way. But the Covid pandemic has forced the government of PM Prayut Chan-o-cha to admit that the country has a serious problem that must be addressed.
SOURCE: Bangkok Post
Keep in contact with The Thaiger by following our Facebook page.
Never miss out on future posts by following The Thaiger.
Opposition to provide evidence against government in upcoming debate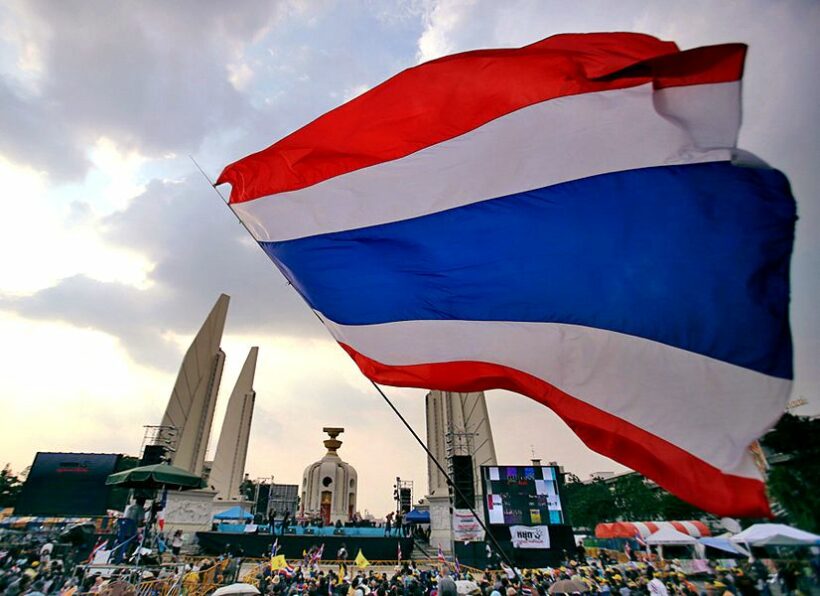 Thailand's opposition party members are preparing to provide evidence to back the charges being made against the government in an upcoming censure debate. The government is accused of policy-oriented corruption and of playing a part in structural conflicts. The allowance of illegal immigrants into the country and illegal gambling dens is expected to be discussed as it has been attributed to the 2nd wave of Covid-19 sweeping the nation.
Chief opposition whip Sutin Klungsang said the opposition parties have proof of wrongdoing that has played a part in damaging the country through mismanagement and hardship to the people. Sutin says more than 1 minister will be questioned.
"Several. At least seven."
He says they will finalise who will be censured this week based on the information they have gathered, and says they will meet again on Sunday to discuss their debate strategy and time allocation.
The opposition camp is planning to introduce a "no-confidence" motion against the government tomorrow, marking the 2nd of its kind to ever be lodged.
Sereepisuth Temeeyaves, leader of the opposition Seri Ruam Thai Party and former police chief says his information will deliver a "serious blow" to the PM after he was criticised for saying "even a hundred prime ministers will not be able to rid Thailand of illegal gambling dens."
"I made a crusade against illegal gambling dens long before I was the national police chief. What did the PM mean when he said things like that? Did they make the arrests or not? So, sit back and wait for the debate."
He says he is not sure if Deputy PM Prawit Wongsuwon would be grilled in the upcoming debate, but named Move Forward Party leader Pita Limjaroenrat, PM and Defence Minister Prayut Chan-o-cha, Public Health Minister Anutin Charnvirakul and Deputy Interior Minister Niphon Bunyamanee are among the targets.
SOURCE: Bangkok Post
Keep in contact with The Thaiger by following our Facebook page.
Never miss out on future posts by following The Thaiger.
198 new infections, 1 death – Thailand's Covid-19 update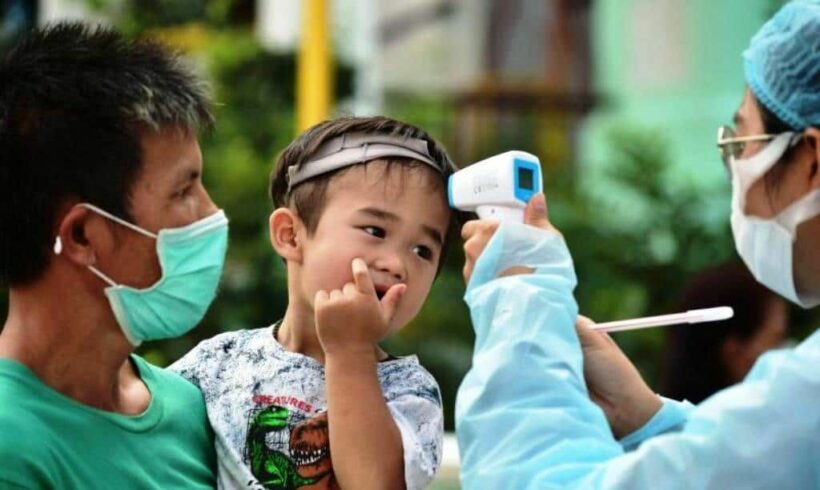 After a week of high and lows in the reporting of the latest clusters, Thailand officials are reporting 198 new infections of Covid-19today, with 180 being locally transmitted. 69 of those local infections were found via tests at medical facilities and 111 were found by proactive testing. Most of the proactive tests were found in Samut Sakhon, where the 2nd wave of the virus is thought to have began.
Of the 180 local infections reported on Saturday, 163 were found in Samut Sakhon followed by Bangkok with 9 cases and Samut Songkhram with 5. 18 cases, out of the newly reported bunch, were found in quarantine facilities, according to the Centre for Covid-19 Situation Administration.
The new cases bring the total number of infections to 13,302 since the pandemic began last year. 10,448 people have recovered and 2,782 patients are currently being treated for the virus. The total number of deaths has risen by 1 to 72 people. The new death was of a 81 year old male patient from Phichit who had diabetes. He contracted the virus from a family member who visited Samut Sakhon.
Since the 2nd wave of infections has begun, there have been 9,065 cases confirmed between December 15 and January 23, which have brought on travel restrictions in 28 provinces. Such provinces are considered "highly controlled" with those entering and leaving required to pass through checkpoints.
The 2nd wave of the outbreak brought the virus to 63 out of 77 provinces in Thailand with the hardest-hit province continuing to be Samut Sakhon, which reported 5,184 confirmed cases between December 18 and January 23.
This was followed by Bangkok (657), Chonburi (648), Rayong (573), Samut Prakan (322), Chanthaburi (220), Nonthaburi (159) and Ang Thong (110).
Yesterday, Bangkok, including 4 north-western districts listed as "highly controlled" allowed 13 types of businesses to reopen, in a signal that partial lockdown measures in the capital were being relaxed.
Panprapa Yongtrakul, CCSA's deputy spokeswoman, said the potential of finding new cases via tests in medical facilities has been decreasing in the past few weeks but the number of new cases being found through proactive tests is still in the three-digit numbers.
SOURCE: Thai Enquirer
Keep in contact with The Thaiger by following our Facebook page.
Never miss out on future posts by following The Thaiger.