Child injured in hit-and-run "ghost riding" motorbike incident in central Thailand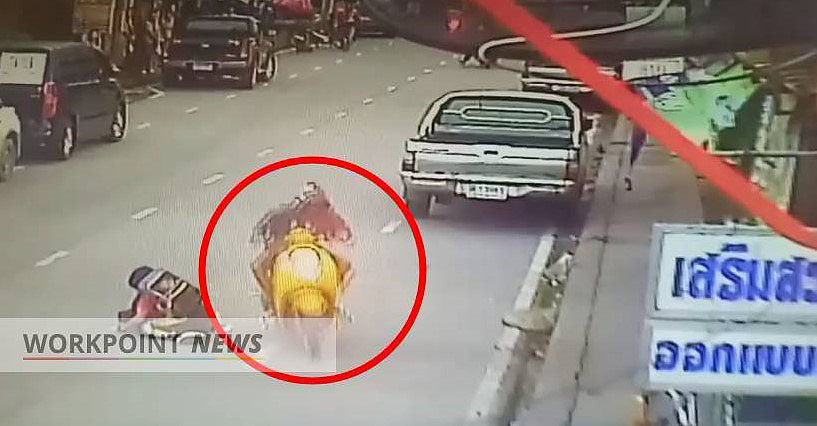 PHOTO: Workpoint News
A 10 year old girl has been injured after a motorbike being ridden against the flow of traffic – a practice known as "ghost riding" – hit her and then drove off.
The early morning incident took place in Samut Prakan province in central Thailand as the girl waited to cross the road.
Facebook user Uthaiwan Permjit Tato posted a video of the hit-and-run on social media, including CCTV footage that shows the girl being hit by the bike and falling into the road.
The bike rider is seen to stop briefly, but then moves his bike past the girl without speaking to her and drives off.
Thai Residents reports that the child's mother did not take her to hospital immediately as she could not see any serious injuries beyond minor wounds near the girl's mouth and on her knee.
However, later that evening, the child began to complain of stomach pain and was taken to hospital for an x-ray. No further information is available as to the nature of her injuries.
The girl's mother has filed a police report.
SOURCE: Thai Residents
Keep in contact with The Thaiger by following our
Facebook page
.
Police question suspect in Lop Buri gold shop shootings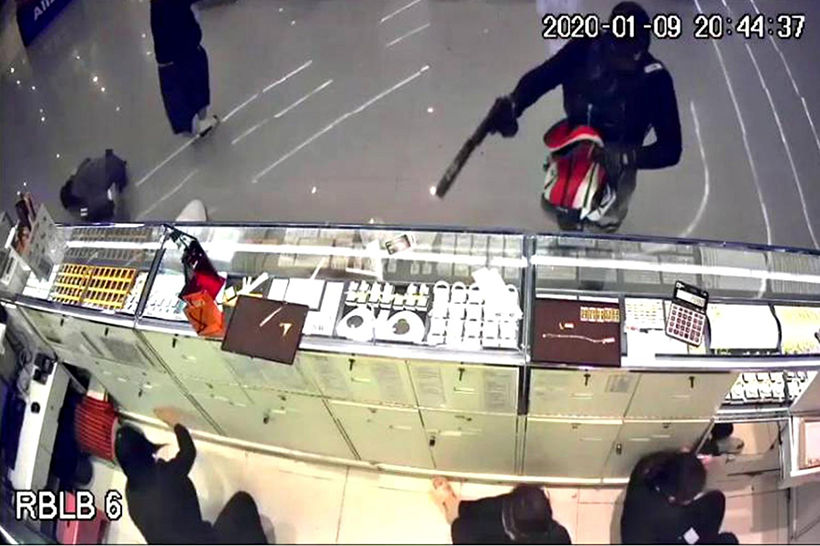 Police in the northeastern province of Nong Khai are confident they've identified a suspect in the January 9 gold shop robbery and shooting in the central Lop Buri province that killed three people, including a two-year boy, and injured four others. The man was summoned for questioning.
National police chief Chakthip Chaijinda says that the man, whose identity is currently being withheld, matches the suspect's profile, being around the same height and spotted carrying a red shoulder bag, the same as used by the robber. Chakthip says if DNA test results disqualify the man as a suspect, he'll be released.
Police have checked footage from about 1,000 CCTV cameras installed along routes that were likely used by the gunman when he fled, but found no clues that could lead to an arrest.
Deputy national police chief Chaiwat Kateworachai, meanwhile, asked the robber to turn himself in within 10 days (assuming that the current suspect isn't charged).
"He will be caught sooner or later."
SOURCE: Thai PBS World
Keep in contact with The Thaiger by following our
Facebook page
.
Suspect questioned over the fatal gold heist at Aurora Gold Shop in Lop Buri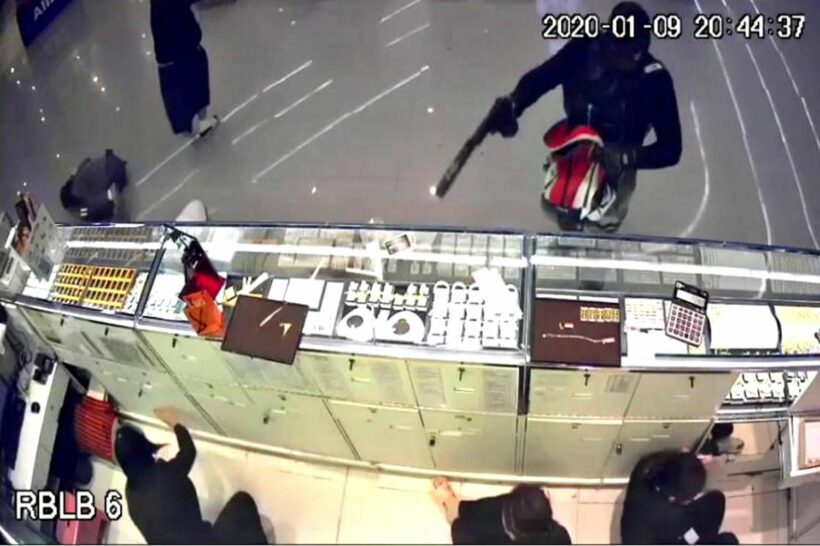 A suspect has been summoned for questioning in Thailand's north-eastern province of Nong Khai, just south of the Laos border. It's believed he may be the man who shot and killed three people, and injured four others during a gold shop heist on January 9 in Lop Buri province.
The man, whose identity has not been disclosed, matches the suspect's profile, being of a similar height and demeanour, and seen carrying a red shoulder bag, similar to the bag carried by the robber when he stormed the Aurora Gold Shop in the Robinsons Shopping Centre.
At a media briefing on current progress in the case, the national police chief said he was informed by his deputy that a man who resembled the gunman was being questioned in Nong Khai.
The robber, who wore a ski mask, army boots and camouflage clothing, was armed with a 9mm pistol, silencer and a long knife. There was numerous CCTV that captured the man during his brief rampage where he casually strolled into the shop and shot customers and staff. One of the people killed was a two year old boy who was shot in the head as we walking past the shop with his mother.
The Nong Khai police have called the man in for questioning and collected a DNA sample, according to National police chief, Pol Gen Chakthip Chaijinda, adding that if the results of the tests exclude the individual as a suspect, he will be released.
Police in charge of investigating the robbery-murder case have checked footage from about 1,000 CCTV cameras, installed on escape routes that could have been used by the fleeing gunman. They have not found any clues which could lead to an arrest.
SOURCE: Thai PBS World
Keep in contact with The Thaiger by following our
Facebook page
.
30 million in lottery windfall to central Thailand winning tickets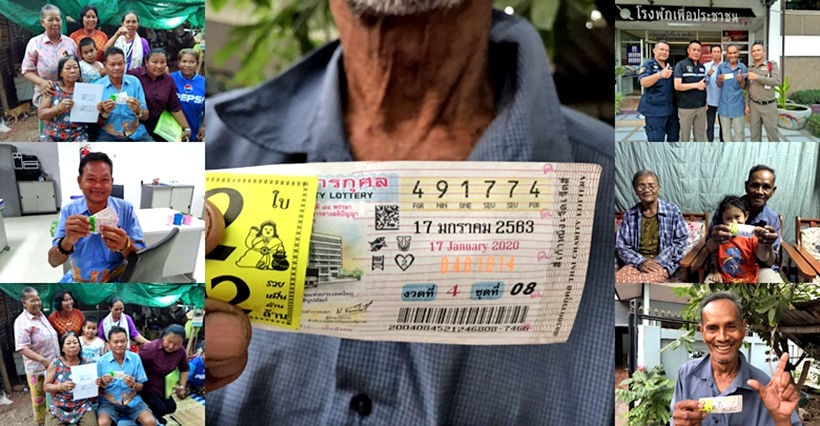 There's been three big winners for last Friday's bi-monthly Thai Government Lottery in Thailand's central provinces. The winning numbers for the latest draw on January 17 were 491774 with winnings of 6 million baht up for grabs for every winning ticket.
73 year old Prakob Pansaior from Jaturas District in Chaiyaphum Province was the first winner. As soon as he realised he had a winning ticket he drove to the Jaturas Police Station to confirm the evidence of his win. He told reporters that he dreamed of his mother who had passed away who gave him some of the numbers. He told INN News that the money will help pay off debts and the rest will go to his grandchildren.
The second winner was 57 year old Rayrai Lerdpudsa, a village chief of the Baan Hua Saphan Village in Nong Bua Ra Heaw District. Rayrai had two winning tickets, bringing in a total of 12 million baht.
The third winners 40 year old Manit Wannahat from Kaset Sombun District. Manit currently works at the City of Paradise in neighbouring Nakhon Sawan Province. Manit also had two winning lottery tickets bringing in 12 million baht. He and his wife have a 3 year old daughter. The couple said that even winning a two-digit prize would've been a surprise. The family promised to plan carefully with where the money will go.
SOURCE: Thai Residents
Keep in contact with The Thaiger by following our
Facebook page
.