Chinese investment sets new records in property purchases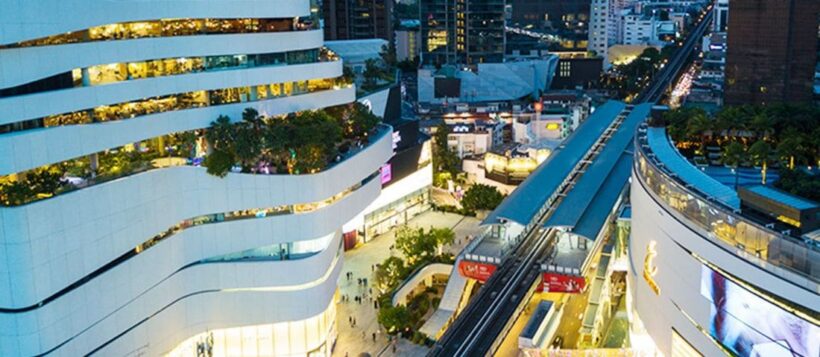 The demand for property, especially in Bangkok, continues unabated. Despite a drop off in absolute tourism numbers, enquiries from Chinese real estate buyers remains strong, setting new records. Not only are the Chinese the most frequent tourists to Thailand, they are the most enthusiastic property buyers, stetting a new record for Q3 this year.
Number two in foreign investors into Thailand's property market is Hong Kong citizens.
According to juwai.com, buyer enquiries from mainland Chinese buyers more than doubled, year-on-year and was nearly 30% higher that the previous quarter, Q2.
Juwai.com's CEO Carrie Law says the enquiries for Thai property has never been so high.
"In part, the strong results are due to an unusual surge of inquiries in August. The overall effect has been to push inquiries in the third quarter more than twice as high as in the same quarter one year earlier."
The success follows on from continued support from Chinese tourists, even during the Golden Week holiday. Despite lower figures than expected this year, the numbers still exceeded the 2017 visitation.
"Thailand ranks highly because of its many attractions, good links to China, relative affordability, and appeal to both group and individual travelers," according to Carrie.
Another favorite China tourist destination, Japan, suffered a drop in number over the same Q3 period due Typhoon Trami and another earlier storm which cancelled many flights into the country.
The fallout from the Phuket boat tragedy in July seems to have affected Phuket's tourist numbers primarily although the TAT has recently reported drop offs in Chinese visitation to Chiang Mai up to 50% in some sectors over the past month.
According to konradlega.com, the Chinese government continue to support investment in countries, like Thailand, participate in the "Belt and Road Initiative." This type of investment is in line with China's strategy of increasing the count of new infrastructures in its neighboring countries while encouraging cross-border trade activities in the same region.
"Though at present, only 9% of Chinese citizens have passports, it is expected that the figure will double in 2020 to 240 million people, all potential travellers and investors."
Check out properties available around Thailand, in five languages, HERE.


Find more property for sale and rent across Thailand at Thaiger Property, powered by FazWaz. You can even list your property for free.

Do you need help with your business? Are you searching for a new job? Or an employer looking to hire? Try Thaiger Jobs today.

Read more headlines, reports & breaking news in Bangkok.

Weakness in the BKK condo market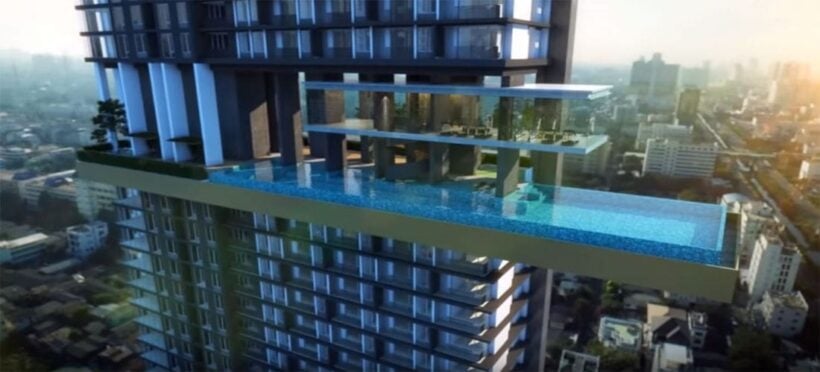 PHOTO: Nara 9 – www.nara9.net
Property consultants, Edmund Tie & Company – South East Asia – report that the new condo supply for 2019 is 'unlikely to increase' and that sales rates are disappointing in Q3.
Their report says that the take-up rate of newly launched condominium projects in Q3 in Bangkok's CBD dropped from last year's 58% to only 31%, year on year. This is even lower than the performance in Q2 which was 46%.
Developers are acknowledging that there is a weaker demand for residential units and a significant drop in overall supply.
The three highest performing condo sale segments were the 'luxury segment', followed by the 'super luxury' and 'Grade A' segments.
The average price for condos has remained flat for Q3, compared to Q2 – around 330,000 baht per square metre – but this is still a 32% increase when compared to the same quarter in 2017, according to the report.
But Edmund Tie report that the figures are just a minor 'blip' following big rises in demand and sales over the past three years. They report that the new condominium supply in the CBD during Q3 was 1,636 units, rising from 852 in Q2, 2018 – a 92% increase in new units hitting the market.
For the office sector, their report says that rents will continue to increase gradually in the final quarter of this year and into 2019, driven by limited supply.
"There will be an increased demand for office condos in Bangkok."
They say office developers remain focused on providing open-plan office space close to public transport nodes.
Walking on air. 314 metres above Bangkok.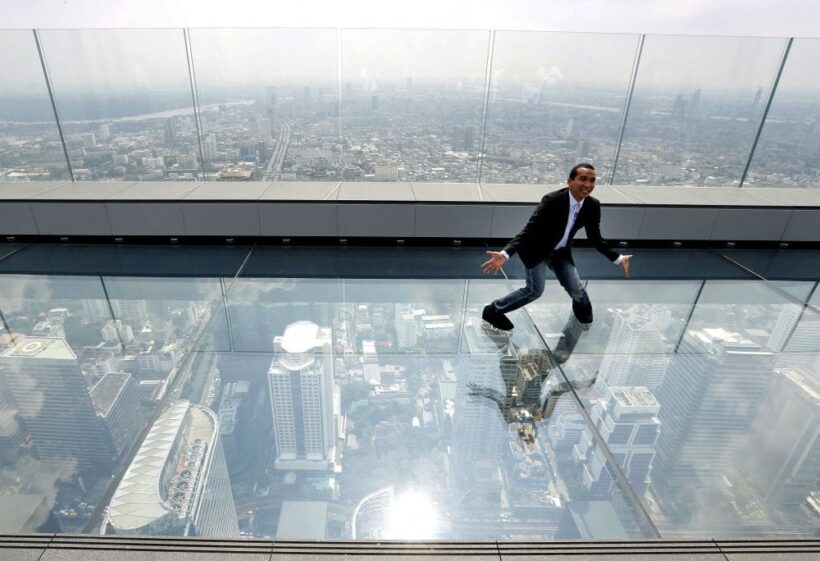 PHOTO: The Nation
King Power International Group has opened what is being marketed as the world's biggest glass-bottomed skywalk.
The new tourist (and local) attraction is on the rooftop of the 78 storey Mahanakhon building on Narathiwat Road in Bangkok's Bang Rak district. Mahanokon is Thailand's tallest building at 314 metres.
The glass skywalk has 360 degree panoramic view, vertically and horizontally. Standing on the glass platform you can see right around the Bangkok skyline and beyond. You can also look directly down, 314 metres below, to the street – not for the faint-hearted.
The building is equipped with a fast elevator which can reach the 74th floor from the ground in just 50 seconds.

King Power International (who have naming rights for the skyscraper) CEO Aiyawat Srivadhanaprabha said the glass-bottomed skywalk represents another important step and a pride for the Thai company.
"I believe that tourism is not just an engine to drive the country's economy, but also a gate toward the building of sustainable confidence and promotion of Thai identity in the eyes of the global community," said Aiyawat, an heir to the business empire of Vichai, the owner of Leicester City who died in helicopter crash recently.
The building features outdoor and indoor observation decks on the 78th and 74 floors respectively, modern shopping malls, varieties of both Thai and international food and duty-free shops (of course).
Scroll through to around 4.00 of this episode of ThinkingOfLiving to get a first peep at the new Bangkok icon.
New additions to the Thailand Michelin foodie guide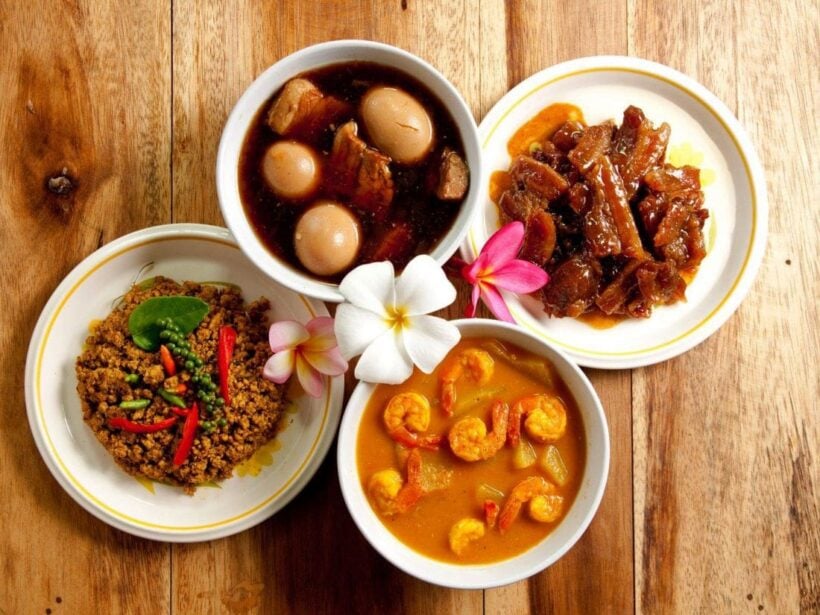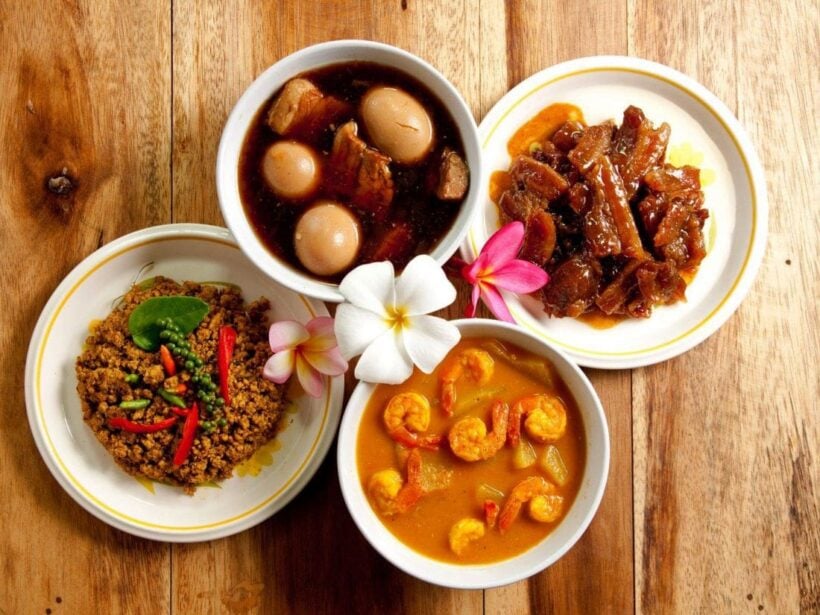 by Khetsirin Pholdhampalit
Thai street food eatery Jay Fai has retained its one Michelin star for the second consecutive year and the legendary Thai restaurant Methavalai Sorndaeng is among the new 10 additions to have been awarded one star, according to the announcement of eateries making it the second edition of Michelin Guide Bangkok.
No restaurant has achieved the coveted highest three-star rating.All three two-starred restaurants in the inaugural edition, namely Gaggan, Le Normandie and Mezzaluna have retained their stars, while Suhring has been upgraded from one to two stars.

The little red guide has been extended to cover the best dining venues in the Southern provinces of Phuket and Phang Nga for its 2019 edition.

However, Pru restaurant in Phuket is the only restaurant in the two Southern provinces to have been awarded one star.

The other 14 restaurants in both cities, such as the famous venues of Raya and Chomchan received Bib Gourmand awards for being 'good value for money'.

In addition to Methavalai Sorndaeng and Pru, other new one-starred additions include Le Du, Gaa, Canvas, R.Haan, Saawan, Sorn, Ruen Panya, and Suan Thip.

Dining venues in Bangkok's neighbouring provinces of Nonthaburi, Pathum Thani, Nakhon Pathom, Samut Sakhon and Samut Prakan are also covered in this new edition.

ORIGINAL STORY: The Nation