Club raid in Bangkok. Everyone detained tested positive to drug use.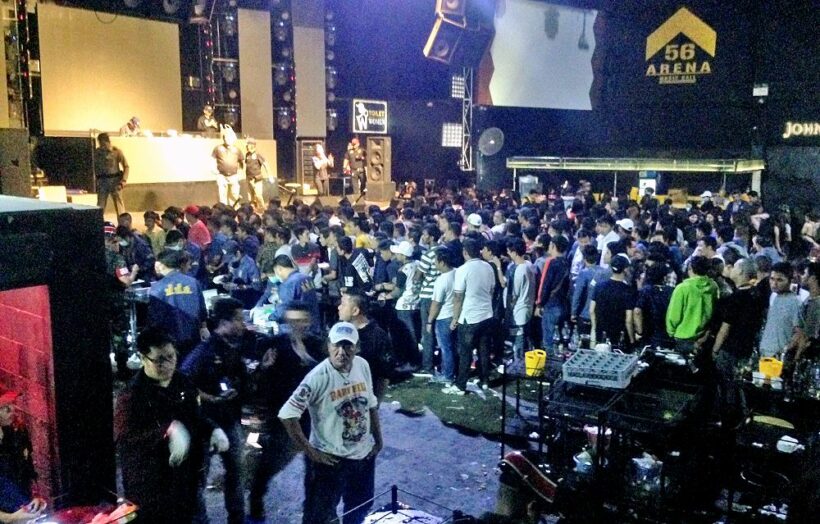 PHOTOS: The Nation

Another Bangkok night spot is is being threatened with closure after an early morning raid found it open too late, unlicensed and with patrons stocked up and pumped up with illicit drugs.
A team from the Provincial Administration Department and other officials raided the 56 Arena Music Hall on Charoenrat Road in Bang Kho Laem district, south of the Sathorn district at 2.30am today.

Most of the estimated 800 customers headed straight for the back door when the lights went on but police still detained 114 people on suspicion of illicit drug use. ALL later tested positive for drugs.

200 small sealed plastic bags of crystal methamphetamine, 45 of ketamine and 9 of ecstasy were found scattered around the floor in various locations, including in the toilets.


"Ladies and gentlemen, sorry to interrupt your night, but…"
The Nation reports that detained patrons had to undergo a urine test, resulting in 78 men and 36 women showing signs of taking illegal drugs. Two were under 20, one under 18.

The authorities, under an NCPO decree 22/2558, are now considering shutting the place down for five years.

The owner, whose name has not yet been released, was charged with operating without a licence, selling alcohol beyond legal hours and to persons under 20, advertising alcohol, allowing entry to persons under 20, and allowing drug use on the premises.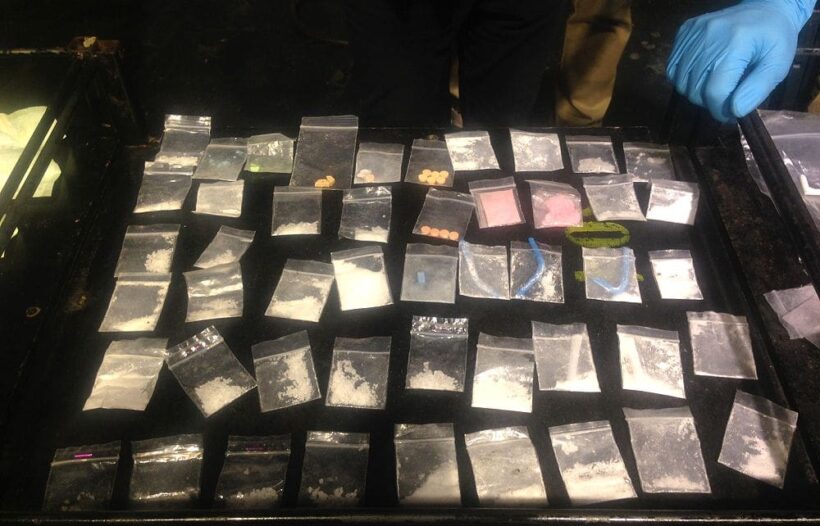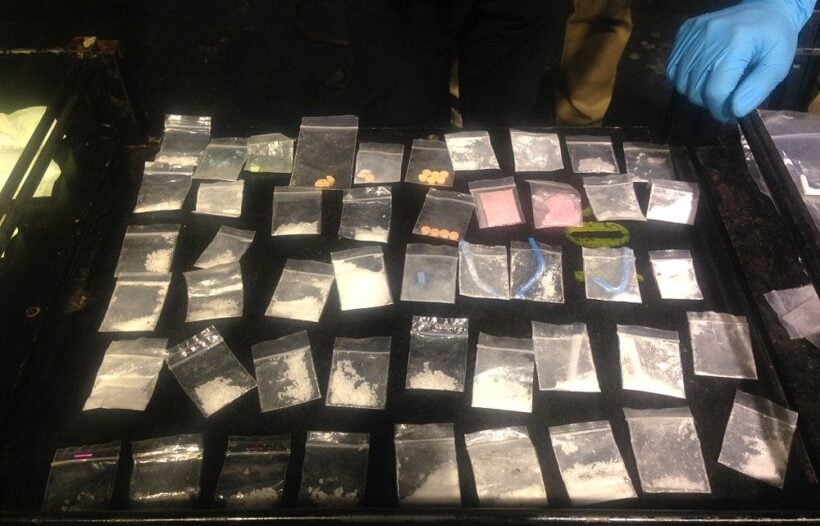 SOURCE: The Nation


Read more headlines, reports & breaking news in Bangkok. Or catch up on your Thailand news.
Counting continues today. Phalang Pracharat and Pheu Thai lead the way.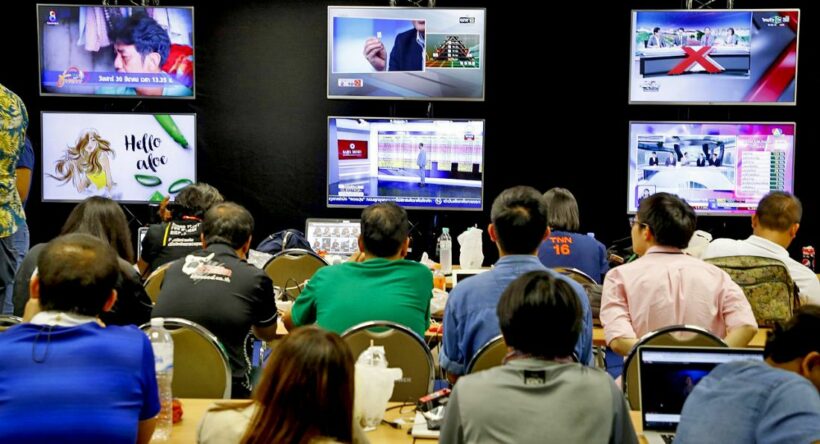 Pheu Thai and Phalang Pracharat were running neck-and-neck last night as ballots were counted around the country. The major parties swapped poll position as the night went on.
As of 10.30pm, with 92 per cent of the votes counted, the pro-junta Phalang Pracharat appeared to have beaten Pheu Thai with a total of 147 seats – 92 constituency MPs and 55 party-list. 
Pheu Thai came in a close second with 143 seats – 127 constituency MPs and 16 party-list – beating Phalang Pracharat in terms of constituency seats. 
Yet, when the ballot count hit 93 per cent, Pheu Thai had moved forward with 153 seats, while Phalang Pracharat ended with 142 seats. 
Results for the rest of the parties on the third to fifth place did not vary much. 
Political newbies Future Forward made major inroads, becoming the third biggest party with 85 seats – 29 for constituency MPs and 56 for party-list. Future Forward appears to have won the most party-list seats.
Bhumjaithai came in fourth with 54 seats – 43 constituency MPs and 11 from party-list. The Democrats had a dismal showing in the election and failed to make an impact on voter's minds. Democrat leader Abhisit announced his resignation at 9.50pm.
Democrats won no seats in its stronghold of Bangkok. Of all 30 districts, 11 went to Pheu Thai, PPRP won another 10 and Future Forward won the remaining nine. Future Forward, in their first outing as a new party, were the big surprise of the evening.
UN election monitors spread across Bangkok and beyond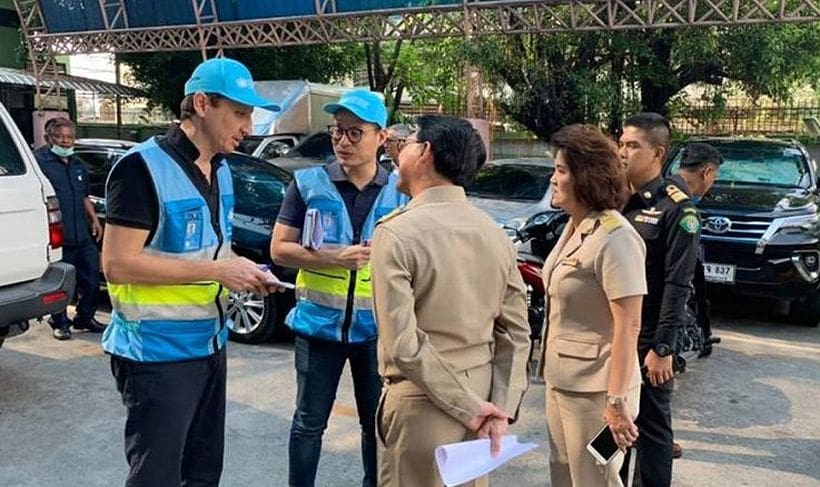 PHOTOS: The Nation
Foreign observers representing the United Nations have fanned out across the capital and its outskirts today to monitor the long-delayed election. Today's national election, the first since 2011, is also the first since the military-backed NCPO seized power in May 2014.
Four four-member teams wearing pale-blue vests were assigned to polling stations in Bangkok, Nonthaburi and Pathum Thani to monitor the electoral process, according to a UN official.
The EC briefed representatives of election commissions from Australia, Bhutan, Cambodia, Malaysia, Maldives, Myanmar, Indonesia, Philippines, South Korea, East Timor, and Vietnam at the Rama Gardens Hotel in Bangkok at 9.45am yesterday morning.
Representatives of the International Institute for Democracy and Electoral Assistance also attended yesterday's session.
EC secretary general Jarungwit Phumma told the representatives that the EC welcomed them to observe tomorrow's election.
Jarungwit says the EC allowed the representative to monitor the election to show that the polls would be transparent, clean and fair so that the international community would have confidence in the next government.
The teams are watching for any issues that might occur as citizens freely exercise their democratic rights in today's poll. Polls close at 5pm today around the nation and the alcohol ban extends through to 6pm tonight.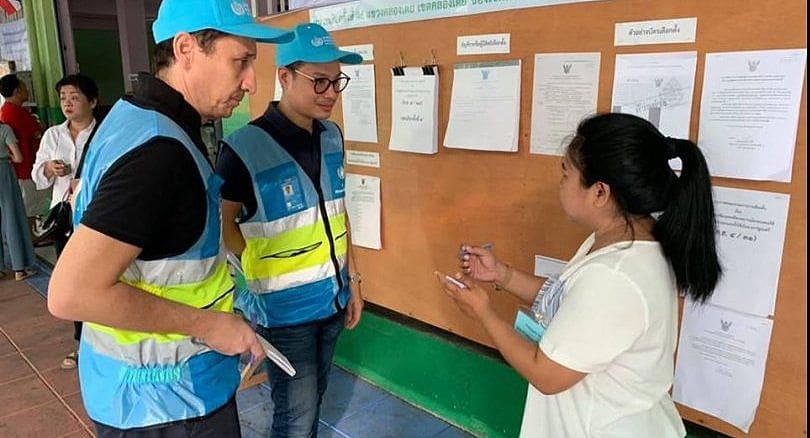 Summer storms on the way for north, north-east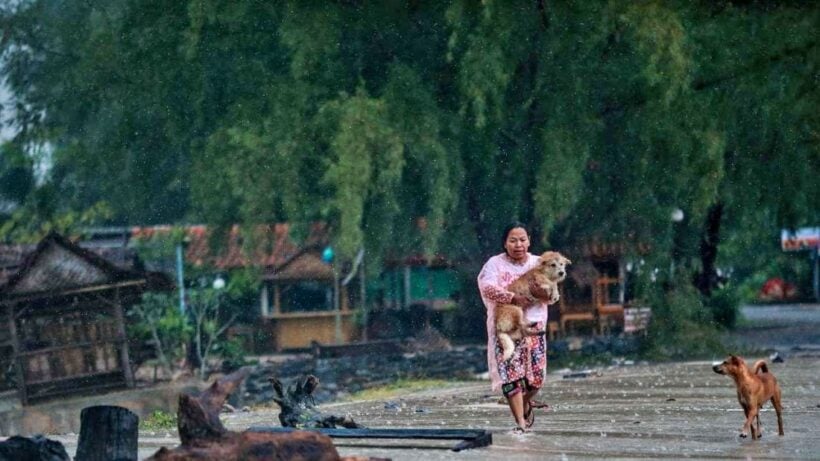 FILE PHOTO
People living in the north of Thailand are being warned to brace themselves for some summer thunderstorms until Wednesday. The Meteorological Department issued an alert today saying the storms will be caused by a high-pressure system from China that will interact with the hot weather over upper Thailand.
Outbreaks of summer thunderstorms will be likely from today to March 27. Thundershowers, gusty winds and hail are possible first in the Northeast and the East then the Central, and the North region.
Are you affected?
March 23-24
North: Kamphaengphet, Phitsanulok, Phichit and Phetchabun.
Northeast: Nong Bua Lamphu, Sakon Nakhon, Nakhon Phanom, Udon Thani, Buri Ram, Surin, Si Sa Ket and Ubon Ratchathani.
Central: Nakhon Sawan, Chai Nat, Lop Buri and Saraburi.East: Nakhon Nayok, Prachin Buri, Sa Kaeo and Chachoengsao.
March 25-27
North: Kamphaengphet, Phitsanulok, Phichit and Phetchabun.
Northeast: Nong Bua Lamphu, Udon Thani, Khon Kaen, Loei, Chaiyaphum, Nakhon Ratchasima, Buri Ram, Surin, Si Sa Ket and Ubon Ratchathani.
Central: Uthai Thani, Nakhon Sawan, Chai Nat, Lop Buri, Saraburi and Phra Nakhon Si Ayutthaya including Bangkok and its vicinity.
East: Nakhon Nayok, Prachin Buri, Sa Kaeo and Chachoengsoa.
SOURCE: The Nation