New rules for Royal road motorcades around Thailand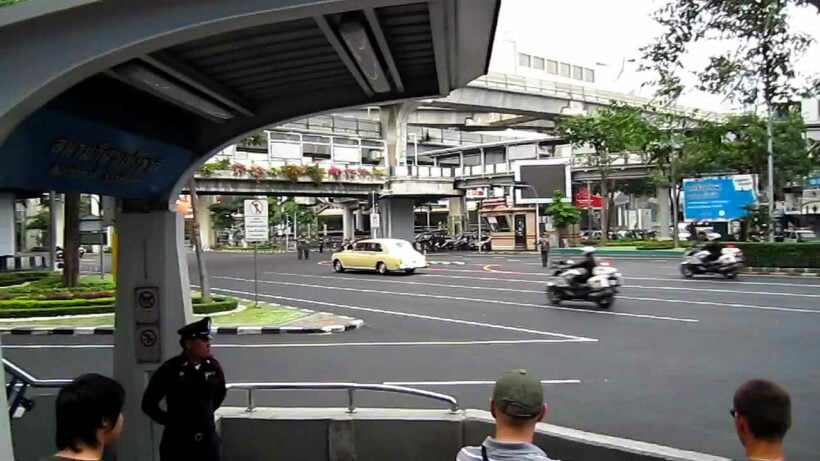 His Majesty King Maha Vajiralongkorn has expressed concern about the motorcades of Royal Family members inconveniencing public road users. Around Thailand, when a member of the Royal Family travels by road, the roads are routinely closed off and hundreds of police stationed along the well-planned route to hold off traffic until the motorcade has passed through.
Now HM The King has ordered the Royal Thai Police to come up with new rules for the royal motorcades that would prioritise public traffic and cause less inconvenience. Whilst there has been no ground swell of angst from the public over the Royal motorcade road closures, His Majesty has been proactive in relieving any potential problems as more traffic heads out onto Thai roads every day.
The Royal Thai Police have responded by announcing 10 new rules regarding royal motorcades…
1 No traffic lanes will be closed to facilitate royal motorcades in the future
2 On the motorcade route, traffic lanes will be divided into a motorcade lane while the rest will remain public lanes, using dividers as traffic cones, lighting signs, intelligent signs, etc.
3 The lanes on the opposite side of the motorcade route will remain open as usual. If the road does not have a street island, dividers such as traffic cones will be deployed to ensure public safety.
4 Traffic lanes merging into the motorcade route at a junction will be open as usual, using traffic cones to guide traffic flow
5 U-turn bridges and crossing bridges that fly over the motorcade route will be open as usual
6 At toll booths, only two rightmost lanes will be reserved for the motorcade, while the rest will be open to public vehicles. Traffic cones will be deployed on the left lanes to guide public vehicles into and out of the booths.
7 No one will be forced to change direction at junctions and crossroads along the motorcade routes. The public's intention to use the roads in their original direction must be preserved as a priority
8 Traffic cones and lighting signs must be deployed in a suitable place that does not result in loss of traffic lanes or causes the public inconvenience
9 Consider employing appropriate public relations measures to notify road users of optimal routes with the highest convenience and safety
10 Police commanders of all levels must supervise the route administration in person and make sure to use suitable manners and speech when addressing the public to avoid causing them to feel being forced or limited in their transport routes.
SOURCE: The Nation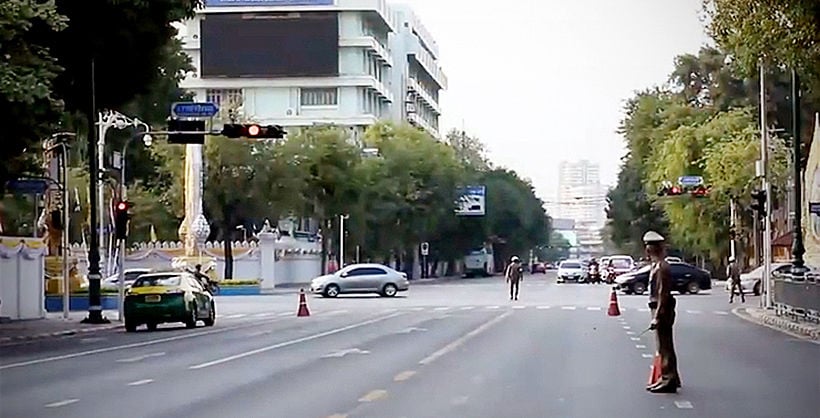 Keep in contact with The Thaiger by following our
Facebook page
.
Never miss out on future posts by
following The Thaiger
.
18 Bangkok motorbike taxi drivers get prison for 2019 mass brawl killing a bystander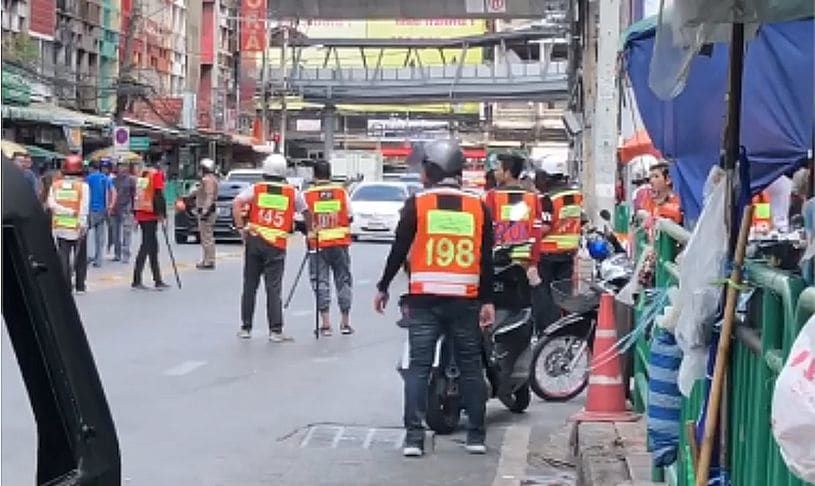 18 motorbike taxi drivers are sentenced to prison for their involvement in a mass street fight in June 2019 where a bystander was killed by a stray bullet. Bangkok's Prakhonong Court handed down prison sentences ranging from 5 years to more than 27 years, according to Thai media.
The fight broke out between two gangs of win drivers, named by Thai media as Soi 1 and Soi 2, on Soi Udomsuk 1 in Bangkok's Bang Na district. Around 50 to 60 drivers from Soi 1 attacked 20 to 30 drivers from Soi 2 with knives and other weapons, apparently because Soi 2 drivers, who were unregistered and operated without the proper orange identification vests, took customers away from the Soi 1 group.
A 20 year old Kerry Express courier, Weerawat Pheungkrut, was shot and killed when a stray bullet struck him in the left eyebrow. The drivers who were directly involved with the murder were sentenced to the longest prison terms, including leader of Soi 1 known as Pramuk. He was sentenced to 27 years and 10 months in prison and ordered to pay a 5,000 baht fine as well as 280,000 baht in compensation with a 7.5% yearly interest.
Other drivers with high prison sentences and also ordered to pay 280,000 baht in compensation with a 7.5% yearly interest:
Best was sentenced to 27 years in prison and ordered to pay a 5,000 baht.
Am was sentenced to 25 years in prison and ordered to pay a 5,000 baht fine.
X was sentenced to 24 years and 6 months in prison and ordered to pay a 2,500 baht fine.
Drivers with lower prison sentences:
Beer was sentenced to 6 years and 8 months in prison and ordered to pay a 6,666 baht fine.
Too, Nui, Bank, Fluke, Mai, Tam and Moo and Jack were sentenced to 5 years in prison and ordered to pay a 5,000 baht fine.
Oo, Nott, Bank and Ae were sentenced to 4 years and 6 months in prison and ordered to pay a 5,000 baht fine.
SOURCE: Thai Visa
Catch up with the latest daily "Thailand News Today" here on The Thaiger.
Keep in contact with The Thaiger by following our
Facebook page
.
Never miss out on future posts by
following The Thaiger
.
Suvarnabhumi expansion being reviewed in line with "new normal" expectations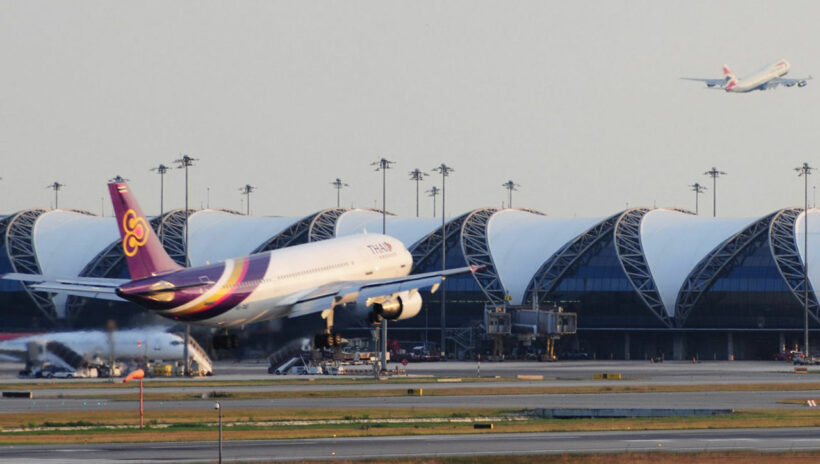 The 44 billion baht northern expansion of Bangkok's Suvarnabhumi airport is being revised, to meet "new normal" requirements, according to Airports of Thailand. AOT president, Nitinai Sirismatthakarn, says the process will take 1 or 2 months to complete.
Nation Thailand reports that the airport's new northern terminal will have the capacity to handle 30 million passengers a year, with Nitinai remaining optimistic about a return to normal figures next year. He says the availability of effective Covid-19 vaccines should fuel a return to normality, with passenger traffic at Suvarnabhumi eventually reaching pre-Covid numbers of 65 million in 2023.
He adds that the Satellite Terminal 1 should be completed in 2022, with plans also being drawn up to extend the airport's existing terminal east and west. The Satellite Terminal 1 is expected to increase the airport's capacity by an additional 15 million passengers a year.
SOURCE: Nation Thailand
Keep in contact with The Thaiger by following our
Facebook page
.
Never miss out on future posts by
following The Thaiger
.
Protest planned for courthouse tomorrow as verdict on PM's residence expected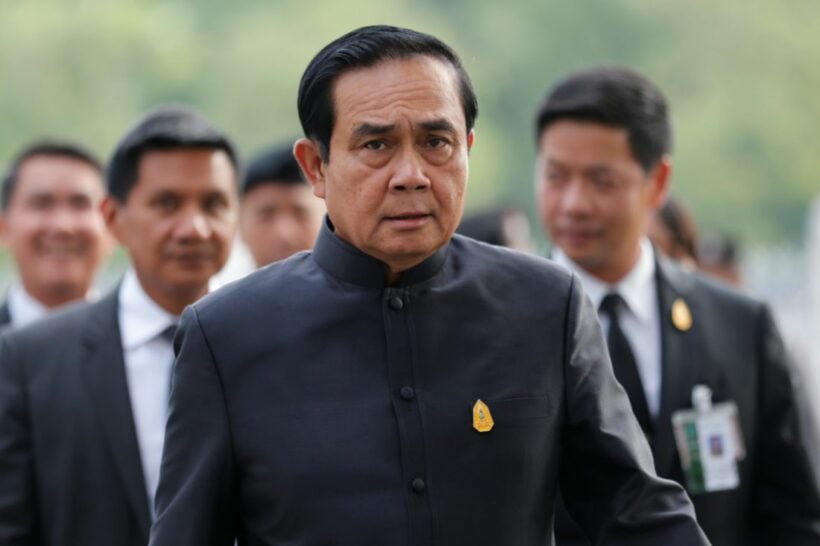 The Ratsadon (People's Party) movement is planning a protest outside the Constitutional Court tomorrow as a verdict is handed down in relation to PM Prayut Chan-o-cha's occupancy of a military residence, despite his retirement from the army. The ruling is expected at 3.00pm tomorrow and comes as a result of a petition lodged by opposition MPs in March, in which the PM was accused of a conflict of interest as a result of his residence.
Members of the Pheu Thai Party are leading the charge, claiming the PM should have moved out of the accommodation at the time of his retirement in 2014. For his part, the PM says he'll move out if the court rules against him, insisting his occupancy of the military residence is not an abuse of power. According to a report in the Bangkok Post today, the military says the property has been re-classified as a "visitor's house" and says it was provided to the PM for security reasons.
Wirat Ratana­sate from the ruling Palang Pracharath Party says members have not yet discussed a list of potential replacement candidates, should the court's ruling go against the PM. Were that to happen, it would mean the end of his term as leader and the end of his current cabinet. Wirat remains optimistic however, that the court will find in the PM's favour.
"We may have to discuss the matter with coalition parties. Still, let's wait for the court's ruling. Don't jump to any conclusion that there will be a political accident. The outcome may turn out to be good."
Meanwhile, authorities in Bangkok say they're ready to handle tomorrow's planned protest outside the courthouse. Pakkapong Pongpetra from the Metropolitan Police Bureau says officers have devised a number of security measures to maintain order during the rally and ensure events inside the courtroom can proceed as normal.
His statement comes as Ramate Rattanachaweng from the Democrat Party issues a warning to anti-government protesters that pressurising the court could lead to charges of contempt of court. He is calling on them to cancel tomorrow's gathering.
Meanwhile, members of the opposition say they're confident the court will rule against the PM, with the legal chief of the Pheu Thai Party, Chusak Sirinil, saying the designation of "visitor's house" does not indicate a permanent residence.
"A visitor's house is for temporary stays of 7 to 10 days, not forever."
Prasert Chantararuangthong, also from Pheu Thai, dismisses the army's explanation that the PM needs to live in a military residence for security reasons, pointing out that the army is not responsible for prime ministerial security. Meanwhile, fellow Pheu Thai MP, Arunee Kasayanont, suggests the PM should pay attention to what the people are demanding and resign immediately, regardless of the verdict.
"General Prayut can make a graceful exit by resigning before December 2 and thus respond to the demand of demonstrators."
SOURCE: Bangkok Post
Keep in contact with The Thaiger by following our
Facebook page
.
Never miss out on future posts by
following The Thaiger
.