Junta warned to be careful targeting rivals with petty litigation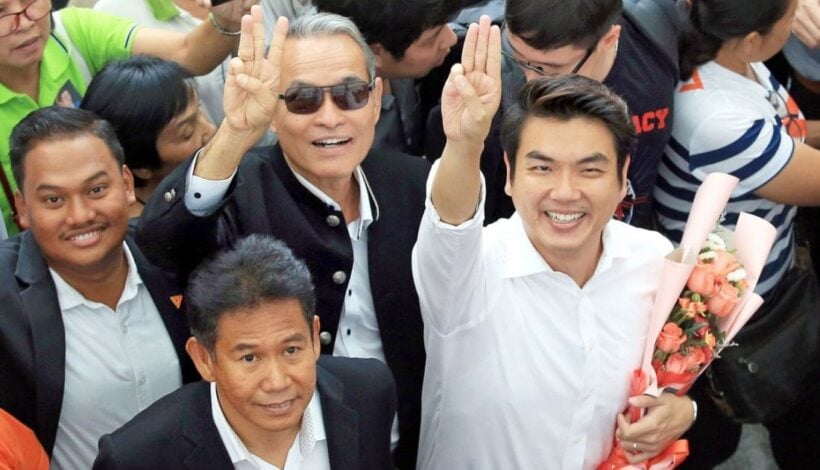 PHOTO: Piyabutr Sangkanokkul reports to police yesterday using the, now popular, anti-government three-finger salute – The Nation
by Kai Chanwanpen
While members of pro-democracy parties continue to be targeted with politically-motivated lawsuits, a political scientist is warning this tactic of eliminating political rivals through trivial matters of law could backfire and lead to a legitimacy crisis down the track.
In the latest case, the Future Forward Party secretary-general Piyabutr Sangkanokkul yesterday acknowledged the charges pressed against him by the ruling NCPO, whose chief is a prime ministerial candidate after the March 24 election.

"Seeking advantage over rivals is common in politics. But this cannot be without consequences. They could face questions of legitimacy even if they successfully conspire to attain their goal," said Attasit Pankaew, a political expert from Thammasat University.

"All the unfairness that can be seen right now will lead people to question if Piyabutr would have been hit with a lawsuit if he were not so popular in the election."

The pro- and anti-junta blocs have been going after each other since the election with politically motivated, and mostly relatively petty, lawsuits.

But when the court was petitioned to seek the disqualification of junta chief Prayut Chan-o-cha as a prime ministerial candidate because he was a public servant, the ruling went in favour of the incumbent.

While these kinds of political challenges are common around the world, Attasit said that public sentiment could play a major role in making any change.

"It's how the public responds to the treatment that could improve this culture," he said.

"Meanwhile, the authority has to provide an explanation and ensure that the due process of law is followed without victimising political rivals."

Piyabutr has been charged with contempt of court and breaching the computer crime law for reading out a statement in relation to the dissolution of Thai Raksa Chart Party in February.

Piyabutr, a former law lecturer at Thammasat University, yesterday denied the charges. He insisted on his innocence, saying as a law scholar the criticism was meant as an academic comment and that he believed in the justice system.

"The chief of the NCPO is the PM candidate of a political party, which was a rival of Future Forward Party in the election and he has assigned an official to prosecute me for contempt of court," he said.

"Let me make an observation: the judicial branch is a part of the sovereign state and cannot escape criticism, especially the Constitutional Court which rules on political conflicts and whose judgement is likely to be scrutinised," Piyabutr told reporters.

"Disagreement with a court judgement is not a crime."

SOURCE: The Nation


Read more headlines, reports & breaking news in Bangkok. Or catch up on your Thailand news.
IKEA Thailand launches full online store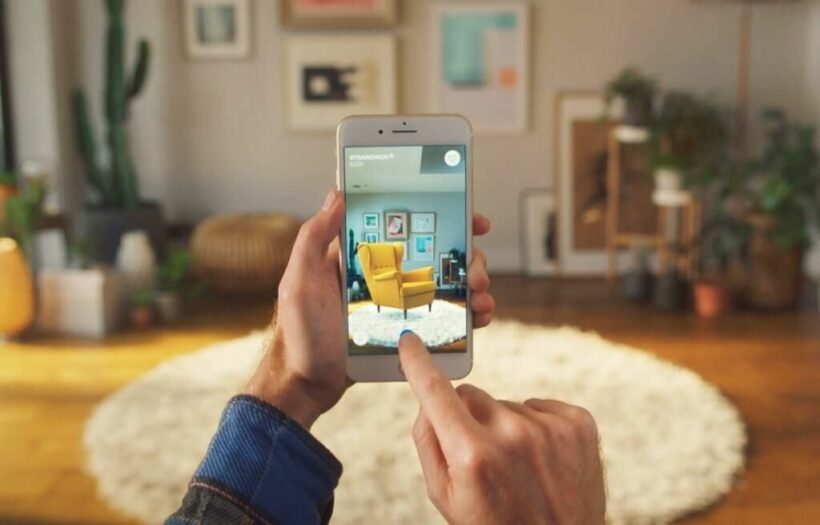 "…it took IKEA about two years to study the market demand, develop the infrastructure, and prepare everything before launching their e-commerce service in Southeast Asia."
by Kwanchai Rungfapairsarn
IKEA Thailand has announced the official launch of its IKEA Online Store as it gets set to better provide for individual customers across the Kingdom.
IKEA Thailand say the seamless online shopping experience will offer the same journey and impression customers get when they visit a physical IKEA store.
"We see the potential – it is a potential in Thailand for IKEA. We have only been accessible within Bangkok so far, and now we will be accessible for people from across the country," Lacia Sherlock, the deputy retail manager for Thailand, Singapore and the Philippines, said.
"The delivery prices need to be affordable and all the services need to be accessible for consumers living outside of Bangkok, so that they are able to get the assembly or whatever they need."
IKEA has developed the full e-commerce platform for modern shoppers providing a convenient channel to access it products and inspirations, 24 hours a day and from anywhere in Thailand.
Sherlock said it took IKEA about two years to study the market demand, develop the infrastructure, and prepare everything before launching their e-commerce service in Southeast Asia.
"We aim to provide an impressive online shopping experience similar to the shopping experience customers get when visiting our physical stores. The online store has been available in Singapore and Malaysia within Southeast Asia."
"We are pleased to now be able to provide this access to Thais. We have been wanting to do this for a long time, along with providing them with a superior experience and inspiration through both of our two Bangkok stores," said Sherlock.
IEA soft-launched its e-commerce service in Thailand on March 26 in order to test the system and procedures and ensure they were fully functional before yesterday's official launch.
"We are looking at achieving 17,000 online orders this year. We believe that the IKEA Online Store will help strengthen IKEA Thailand and drive sustainable growth, as our popular in-store shopping experience is complemented by our new online offering."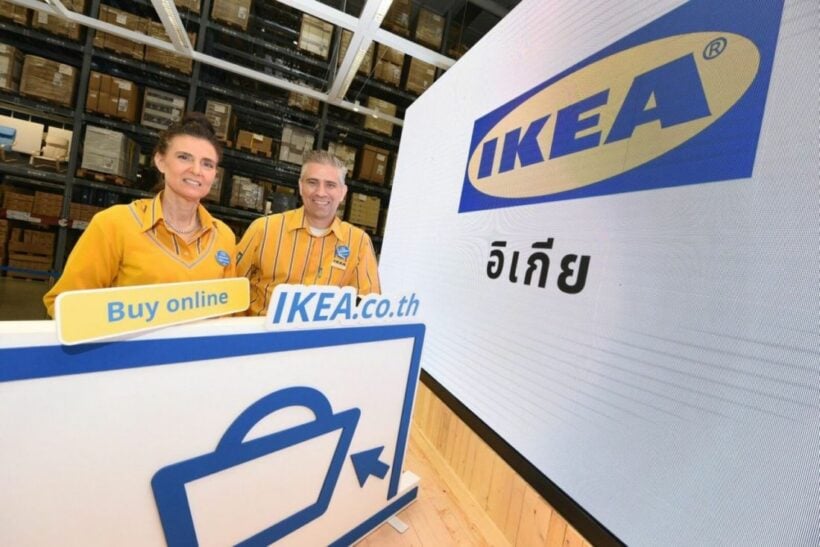 PHOTO: The Nation
Thanathorn is able to attend this afternoon's opening of Parliament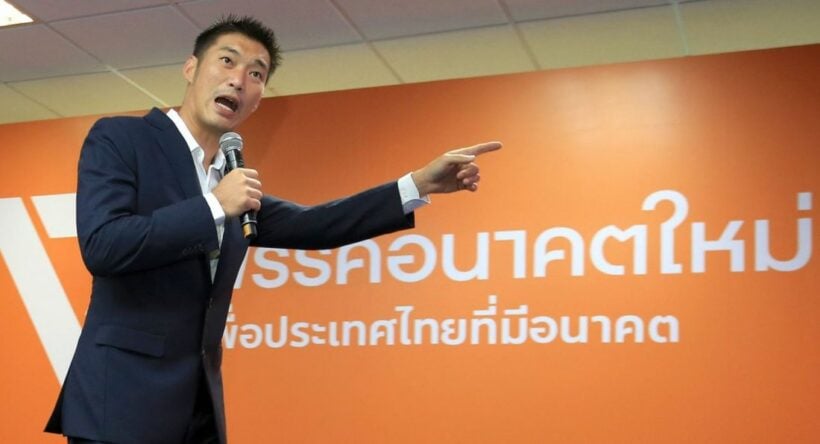 PHOTO: Future Forward party leader Thanathorn Juangroongruangkit, heading to the opening of Parliament today?
Future Forward party leader Thanathorn Juangroongruangkit has been told he can attend the opening of parliament today by His Majesty the King in the conference hall of the Ministry of Foreign Affairs.
But the 41 year old leader of Future Forward is yet to confirm his attendance after being told yesterday he would not be able to be part of the opening proceedings.
Sorasak Pienwech, the secretary-general of the House of Representatives, says his office is yet to receive a formal order from the Constitutional Court temporarily suspending Thanathorn's parliamentary membership so, as far as they're concerned, he is still a member of parliament and is permitted to attend today's opening at 3pm.
The Constitutional Court voted 8:1 yesterday to suspend Thanathorn's parliamentary membership after it unanimously voted to accept the Election Commission's media share ownership case against him.
As for the meeting of MPs tomorrow, in the conference hall of TOT Company on Chaengwattana road, he said Thanathorn can attend because he has not yet taken an oath as constitutionally mandated.
After the oath-taking ceremony, however, he will have to stop performing his duties as an MP and will have to leave the meeting, according to Mr. Sorasak.
Informed sources said that Mr. Pornpektch Wichitcholachai, former president of the junta-appointed National Legislative Assembly, will be nominated as the only candidate and he is likely to be elected the Senate speaker because of his close connection with the junta, especially Prime Minister Prayut Chan-o-cha.
SOURCE: Thai PBS
Vendors shuffled off Bangkok footpaths to make way for motorbikes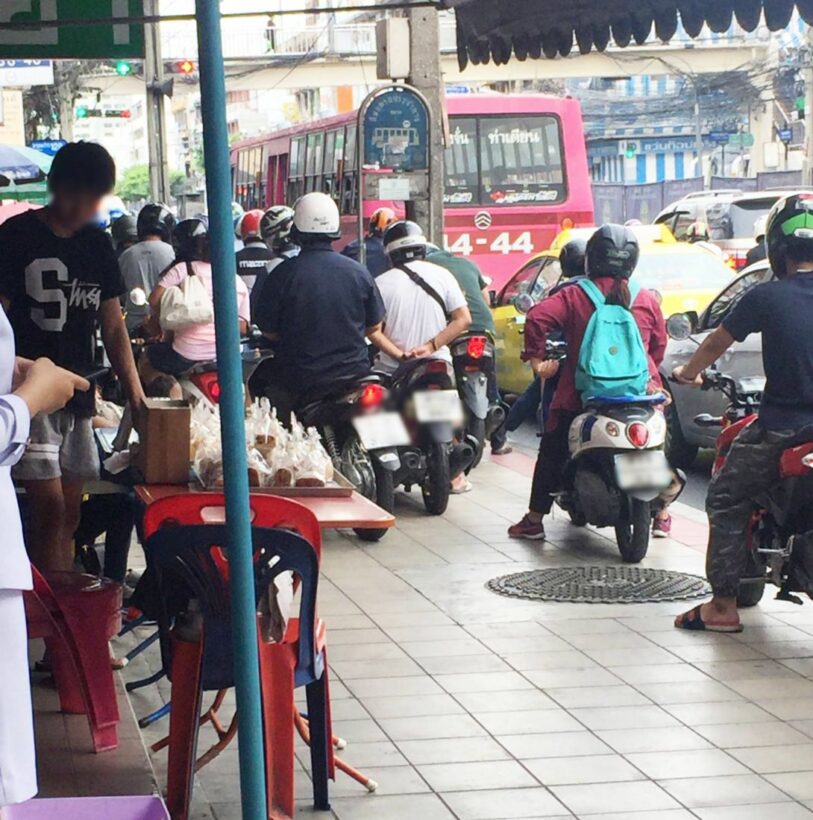 PHOTO: Daily News
Motorcyclists are brazenly flouting the law after a recent picture on the Facebook site of JS 100 Radio showed a 'traffic jam' on the footpath at Lat Prao Soi 101 in Bangkok.
Pedestrians were unable to get through as the motorcycles crowded the walkways, according to the post.
Daily News was slamming the riders for their behaviour. Comments responding to the pictures saying that vendors had been cleared from the capital's sidewalks only for motorcycles to increasingly take over and bring more headaches to pedestrians.
Some even complained about police seen riding on the sidewalks of Bangkok as well as going the wrong way against traffic.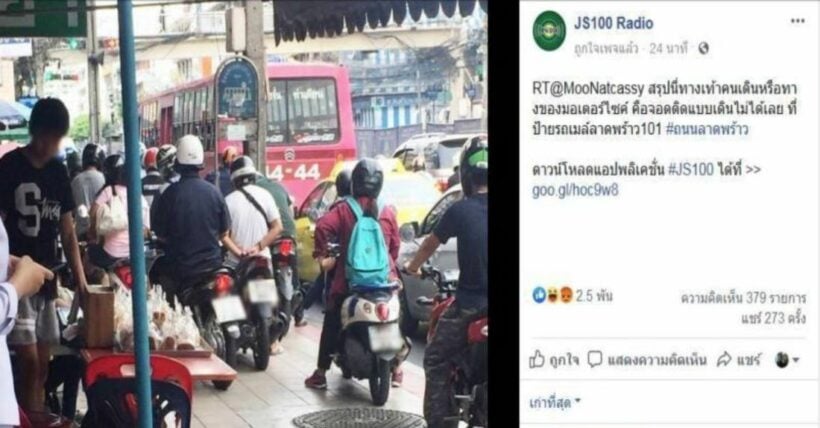 SOURCE: Daily News