"The Thai military wants us dead" – Phuket Seastead owner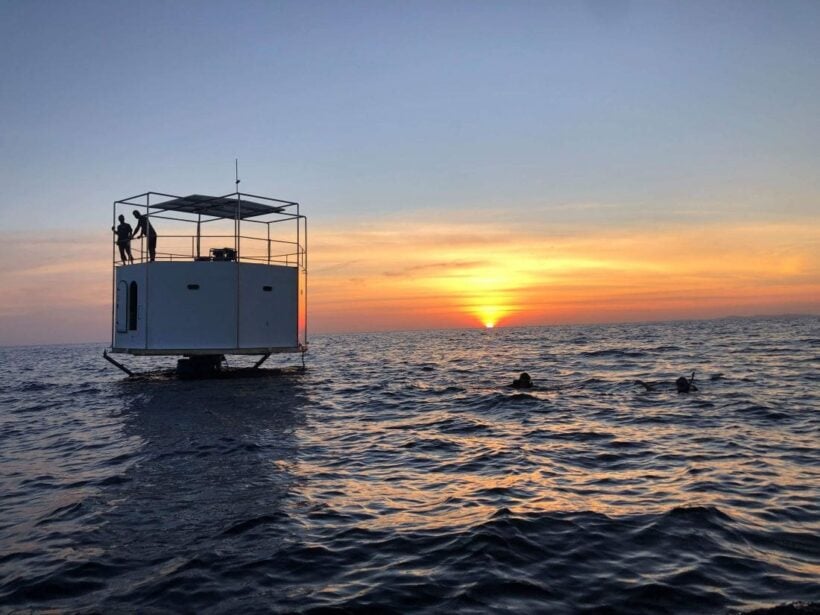 American Chad Elwartowski and his Thai partner, Nadia Supranee Thepdet, say they are on the run from police in Thailand after the government has accused the couple of trying to lay claim to Thai maritime territory with their 'seastead', a maritime house considered to be a permanent dwelling at sea off Phuket.
The 'seated' is located to the south east of Koh Racha Yai, approx. 12 nautical miles off the mainland.
Chad says he fears for their lives and are now in hiding.
Chad told 7 Action News in Detroit reported… "The Thai military wants us dead," in an email communication.
"The way things work here in Thailand is that they set the narrative in their media then execute it. The narrative is that we are a threat to national security and we face life in prison or death. They did not want us to survive to get our side out."
Chad is a graduate of Michigan State University, was an IT specialist for the US government and is now semi-retired after being a successful early adopter and investor in Bitcoin.
Chad says the couple had been living on the seastead on and off for about two months.
Chad's sister, Nancy Elwartowski-Cooper says she feels sick over the whole issue.
"I just want him home," she told 7 Action News.
One of Chad's longtime friends, Matt Francisco, said everything seemed fine with Chad earlier this week with his light-hearted posts on Facebook.
"But then all of a sudden it changed to where he became a fugitive," Francisco said.
"It was like you were reading something out of a movie."
It's unclear where Chad and Nadia went after fleeing the seastead. But he said they needed help, asking for people to help them get in touch with top government officials in Thailand to "talk some sense into your military leaders," he wrote on his Facebook page.
"Someone high up in the U.S. that can help. I need to be able to go to the U.S. Embassy in Bangkok or some place near Phuket to get me out of the country. I need ideas for helping Nadia, a Thai citizen. She needs an embassy in Bangkok where she can seek asylum."
The seastead was built by Ocean Builders more than 12 nautical miles off the coast of Phuket in what the company claims is international water.
The Phuket Marine Department says they are going to demolish and remove the seastead from the Andaman Sea waters.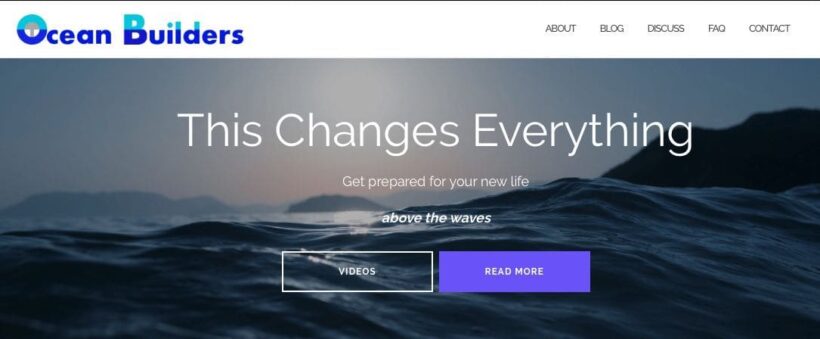 Ocean Builders had been eager to begin the process of building additional seasteads for others, but, at least for now, they've halted the project.
"Chad and Nadia are safe for now but understand that Thailand is currently being run by a military dictator."
In a video posted to Youtube by The Seasteading Institute in early March, Chad said, "They have a monopoly on land, but they don't have a monopoly on sea."
From Chad's Facebook page…
"Nadia and I did not design, construct or pay to have the seastead constructed. We promoted it and lived on it. We helped out by giving the builder updates and we participated in the launch. We did not decide where to put the seastead.
"We are enthusiastic supporters of the project who were lucky enough to be the first ones to stay on it. Hunting us down to our death is just plain stupid and highlights exactly the reason someone would be willing to go out in middle of the ocean to get away from governments."
Here is a statement posted by Ocean Builders, reprinted in the interests of accurate reporting (edited only for spelling errors). The views expressed are those of the writers of the website article…
We at Ocean Builders would first like to thank all of the people who have sent their support and help. We do appreciate it.
It has been reported that the first seastead, XLII, has been or is in the process of being demolished by the Thai navy. It is also being reported that our first residents, Chad Elwartowski and Nadia Summergirl are being held responsible for building the seastead and putting it in its current location.
Nothing could be further from the truth. Chad and Nadia were volunteers excited about the prospect of living free. They took pictures and videos of the whole process and posted it on social media. They spent a few weeks on the seastead and documented their adventure.
They were in no way involved in the design, construction, decision on where it was located or any funding for the construction of the seastead.
The team surrounding the project were early adopters of bitcoin, and with wealth acquired that way it has spent around US$150,000 on the project.
Other news articles took this to mean that Chad Elwartowski funded the project because he was also an early adopter of bitcoin. Chad did not spend any of his own money on the project other than perhaps some sheets for the bed and he brought all of his own kitchenware when he moved in.
Chad and Nadia are safe for now but understand that Thailand is currently being run by a military dictator. There will be no trial if they are caught. They already demonstrated that by being judge jury and executioner of the historic very first seastead.
The reason Thailand was chosen was due to the large amount of tourism, its relatively calm seas and also because all of those involved love the Thai people and their culture.
It is claimed by the Thai navy through their media mouth pieces that the seastead is in a shipping lane. This makes it sound like there is heavy cargo traffic coming to Phuket.
If anyone knows Phuket, they have one cargo port that gets maybe one or two cargo ships a week. They also admit that the seastead is in international waters, at least 12 nautical miles from land. This would infer that they are 12 nautical miles from land on either side of the seastead which would put the shipping lane at at least 24 nautical miles.
The seastead is 6 metres wide. It has a very bright anchor beacon and has a registered AIS beacon which can be detected by any boat with any sort of navigation in the vicinity.
The area is a heavy fishing area with many many fishing boats trawling the water there daily. The fishing boat captains used to wave at Nadia and Chad as they passed by. They were in no way bothered by the floating home. The seastead takes up less space in the shipping lane than a fishing boat.
Needless to say. This event has doubled down our efforts and we can all clearly see that seasteading needs to happen now as tyranny creeps ever more deeply into our governments to the point that they are willing to hunt down a couple of residents residing in a floating house in middle of nowhere.
We hope this issue can be resolved diplomatically with the Thai government and are ready to talk to anyone in charge at any time. We have tried several times to talk to anyone but were always told that we have nothing to worry about because we are legally in international waters.
The April 15th sale of seasteads is to be postponed until we can get everything straightened out and figure out the best path forward for everyone.
SOURCES: WXYZ.com | ocean.builders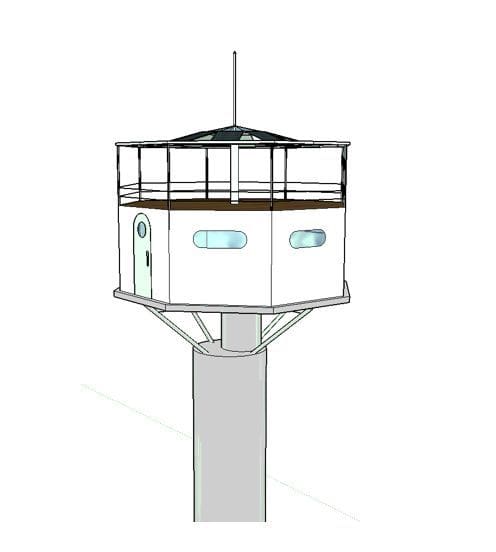 Keep in contact with The Thaiger by following our
Facebook page
.
2 killed after truck slams Phuket power pole – VIDEO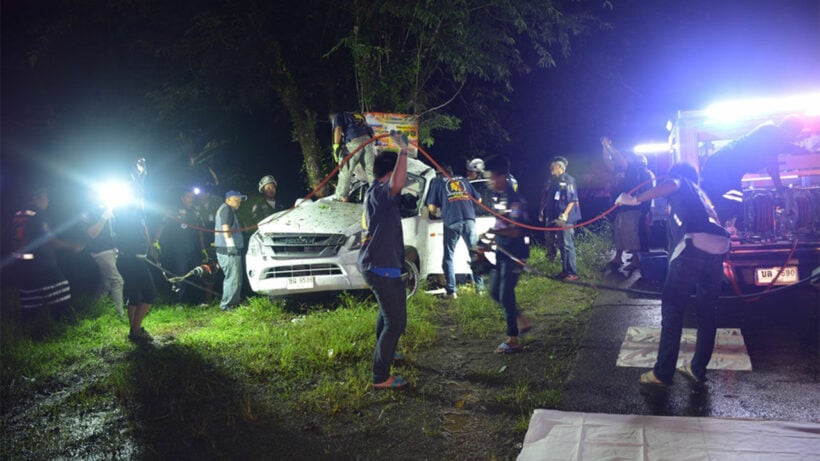 2 men are dead in Phuket after a truck slammed into a roadside power pole on the notorious Kata hill road, just out of Chalong yesterday. Police say the two men killed were a Thai and a Burmese national.
The deputy chief of Karon police says the accident occurred at about 4:50pm at the mouth of Soi Suksan 1 on Patak road – a windy section of road as it heads up the hill towards Kata Beach. The power pole fell across the road after being hit by the pick up truck, killing the man inside. He was identified as 31 year old Thanapon Prachit a native of Chaiyaphum province.
Another man, passing by on a motorbike, was seriously injured by the falling power pole. He was admitted to Chalong Hospital where but was pronounced dead. The passport found on him identified him as 28 year old Win Myo Hlaing from Myanmar.
The bodies of the victims were taken to Vachira Phuket Hospital for an autopsy.
SOURCE: Bangkok Post
Keep in contact with The Thaiger by following our
Facebook page
.
Two men die after truck plows into power pole in Phuket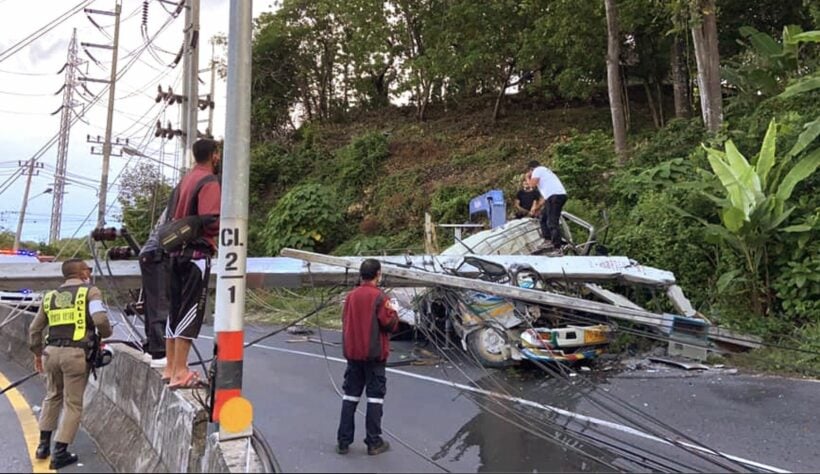 A Thai and Burmese man were killed after a work truck collided with a power pole on Kata hill, southern Phuket yesterday afternoon. The deputy chief of Karon police reported that the incident happened near the turn off onto Soi Suksan 1, on the Chalong side of the hill.
The power pole crashed on top of the truck as it fell, killing 31 year old Thanapol Prachit from Chaiyaphum province.
A 28 year old Burmese man was driving past at the same time and was also injured when the power pole fell. He was rushed to Chalong Hospital where he was later pronounced dead. His name was Hlaing Myo Win, according to the Bangkok Post.
The two bodies were transferred to Vachira Hospital and police are continuing their investigations.
SOURCE: Bangkok Post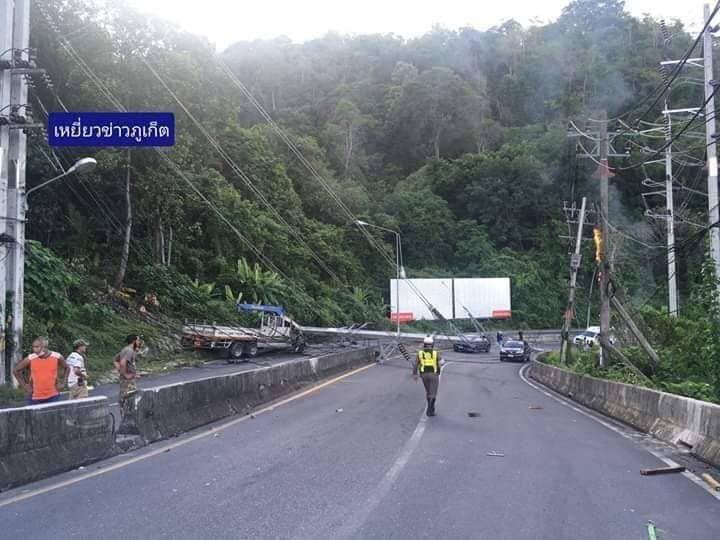 Keep in contact with The Thaiger by following our
Facebook page
.
Tourist and environment groups share concerns for new access piers for Maya Bay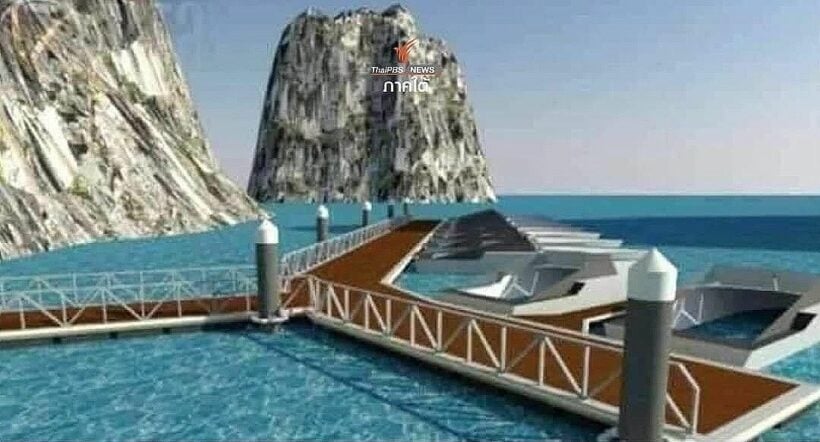 The Chairman of Krabi Tourism Industry Council has shared his concerns about new piers and landing facilities on Koh Phi Phi Ley after being made aware that the Department of National Parks had the initiative to build a pier so tourist can travel by foot to Loh Samah Bay area behind Maya Bay, Ao Nang Subdistrict, Muang District, Krabi.
Maya Bay remains closed to all visitors and access confined to boats passing by the entrance to the bay for a photo opportunity instead. The bay was attracting up to 6,000 people per day at the height of its popularity before authorities closed down access in June 2018.
The idea of the floating piers would allow tourists to disembark then walk from the rear of the island across raised boardwalks to arrive on the back of the beach. In the past tourists had arrived on boat and jumped ashore with the boats waiting either along the shore or anchoring in the bay.
Maya Bay was made famous in the 2000 movie "The Beach" with Leonardo diCaprio.
Even though Koh Phi Phi Ley, the smaller of the two Phi Phi islands, is in the Krabi province, most tourists accessed the island group from Phuket by either speed boat or scheduled ferry.
The Chairman says… "I am concerned about the impact on nature and the environment, where Loh Sama Bay is a dive site that consists of both shallow and deep corals, complete with beautiful, diverse species including soft corals, hard corals, sea anemones. Previously, tourists have consistently come to dive and inspect the beauty of coral reefs there."

A Koh Phi Phi conservation group consisting of tour operators and local villagers have also previously submitted a proposal to the Department of National Parks voicing their concerns about the construction of the new infrastructure.
Pankham Kittithornkul, Chief of Ao Nang sub-district, says that he and local villagers have come to a conclusion to proceed with the construction to service Maya Bay with the exception during low season, closing the famous bay for nature to recover.
"The Department of National Parks has closed off the area to preserve the wide life but there is no news of the reopening of the bay, causing local people to lose revenue."
"Previously the start of installation of the piers was recalled."
SOURCE: One31 | Phuket People Voice
Keep in contact with The Thaiger by following our
Facebook page
.