"The Thai military wants us dead" – Phuket Seastead owner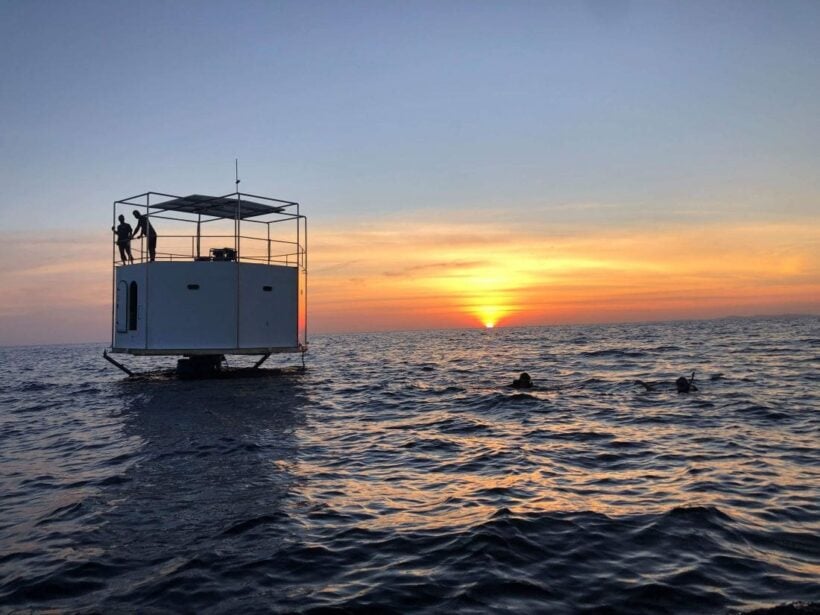 American Chad Elwartowski and his Thai partner, Nadia Supranee Thepdet, say they are on the run from police in Thailand after the government has accused the couple of trying to lay claim to Thai maritime territory with their 'seastead', a maritime house considered to be a permanent dwelling at sea off Phuket.
The 'seated' is located to the south east of Koh Racha Yai, approx. 12 nautical miles off the mainland.
Chad says he fears for their lives and are now in hiding.
Chad told 7 Action News in Detroit reported… "The Thai military wants us dead," in an email communication.
"The way things work here in Thailand is that they set the narrative in their media then execute it. The narrative is that we are a threat to national security and we face life in prison or death. They did not want us to survive to get our side out."
Chad is a graduate of Michigan State University, was an IT specialist for the US government and is now semi-retired after being a successful early adopter and investor in Bitcoin.
Chad says the couple had been living on the seastead on and off for about two months.
Chad's sister, Nancy Elwartowski-Cooper says she feels sick over the whole issue.
"I just want him home," she told 7 Action News.
One of Chad's longtime friends, Matt Francisco, said everything seemed fine with Chad earlier this week with his light-hearted posts on Facebook.
"But then all of a sudden it changed to where he became a fugitive," Francisco said.
"It was like you were reading something out of a movie."
It's unclear where Chad and Nadia went after fleeing the seastead. But he said they needed help, asking for people to help them get in touch with top government officials in Thailand to "talk some sense into your military leaders," he wrote on his Facebook page.
"Someone high up in the U.S. that can help. I need to be able to go to the U.S. Embassy in Bangkok or some place near Phuket to get me out of the country. I need ideas for helping Nadia, a Thai citizen. She needs an embassy in Bangkok where she can seek asylum."
The seastead was built by Ocean Builders more than 12 nautical miles off the coast of Phuket in what the company claims is international water.
The Phuket Marine Department says they are going to demolish and remove the seastead from the Andaman Sea waters.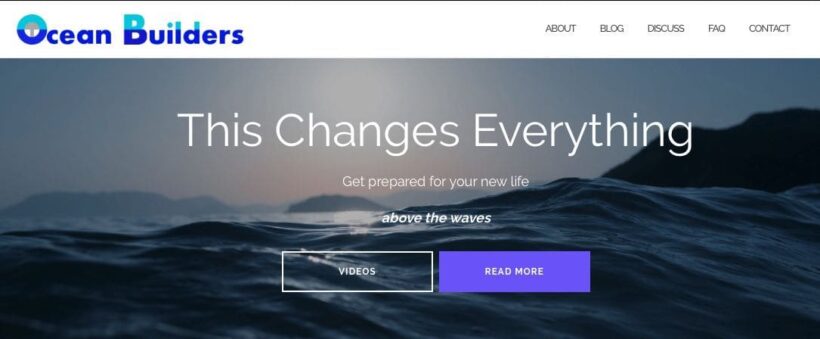 Ocean Builders had been eager to begin the process of building additional seasteads for others, but, at least for now, they've halted the project.
"Chad and Nadia are safe for now but understand that Thailand is currently being run by a military dictator."
In a video posted to Youtube by The Seasteading Institute in early March, Chad said, "They have a monopoly on land, but they don't have a monopoly on sea."
From Chad's Facebook page…
"Nadia and I did not design, construct or pay to have the seastead constructed. We promoted it and lived on it. We helped out by giving the builder updates and we participated in the launch. We did not decide where to put the seastead.
"We are enthusiastic supporters of the project who were lucky enough to be the first ones to stay on it. Hunting us down to our death is just plain stupid and highlights exactly the reason someone would be willing to go out in middle of the ocean to get away from governments."
Here is a statement posted by Ocean Builders, reprinted in the interests of accurate reporting (edited only for spelling errors). The views expressed are those of the writers of the website article…
We at Ocean Builders would first like to thank all of the people who have sent their support and help. We do appreciate it.
It has been reported that the first seastead, XLII, has been or is in the process of being demolished by the Thai navy. It is also being reported that our first residents, Chad Elwartowski and Nadia Summergirl are being held responsible for building the seastead and putting it in its current location.
Nothing could be further from the truth. Chad and Nadia were volunteers excited about the prospect of living free. They took pictures and videos of the whole process and posted it on social media. They spent a few weeks on the seastead and documented their adventure.
They were in no way involved in the design, construction, decision on where it was located or any funding for the construction of the seastead.
The team surrounding the project were early adopters of bitcoin, and with wealth acquired that way it has spent around US$150,000 on the project.
Other news articles took this to mean that Chad Elwartowski funded the project because he was also an early adopter of bitcoin. Chad did not spend any of his own money on the project other than perhaps some sheets for the bed and he brought all of his own kitchenware when he moved in.
Chad and Nadia are safe for now but understand that Thailand is currently being run by a military dictator. There will be no trial if they are caught. They already demonstrated that by being judge jury and executioner of the historic very first seastead.
The reason Thailand was chosen was due to the large amount of tourism, its relatively calm seas and also because all of those involved love the Thai people and their culture.
It is claimed by the Thai navy through their media mouth pieces that the seastead is in a shipping lane. This makes it sound like there is heavy cargo traffic coming to Phuket.
If anyone knows Phuket, they have one cargo port that gets maybe one or two cargo ships a week. They also admit that the seastead is in international waters, at least 12 nautical miles from land. This would infer that they are 12 nautical miles from land on either side of the seastead which would put the shipping lane at at least 24 nautical miles.
The seastead is 6 metres wide. It has a very bright anchor beacon and has a registered AIS beacon which can be detected by any boat with any sort of navigation in the vicinity.
The area is a heavy fishing area with many many fishing boats trawling the water there daily. The fishing boat captains used to wave at Nadia and Chad as they passed by. They were in no way bothered by the floating home. The seastead takes up less space in the shipping lane than a fishing boat.
Needless to say. This event has doubled down our efforts and we can all clearly see that seasteading needs to happen now as tyranny creeps ever more deeply into our governments to the point that they are willing to hunt down a couple of residents residing in a floating house in middle of nowhere.
We hope this issue can be resolved diplomatically with the Thai government and are ready to talk to anyone in charge at any time. We have tried several times to talk to anyone but were always told that we have nothing to worry about because we are legally in international waters.
The April 15th sale of seasteads is to be postponed until we can get everything straightened out and figure out the best path forward for everyone.
SOURCES: WXYZ.com | ocean.builders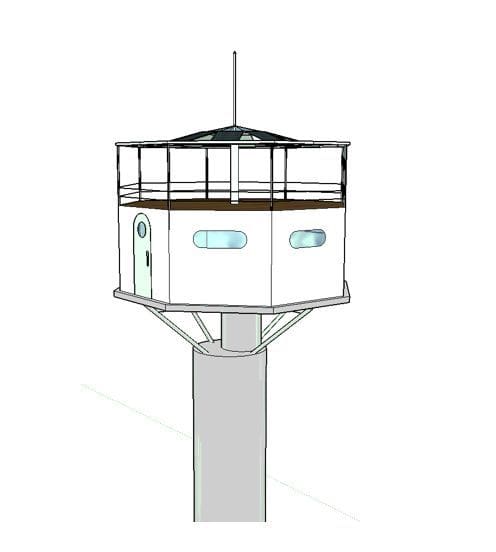 Read more headlines, reports & breaking news in Phuket. Or catch up on your Thailand news.
Two charged with attacking an ambulance and driver in Phuket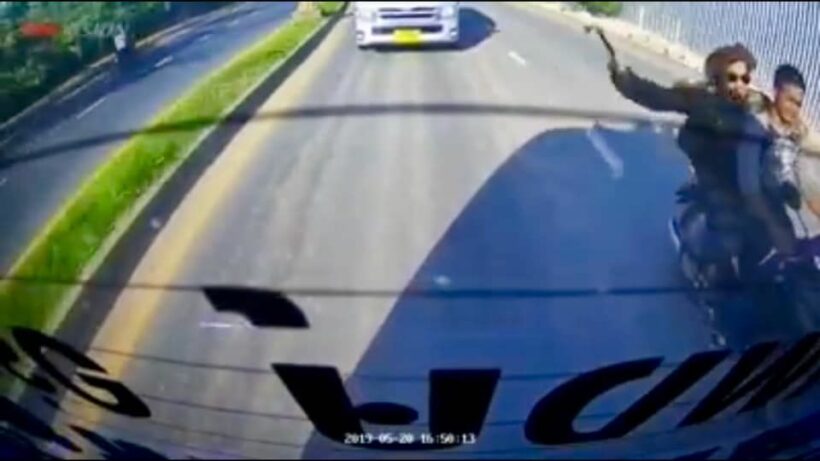 Two men were have been charged with attacking a moving ambulance and the volunteer ambulance driver along the ByPass Road in Phuket earlier this week.
The two assailants were easily identified as 22 year old Sagib Yomyai and 29 year old Sutthi Sripoon, both from Trang province, were arrested at a rented house in Tambon Wichit, Muang district, with an array of incriminating evidence that included a pistol, two bullets, a knife and an axe.
The pair were then taken for questioning in front of Phuket police chief Pol Maj General Wisan Panmanee.
The men were charged by police with damaging, or rendering useless, property belonged to another person, threatening another person and illegal possession of a gun.
The charges follow an attack on the ambulance with a knife and an axe as it was driving on Chalerm Phrakiat King Rama 9 road (ByPass Road) in Muang district on May 20.
The ambulance driver, 41 year old Detnarong Songsang, a lawyer by profession, told Wichit Police that the two men were on a Honda Wave motorcycle that chased after him after he beeped his horn at them for dangerously changing lanes near Siriroj Hospital at around 5pm on Monday.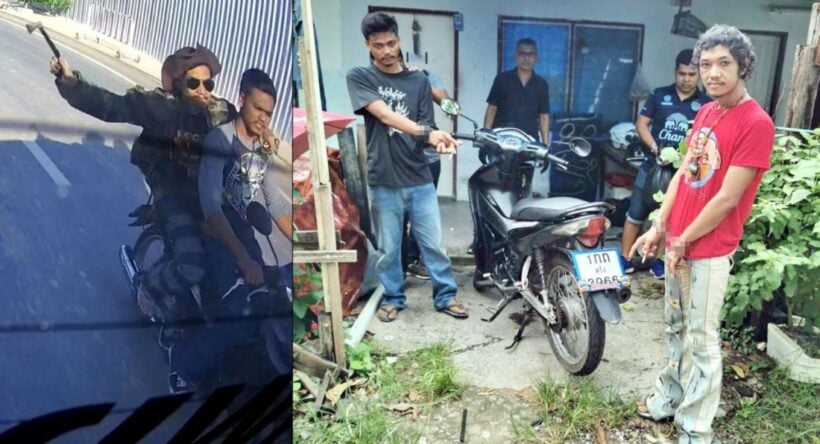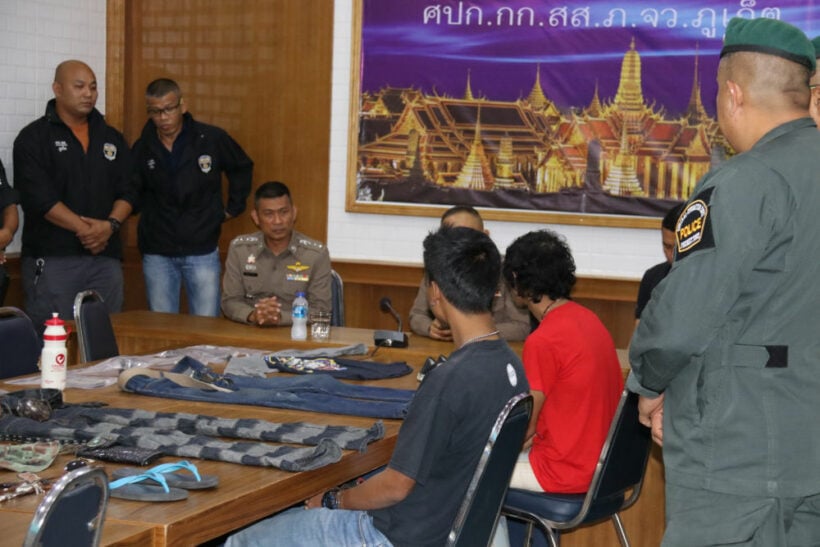 One of the men threw an object at the back of the ambulance and then tried several times to use a knife to pierce the ambulance's hood cover. They kept up the chase and then attacked the rear again, this time with an axe.
Detnarong accelerated to escape and luckily for him, the men spotted police on the road ahead, so they gave up the pursuit. He went straight to the police station to report the incident.
Damage estimated at 50,000 baht was caused to the back windshield of the ambulance, its two side windows and the hood cover. As police were still hunting the suspects, Detnarong posted a four-minute video clip and photo on to his Facebook account to help spread the news.
One reporter asked the driver why he didn't just drive them off the road, Detnarong said he was trained to save people and it was inappropriate to use an ambulance to cause harm.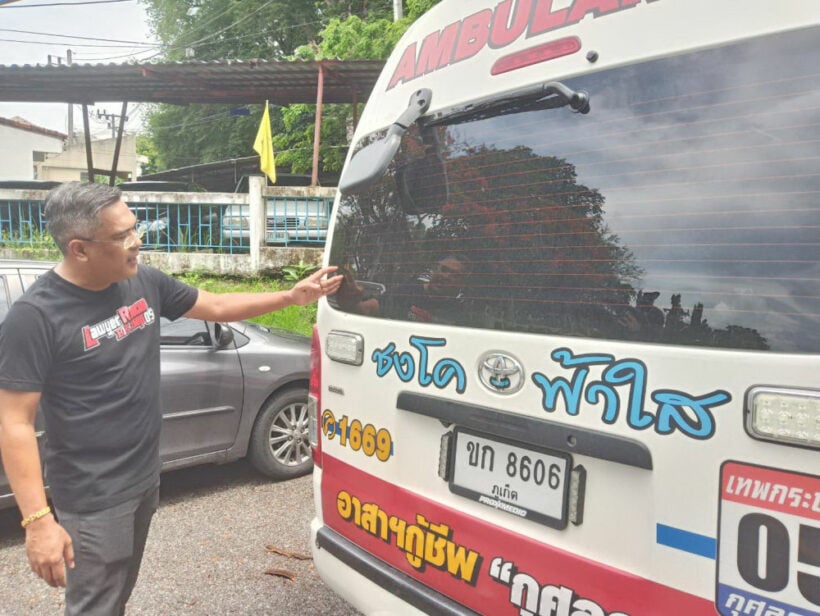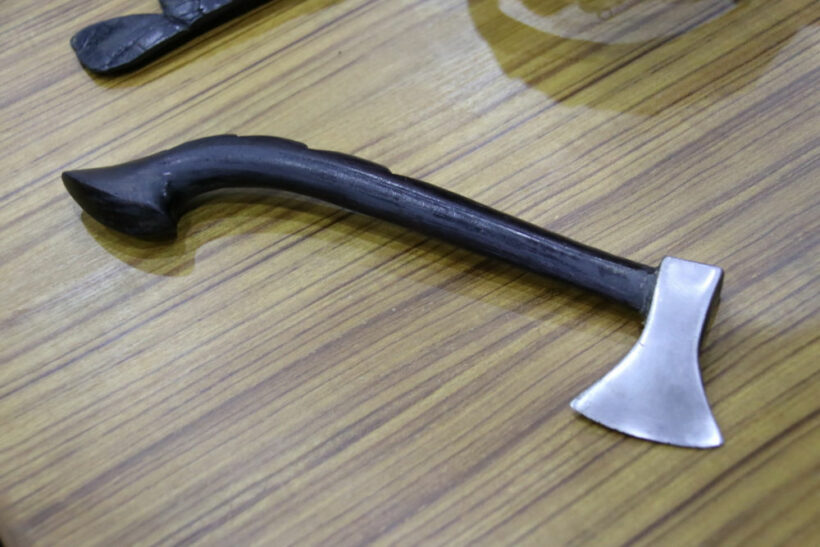 SOURCE: The Nation
No injury as trailer truck loses control in Phuket Darasamut Underpass – VIDEO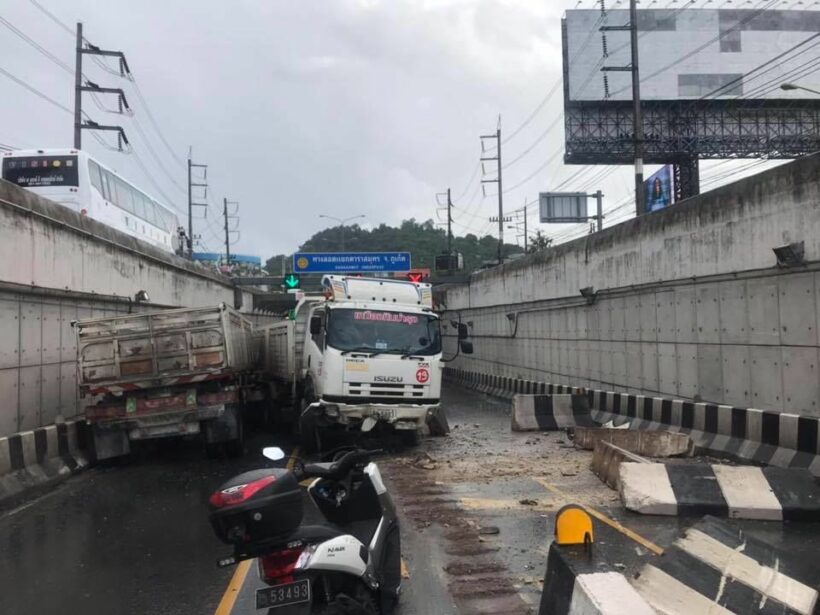 PHOTOS/VIDEO: Newshawk Phuket / อาสา ของ ประชาชน
A trailer has skidded and lost control, and then collided with concrete barriers at the southern entrance to the Darasamut Underpass this morning. No injuries were reported as a result of the incident.
Wichit Police were notified of the incident at 10am. Police and emergency responders arrived at the scene to find the damaged trailer truck and smashed barriers. Both lanes inside the underpass were blocked until the truck and debris could be removed.
Police checked CCTV footage showing that the truck was heading down into the underpass. The truck lost control after starting to skid sideways and smashed through the median barriers.
#ภูเก็ต #วินาที เกิดอุบัติเหตุอุโมงค์ทางลอดดาราสมุทร #Phuket #VIDEO 9.37am accident at the entrance of the Darasamut Underpass northbound. #NewshawkPhuket#NewsInPhuket #PhuketTraffic #PhuketUnderpass #accident #PhuketAccident #PhuketRoadSafety

Posted by เหยี่ยวข่าว ภูเก็ต on Wednesday, May 22, 2019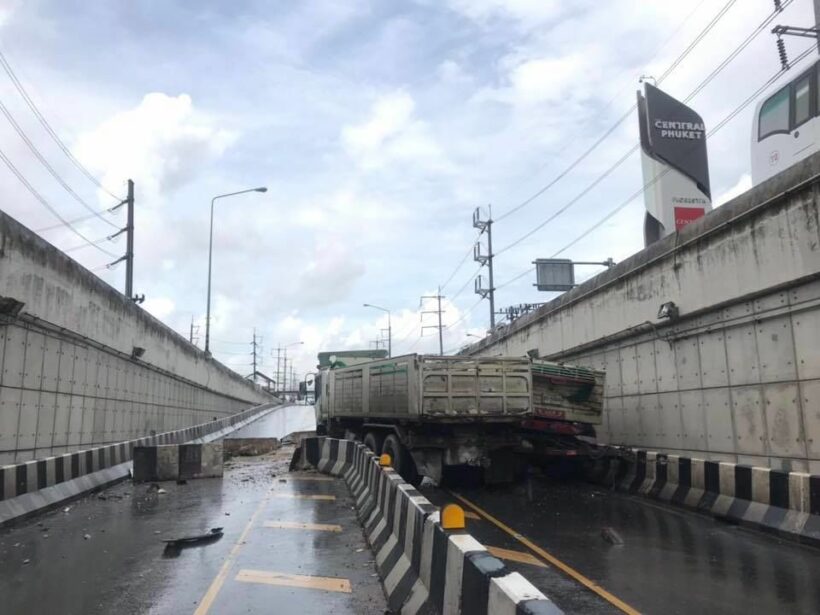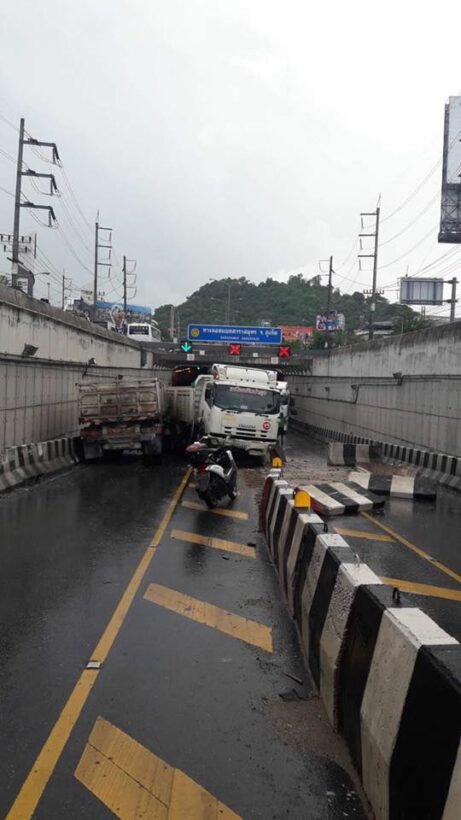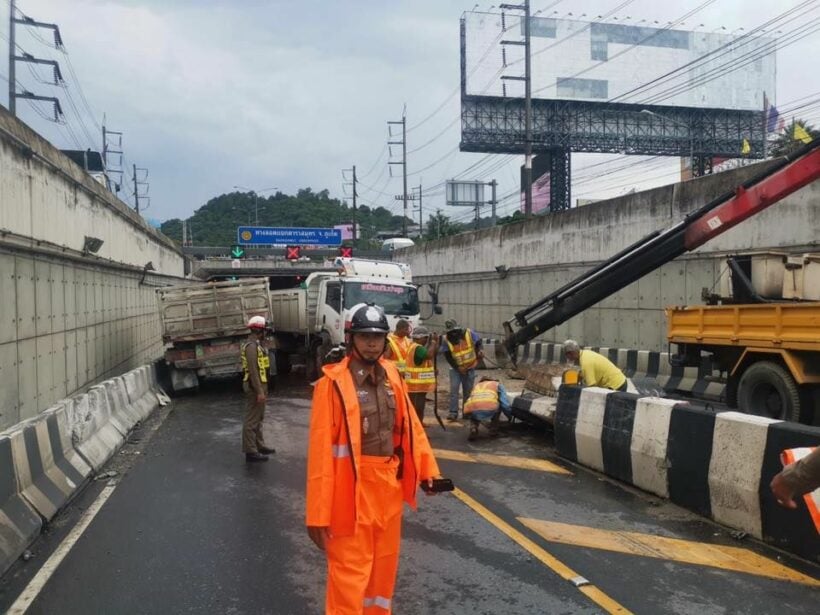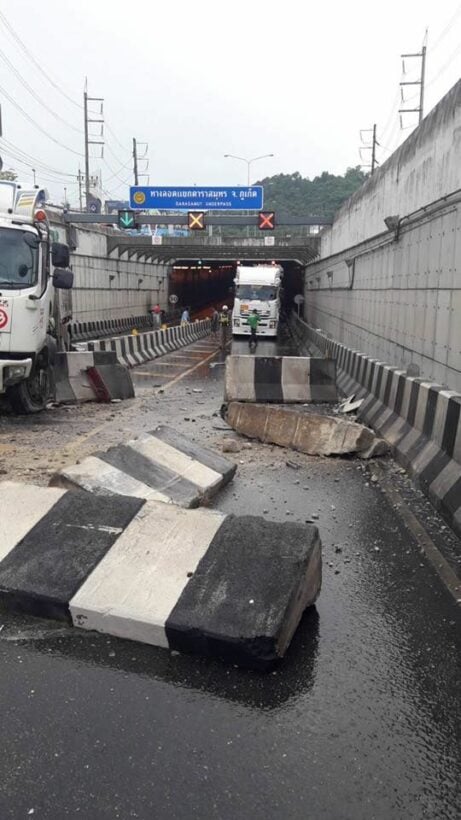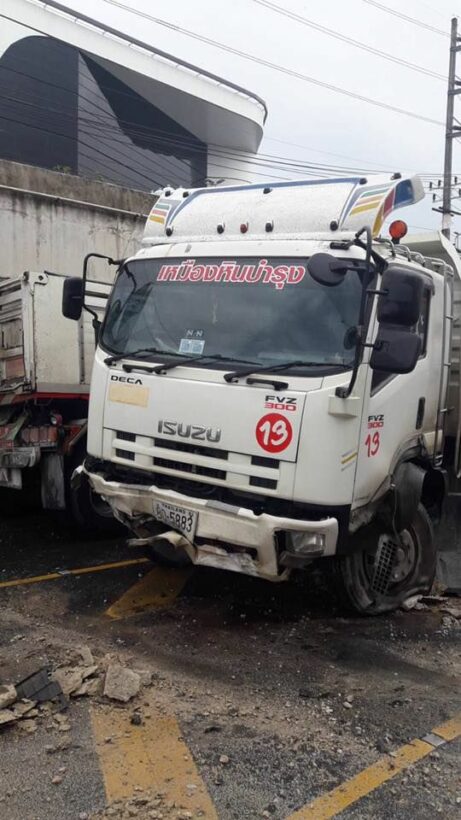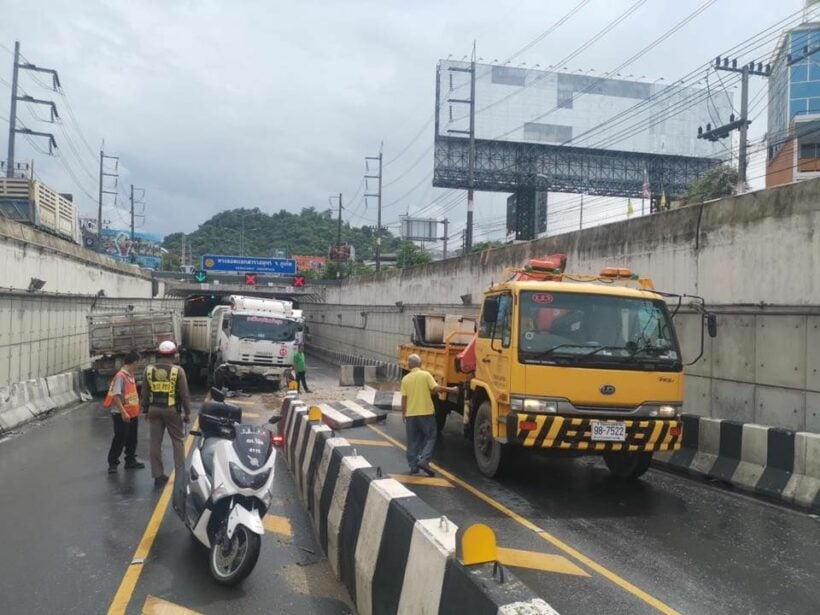 What to do in Phuket – A Unique Guide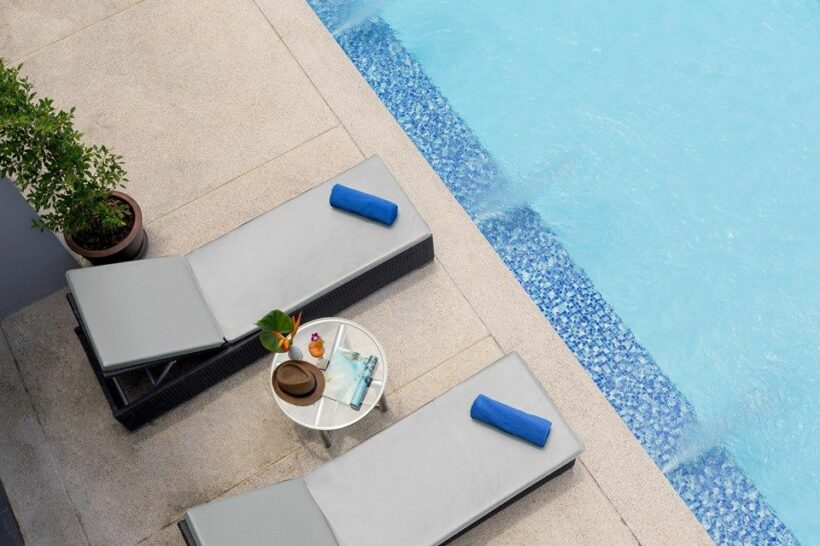 A modern Holiday Membership Club with its flagship office at the luxurious Patong Bay Hill Resort on Hasibpee Hill, Club Unique offers members an endless choice of possibilities as well as an almost limitless array of luxuries across a global platform. While a stay with Club Unique is exceptional in itself, the staff are eager to offer members & guests insight into local experiences in order to take full advantage of all that Phuket truly offers. 
Here, we offer up a Unique Guide on What To Do in Phuket. Whether it be a local temple or a famous landmark, we urge you to get out and explore some of our favorite spots when staying with us at Club Unique in Phuket. 
A Visit to Phuket Old Town
Phuket Old Town is an interesting journey back in time to Phuket's heritage of tin mining, away from the fast-paced lifestyles of today. It is worth taking a wander around the Old Town to admire the stunning Sino-Portuguese shophouses and architecture. Don't forget to bring your camera!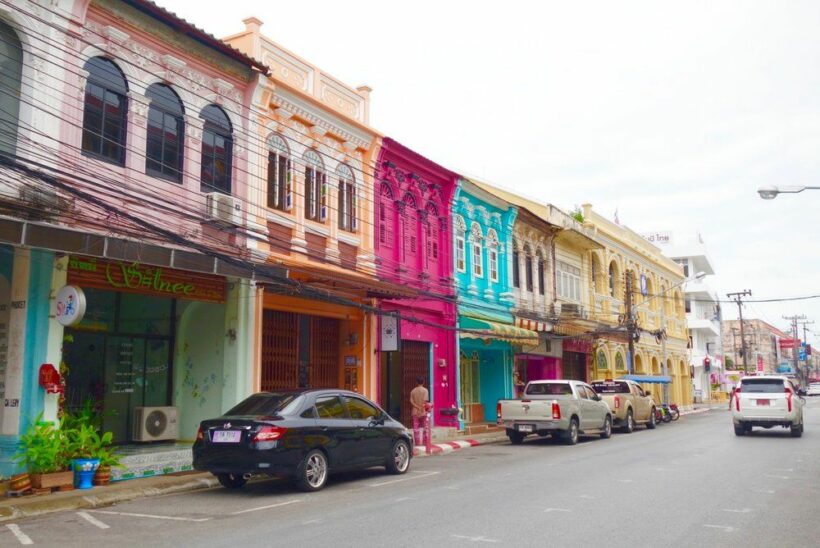 Phuket Thai Hua Museum
Originally the first Chinese language school on the island, Phuket Thai Hua Museum is located on Krabi Road. It is one of the most-preserved of all of the original colonial-style buildings in all of Phuket Old Town. The museum consists of 13 rooms that feature exhibitions in both English and Thai languages. All of the displays are a walk through history and connect the dots between the Phuket and China relationship that started in the tin mining days.
Big Buddha
Without a doubt Phuket's shining star, the Big Buddha is Phuket's ongoing man-made attraction. Also known as Ming Mongkol Buddha, the statue is perched atop a 380 metre hilltop in the Nakkerd Hills between the Chalong and Kata neighborhoods. 
This structure was dedicated to the late HM King Bhumibol Adulyadej in honor of his 80th birthday. There is also a smaller Brass Buddha that is 12 metres high and constructed of 22 tonnes of brass, which is dedicated to HM Queen Sirikit. 
Big Buddha offers stunning 360 views over Phuket and is a must-see while visiting the island.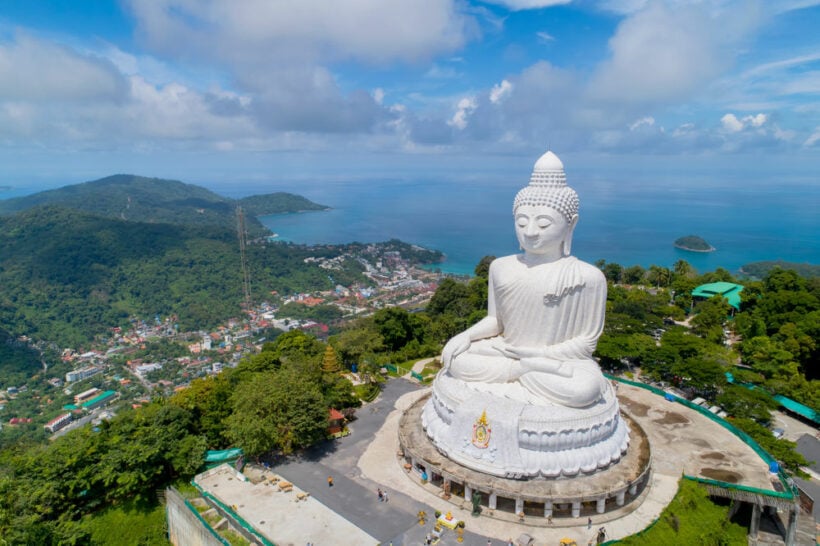 Karon Viewpoint
The winding coast road between Kata and Nai Harn has some lovely scenery. Just two kilometers along it from Kata is Karon Viewpoint. There is a small car park, a couple of shops and a pavilion from which to enjoy the view. 
If you climb the steps to the top of the pavilion, you have a wonderful view north across three of Phuket's best beaches. 
The nearest beach you can see is Kata Noi,in the next bay is the sweeping Kata Beach. In the distance, you see the long stretch of Karon Beach, if you keep driving south on this road, you will pass Nai Harn Beach and then reach Promthep Cape. 

Wat Chalong
Built at the beginning of the nineteenth century during the reign of King Rama II, Wat Chalong is the most important of the 29 Buddhist temples in Phuket. The temple contains several structures and halls. One of the halls features a gilt-covered statue of the famous and revered Luang Poh Cham statues of Luang Poh Chuang and Luang Poh Gleum, all ex-abbots of the temple. The Grand Pagoda is decorated with wall paintings depicting the Buddha's life story and features various Buddha images. 
Phuket Elephant Sanctuary
Phuket Elephant Sanctuary is an elephant retirement home set on 30 acres of stunning forest bordering the Khao Phra Thaeo National Park in north east Phuket. 
Phuket Elephant Sanctuary is the first elephant sanctuary on the island pioneering ethical elephant tourism. The sanctuary rescues sick, injured and old elephants who have spent their entire lives working long, exhausting hours in the logging or tourism industries. A visit offers a unique experience observing retired working elephants rehabilitate into forest life. To be in the presence of an elephant is simply breathtaking and a day at Phuket Elephant Sanctuary will leave you captivated by how incredible the largest land mammal on earth truly is. 
To learn more about unique things to do while holidaying in Phuket, visit Club Unique at our flagship office in Hasipbee Hill in Patong, just minutes away from fantastic Patong Beach.