Former Future Forward members claim they're behind political slogan campaign around Bangkok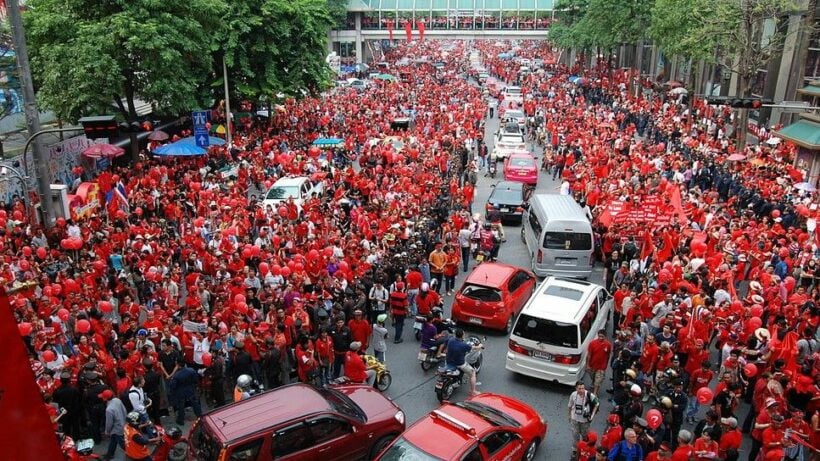 Former members of the now defunct Future Forward party say they are responsible for projecting a political slogan on to some of Bangkok's most iconic landmarks Sunday night, and say more's to come.
Coconuts reports that the political figures, now members of a group called "Progressive Movement," shared a video of activists using projection equipment from within a van. The group says it plans to release information related to a bloody government crackdown that ended political protests in 2010.
"How many times have people with empty hands been killed in cold blood? How many times have killers and those behind them never been prosecuted, and even stepped into the lanes of power?"
On Sunday, the slogan Seek the Truth was projected onto several monuments and buildings in Bangkok, all scenes of bloody clashes during political protests in 2010. They included the Democracy Monument, the BTS Victory Monument station, and a temple, Wat Pathum Wanaram, where 6 people seeking refuge were allegedly killed by government soldiers.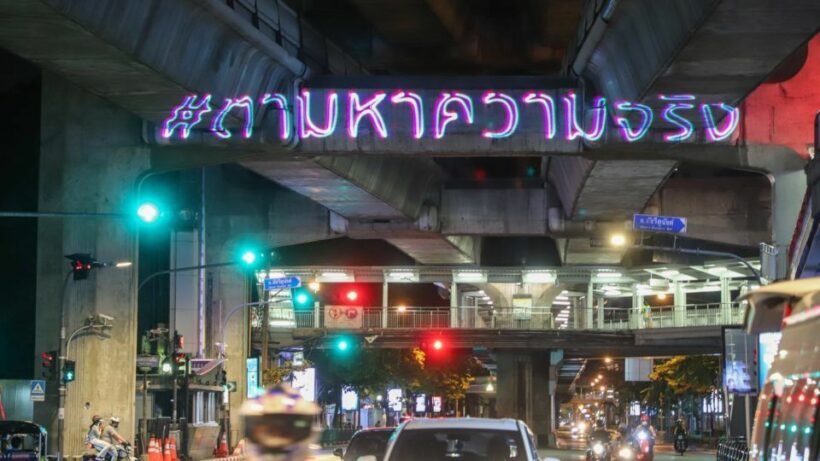 PHOTO: The slogan projected on the BTS Victory Monument station – Coconuts
Prominent members of the Future Forward Party, including its leader Thanathorn Juangroongruangkit, have been banned from politics for 10 years, after the party was dissolved by the Constitutional Court in February. One former member, Pannika Wanich, now a founding member of the new Progressive Thai party, has warned that Sunday night's activism is just the beginning. The group has promised that between now and May 20, it will release more information about the government action that ended the 2010 protests.
Between March and May that year, over 100,000 demonstrators, supporters of former PM Thaksin Shinawatra, descended on the capital, demanding elections. Known as the "redshirts," their supporters claim they protested peacefully, while opponents claim they were paid to flood into the city and cause mayhem and chaos.
The protests came to an end in May, with a bloody crackdown that saw nearly 100 people killed. The vast majority were civilians, but a Japanese journalist and five soldiers also died.
SOURCE: Coconuts
Keep in contact with The Thaiger by following our Facebook page.
Never miss out on future posts by following The Thaiger.
27 migrants allegedly disguised as monks arrested on illegal entry charges, Bangkok abbot under investigation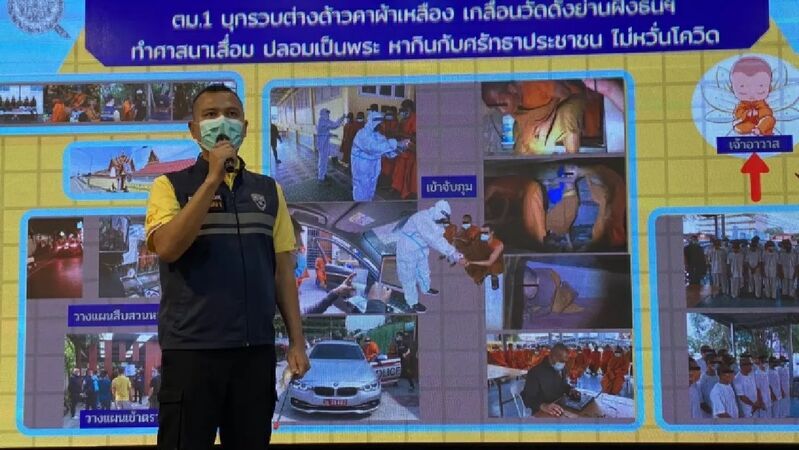 Immigration police arrested 27 Cambodians for allegedly entering Thailand illegally and impersonating Buddhist monks. Police say the migrants allegedly disguised themselves as Buddhist monks at Wat Talom in Bangkok's Phasi Charoen district. The temple's abbot is also under investigation for allegedly assisting and hiding illegal migrants.
Police searched the temple after receiving a tip that hundreds of monks lived in crowded rooms, conditions that officials worry could lead to a cluster of Covid-19 infections.
"We received a tip-off that the temple had several hundred monks living in a crowded space that could become a hotspot for Covid-19… People also reported that some monks from this temple were selling food they received from the public in the morning to merchants at nearby markets for reselling."
Police asked for identification documents from the more than 200 migrants at the temple. 181 monks from Myanmar, India, Cambodia, Laos and Bangladesh had proper documents, but police say 27 Cambodians had no identification documents. The 27 Cambodians were arrested and charged with illegally entering the country and impersonating Buddhist monks.
SOURCE: Nation Thailand
Catch up with the latest daily "Thailand News Today" here on The Thaiger.
Keep in contact with The Thaiger by following our Facebook page.
Never miss out on future posts by following The Thaiger.
CCSA mulls the easing of Covid-19 restrictions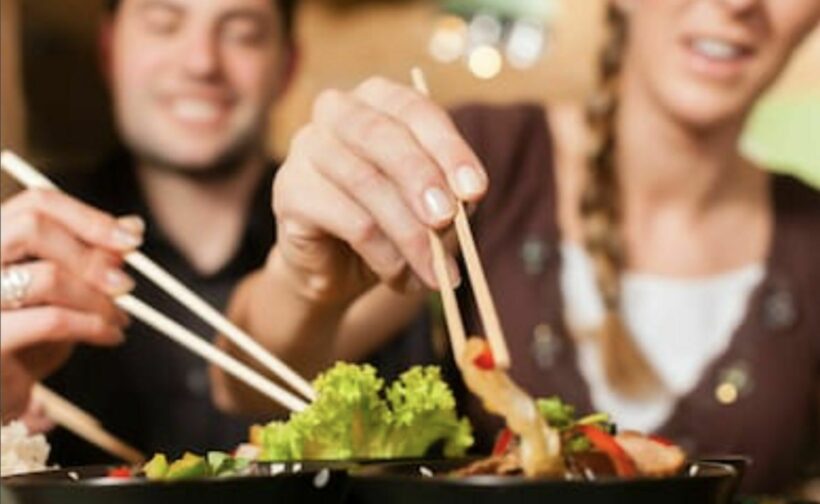 Late night diners rejoice. Your option to eat all that great Thai food around the country looks to be back on the table as the government looks to lift some of the current restrictions on dining and business operating hours. Deputy Prime Minister and Public Health Minister Anutin Charnvirakul has announced that they're likely to lift restrictions on dining, currently set at 9pm, by the end of this week.
The Thai Restaurant Association have been lobbying hard for an extension of the opening times for in-restaurant dining times to at least 11pm.
The CCSA will gather on Friday to assess the current Covid-19 situation and decide if the extension is viable at this time. But the Public Health Minister maintained that alcohol will still be prohibited and other precautions like hand-sanitisers at entry points and social distancing will still need to be strictly applied.
Speaking to Bangkok Post, Anutin said the alcohol ban must remain in place for now.
"If violations of the alcoholic beverage-drinking ban are found at any restaurants, they can't simply get away with claiming that it was their customers who brought the alcohol to drink at the restaurants because the ban applies to 'alcohol drinking' at restaurants in particular, not only alcohol selling or serving."
Meanwhile, PM Prayut Chan-o-cha says the easing of various restrictions around the country will be looked at on a case-by-case basis depending on the outbreak situation in each area. The early clusters in the four eastern coastal provinces of Chanthaburi, Chon Buri, Rayong and Trat, for example, appears to have eased and the local governors are pleading with the government for some relief from the strict restrictions on their provinces. Chon Buri has had a run of days over the past week where there has been no new Covid infections reported to the CCSA.
Yesterday there was a surge of new cases uncovered by a strategic track and trace program in Samut Sakhon, but the government says it will base its decision to ease restrictions around the county on the overall outbreak situation province by province. Provincial governors have also been given powers to add or modify national restrictions, a different situation from the April and May 2020 'lockdowns' which were much more restrictive.
959 new Covid-19 infections were announced yesterday, 844 of them were found through the track and trace operations in Samut Sakhon, the ground zero for Thailand's latest outbreak which kicked off 5 weeks ago and has now spread to most provinces.
Keep in contact with The Thaiger by following our Facebook page.
Never miss out on future posts by following The Thaiger.
Thai DJ Celebrity party is likely to be "super spreader" event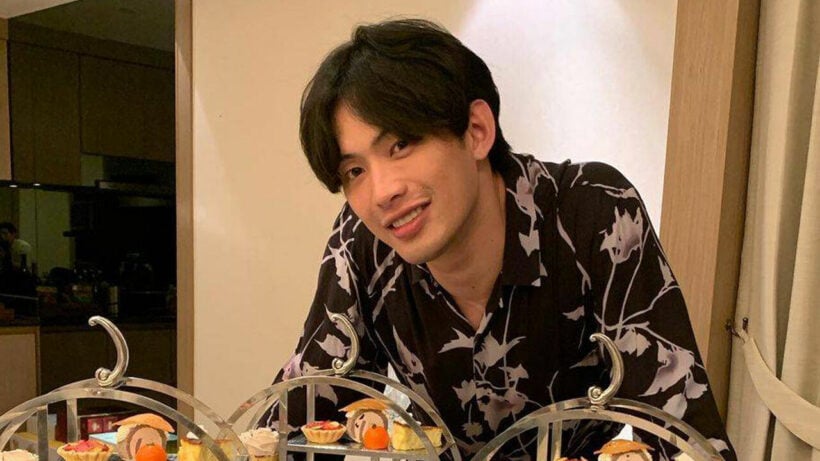 The birthday party of Techin Ploypetch, better known as "DJ Matoom", is now considered a super-spreader source of Covid-19, with 19 people already found infected after attending the event. According the CCSA spokesperson during the daily briefing today, "Transmissions in Bangkok should be highlighted. They show the possibility of a person becoming a super-spreader".
The birth of the super spreader birthday party started with a guest to the DJ's party who had visited a well-known entertainment venue in Chiang Mai between January 1 and 4. He sought a Covid-19 test on January 5 following news that infected people had visited the pub, but tested negative. He should have self quarantined for 14 days, but he still flew to Bangkok and then attended the DJ celebrity's birthday party on January 9.
DJ Matoom says he met the guest, one of his friend, on January 9, but that friend didn't know he was infected until January 19 in which he told Matoom.
According to Dr Tanarak Plipat, now acting inspector-general of the Public Health Ministry, an infected person can transmit disease to two others on average, while a "super spreader" will transmit to multiple people.
DJ Matoom and the party's guest were criticised of violating the disease control measures.
SOURCE: Thai PBS World
Keep in contact with The Thaiger by following our Facebook page.
Never miss out on future posts by following The Thaiger.