PM visits shooting victims in hospital as the nation mourns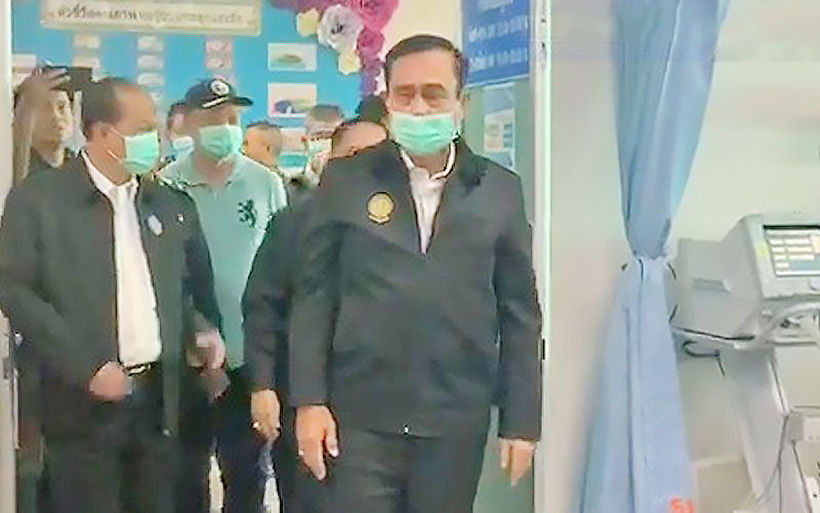 The soldier who shot dead at least 25 people in a bloodbath in Korat was killed in a police assault at around 9am today, ending a rampage that lasted more than 17 hours.
The shooter has been identified as 32 year old Jakrapanth Thomma, an officer working for the army's 22nd Ammunition Battalion. He stole weapons and a Humvee, (a four-wheel drive military vehicle) from his base in Nakhon Ratchasima yesterday before going on a shooting spree that appears to be Thailand's worst-ever mass shooting. He was killed in the area of a Foodland supermarket in the basement of Terminal 21 shopping mall, where he spent nearly fourteen hours holed up, according to police at the scene. The officers say Jakkrapanth was discovered hiding inside the supermarket and shot at police, forcing them to return fire.
In a news conference, PM Prayut Chan-o-cha said he has ordered all relevant agencies to assist the victims and their families, who suffered from what he called an "unprecedented outburst" of violence. He flew in by helicopter to visit the injured in Korat area hospitals this afternoon. He says the investigation is ongoing and thanked the public for donating blood in response to the carnage.
He defended the lengthy siege, saying that security officers took all necessary precautions when advancing into the sprawling mall complex with hundreds of civilians trapped inside.
A Twitter post from Khaosod reports that there will be a candlelight vigil at 6pm at Thao Suranari (Ya Mo) statue in Korat in memory of the victims.
Source: Khaosod, | The Pattaya News

Keep in contact with The Thaiger by following our
Facebook page
.
Chon Buri sugarcane vendor dragged behind motorbike after thief steals his phone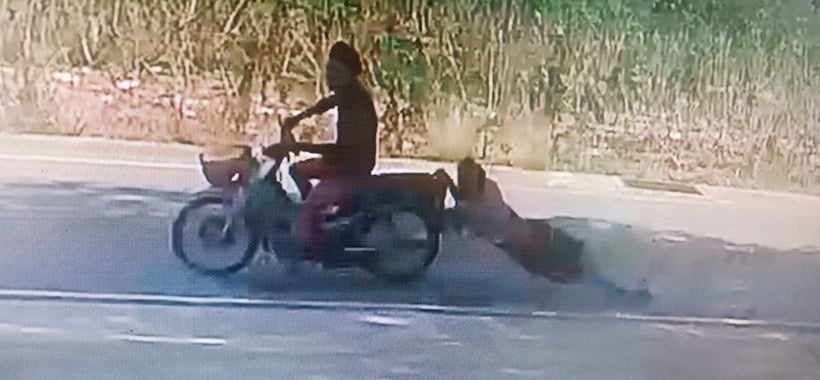 An elderly sugarcane vendor in Chon Buri province's Sattahip district sufferered multiple injuries when a potential customer stole his phone and tried to speed off on his motorbike, leading the vendor to grab onto the bike in a desperate attempt to to get it phone back.
63 year old Chaiyapat Warawan says a young Thai man about 20 years old pulled up to his stall on a grey and black Honda motorbike at about 10am on Saturday, saying he wanted to buy some sugar cane. But he said he needed to make a call to figure out how much his mother needed, and asked to borrow a phone.
Warawan lent his phone to the man who then attempted to speed away on his motorbike. Warawan grabbed onto the back of the bike and was dragged for over twenty metres down the road, yelling for his phone back. The thief threw the phone onto the side of the road and sped off. Warawan let go once he saw his phone was safe.
The entire incident was caught on CCTV. Police say they have identified the suspect and were working toward an arrest as of yesterday afternoon.
Warawan is recovering from his injuries but is happy to have his phone back and says he would do it again in a heartbeat, regardless of his age.
SOURCE: The Pattaya News
Keep in contact with The Thaiger by following our
Facebook page
.
Man claims he was attacked and robbed by "foreigners"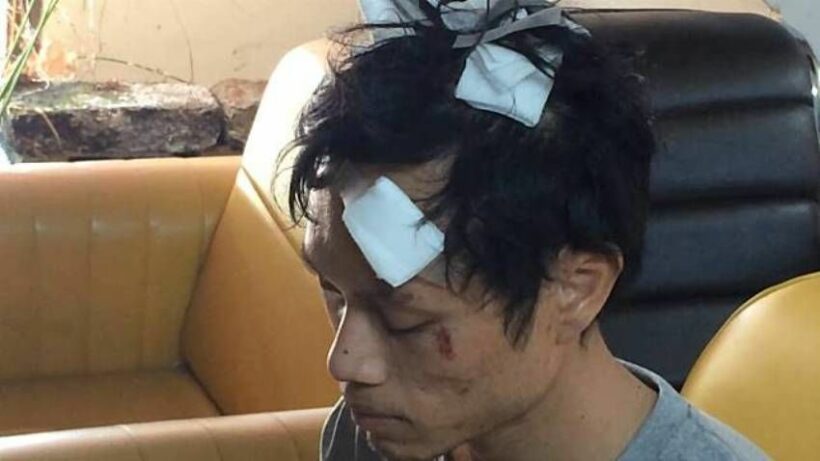 A student in Chiang Mai says he was mugged by "foreigners from Europe." Twenty-four year old Theerapat Saen-in posted his alleged ordeal on Thai social media earlier this week.
According to his post he was taking photographs at a view point on Doi Suthep when he was approached by "farangs." He says they bashed him on the head with a piece of wood before being attacking him further.
Saen-in then allegedly fled into the woods, fearing the foreigners might chase him and continue their attack. In the process, he claims, he fell down an embankment, knocking himself unconscious.
When he regained consciousness he returned to the scene to find his camera equipment missing. His tripod, backpack and money had all been taken, local media reported.
He says he got help from other tourists in the area and was eventually taken to hospital in Chiang Mai. Doctors cared for his injuries, including six deep wounds to his head. Doctors said the head wounds were consistent with an attack with a solid object and confirmed to police that, based on the wounds, the man was assaulted.
Saen-in asks for cooperation from the public, especially in the event they notise anyone trying to sell or pawn camera equipment. He has also asked anyone with information to please contact police.
SOURCE: Chiang Rai Times
Keep in contact with The Thaiger by following our
Facebook page
.
2 more suspects arrested in "wombs-for-hire" scandal
Officers of the Anti-Human Trafficking Division (ATHD) of the Royal Thai Police have arrested two more suspects in an illegal transnational commercial surrogacy ring, police said yesterday. 43 year old Kulisara Pomdet was arrested in Chanthaburi and 60 year old Jakkarat Kittiwanichkul in Chiang Mai on Friday night.
Police say the two were hired as brokers to lure Thai women to work as surrogate mothers. Jakkarat can speaks the languages of neighbouring countries and served as a translator for Kulisara during trips to those countries. A police source says the pair travelled between Thailand and Cambodia more than 100 times over the past two years.
On Thursday nine suspects, seven Thais and two Chinese, were arrested in joint raids in Bangkok, Pathum Thani and Sukhothai. They face charges of colluding in transnational criminal activities and engaging in commercial surrogacy, illegal under Thai law. The raids came after police found a gang of Chinese nationals was hiring Thai women as surrogate mothers.
The illegal surrogacy operation is believed to have started in 2012. At least 100 women across the country were hired as surrogate mothers, according to police. The surrogate mothers travelled to neighbouring countries for "assisted reproductive treatment" and returned to Thailand where they stayed until delivery. In some cases, they were sent to China, where they stayed until giving birth.
The deputy commissioner of the Central Investigation Bureau says the probe followed a tip-off from the Department of Health Service Support. Investigators questioned women in Pathum Thani province, north of Bangkok, who were hired as surrogates. They found that at least 15 babies born from assisted reproductive technologies were included in their household registrations,and that at least 50 babies from surrogate mothers had been taken out of the country. Assets seized from the nine include 16 vehicles with a combined value of 15 million baht, a house, and a Bangkok company worth about 20 million baht.
SOURCE: Bangkok Post
Keep in contact with The Thaiger by following our
Facebook page
.