British man stuck in Thailand, facing jail for defending himself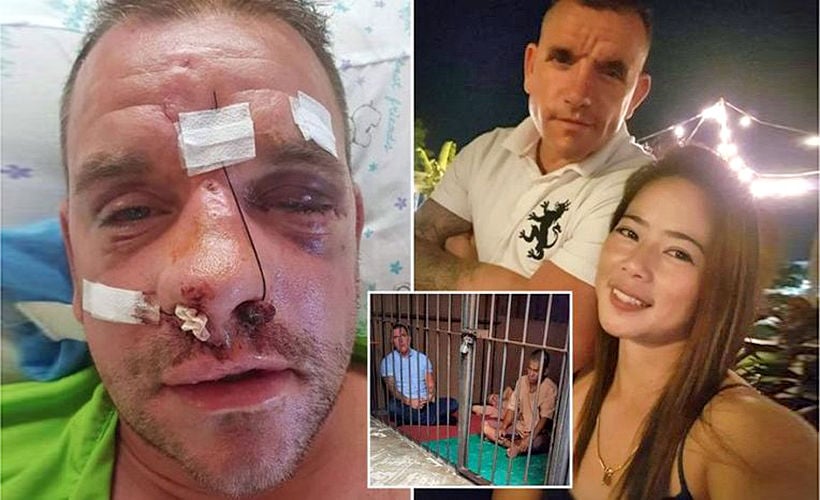 A British man, beaten up by a gang of Thai "thugs", is facing jail after throwing punches in self-defence. 38 year old Luke Thornton was kicked and punched in the face and repeatedly knocked out in the assault. He was visiting his wife Sayforn Phetkajang in the village of Pai, north west of Chiang Mai.
At the time reports in Thai media say he was sitting in the road with a few friends when three men pulled up on motorbikes and started revving their engines. Luke then pulled his friends away, at which point the Thai men allegedly unleashed a savage assault on Luke.
Three Thai men have now been arrested, aged between 23 and 25. They claim the British man shouldn't have interfered in a fight between "grown Thai men".
"So he needed to be taught a lesson." Read The Thaiger report about the attack HERE.
Luke's wife told reporters that he had raised his hands in a wai to appeal for his life but says he was kicked and beaten unconscious and left for dead as the gang fled the scene.
"They had wooden sticks with nails pointing out. They were screaming they were going to kill me. I couldn't believe what I was hearing. They punched me in the face and the back; they kicked my legs and smashed my face with their sticks".
"I lost consciousness and then when I woke up again, they knocked me out with a kick to the head. This happened two or three times. At one point they picked me up and dragged me across the road, my face scraping along."
One of the attackers eventually asked: "Where will he put his body?"
Luke was taken to Chiang Mai Ram Hospital with a fractured skull, fractured eye socket and other facial injuries. Over the following two weeks, he underwent facial reconstruction surgery and operations on his fractured skull and broken finger, with medical bills running to £7,500 (about 280,000 Thai baht).
He suffered a smashed eye socket and a smashed nose, with his left eyeball replaced by a piece of silicon and eventually re-inserted. The three men in question have been arrested but Luke now faces a trial for "fighting".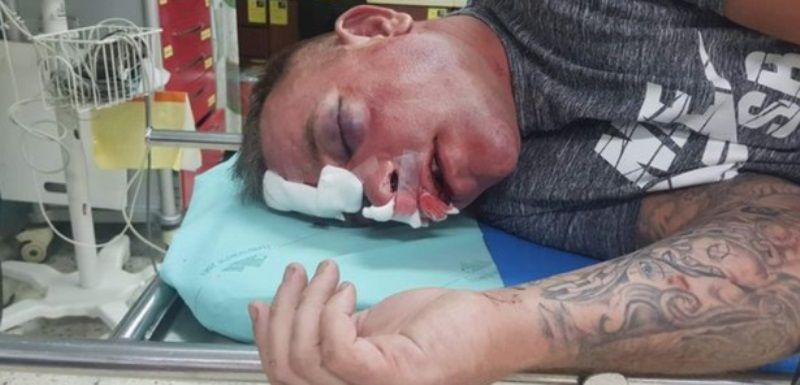 Luke now faces six months of proceedings, along with jail time or a £10,000 (about 375,000 Thai baht) fine.
"I've been told I will have to sit in the dock with the three men who attacked me at my next court date in September. I am so scared they will have me killed. I have PTSD from that night, and I can't stop replaying it in my head."
Luke's passport has been confiscated by Thai authorities and he is unable to return home to see his children.
Luke's family and friends have set up a fundraising page to cover court costs and medical bills, which can be viewed HERE.
SOURCE: Chiang Rai Times | Thai Rath | dailystar.co.uk
Keep in contact with The Thaiger by following our
Facebook page
.
Chinese netizens want to know what caused panda Chuang Chuang's death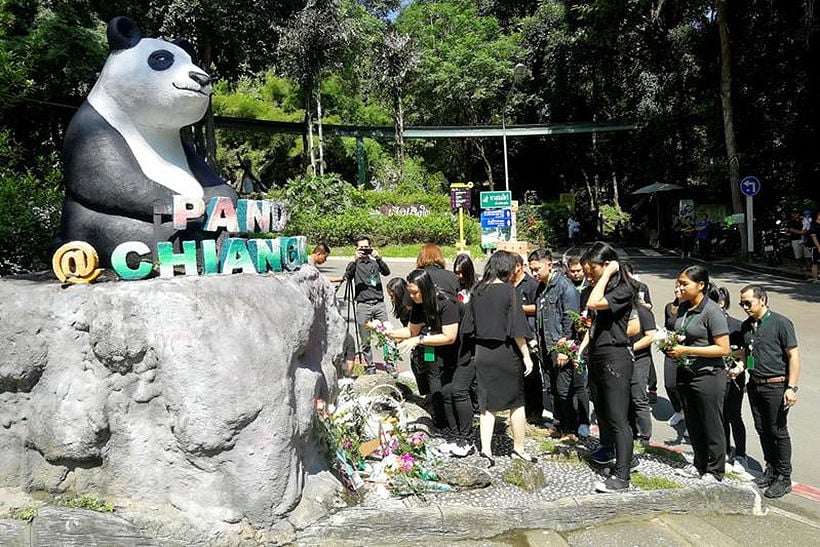 PHOTO: Mourners leave flowers outside the panda enclosure where Chuang Cuang died this week
The "suspicious circumstances" of Chuang Chuang's demise drew more than 260 million views on social media platform Weibo."
Chinese experts have now arrived in Chiang Mai to investigate the death of a beloved giant panda Chuang Chuang, who died at the Chiang Mai Zoo earlier this week at the age of 19.
Millions of Chinese netizens are questioning the cause of the panda's sudden demise.
A resident of Chiang Mai Zoo since October 2003, Chuang Chuang died Monday aged 19 after years of living in a climatised enclosure with female panda Lin Hui.
The pair were on loan from the southwestern Chinese city of Chengdu as part of Beijing's so-called "panda diplomacy" and were supposed to be returned in four years time.
Pandas can live up to 30 years in captivity and Chuang Chuang's sudden death is raising questions about his care.
China "urgently dispatched panda experts" to investigate the cause of death, according to a statement released by Chiang Mai Zoo, and a Chinese-Thai "joint working team" will perform an autopsy.
Thailand has long obsessed over Chuang Chuang and Lin Hui, as the notoriously sex-shy pair had struggled to conceive and were shown video clips of successful panda couplings in an attempt to stir their libidos.
Thanks to artificial insemination, Lin Hui finally gave birth to Linping in 2009, spurring a widely watched live 24 hour "Panda Channel".
The news has struck a chord among Chinese internet users, as trending discussions on the "suspicious circumstances" of Chuang Chuang's demise drew more than 260 million views on social media platform Weibo.
Users criticised the zoo for giving him mature bamboo – usually harder and used to make furniture – as food, though it remained unclear if photos shared were actually of Chuang Chuang.
"Bamboo?? Sure these aren't wooden sticks?"
Others expressed concerns for his female counterpart, using a hashtag "We want Panda Lin Hui to come home".
"The countries that rent giant pandas can keep them if they raise them well, or else they should send them back," said Ningbo Ni Shao, a local media outlet.
The Chinese consulate in Chiang Mai, a city in northern Thailand, released photos on their website Wednesday of Chinese and Thai officials mourning Chuang Chuang, placing flowers by a framed photo near the zoo's entrance.
SOURCE: Agence France-Presse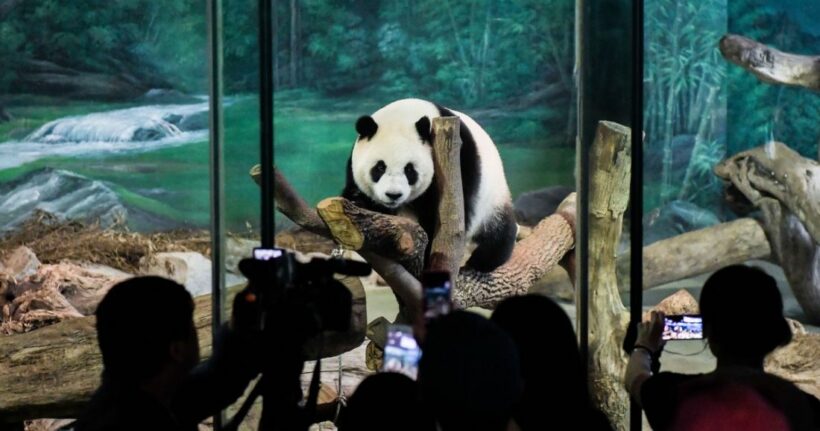 PHOTO: South China Morning Post
Keep in contact with The Thaiger by following our
Facebook page
.
2.5 million methamphetamine pills seized near Myanmar border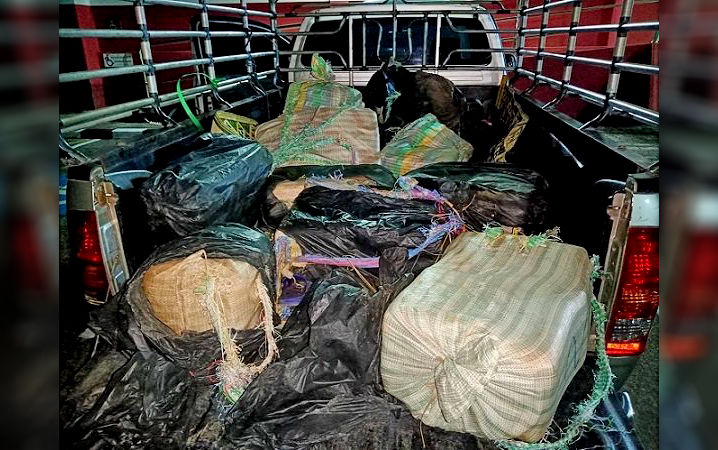 PHOTO: The Nation
Another big delivery of methamphetamine pills has been intercepted in Chiang Mai. This time the couriers were both female.
Rangers from the Pha Muang Task Force intercepted 2.5 million methamphetamine pills and arrested two females in a pick-up truck that broke through a checkpoint in the Mae Ai district early yesterday.
The arrest followed a tip-off that the trafficking gang would smuggle a large batch of narcotics from a neighbouring country to store in Tambon Mae Ai before it was delivered to an 'investor' in the Fang district
The intervention team staked out the area for seven days until the suspects approached the checkpoint near Rajaprajanukhro 30 School. The pick-up truck fitted the description and approached the checkpoint around half past midnight.
As officers presented themselves to request a vehicle search, the sack-loaded truck sped away, with rangers in hot pursuit until they caught up with it near the Pa Bong Market in Fang district.
Officers found 2.5 million methamphetamine pills in 25 sacks on the truck and arrested the driver and passenger – 40 year old Nati Jatae and 33 year old Marisa Nepi. Both women reportedly confessed to having been hired by an unnamed person via phone instructions to deliver the illicit drugs.
For this trip, they were told to transport pills to Chai Prakan district in exchange for 900,000 baht and had already destroyed their cell phones so that police couldn't trace their contact.
SOURCE: The Nation
Keep in contact with The Thaiger by following our
Facebook page
.
Thailand's favourite giant panda dies in Chiang Mai Zoo aged 19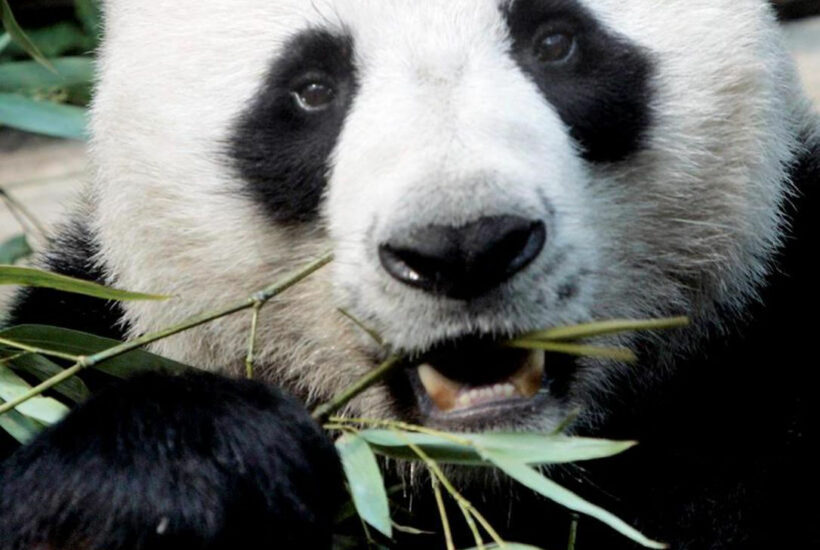 A beloved male giant panda, on permanent loan to Thailand from China, has died aged 19 in Chiang Mai. Thais are morning the death of the hugely popular black and white mammal whose sex life captivated the kingdom.
Chuang Chuang, a resident of the northern city's zoo since October 2003, arrived with female Lin Hui, where the pair lived in specially built enclosure, acclimatised to a cooler environment.
Chiang Mai zoo director Wutthichai Muangmun said before his death, Chuang Chuang was doing what he liked best – eating bamboo.
"He was walking around, but staggered and fell to the ground."
The pair's mating habits, or lack of, became a source of relentless public intrigue, with Chuang Chuang put on a low-carb diet and shown some panda 'porn hub' in an effort to spice up their sex drive. After struggles to conceive, Lin Hui finally gave birth thanks to artificial insemination to Linping in 2009, spurring a widely-watched live 24 hour "Panda Channel".
"He was so lovely," said Twitter user @Janekwb.
"Rest in peace, little bear."
Each panda was insured for up to 15 million baht under the agreement with China. On loan from Chengdu, the pair were a part of China's so-called "panda diplomacy", and were supposed to be returned in 2023.
Giant pandas are notorious for their low sex drive, and are among the world's most endangered animals. Their average life expectancy ranges from 15 to 20 year in the wild, but they can live up to 30 years in captivity.
SOURCE: Agence France-Presse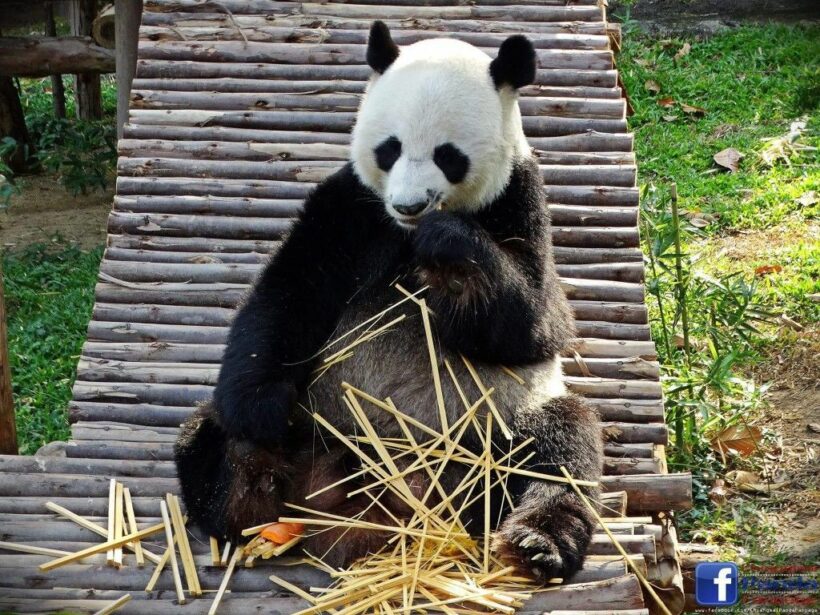 Keep in contact with The Thaiger by following our
Facebook page
.