British man stuck in Thailand, facing jail for defending himself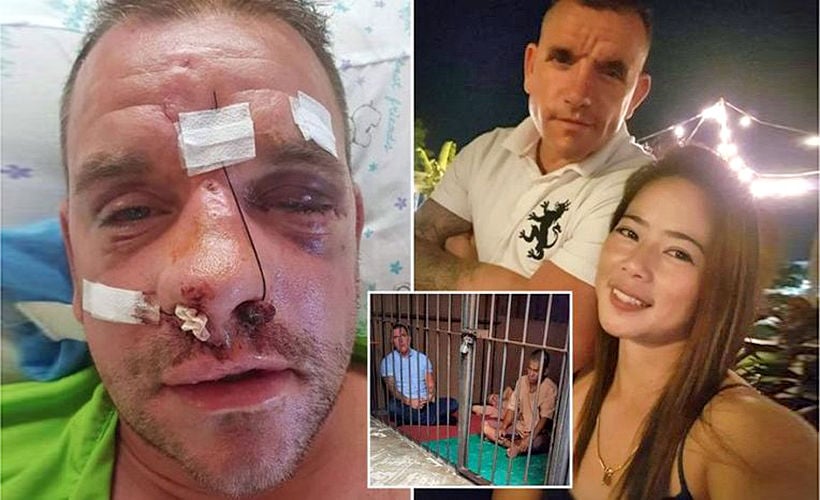 A British man, beaten up by a gang of Thai "thugs", is facing jail after throwing punches in self-defence. 38 year old Luke Thornton was kicked and punched in the face and repeatedly knocked out in the assault. He was visiting his wife Sayforn Phetkajang in the village of Pai, north west of Chiang Mai.
At the time reports in Thai media say he was sitting in the road with a few friends when three men pulled up on motorbikes and started revving their engines. Luke then pulled his friends away, at which point the Thai men allegedly unleashed a savage assault on Luke.
Three Thai men have now been arrested, aged between 23 and 25. They claim the British man shouldn't have interfered in a fight between "grown Thai men".
"So he needed to be taught a lesson." Read The Thaiger report about the attack HERE.
Luke's wife told reporters that he had raised his hands in a wai to appeal for his life but says he was kicked and beaten unconscious and left for dead as the gang fled the scene.
"They had wooden sticks with nails pointing out. They were screaming they were going to kill me. I couldn't believe what I was hearing. They punched me in the face and the back; they kicked my legs and smashed my face with their sticks".
"I lost consciousness and then when I woke up again, they knocked me out with a kick to the head. This happened two or three times. At one point they picked me up and dragged me across the road, my face scraping along."
One of the attackers eventually asked: "Where will he put his body?"
Luke was taken to Chiang Mai Ram Hospital with a fractured skull, fractured eye socket and other facial injuries. Over the following two weeks, he underwent facial reconstruction surgery and operations on his fractured skull and broken finger, with medical bills running to £7,500 (about 280,000 Thai baht).
He suffered a smashed eye socket and a smashed nose, with his left eyeball replaced by a piece of silicon and eventually re-inserted. The three men in question have been arrested but Luke now faces a trial for "fighting".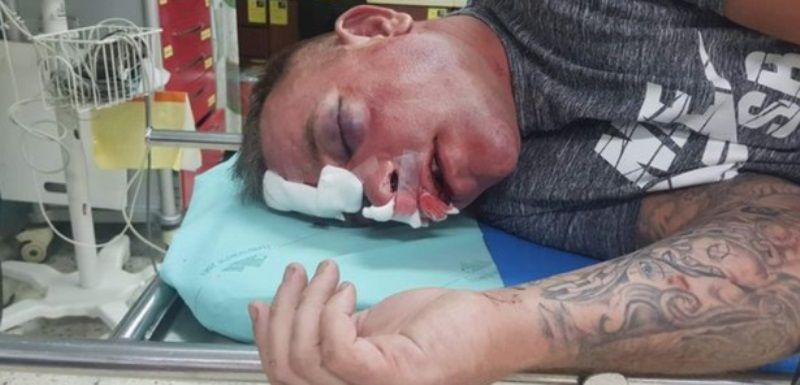 Luke now faces six months of proceedings, along with jail time or a £10,000 (about 375,000 Thai baht) fine.
"I've been told I will have to sit in the dock with the three men who attacked me at my next court date in September. I am so scared they will have me killed. I have PTSD from that night, and I can't stop replaying it in my head."
Luke's passport has been confiscated by Thai authorities and he is unable to return home to see his children.
Luke's family and friends have set up a fundraising page to cover court costs and medical bills, which can be viewed HERE.
SOURCE: Chiang Rai Times | Thai Rath | dailystar.co.uk
Keep in contact with The Thaiger by following our Facebook page.
Never miss out on future posts by following The Thaiger.
Chiang Mai night markets reopening tomorrow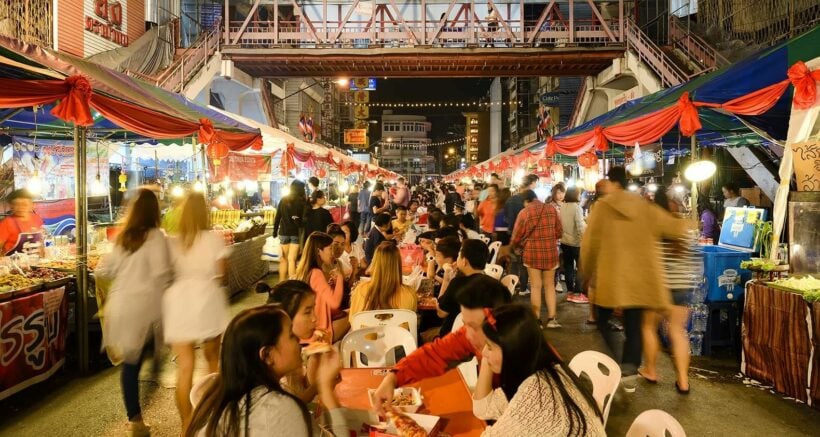 Night markets in Chiang Mai will be reopened tomorrow after the province went 6 consecutive days with no new Covid-19 cases.
According to Chiang Mai Governor, Charoenrit Sanguansat, the province and the provincial disease control committee agreed to ease up restrictions on social and business activities after the number of infections continually dropped and no new infections were reported during the past week.
As a result, flea markets, night markets, and walking streets across the province will be reopened tomorrow onwards.
However, the governor still reiterates that marketplaces and visitors must follow the disease control measures strictly.
Since the start of the second wave of Covid-19 in mid-December, Chiang Mai has tightened restrictions to prevent the virus spread in the province, with the order to close all markets and social activities for 14 days on January 6.
SOURCE: Nation Thailand
Keep in contact with The Thaiger by following our Facebook page.
Never miss out on future posts by following The Thaiger.
Thailand on fire – NASA satellite website tracks the country's farm fires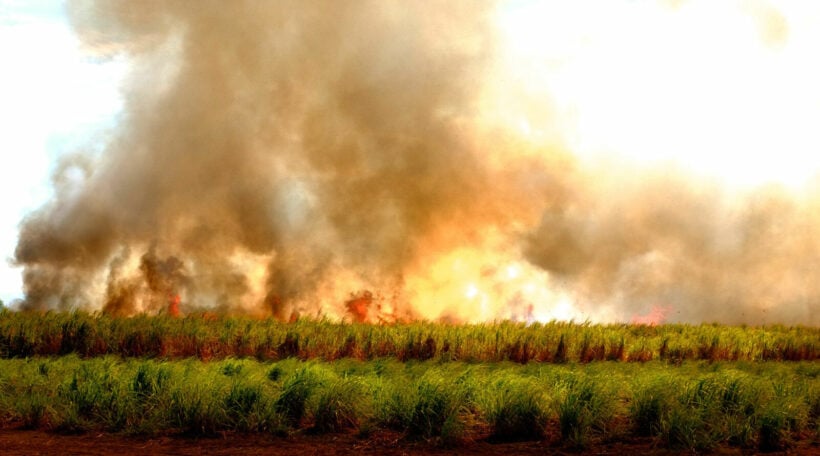 Thailand is burning. The burning off of harvested crop plantations is lighting up the agricultural areas. The truth is starkly revealed in the live NASA satellite feeds which track the fires around the world.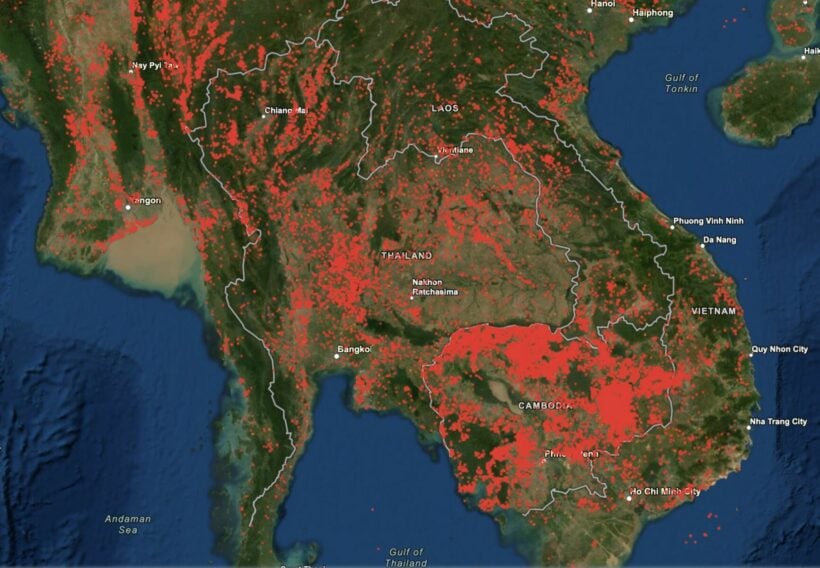 CHART: Fires in the past 10 days around parts of Thailand – Firms.Modaps
Concentrations of the current fires can be seen in Central Thailand, north of Bangkok, parts of Isaan, north east of Bangkok, and around Chiang Mai in Northern Thailand. Notably the concentration of fires in northern Cambodia and across the north-western border in Myanmar, is also causing plenty of problems as the foreign smoke drifts across the borders. No matter what Thai officials do to enforce the rice, sugar and corn plantation burn-offs, there is little they can do about the haze drifting across the borders.
Bangkok, so close to clusters of fires, is in for a bad air pollution day anytime the light winds of the start of the year blow from the north or the east. The lack of rain adds to the problem, the annual problem, that engulfs Thailand's capital during days between December and April, with the worst month, statistically, being March.
The alternative method of preparing for the next harvest, mechanical removal of the refuse and waste after harvesting, is both unpopular in Thailand and economically unviable for the small farmers whose margins remain thin with the multi-national buyers of their produce pushing for lower and lower prices every year.
In Chiang Mai, from January to the end of March, the locals even call it the 'burning season'. Coupled with the hot season, the farmers in northern Thailand burn their fields to prepare land for the next harvest and also to get rid of biowastes like corn that can't be sold in the market. It's officially illegal to do the burn offs but the lack of enforcement leaves the problem unresolved and the smog and haze remain as predictable as the annual wet season.
Chiang Mai also has a local geographic problem which exacerbates the bad smoke pollution. The city is in a valley, surrounded by hills, trapping in the smoke and helping block any breezes that could otherwise blow it away.
For today, Bangkok's air pollution is better than the past two days but still registering as 'unhealthy for sensitive groups' with city readings mostly between 140 – 170. Parts of the city, mostly south-east and south west, were registering readings above 300 in the past few days.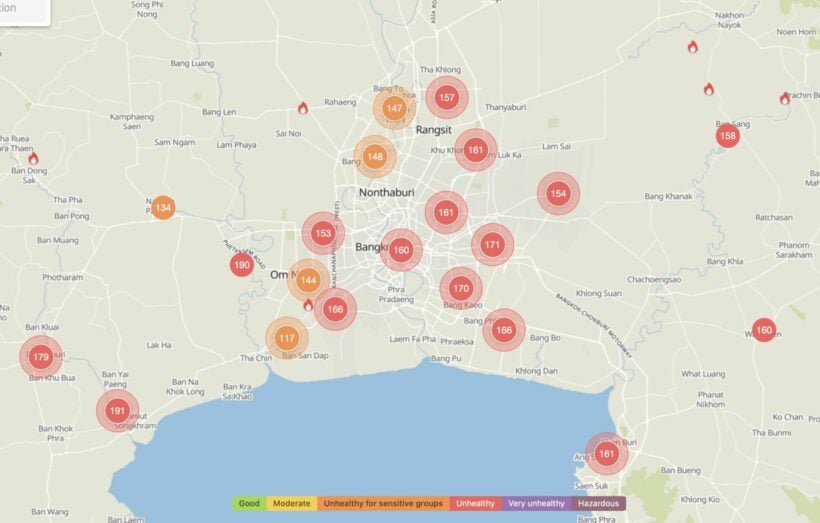 SOURCE: IQair.com
Watch this video for some more information about Bangkok's smog…
Keep in contact with The Thaiger by following our Facebook page.
Never miss out on future posts by following The Thaiger.
Chiang Mai records 4 new Covid cases linked to same venue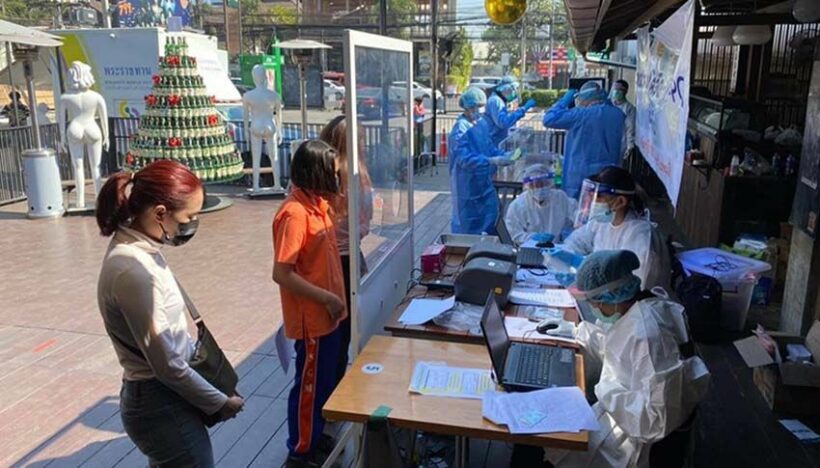 The northern city of Chiang Mai has confirmed 4 new cases of coronavirus, all of which are linked to the Warm Up café in the Muang district. The province of Chiang Mai now has 11 active cases and has recorded 57 cases in total, according to deputy governor, Weerapan Dee-on.
"The 54th patient in Chiang Mai is a Thai man aged 23 from Sansai district. He displayed no symptoms. The 55th patient is another Thai man aged 28 from Muang district. He also showed no Covid-19 symptoms. The 56th patient is a Thai woman aged 28, who works in Bangkok but recently returned home to Sankamphaeng district. She had symptoms of coughing and a blocked nose. The 57th patient is another Thai woman aged 22 from Muang district. She displayed symptoms of coughing and tiredness."
According to a Nation Thailand report, all 4 frequented the Warm Up café on New Year's Eve.
Earlier this week, the province confirmed a 25 year old woman who'd been socialising at multiple entertainment venues had tested positive for the virus. At that stage, her infection brought the total number of cases detected in the province to 50. Following her positive diagnosis, officials embarked on a track and trace process, to determine who may have had contact with the patient. Through this, a 28 year old man who works at the Warm Up café also tested positive. On December 31, he worked from 3pm – 1am.
Officials have now tested 283 contacts who were at the venue that night and results are pending. All bars and other nightlife venues have been closed for 14 days by order of the provincial communicable disease committee. Deputy governor Weerapan says anyone else who was at the Warm Up café between December 31 and January 3 must come forward for testing.
SOURCE: Nation Thailand
Keep in contact with The Thaiger by following our Facebook page.
Never miss out on future posts by following The Thaiger.