Foreigners who test positive for C19 in Thailand won't be able to use the public health system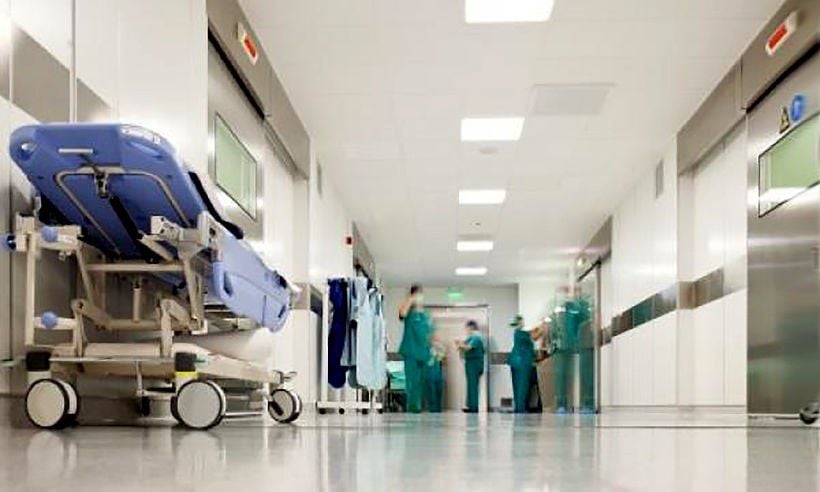 The battle to reopen Thailand's borders is shaping up as a 3-way PR fight between economic hawks who are eager to re-open to reboot the country's tourism industry, a government and medical officials resting on their laurels after containing the virus, and a risk-averse population who, survey after survey, indicate they are keen to keep the borders closed.
In another effort to assuage Thai fears, a doctor at the infectious disease department has stated that any foreigner found to be infected with Covid-19, while in alternative state quarantine, would be taken to a partner hospital in the private sector, not a Thai public hospital.
Dr Opas Karnkawinpong has made it clear that foreigners would have to pay for their treatment and medication themselves.
"They won't be a burden on the Thai health system."
Dr Opas laid out the strict measures that foreigners would have to submit to before travelling to Thailand. Apart from the effort and cost of finding a flight at this time, gaining permission from their country's Thai Embassy, they would have to get fit-to-fly and entry certificates, Covid-free documentation, health insurance and upfront payments for their 14 day Alternative State Quarantine.
"If infected they would go to a special isolation unit at the hospital partnered with the quarantine hotel. Non serious cases would be there for 10 days, those with serious conditions like lung infections may have to stay for a month."
• Those with no symptoms but who tested positive would have to stay in hospital for ten days after their positive test.
• Others would have to be hospitalized for ten days after developing symptoms then a further 24 hour period after symptoms fully abate.
• In more severe cases the length of hospitalization would be at the discretion of doctors. People may only be let out after xrays, temperature and breathing rate checks satisfied medical teams.
A list of several measures were also mentioned for people after they go home from hospital. These include recommendations to wear masks, socially distance, wash hands and surfaces, use separate eating utensils to others. If they get sick again they must take private transport to a hospital. Family members are being advised to monitor their own health closely.
SOURCE: Siam Rath | Thai Visa
Want more from the Thaiger family?
📱 Download our app on Android or iOS for instant updates on your mobile
📧 Subscribe to our daily email newsletter
👍 Like/Follow us on Facebook
🔔 Subscribe to or Join our YouTube channel for daily video updates
3 organisers of Phuket's Kolour superspreader event charged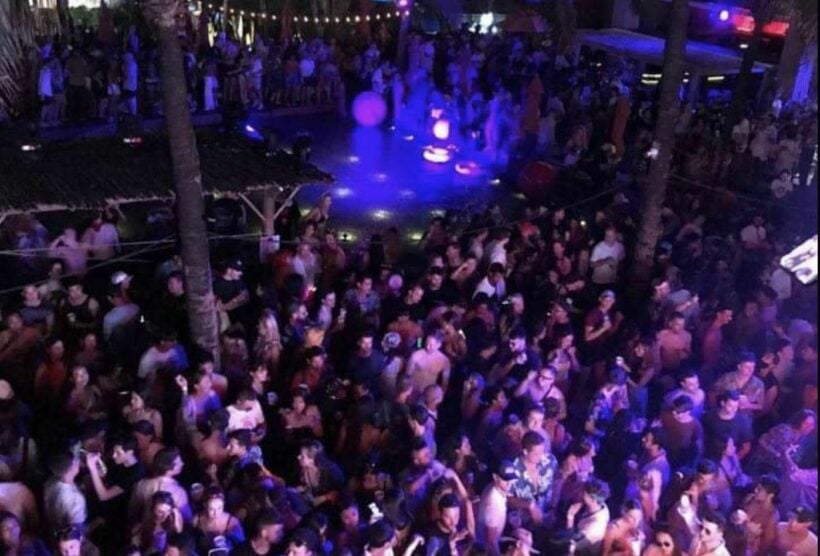 As Thailand still wrestles to control the third wave of Covid-19, much of which stems from entertainment venues in Bangkok and a massive party in Phuket, Patong police announced that the managers of the Phuket venues that hosted the Kolour superspreader event will be charged under the Emergency Decree. The case report was filed with the public prosecutor yesterday according to the Patong police chief, confirming that 3 people will be prosecuted for the event.
The Kolour Beachside Festival was held April 2 and 3 with events at Café Del Mar Phuket in Kamala, and Shelter Phuket Dance and Night Club and Illuzion Nightclub, both in Patong. Before the festival, Phuket had gone more than a hundred days without any new Covid-19 infections, but by April 7 the Phuket provincial Public Health office announced 8 new infections, half of which had been at the Kolour parties. In the following weeks, officials plead for attendees to be tested as infections spread.
Charges were delayed in being filed to the Phuket Public Prosecutor's office as a special investigation committee was ordered to be created to oversee the investigation at the request of Region 8's Police Commander. That committee brought together officials from various law enforcement in the area including the Patong Police, Kamala Police, Phuket Provincial Police, and the Region 8 Police to investigate the Kolour event before anyone was charged.
The manager of Café Del Mar, along with the managing director and the manager of Shelter and Illuzion, which are under the same management team, will be charged for the Kolour festival violating Thailand's Emergency Decree that was declared to help protect the country from Covid-19 outbreaks. A breach of the Emergency Decree can be held liable for up to 40,000 Baht and 2 years in jail under Section 9 of the Decree.
The latter 2 are also facing charges of operating an unlicensed entertainment venue. This carries the possibility of another year in prison and a fine of up to 60,000 baht, in accordance with Thai Law under Section 26 of the Entertainment Place Act.
SOURCE: The Phuket News
Want more from the Thaiger family?
📱 Download our app on Android or iOS for instant updates on your mobile
📧 Subscribe to our daily email newsletter
👍 Like/Follow us on Facebook
🔔 Subscribe to or Join our YouTube channel for daily video updates
Covid-19 patients with high blood pressure at high risk of death -CCSA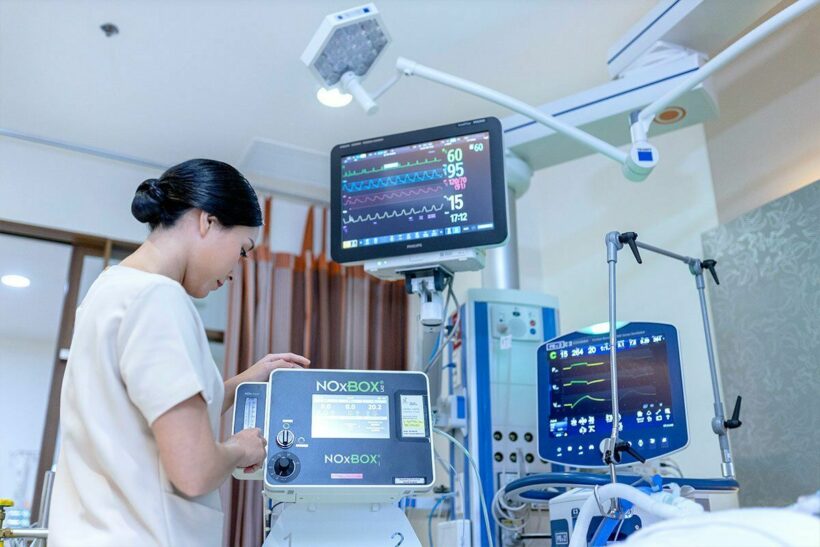 Covid-19 patients with high blood pressure have the highest risk of death followed by patients infected with the coronavirus who underlying conditions of diabetes or high cholesterol, according to data from Thailand's Centre for Covid-19 Situation Administration.
Since the start of the pandemic last year, the CCSA has reported 486 coronavirus-related deaths. Out of those fatalities, 392 were reported after April 1. Using data from the recent wave of infections, the CCSA found that those infected with Covid-19 who also have high blood pressure are at the most at risk of death, followed by those who are diabetic and those who have high cholesterol.
Others who are at risk of severe infection or death if infected with Covid-19 include those with chronic kidney disease, heart disease, obesity or lung disease.
Most of the deaths since April 1 have been in Bangkok, making up 46% of the death count in the recent wave, followed and provinces just outside the capital. Most patients who died while infected with Covid-19 have been over 60 years old with underlying health conditions. Several young adults, in their 20s and 30s, who died while infected with Covid-19, had underlying conditions of diabetes and obesity.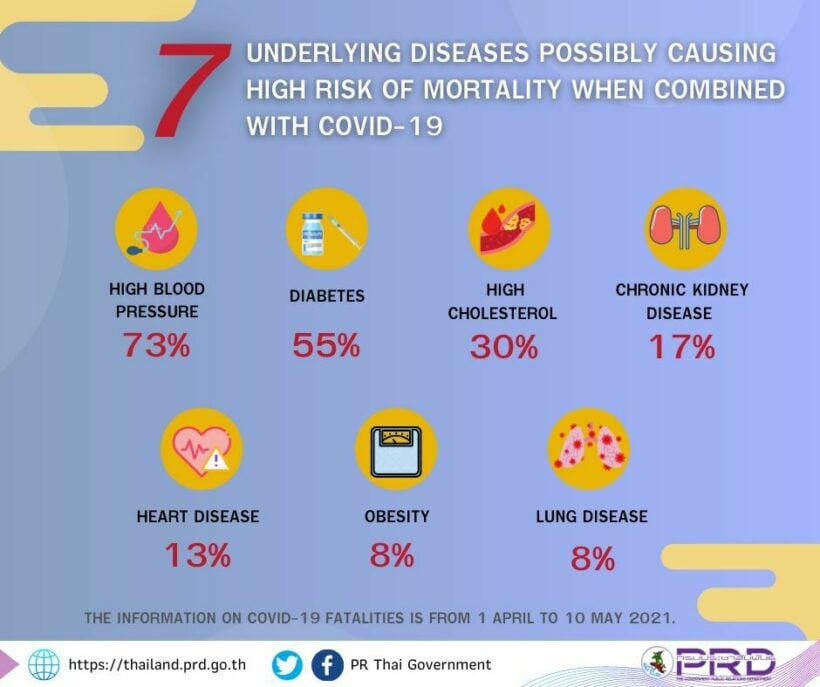 SOURCE: PR Thai Government
Want more from the Thaiger family?
📱 Download our app on Android or iOS for instant updates on your mobile
📧 Subscribe to our daily email newsletter
👍 Like/Follow us on Facebook
🔔 Subscribe to or Join our YouTube channel for daily video updates
Human Right Watch calls for Thailand to immediately act on Covid-19 outbreaks at prisons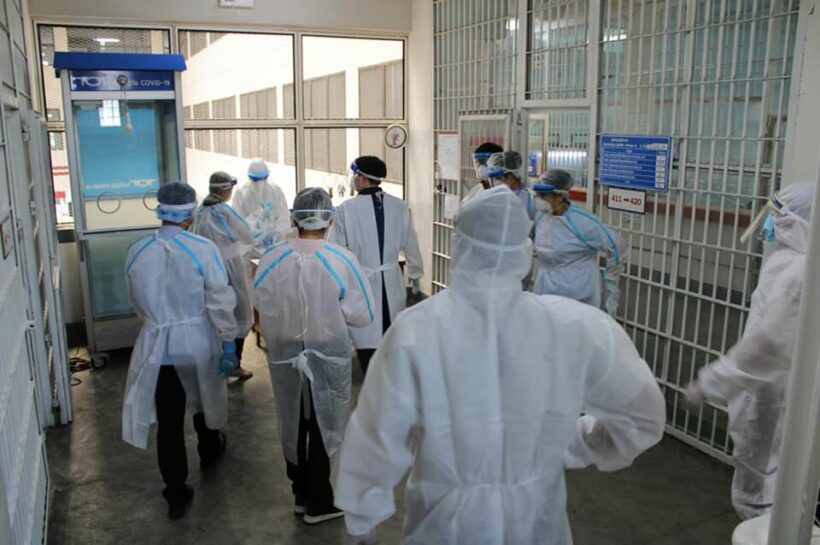 In response to the recent Covid-19 outbreaks in Thailand prisons, the Human Rights Watch issued a statement saying Thai authorities need to take immediate steps to tackle overcrowding in prisons and release inmates that do not pose a serious risk to the public. The organisation also notes that under international human rights law, the government must provide equal and accessible health care to the inmates, adding that Thailand must act quickly to ensure the infected prisoners are properly treated.
Yesterday, Thailand's Department of Corrections reported 2,835 inmates at 2 Bangkok prisons tested positive for Covid-19, adding to the hundreds of cases at prisons in Chiang Mai and in the southern province Narathiwat by the Malaysia border. Out of the new cases, 1,795 at Bangkok Remand Prison, making up more than half the prison population. The other 1,040 infections are inmates at the Central Women's Correctional Institution.
HRW says those held in Thailand's overcrowded prisons are at "grave risk" of Covid-19. After the outbreak in Narathiwat in early April, prison visits were suspended to prevent the spread of Covid-19. HRW Asia director Brad Adams says authorities had been warned about the situation.
"Many people warned the Thai authorities that they needed to act proactively to avoid such a situation, but it seems they got caught sleeping at the switch."
Under international law, the Thai government is obligated to provide adequate healthcare to prisoners, especially during the Covid-19 pandemic, Brad says. He adds that to prevent the spread of Covid-19, some prisoners should be released to reduce overcrowding and congestion.
"Besides providing health care and virus testing, the authorities should reduce the detainee population through the supervised release of those held on politically motivated charges or for minor offences, or who face greater risk from underlying health conditions."
HRW says Thailand should take immediate steps to tackle the longstanding problem of overcrowding in prisons and consider the supervised release of inmates who at a high risk of severe infection if they were to contract Covid-19. Those charged with minor offences or who are in pre-trial detention for minor, nonviolent crimes should also be considered for release, HRW says.
SOURCE: HRW
Want more from the Thaiger family?
📱 Download our app on Android or iOS for instant updates on your mobile
📧 Subscribe to our daily email newsletter
👍 Like/Follow us on Facebook
🔔 Subscribe to or Join our YouTube channel for daily video updates