Foreigners banned from entering Thailand, with a few exceptions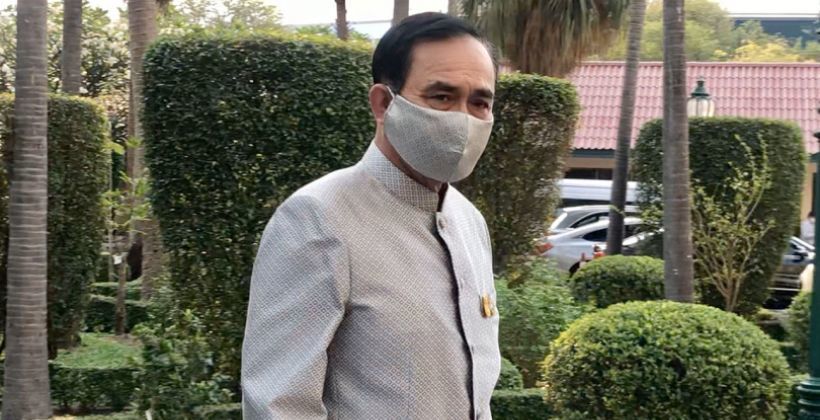 Since the Thai PM updated yesterday's decree, announcing that the State of Emergency will start from tonight, midnight, he has since started rolling out additional details.
Now it's been announced that all foreigners are banned from entering the country. But Thais stranded in other countries will be allowed to return.
The State of Emergency comes into effect at midnight tonight (Wednesday), and will remain in situ until the end of April , 2020. The decree covers all of Thailand.
The latest announcement bans all foreigners from entry at all entry points. The only exceptions will be shippers, diplomats, drivers, pilots and "others permitted by Prime Minister Prayut Chan-o-cha".
"People under the age of five years and over 70 are encouraged to stay home, and public gatherings are banned."
Thailand's Public Health Minister Anutin Charnvirakul says the ban on foreigner entry was to prevent the importing of more active Covid-19 cases into the country.
The ban on entry of all foreigners, exceptions aside, doesn't really change much in reality, as most flights have now been cancelled, borders closed and the actual paperwork needed to enter Thailand virtually impossible to collate at this time.
The State of Emergency authorises the Thai PM to head up a 'War Room' or medical and community leaders to fight the virus. It will include the permanent secretaries of public health, interior, commerce and foreign affairs.
The supreme commander of the armed forces, General Pornpipat Benyasri, is charged with the responsibility for security affairs.
The Thaiger will provide accurate and quick updates on any declarations from the Thai PM during the State of Emergency in Thailand.
SOURCE: Bangkok Post
Keep in contact with The Thaiger by following our
Facebook page
.
Thailand confirms 143 new coronavirus cases, 1 more death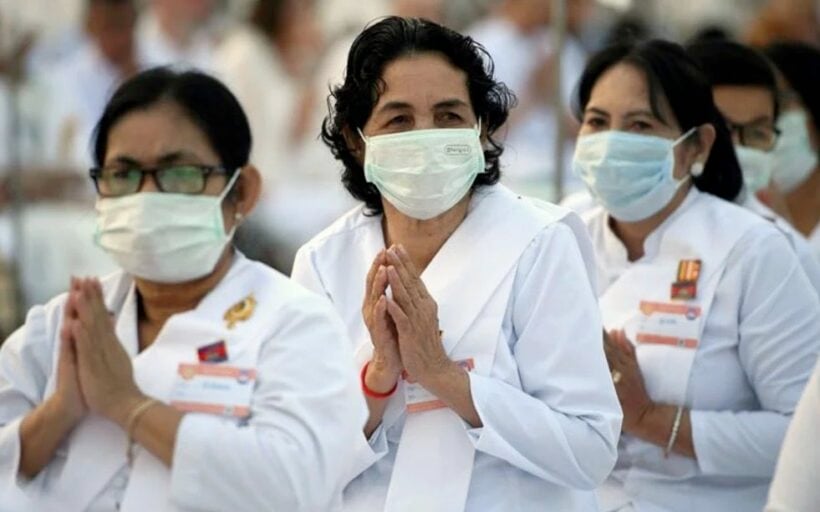 Thailand's Ministry of Public Health and its Department of Disease control announced 143 new confirmed cases of the Covid-19 coronavirus at their daily press briefing today in Bangkok (March 29), up from yesterday's 109 new cases. There has been 1 additional death, bringing the national Covid-19 toll to 7.
The latest figures brought the total cases to 1,388 across 57 Thai provinces – 1,032 of the patients are Thais. Bangkok has a total of 515 cases, followed by Nonthaburi with 58 and Phuket with 53.
A state of emergency has been in effect nationwide since Thursday and travel heavily restricted, with checkpoints along major roads to prevent a mass migration to the provinces as newly unemployed people try to return home.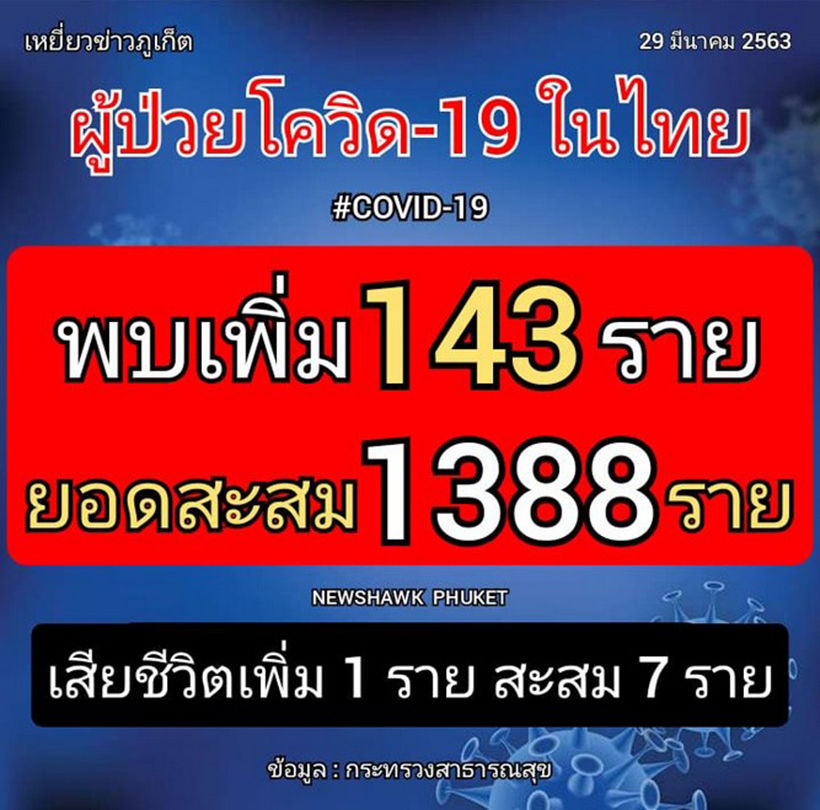 The Public Health Ministry stresses the need for people to stay home to prevent the spread of the virus.
"People should stay at their places and stop social activities for a week. A 24 hour curfew may have to be imposed if people continue to ignore our warnings."
Keep in contact with The Thaiger by following our
Facebook page
.
6 new coronavirus cases in Phuket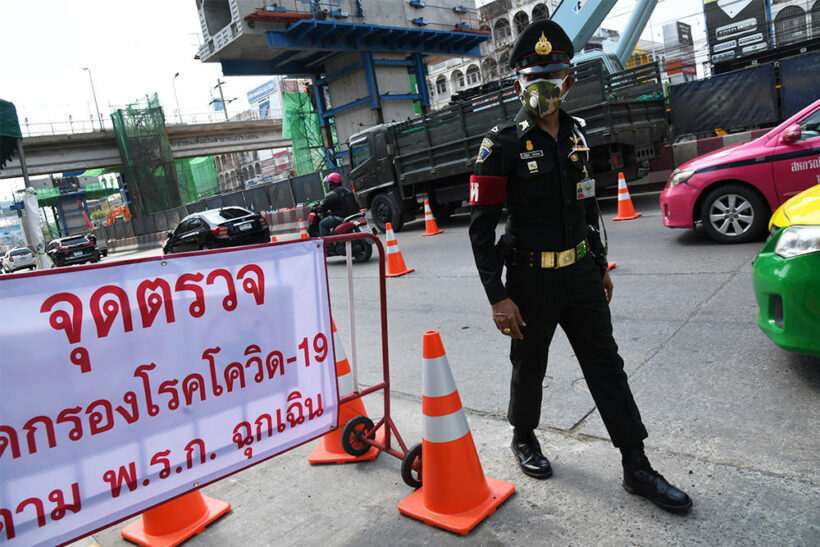 Phuket island officials have reported 6 new cases of the Covid-19 coronavirus as of today (Sunday, March 29), bringing the total to 53 on the southern island. The details as known at time of publication are…
Case 48: A 42 year old Thai woman, a gift shop owner in Patong.
Case 49: A 32 year old Ukrainian woman who runs a health clinic in Karon.
Case: 50: A 27 year old Thai woman who has had close contact with foreigners.
Case 51: A 37 year old Thai man, a bouncer in Patong's Bangla Road.
Case 52: A 36 year old Thai woman, a massuese in Patong.
Case 53: A 22 year old Thai woman who had close contact with another confirmed case, in Patong's Bangla Road.
Since January 5, 944 people in Phuket have gone to hospital for testing. Of those 794 have tested negative and were sent home.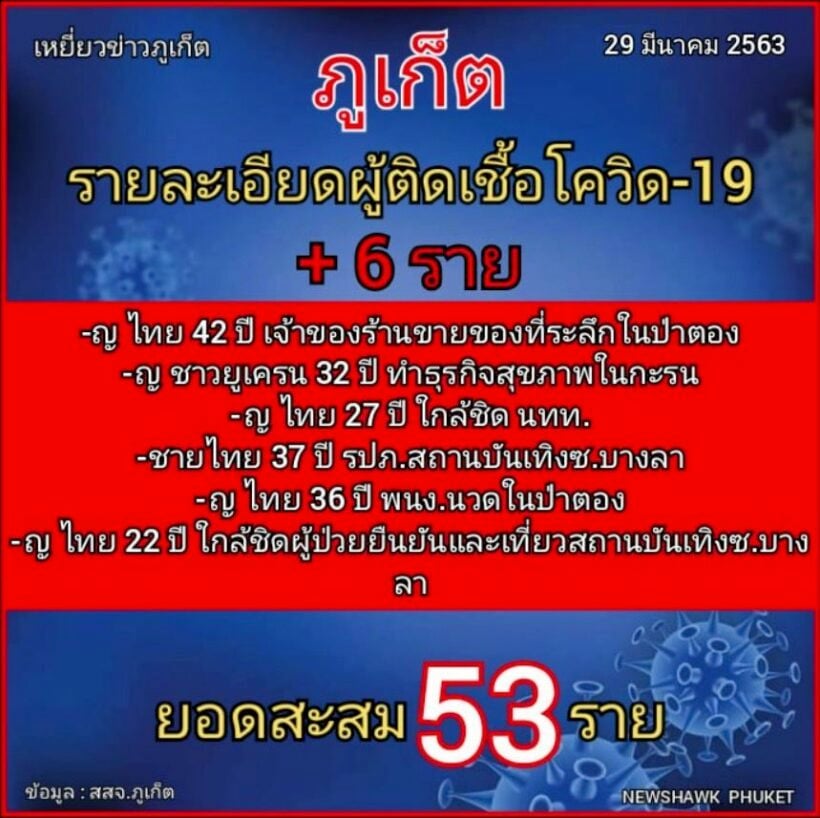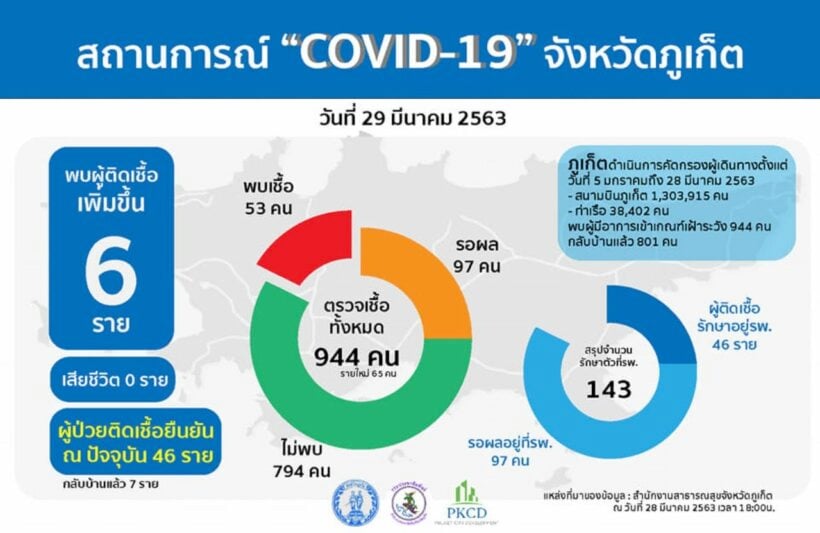 SOURCE: Newshawk Phuket
Keep in contact with The Thaiger by following our
Facebook page
.
Handful of Thais catch last flight back to Thailand from Singapore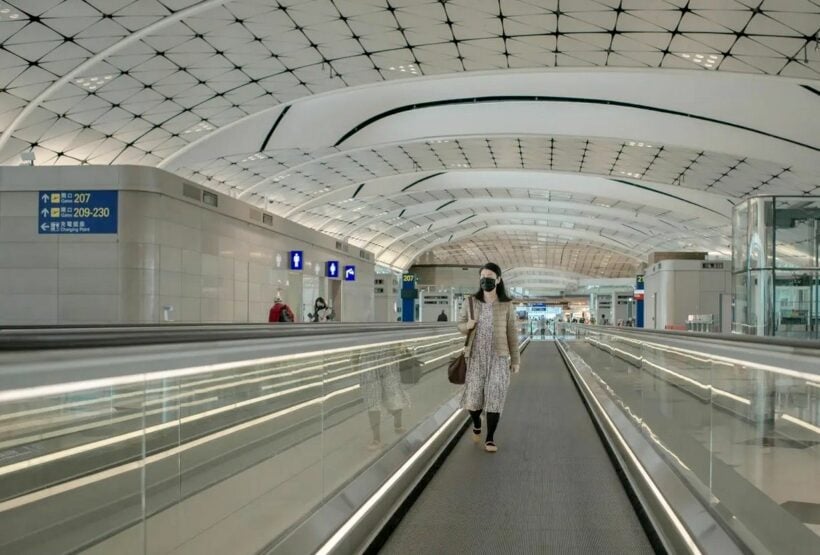 Flights are thin on the ground now and very few regional carriers are still in the air. Singapore Airlines Flight 972 was the last scheduled service to Thailand's Suvarnabhumi Airport. Passengers, only a few dozen, mostly Thais fleeing back home to ride out the Covid-19 coronavirus pandemic, flew out of Singapore's Changi Airport yesterday.
Airlines worldwide are cutting flights and grounding planes due to the global outbreak, which at 11:30am (Thai time today) had infected more than 664,000 and killed more than 30,000 people. Thailand has reported 6 deaths to date, Singapore 2.
The Thai passengers' desperation was evident. One 66 year old woman, who had been in Singapore taking care of her niece, told reporters: "If I die, I want to die in my country."
Thailand declared a nationwide state of emergency on Thursday banning all foreigners from entering the Kingdom, and placed complicated requirements for Thais to have a health certificate, not older than 72 hour, and proof of residence before being declared 'fit to fly'..
Singapore's Changi Airport was reported to be almost empty yesterday with only one check-in counter open. Nearly all passengers wore facemasks, and many wore gloves.
One passenger said she was afraid if she didn't get back to Thailand she might be stranded. 33 year old Ammara Viparsinon said she was shocked at the ticket price of 600 Singapore dollars (about 13,600 baht), about double what a flight would normally would cost. But she felt there was no choice, as any other route would involve long connections and layovers, and be even more expensive.
"The risk is too high, so I'd rather take this last direct flight."
SOURCE: Reuters
Keep in contact with The Thaiger by following our
Facebook page
.