Na-Oh, taking off daily into a brand new culinary adventure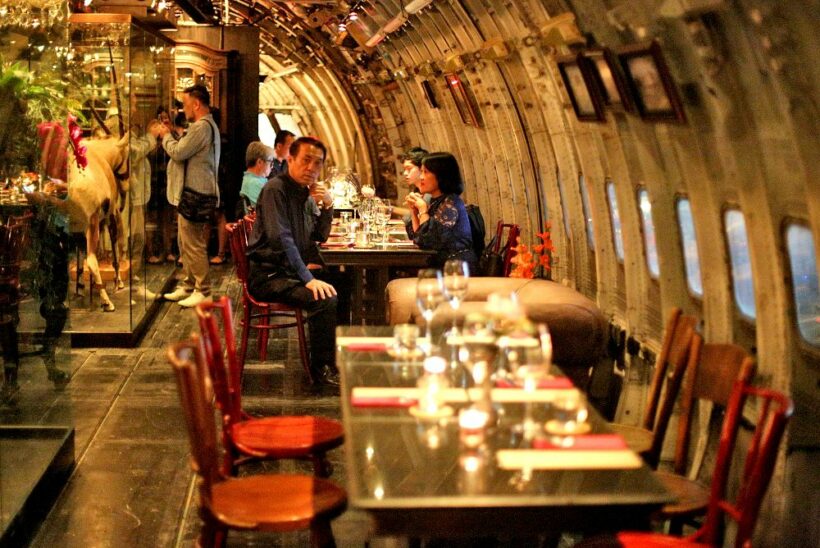 PHOTOS: The Nation | Na-Oh
A restaurant with a theme, a grand gothic theme – a flying vessel taking survivors of a post-apocalyptic world to a safe zone.
Na-Oh (a play on Noah and his journey-to-safety story) promises that its menu will constantly change to reflect a new theme set by the restaurant every three or four months, usually reflective of the various destinations the 'journey' will take you.
This flight of fancy is an old Lockheed L10-11, an 80s domestic flyer in the US now re-imagined as a restaurant in Bangkok's Thonburi district as part of the Chang Chui Bangkok Plane Night Market, on the west side of the Chao Phraya.
The 55 metre, 150 tonne former jet that's been permanently parked at ChangChui since 2017 is finally whisking passengers off on culinary adventures.
Formerly flying for Thai Sky Airlines fleet, the L10-11 was about to be scrapped when Somchai, the celebrated clothing designer and founder of fashion label FlyNow, flew to its rescue.
Upon boarding for what's billed as a "futuristic food journey", guests have five and five-course dinners to choose among – ranging from 1800 – 2800 baht.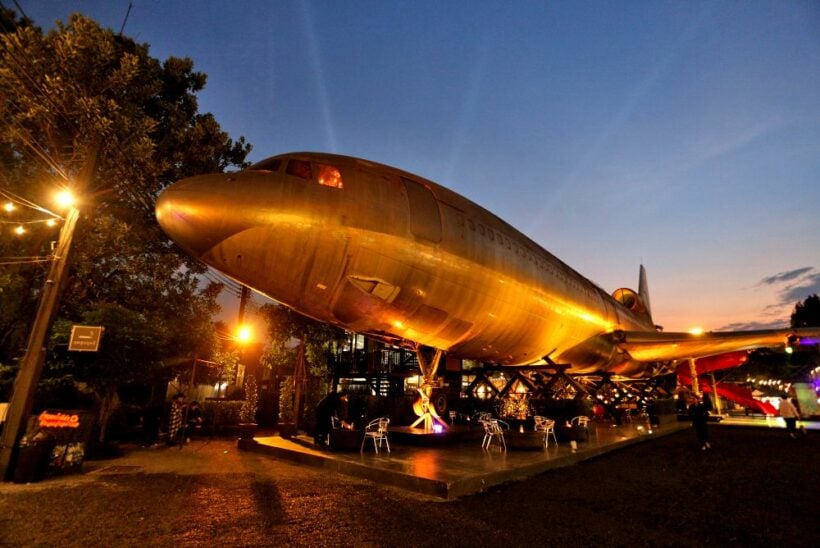 But when boarding the plane this time you're entering a whole new world of imagination – the look is gothic, sumptuous, art-deco, eclectic and lush.
The restaurant owners have replaced the 400 airline seats with vintage sofas and chairs and added fancy chandeliers. Old steamer trunks serve as tables.
And adding to the 'weird' is a range of taxidermy hanging on the sides of the old plane – all are certified legal and ethical, meaning they died of natural causes.
Once upon a time surly baggage handlers would hurl your luggage onto a waiting trolley at an airport, but here the former luggage compartment is now a 10 seat lounge with high-backed maroon sofas.
The cockpit is a private dining room with a classic chesterfield.
You get the idea, Na-Oh is high on style, but what about the food? It's fine dining with a thematic twist. Mostly Asian-inspired simple flavours, the owners describe the culinary experience as a futuristic food journey. So, expect the unexpected. Check out the current menu at Na-Oh HERE.
Compared to the dramatic interior and wow-factor, the degustation menu-style offerings are a secondary matter. But if you're looking for that different dining experience in Bangkok strap yourself in, stow your tray table, open up your window covers and open up your mind to a new culinary experience.
Na-Oh is open daily, except Wednesday, from 6 to 11pm.
Bookings on 02 007 7070 or find out more HERE.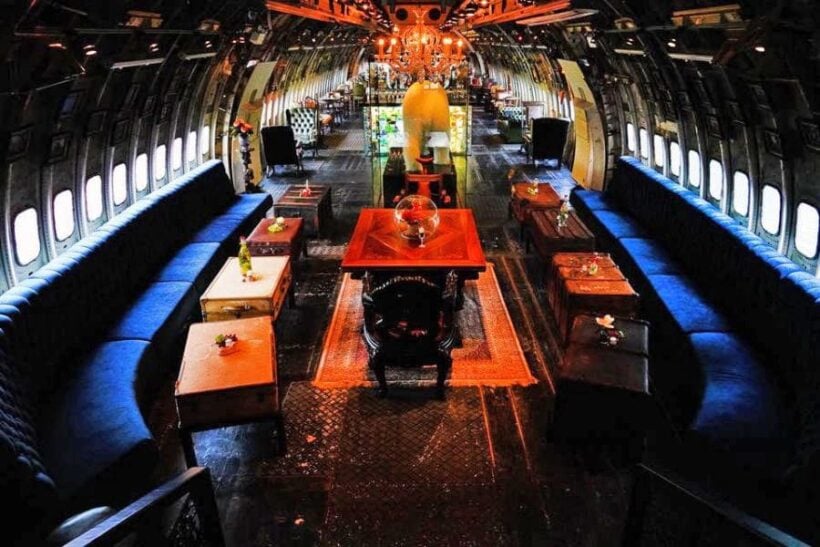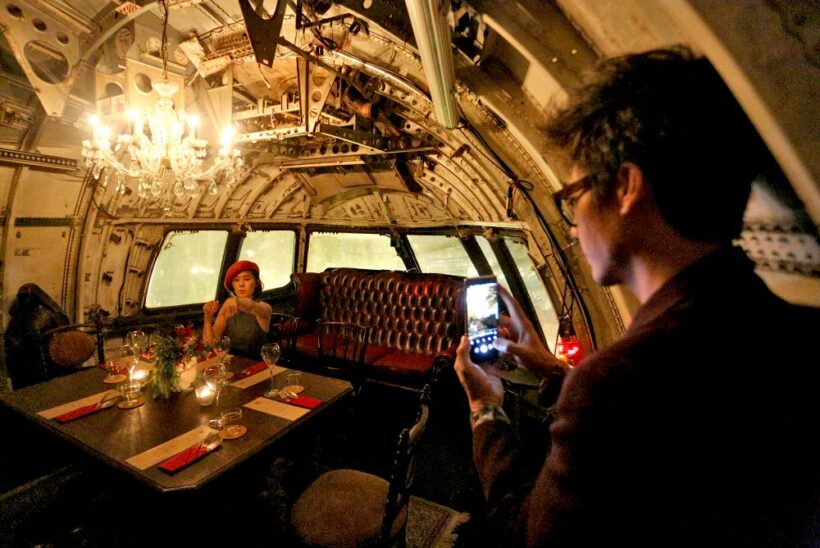 Keep in contact with The Thaiger by following our Facebook page.
Never miss out on future posts by following The Thaiger.
Price control on 55 items, face masks and alcohol included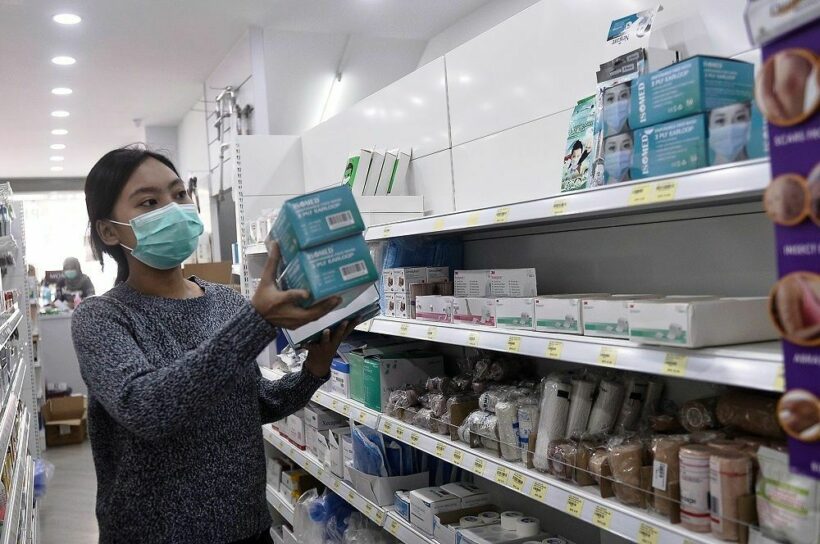 The government decided to maintain the price control list for 55 product items including face masks, raw materials for medical face mask production, alcohol (not the stuff you drink!) and alcohol-based hand sanitiser, and recyclable paper.
According to the Commerce Minister Jurin Lakanawisit, price controls on 55 items for daily use will continue, especially the price for face masks. A maximum retail price for medical face masks will be 2.50 baht for each one, excluding cloth face masks. The policy will preserve medical face masks for doctors and health workers in the first place and encourage people to use cloth face mask to prevent the spread of Covid-19 instead.
Measures for face masks are still the same as last year. Manufacturers, distributors, exporters and importers are required to inform the Internal Trade Department of the production cost, price, production volume, export and import volume, stocks and price labels. The export of over 500 pieces of face mask also needs prior approval from the department.
Other products and services under the price control measures include…
Food: garlic, rice paddy, milled rice, corn, eggs, cassava, wheat flour, powdered/fresh milk, sugar, vegetable/animal oil and pork.
Consumer products
Farm-related products: fertilisers, pesticides, animal feed, tractors, rice harvesters
Construction materials
Pape
Petroleum
Medicines
SOURCE: Bangkok Post
Keep in contact with The Thaiger by following our Facebook page.
Never miss out on future posts by following The Thaiger.
Health officials concerned with "family clusters" after baby tests positive for Covid-19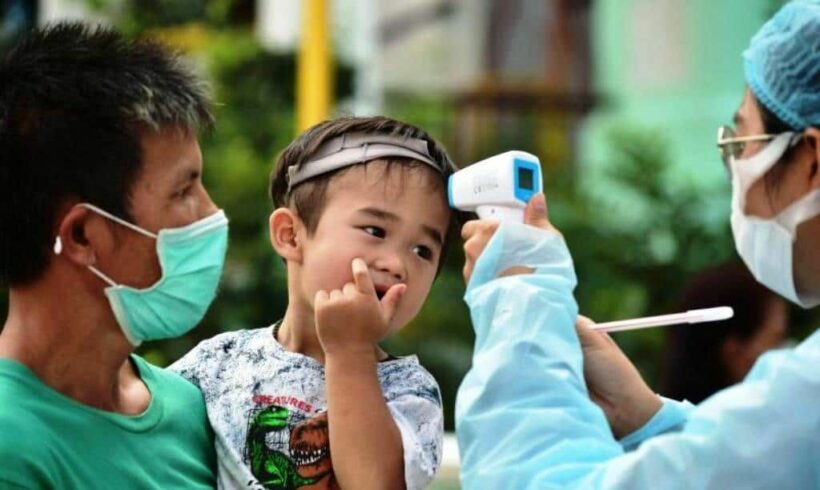 Health officials are concerned about the increasing cluster infections among family members, friends and colleagues after a 3 month old baby in Bangkok tested positive for Covid-19 after coming in contact with an infected family friend.
The baby's mother and 7 year old brother also tested positive for Covid-19, according to the director-general of the Institute for the Prevention and Control of Urban Disease, Vicharn Pawan. The friend had visited the family in the Bang Bon area. The friend later reported symptoms of loss of smell and tested positive for Covid-19 at a local hospital.
In Thailand's new wave of Covid-19 infections, 49% of the cases in Bangkok are asymptomatic, according to Vicharn. Only 29% of cases in Bangkok were asymptomatic in the first wave of cases, he adds.
Many infections are related to the cluster at the Central Shrimp Market in Samut Sakhon and clusters at entertainment venues in Pin Klao, Thon Buri and Bang Na.
SOURCE: Thai PBS World
Keep in contact with The Thaiger by following our Facebook page.
Never miss out on future posts by following The Thaiger.
High school students call for final exams to be postponed due to Covid-19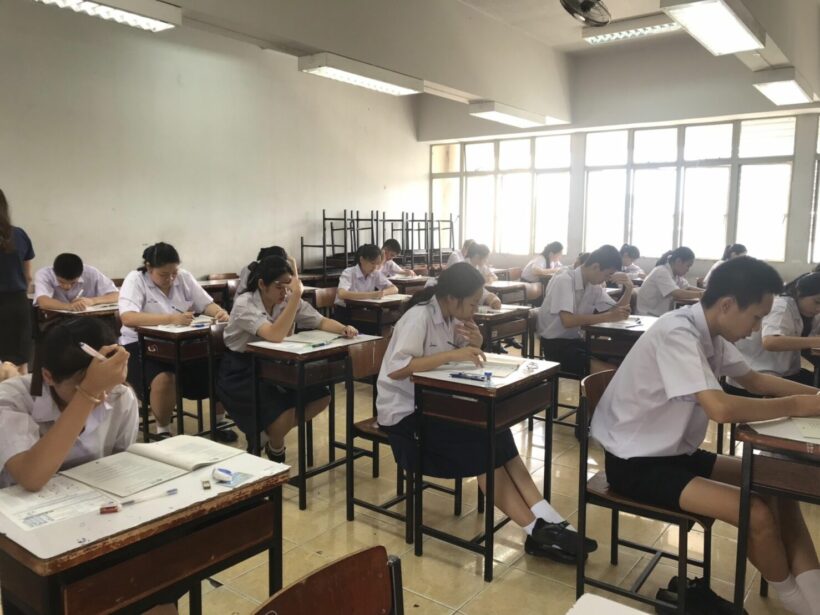 Many Thai high school students are calling for final exams to be postponed after the Covid-19 pandemic disrupted much of the school year. Some say they've struggled with online learning.
Students are sharing the now-trending Twitter hashtag #เลื่อนสอบ, literally means "postpone exams," and are expressing their concerns with the upcoming tests. One Twitter user says online learning has been a challenge and they are not prepared for the final exams.
"Honestly speaking, I really cannot see my future anymore. We have our finals in two months, I am stressed, exhausted and feeling hopeless. Covid is close to home, online learning is such a challenge and I don't understand anything at all."
Senior high school students have 2 months to prepare for the major national exams including the Ordinary National Education Test (O-NET), General Aptitude Test (GAT) and Professional and Academic Aptitude Test (PAT) as well as university entrance examinations.
Teachers and students have faced difficulties adjusting themselves to the restriction measures during the outbreak of Covid-19. Academic and educational personnel also note that remote online learning will hinder student's learning process.
SOURCE: Thai Enquirer
Keep in contact with The Thaiger by following our Facebook page.
Never miss out on future posts by following The Thaiger.