World's biggest band launch their new album "Map of the Soul: 7" BTS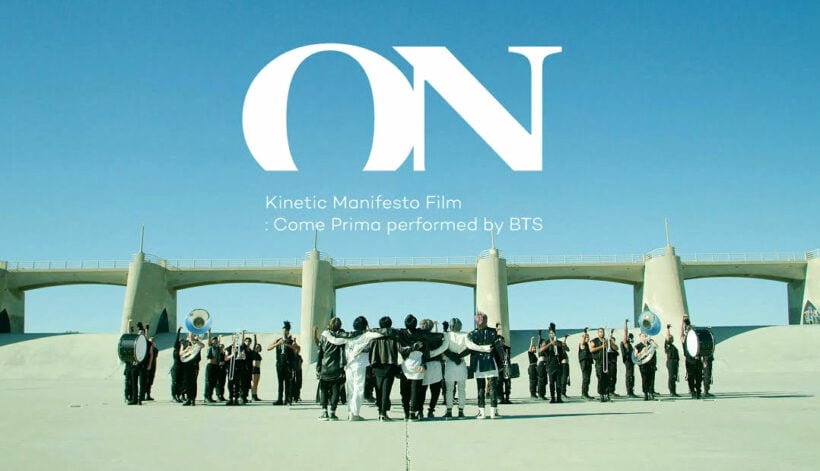 From the first determined drum stroke in the new BTS music video (below) you get the sense that these guys mean business for their new album. The music video for their first official single ON kicked over more than 70 million views in its first 2 days since launch.
The world's biggest band BTS – in terms of album sales, stadium tickets sold, and sheer internet presence – has launched their latest studio album, their seventh, Map of the Soul:7. And they're spending their time launching it in the US, seen as the holy grail of pop for bands around the world.
The seven-member South Korean band has boldly gone where few 'foreign' language bands have gone before. Last year they notched up a major milestone becoming only the second band to have three consecutive No. 1 albums in the Billboard Chart in a 12 month period. The last band to do that was a British quartet called The Beatles… you may have heard of them.
But the white-washed world of American pop has been slow to come around to the invasion of the South Korean band that cut its teeth in the ultra-competitive world of K-pop before making headway in the international market. Indeed they've done just about everything differently than bands before and, somehow, etched out a brave new world of pop success, on their own terms.
Launching in June 2013, BTS (aka. Bangtan Boys, Bangtan Seoyondan, which translates as Bulletproof Boy Scouts), the seven members have played with hip hop, R&B, power ballads, pure pop and edgy rap styles. Seven years later their music is much more difficult to define as it crosses multiple genres and emerges as something new and distinct. 
But BTS is a lot more than its three letter acronym. BTS is RM, Jin, Suga, J-Hope, Jimin, V and Jungkook.
Much of their success is rooted in a few points-of-difference, all of them taken to new levels of professionalism and art.
• Every BTS music video is almost a piece of art, sometimes filmic and always beautifully crafted.
• BTS write, produce and perform. They act, sing, dance and rap. They are the total pop-package.
• BTS lean heavily on their authentic messages of loving yourself, acknowledging your shadows, accepting your frailties and, well, a lot of other 'young people' issues. Apart from the occasionally dark and 'real' messages in their music, all seven members appear humble and intelligent, and willing to share their ups and downs with fans (Band leader 'RM' has an IQ of 148).
• BTS have weaponised social media in a way never before attempted or achieved. YouTube, Facebook, Twitter, TikTok… they have accumulated a vast online fandom, called ARMY. It's easy to say that there has NEVER been such a motivated, dedicated fandom in music history, across borders, across languages.
• They have a well-catalogued rags-to-riches backstory, complete with hundreds of videos following their early days, failures and apprehension. From living together in a tiny dorm and cooking their own meals together, all the way to their world-wide popularity and chartered jets, it's a fascinating journey that adds to their appeal.
• They are genuinely likeable and have always, ALWAYS, thanked their legion of fans, first and foremost, for their success.
'7' has held its position at No. 1 on Amazon's bestsellers chart for nearly a month, and the upcoming US stadium tour (then to Europe and Asia) has already sold out. Even before its release, Map of the Soul: 7 was the fastest-selling album this year (4 million sales), selling four times the numbers of pre-release sales for Taylor Swift's Lover.
There's little doubt BTS will earn their fourth consecutive No. 1 debut on the Billboard 200.
Why '7'? The band says it's a salute to their seven years together as a band and, well, there's seven of them.
Their launch single (which follows two YouTube teaser music videos of the songs Shadow and Ego, plus a hugely popular performance of Black Swan on James Corden's Late Late Show – 39 million views), is ON.
The music video released yesterday is an alternative version of the collaboration featuring Sia on the album. ON is a catchy anthem starting out with a stripped back church-like organ breaking into a precision drum-band punching out the rhythms for the track.
As with most of their work, all BTS members get their chance to shine. Just when you think you're getting into the track (it's in Korean and English), it changes direction and surprises. Wait until you get to the dance break in the middle!
The new album has 20 tracks including some from the previous Map of the Soul: Persona. But this is certainly taking a darker and edgier turn for the band which, seven years on, has a rich tapestry of styles in their extensive repertoire.
Full Track List for Map of the Soul: 7
Intro: Persona
작은 것들을 위한 시 Boy With Luv (Feat. Halsey)
Make It Right
Jamais Vu
Dionysus
Interlude : Shadow
Black Swan
Filter 시차
Louder than bombs
ON
욱 UGH!
00:00 (Zero O'Clock)
Inner Child
친구 Moon Respect
We are Bulletproof : the Eternal
Outro : Ego
ON (Feat. Sia)
But there's stormy weather ahead for the band and ARMY with South Korea's compulsory military conscripton looming over the seven 20-something members. The oldest member, Jin, reaches 28 years of age in December this year which will force him to enter the mandatory 2 year military service. And that will be followed over the following four years by the other band members – Suga, J-Hope, RM, Jimin, V and Jungkook. Although there's been a strong media and online push to get an exemption for the group, (in 2019 BTS contributed $4.65 billion to the South Korean GDP), the members have all said they look forward to serving their country.
For now BTS are switched ON with their new album and their reshaping of the world pop industry will continue, for at least the rest of 2020.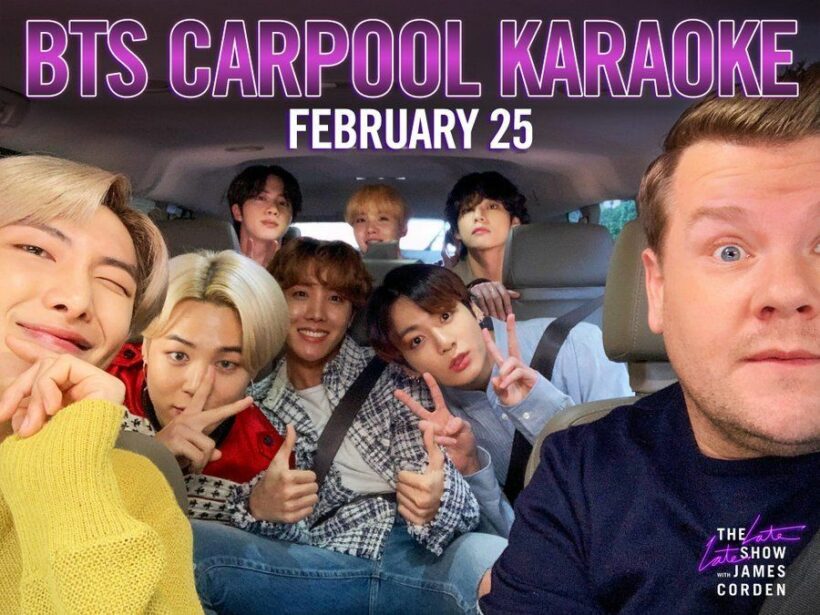 You know you've made it in the pop music world when you end up on Carpool Karaoke

Join the conversation and have your say on Thailand news published on The Thaiger.
Thaiger Talk is our new Thaiger Community where you can join the discussion on everything happening in Thailand right now.
Please note that articles are not posted to the forum instantly and can take up to 20 min before being visible. Click for more information and the Thaiger Talk Guidelines.