UPDATE: Four defence volunteers killed at school by militants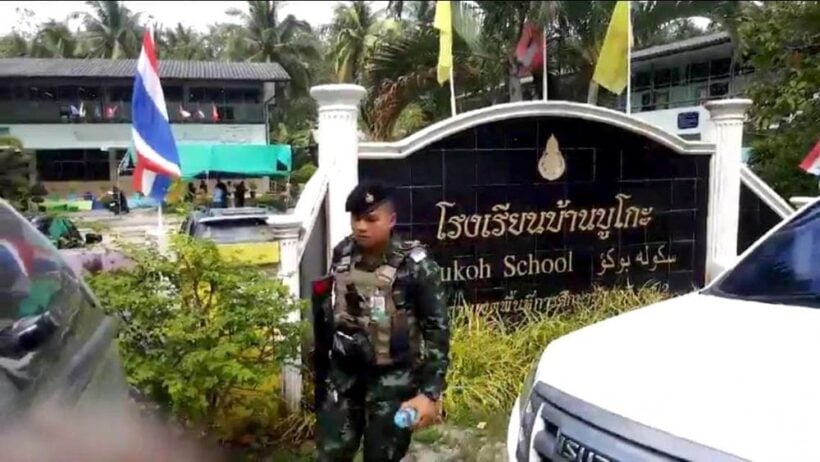 PHOTOS: The Nation | Thai PBS
Disguising themselves as army troops, suspected militants surprised a unit of defence volunteers this morning when they opened fire on them at a school in Yarang district, Pattani. They killed four volunteers and taking away their assault rifles.
The violent incident occurred in the compound of Ban Pukoh school in Village 5, Tambon Prachan, where four defence volunteers were assigned to provide protection to teachers.
Wearing army fatigues, the gunmen approached the four volunteers who mistook them as troops and then opened fire with their automatic weapons.
The four volunteers were killed at the scene and the assailants grabbed their HK assault rifles, ran toward a waiting pickup truck and escaped.
The shooting incident shocked and caused panic among teachers and students who screamed in horror as they scrambled for cover. The school was later ordered closed and all the students sent home.
In Betong district of neighboring Yala province, security was ordered to be stepped up and defence volunteers assigned to protect communities were told to check all vehicles entering the communities as a precautionary measure.
Security officials suspect that the attack was carried out by militants associated with the Barisan Revolusi Nasional, an armed militia which does not take part in the Malaysia-brokered peace negotiation between the government and Mara Patani.
A car bomb was detonated near a Border Patrol Police task force base in Thepa district of Songkhla province on Tuesday, injuring two border patrol policemen and shattering a transformer, causing partial blackout in the district.
Police tracked the wreckage of pickup truck which was used as car bomb to its owner, a retired school teacher, who was murdered and hanged in his house before insurgents stole his pickup for the attack.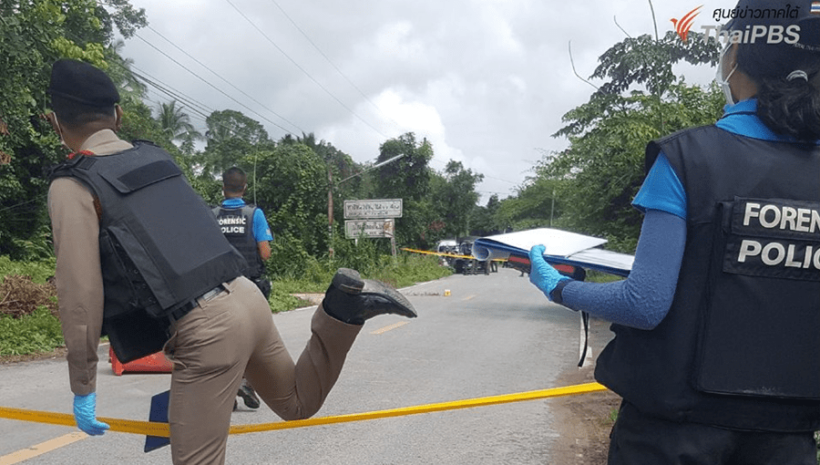 SOURCE: Thai PBS


Read more headlines, reports & breaking news in South Thailand. Or catch up on your Thailand news.
Six metre king cobra caught by rescue workers in Trang – VIDEO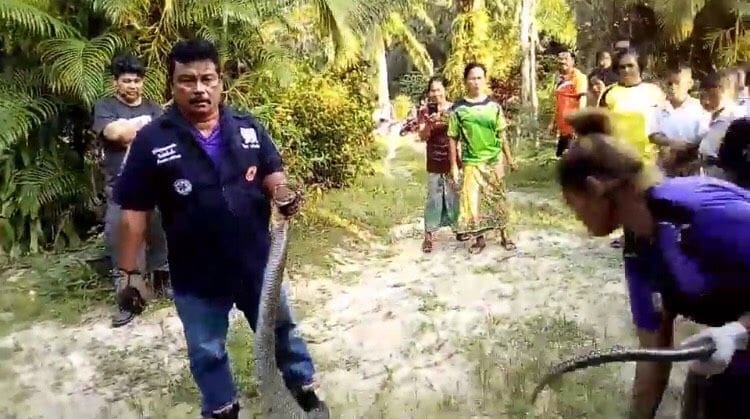 VIDEO/PHOTOS: หน่วยกู้ภัยบรรเทาวังวิเศษ
A 20 kilogram, 6 metres king cobra has been caught in Trang by rescue workers.
77 Kaoded news reports that Sikao Police in Trang were notified of the incident at a house at 4.45pm yesterday. Police decided it wasn't quite in their work contract and contacted rescue workers who headed to the house.
Sawai Kaewjuea, a rescue worker, led his team to catch the cobra. It took about 20 minutes to catch the feisty king cobra which 6 metres long.
23 year old Sunata Duangkleang says, "While I was talking with my friends in the house, I saw the king cobra. We immediately ran out of the house and called the police."
Good advice!
TRANGRescue worker catches a king cobra in Trang, southern Thailand, yesterday. Yikes!VIDEO: หน่วยกู้ภัยบรรเทาวังวิเศษ

Posted by The Thaiger on Tuesday, January 15, 2019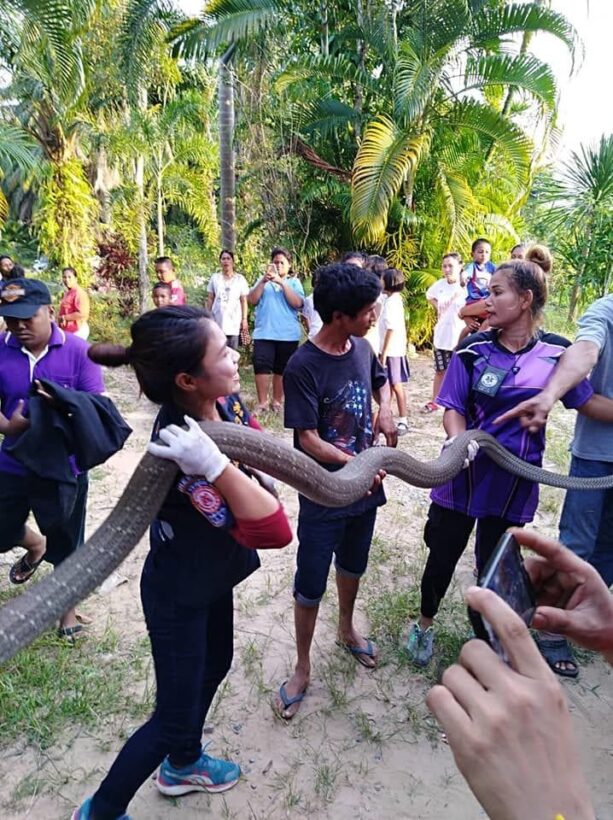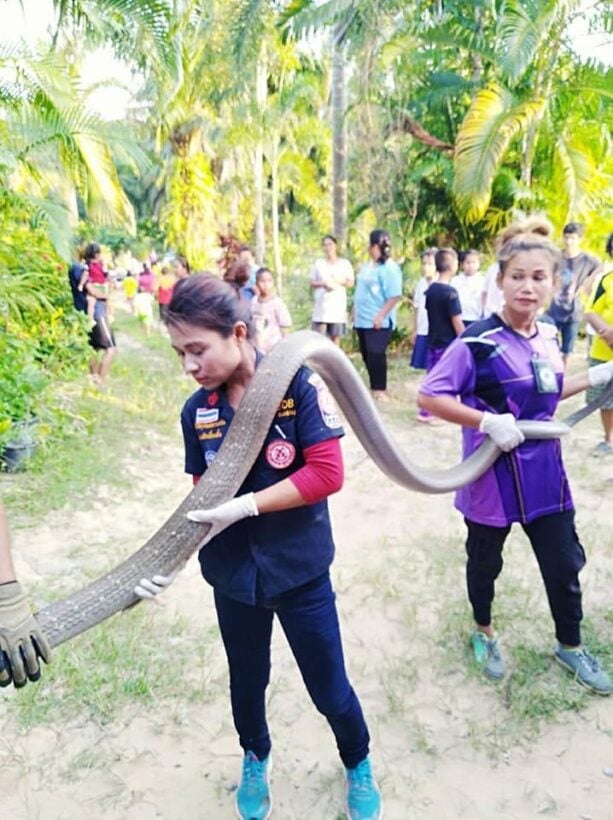 SOURCE: 77 Kaoded
Air quality for Thailand – January 16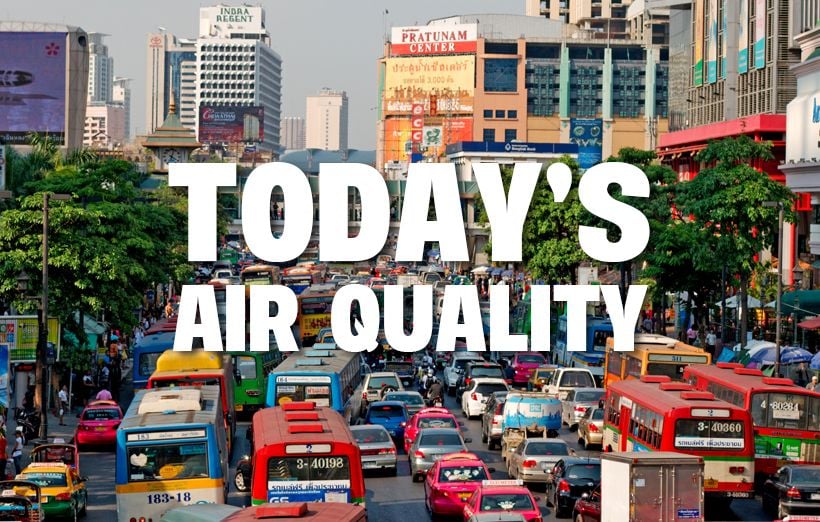 Northern Thailand



Central Thailand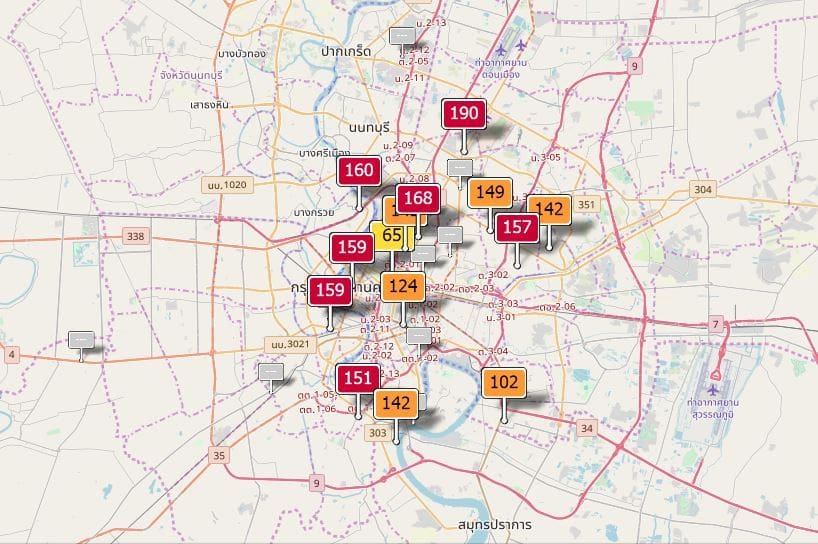 Southern Thailand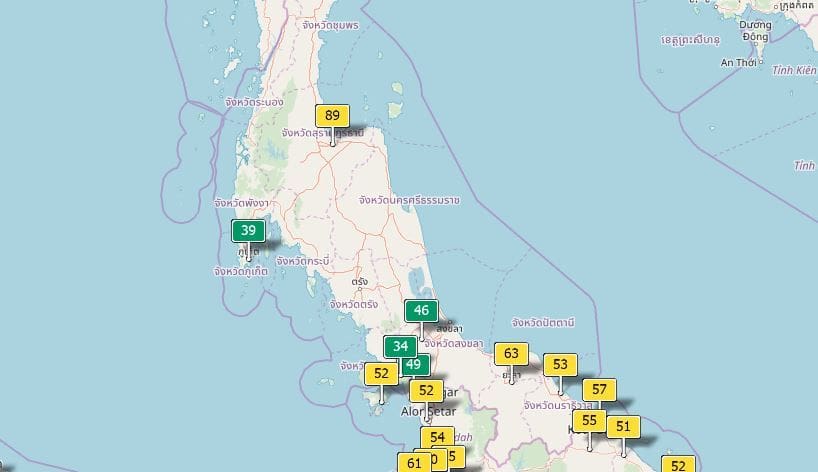 Driver charged in Chumphon tour bus accident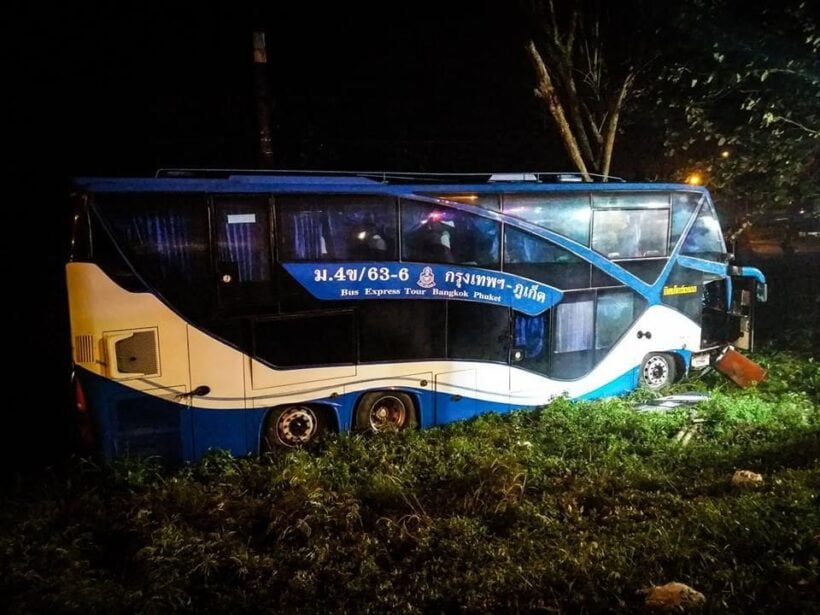 PHOTOS: หน่วยกู้ภัยมูลนิธิชุมพร //บางหมาก 02 / MulnithiChumphrKarKuslSngKheaaH
A tour bus driver has been charged for reckless driving after yesterday morning's tour bus accident in Chumphon.
23 Filipino tourists escaped serious injury in the bus crash. The bus was travelling from Bangkok to Phuket.
Read more about yesterday's crash HERE.
Thairath is reporting that the tour bus driver, 36 year old Taweesak Chitchuea from Ranong, has been charged. He had to be removed from the bus with the aid of hydraulic cutters and was taken to Chumpon Hospital with a broken right leg.
At this stage police speculate that the driver fell asleep at the wheel. The bus driver has been charged with reckless driving causing injuries and damages.
All passengers were loaded onto another bus to continue their journey to Phuket. One Filipino passenger was taken to Chumpon Hospital for precautionary examination but was released yesterday.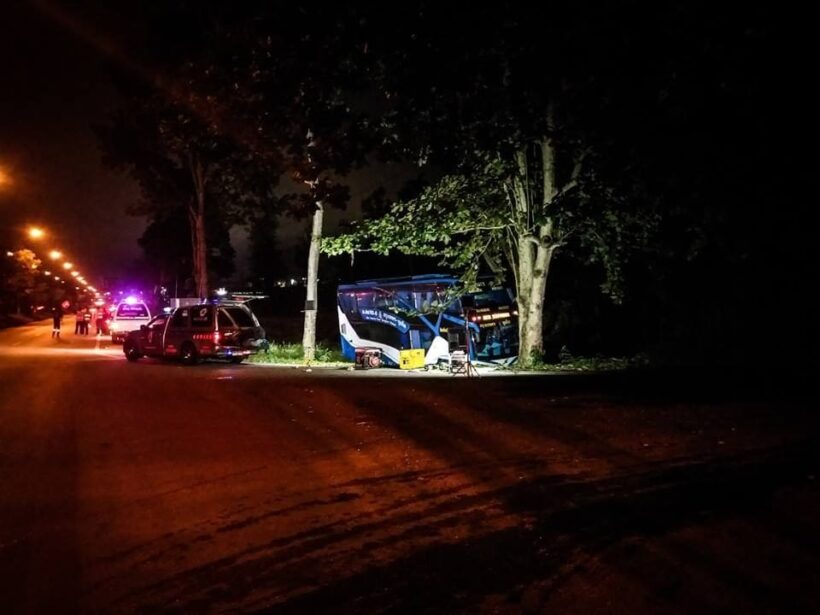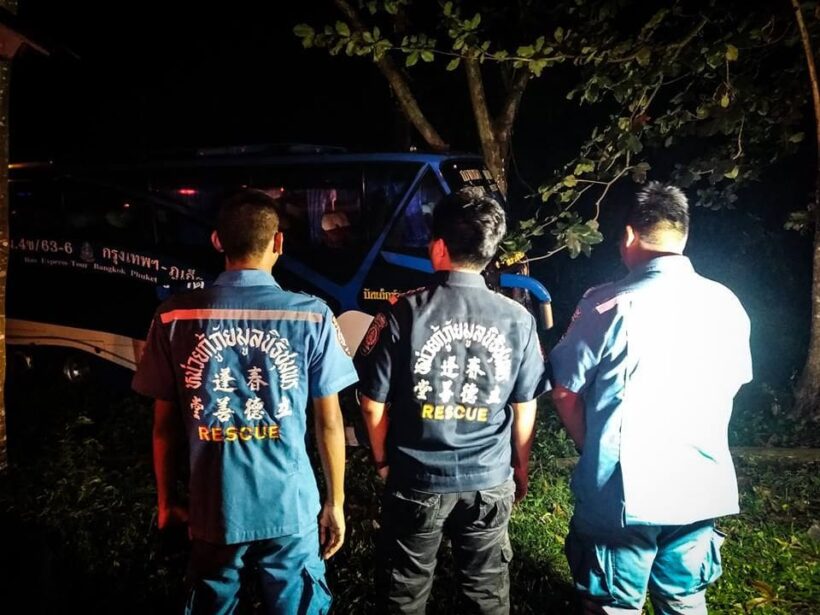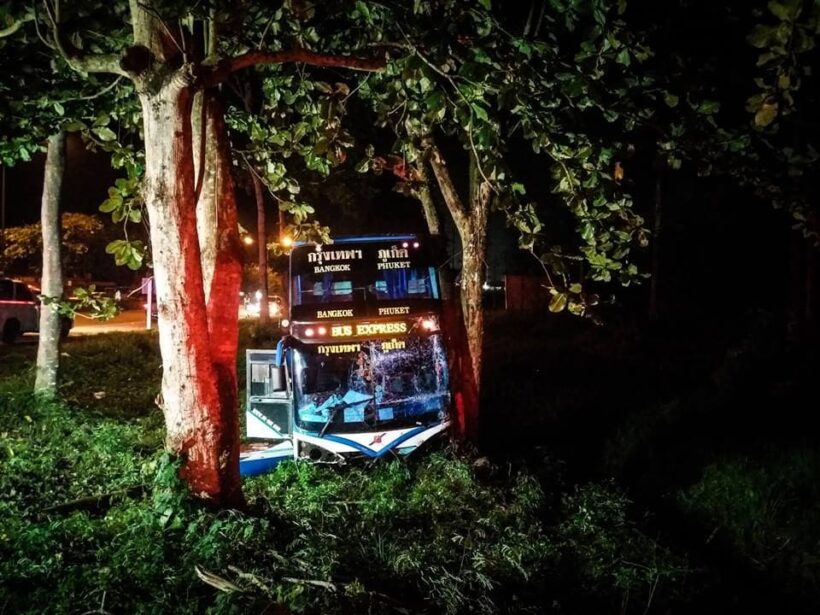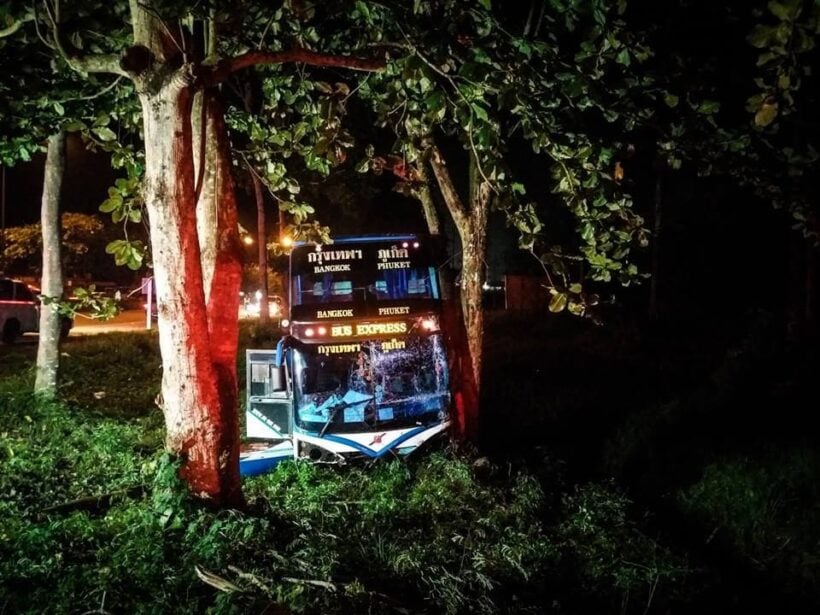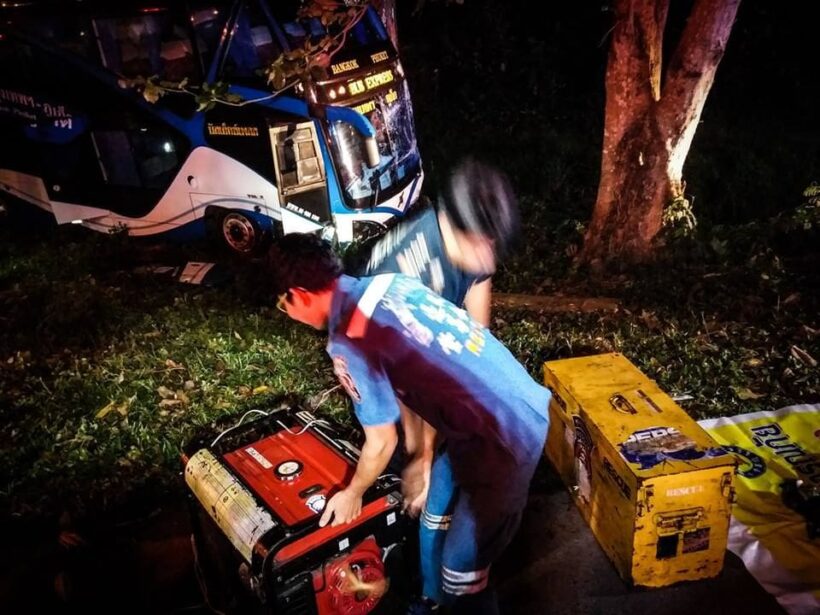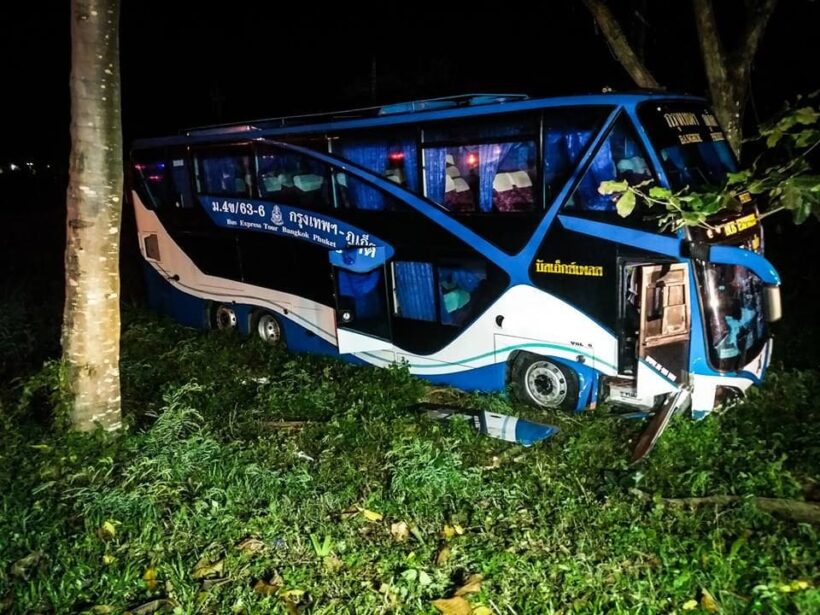 SOURCE: Thairath