UPDATE: Four defence volunteers killed at school by militants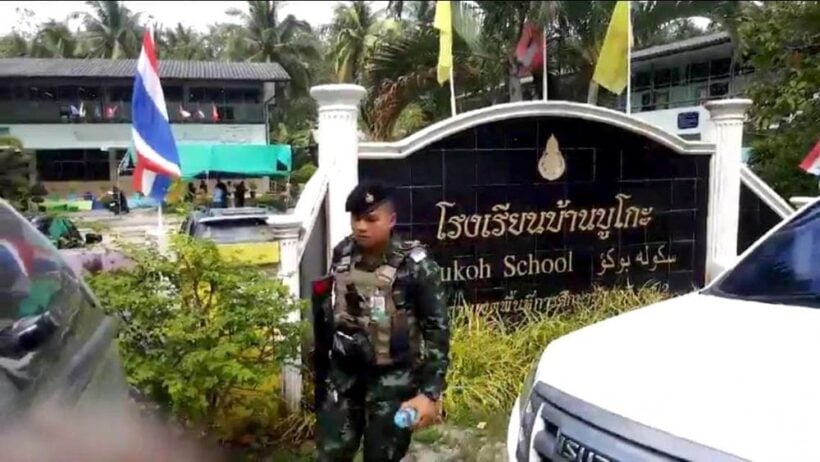 PHOTOS: The Nation | Thai PBS
Disguising themselves as army troops, suspected militants surprised a unit of defence volunteers this morning when they opened fire on them at a school in Yarang district, Pattani. They killed four volunteers and taking away their assault rifles.
The violent incident occurred in the compound of Ban Pukoh school in Village 5, Tambon Prachan, where four defence volunteers were assigned to provide protection to teachers.
Wearing army fatigues, the gunmen approached the four volunteers who mistook them as troops and then opened fire with their automatic weapons.
The four volunteers were killed at the scene and the assailants grabbed their HK assault rifles, ran toward a waiting pickup truck and escaped.
The shooting incident shocked and caused panic among teachers and students who screamed in horror as they scrambled for cover. The school was later ordered closed and all the students sent home.
In Betong district of neighboring Yala province, security was ordered to be stepped up and defence volunteers assigned to protect communities were told to check all vehicles entering the communities as a precautionary measure.
Security officials suspect that the attack was carried out by militants associated with the Barisan Revolusi Nasional, an armed militia which does not take part in the Malaysia-brokered peace negotiation between the government and Mara Patani.
A car bomb was detonated near a Border Patrol Police task force base in Thepa district of Songkhla province on Tuesday, injuring two border patrol policemen and shattering a transformer, causing partial blackout in the district.
Police tracked the wreckage of pickup truck which was used as car bomb to its owner, a retired school teacher, who was murdered and hanged in his house before insurgents stole his pickup for the attack.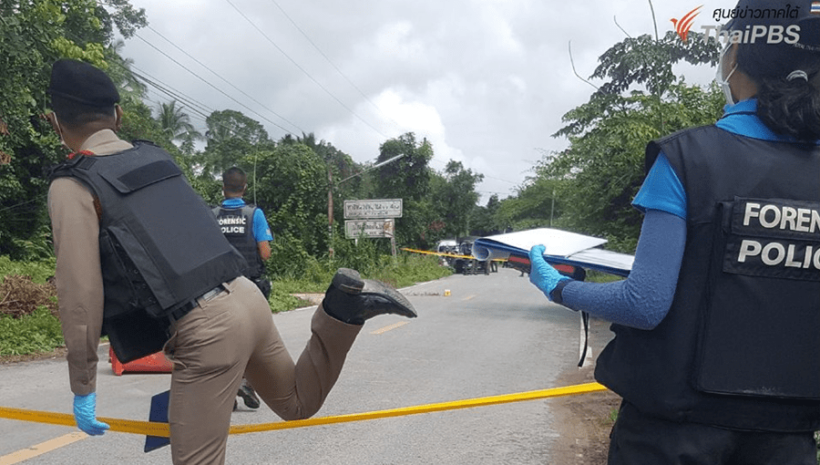 SOURCE: Thai PBS


Read more headlines, reports & breaking news in South Thailand. Or catch up on your Thailand news.
Woman killed, nine injured in seven-vehicle pileup in Nakhon Si Thammarat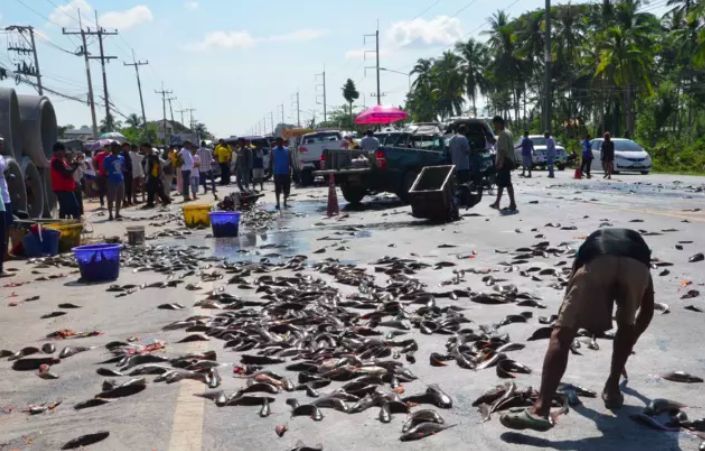 A woman has died and nine others injured in a pileup involving four pick-up trucks, a sedan and two motorcycles on a road in Nakhon Si Thammarat this morning.
Police say the accident happened at 9am on the Nakhon Si Thammarat-Pak Phanang road in front of the 17th regional office of the Government Saving Bank in Tambon Pak Nakhon, Muang district.
43 year old Pennapha Boonrodchu died after breaking her neck when her motorcycle was hit by a pickup after the four trucks piled up. She was about to make a turn into the town bank when the accident occurred. Another motorcycle was also hit and the rider injured.
Police are still investigating the incident to determine charges. The pickup that hit and killed Pennapha also hit a car parked on the roadside.
One of the pickups was carrying hundreds of kilograms of catfish, which spilled on the road.
The injured people were rushed to Nakhon Si Thammarat Hospital.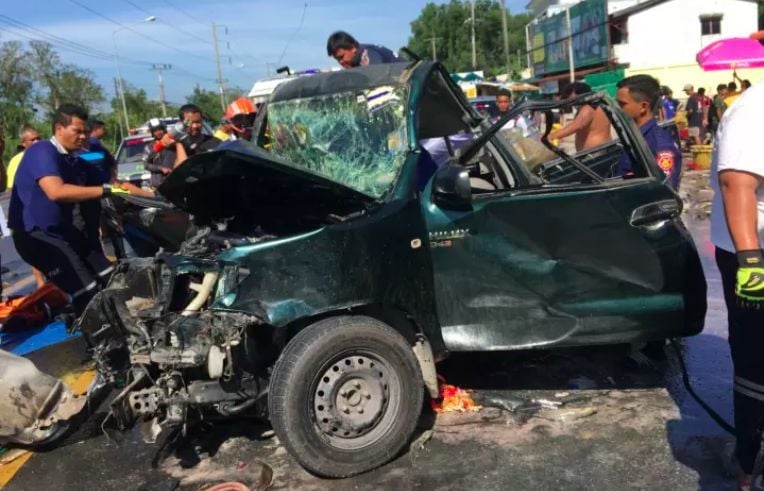 SOURCE: The Nation
Ouch! Man falls from mango tree, ends up with metal rod through his testicles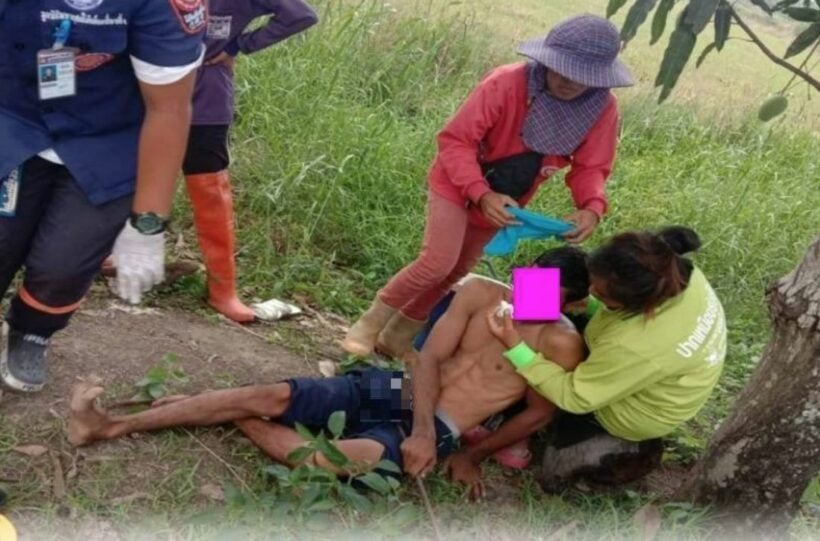 PHOTO: Daily News
Daily News reports that an iron rod, sitting under a mango tre,e had gone right through a man's testicles after he fell from a mango tree in Nakorn Si Thammarat yesterday.
The poor man, Piyapong, was fighting extreme pain as friends tried to keep him in consciousness with smelling salts. Meanwhile, according to the report, the Tai Teck Tung rescue team worked quickly to cut the ends of the rod with a metal grinder.
But the process only increased the man's misery, vibrating the rod. He fainted three times as they worked to cut the metal rod so he could be taken to hospital where they could remove the rod surgically.
He was taken to Hua Sai hospital in Nakorn Si Thammarat.
Piyapong had been collecting chilies then decided to get some mangoes by climbing up a tree. Then he fell onto the rod that passed right through his jeans, and right through his testicles.
SOURCE: Daily News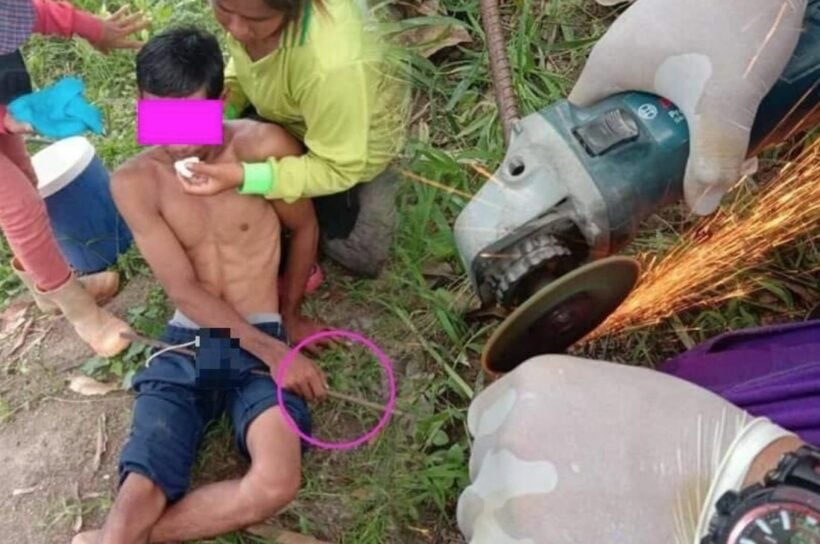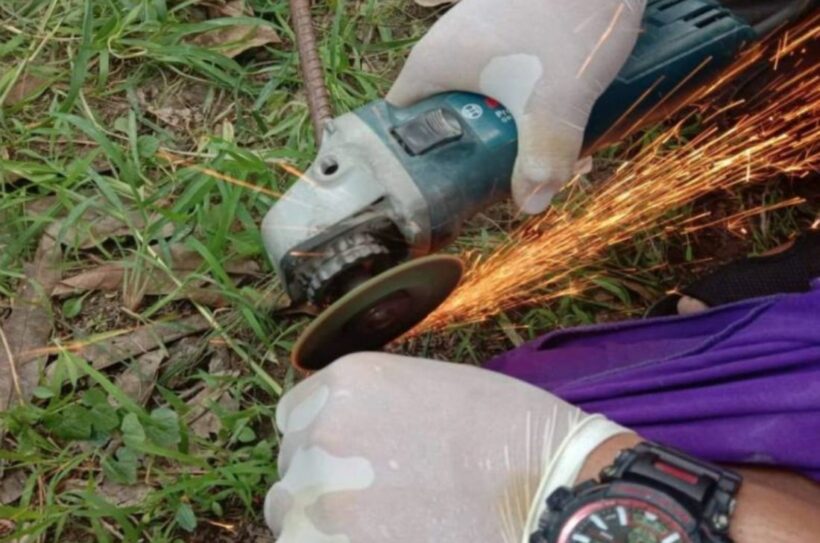 Corals bleaching off Pattani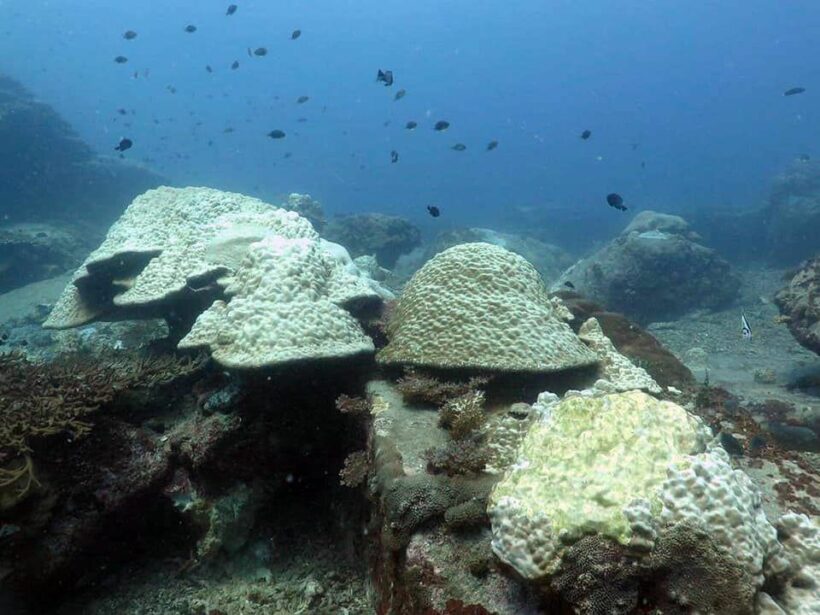 PHOTOS: Thon Thamrongnawasawat
Corals at Koh Losin, off the coast of Pattani in the south of Thailand in the Gulf of Thailand, have started to bleach and are reported to be in a 'critical situation'.
Dr Thon Thamrongnawasawat, assistant dean of the Faculty of Fisheries at Kasetsart University and a marine biologist says, "Koh Losin is in the Gulf of Thailand which is far from the coast in Pattani."
"The sea water temperature is at 31 degree Celsius, which is over the limit for coral bleaching."
"Most of them are corals which are bleaching are in shallow areas. This means that sunlight has contributed to the bleaching. Deeper water temperatures are colder. Similar to others areas in Thailand."
Read more about coral bleaching HERE and HERE.