Songkhla Zoo director to be investigated over missing rare animal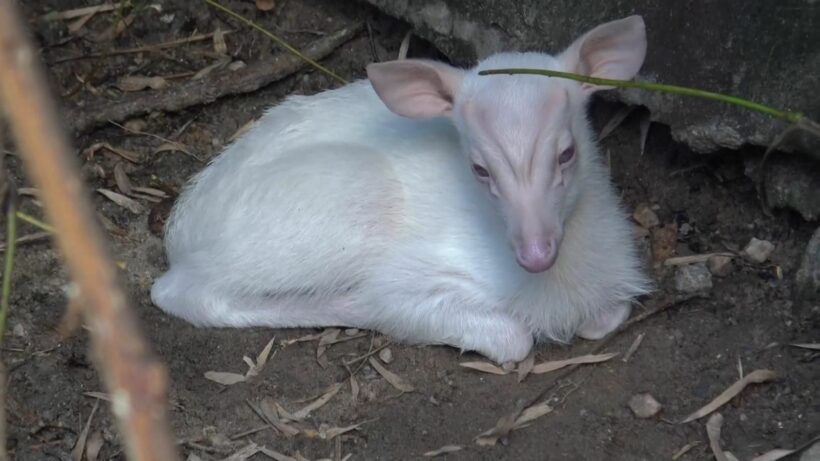 After a rare albino barking deer went missing from the Songkhla Zoo, the zoo director, who claims the animal was eaten by a python, is now being investigated by the Zoological Park Organisation as well as the Natural Resources and Environment Ministry. The 1 year old deer went missing from the zoo in February, but yesterday zoo director Chalermwut Kasetsomboon said he now has photos that show the deer was eaten by a snake and had them confirmed by a vet.
Board president of the organisation Chawalit Chukhajorn suspects the director's claims that the deer was swallowed by a snake could be a cover up.
"The discrepancy in the zoo's and director's reports could mean that the barking deer was stolen and someone wanted to cover up the evidence."
The missing deer's pedigree traces back to a deer that was given to Her Majesty Queen Sirikit The Queen Mother as a gift by a villager and then she gave it to the Dusit Zoo. Chawalit says "this is a serious issue, as the albino barking deer is a rare animal that Her Majesty the Queen Mother had given" to zoos to breed. The deer's offspring were given to other zoos, like Songkhla Zoo.
Chawalit says he's set up an investigation committee, chaired by the vice president of the Zoological Park Organisation, and says "I will personally fly to Songkhla on Friday to investigate the scene." He says he will look into transfeerring the director out of the Songkhla zoo during the investigation.
The National Resources and Environment Minister Varawut Silpa-archa has also ordered an investigation into the missing deer and has also tightening security measures at zoos under the ministry to make sure other rare animals don't go missing.
"We don't know whether it is still alive or dead. But we will know a week after the investigation is completed. If any wrongdoing is found, the zoo director must take full responsibility."
SOURCES: Nation Thailand| Bangkok Post
Catch up with the latest daily "Thailand News Today" here on The Thaiger.
Keep in contact with The Thaiger by following our
Facebook page
.
Never miss out on future posts by
following The Thaiger
.
New delivery application focuses on reducing Thailand's food waste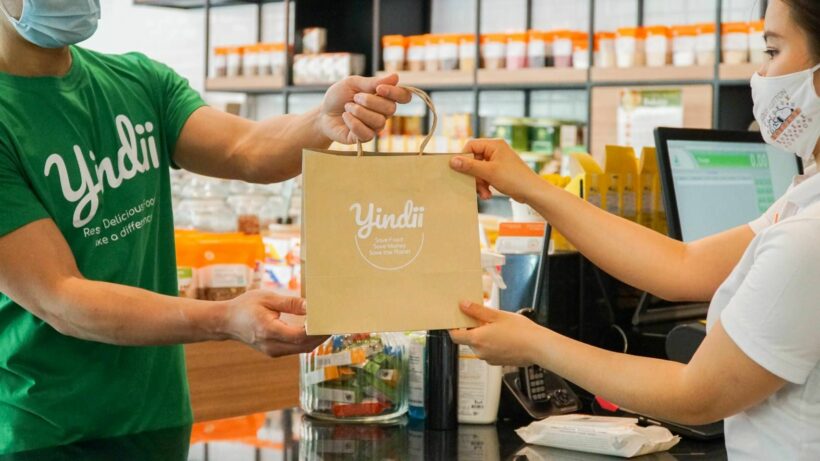 The following story was sent to The Thaiger from the Yindii, a business focused on sustainability and reducing waste produced from the food industry.
Yindii, a Thai anti-food-waste startup, launches a mobile application designed to match hungry, deal-seeking Bangkok residents with environmentally-conscious restaurants, grocery stores and cafes offering delicious food that could otherwise go to waste. Through its discounted "flash sales," Yindii helps battle an escalating societal problem while enabling restaurants to gain potentially lost revenue.
Yindii's mobile application is designed to be a direct-to-consumer platform created for restaurants and cafes who can create exclusive and immediate "Happy Hour Deals" offers regularly, with up to discount from 50 to 70%. Once a Yindii box offer is published, Yindii users can then purchase the Yindii box before heading to the restaurant to collect their items or getting them delivered. Transactions are completed electronically.
Consumers can discover what is inside when they open their surprise gift box. Aside from the savings – and committing to the reduction of food waste – consumers benefit from the app by connecting with their favourite food joints to easily find highly discounted items.
"33% of all food produced globally is wasted or lost every year. That is close to a billion and a half tons which is never consumed, accounting for 8% of the greenhouse gas emissions around the globe, 4 times more polluting than the airline industry. All this is an ecological disaster!"
"The growing problem of food waste is challenging to solve for endless reasons including logistics, the complexities of short-lived items and the lack of a set market, which is what we are working to help solve – with a simple system for people and restaurants of surplus food to connect and enact." – Yindii founder and tech entrepreneur Louis-Alban Batard-Dupre
"All the food available on Yindii is delicious and untouched, coming from premium places, that just cannot wait for tomorrow to be eaten. Think about pastries in coffee shops or fresh meals in restaurants. Our community, the Food Waste Fighters, can rescue the food and provide access to quality meals at an affordable price."
For the first 100 users who download the app, Yindii is offering free delivery up to 5km from any store with the code: SAVETHEPLANET.
Available for download on Apple's app store for iOS devices and on Google Play for Android devices, the Yindii app features an initial group of restaurants and cafes including: Sofitel Sukhumvit, Veganerie, Ohana Poke, Broccoli Revolution, Delifrance, Sunshine Market, Banana Warrior, among others.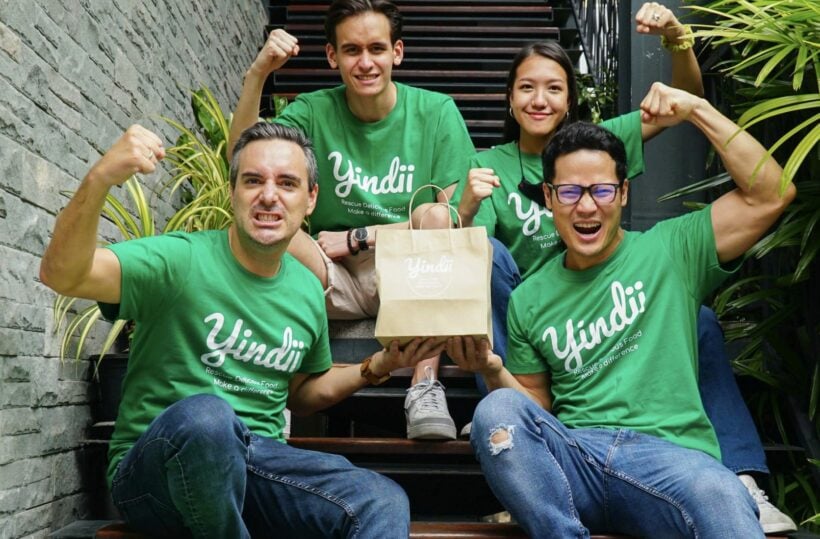 Keep in contact with The Thaiger by following our
Facebook page
.
Never miss out on future posts by
following The Thaiger
.
Bangkok residents not satisfied with floodwater management-Nida Poll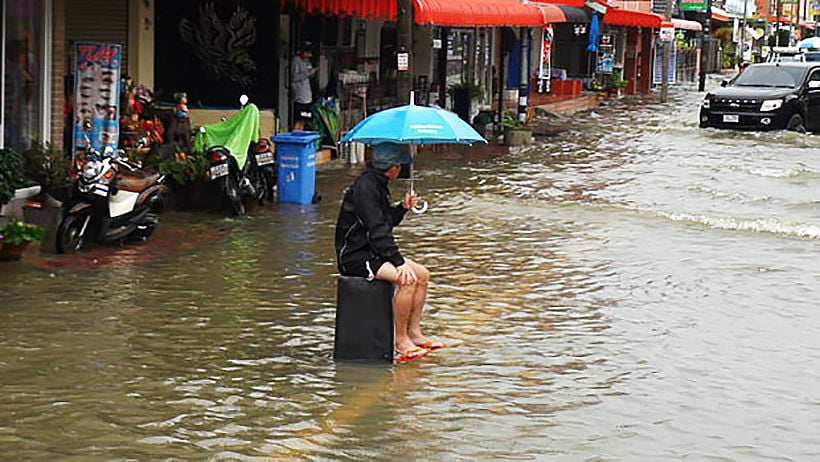 Bangkok residents are largely unsatisfied with the floodwater management in the capital, according to a recent poll. The National Institute of Development Administration conducted the poll on October 6-7 with 1,322 respondents from various levels of education and occupations.
Almost 60% of people say they are not satisfied with 33% of those saying poor preparation and flood management contributed to the dissatisfaction. Almost 27% say they are totally dissatisfied because the BMA was very slow to drain floodwaters, leaving some areas flooded for extended periods of time.
However, almost 31% say they were "quite satisfied" with the BMA's preparations with 9% being "very satisfied" as they reported some areas were not flooded at all. 40% of respondents said they are confident in the BMA's flood prevention strategy while a majority, 59% said they are not.
Keep in contact with The Thaiger by following our
Facebook page
.
Never miss out on future posts by
following The Thaiger
.
PM pledges to protect Thailand's natural resources at virtual biodiversity summit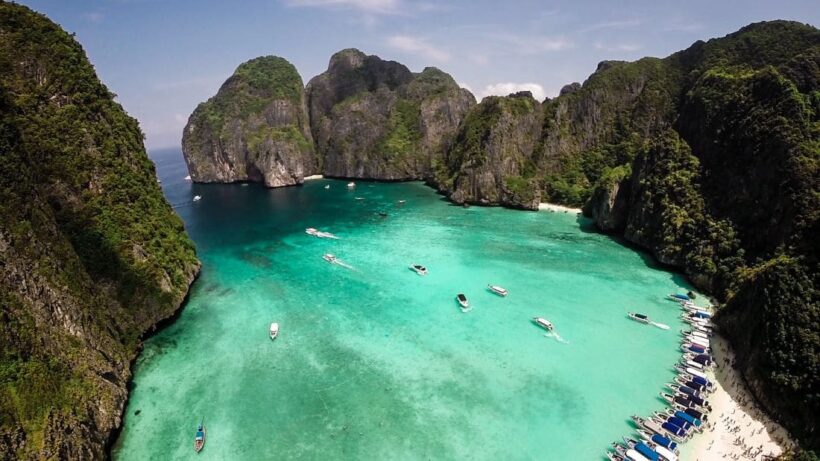 Thai PM Prayut Chan-o-cha has said he'll do his best to protect the country's natural resources and tackle the issue of biodiversity losses in Thailand. He was speaking at a UN biodiversity summit, being held online. The term biodiversity encompasses all living organisms, whether plant, animal, fungi or micro-organisms.
According to a report in Nation Thailand, the PM acknowledges the impact of climate change on biodiversity, saying Thailand is "stepping up to the challenge". Addressing those attending, "Urgent Action on Biodiversity for Sustainable Development", he outlined 3 measures for managing climate change:
• Devise a plan in accordance with the Convention on Biological Diversity, to ensure policies are put in place to guard natural resources and their sustainable use
• Foster cooperation between relevant agencies, stakeholders, the private sector, and wider society to ensure the sustainable use of natural resources
• Learn from the Covid-19 pandemic and the evidence that natural resources recover when humans are removed. The PM says Thailand's national parks will close for 3 months every year, in order to give them time to recover
According to government spokesman, Anuchai Burapachaisri, the PM also spoke about the importance of diversifying people's income to provide equal access to natural resources. He says this could be achieved through a Bio-Circular-Green Economy model.
SOURCE: Nation Thailand
Keep in contact with The Thaiger by following our
Facebook page
.
Never miss out on future posts by
following The Thaiger
.