Six metre king cobra caught by rescue workers in Trang – VIDEO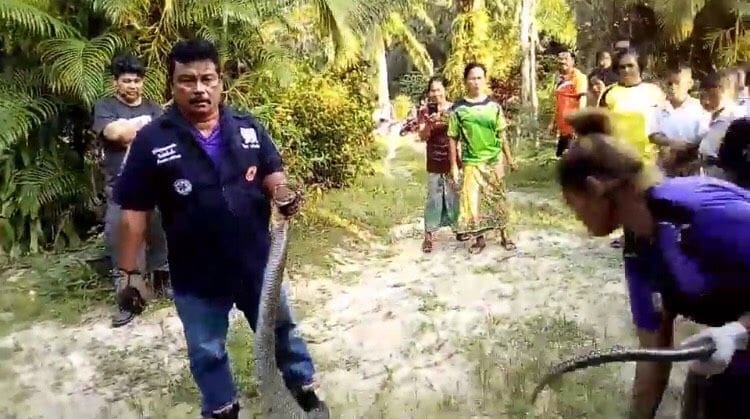 VIDEO/PHOTOS: หน่วยกู้ภัยบรรเทาวังวิเศษ
A 20 kilogram, 6 metres king cobra has been caught in Trang by rescue workers.
77 Kaoded news reports that Sikao Police in Trang were notified of the incident at a house at 4.45pm yesterday. Police decided it wasn't quite in their work contract and contacted rescue workers who headed to the house.
Sawai Kaewjuea, a rescue worker, led his team to catch the cobra. It took about 20 minutes to catch the feisty king cobra which 6 metres long.
23 year old Sunata Duangkleang says, "While I was talking with my friends in the house, I saw the king cobra. We immediately ran out of the house and called the police."
Good advice!
TRANGRescue worker catches a king cobra in Trang, southern Thailand, yesterday. Yikes!VIDEO: หน่วยกู้ภัยบรรเทาวังวิเศษ

Posted by The Thaiger on Tuesday, January 15, 2019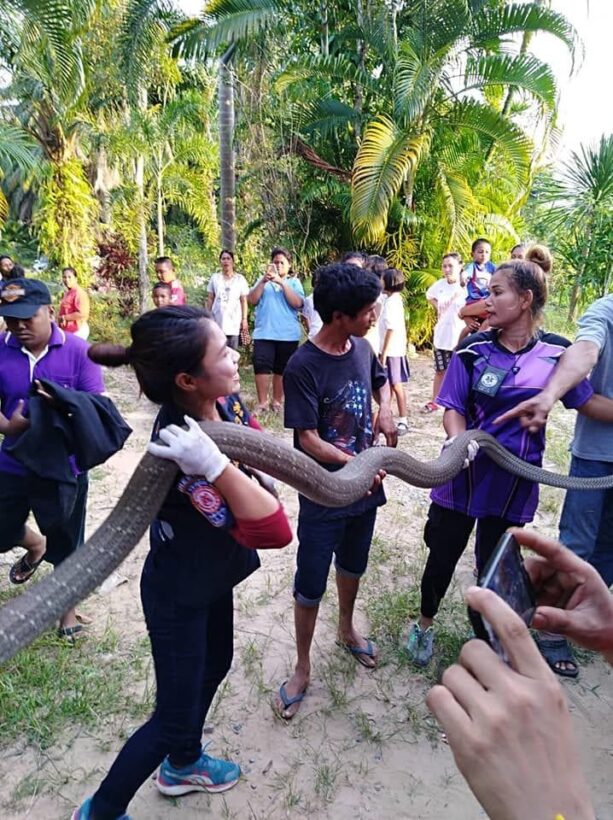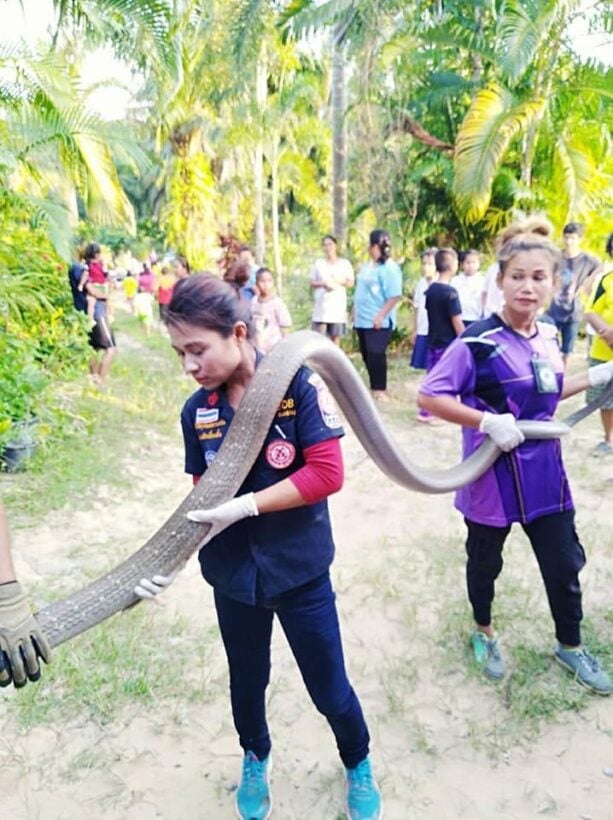 SOURCE: 77 Kaoded
Keep in contact with The Thaiger by following our
Facebook page
.
Monkeys drown in water tank after food and water shortage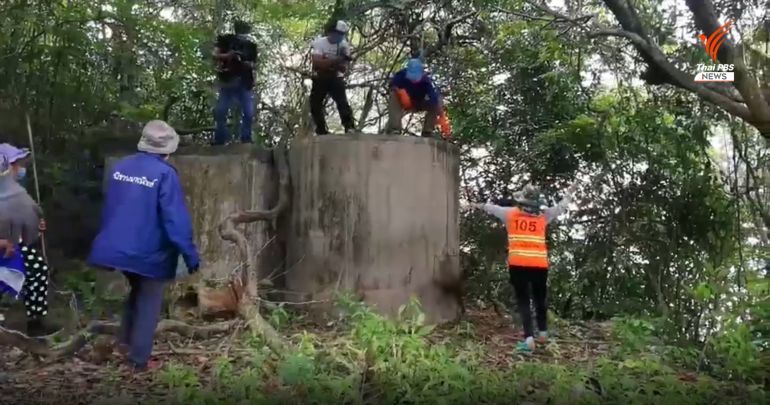 15 monkeys were found dead in a water tank yesterday in Songkhla, near the Malaysian border. The province's long-tailed macaque monkeys are facing a food shortage due to the lack of tourists in the area. Officials say the monkeys found yesterday must have been thirsty when they jumped in the 3 metre deep tank and drowned.
There hasn't been much rain in the area, and no natural water sources to speak of. The tank was initially covered, but the lid went missing. The locals plan to build concrete lids for the water tanks to ensure the incident doesn't happen again. The monkeys live a few kilometres away around Khao Tung Kuan Hill, which is frequented by tourists. A Trip Advisor reviewer said locals call it "Monkey Mountain."
Since the coronavirus pandemic and the international travel restrictions, monkeys in tourist spots are getting hungry. Tours in Songkhla were cancelled earlier this year. With no tourists, the monkeys in the area were getting little foods so villagers have been feeding the monkeys who had become reliant on human assistance with their daily food needs. The local mayor says there's about 4,000 monkeys in the area.
And monkeys in Hua Hin have reportedly made their way into town, digging through trash, looking for food due to the lack of tourists feeding them.
SOURCES: Thai Residents | Trip Advisor | Khaosod English
Keep in contact with The Thaiger by following our
Facebook page
.
Woman in southern Thailand accused of murdering daughter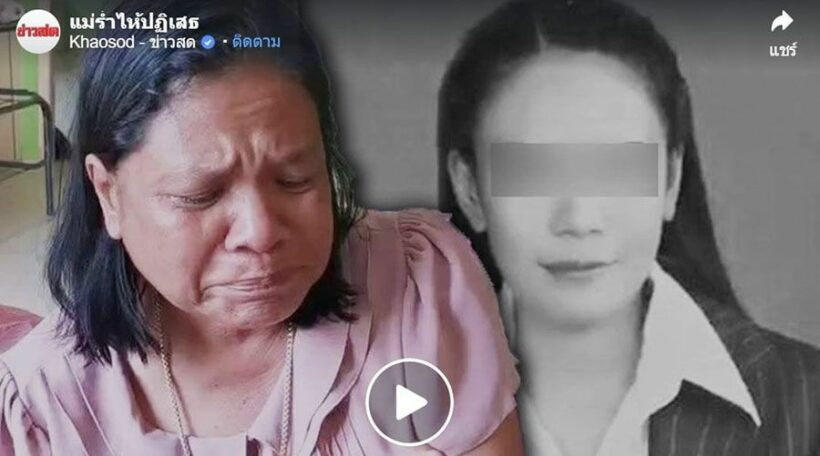 A 54 year old woman, named by police as Prateep Chindawong, has been arrested for the murder of her 29 year old daughter in the southern province of Nakhon Si Thammarat. Police say Chonthicha Jindawong was stabbed to death with a screwdriver.
Thai media reports say the accused had claimed her house was broken into and that the intruder killed her daughter as the young woman cried for help. The murder took place on April 11, with police working on the case since, trying to gather enough evidence to justify an arrest warrant.
Their suspicions were initially aroused when they discovered the window appeared to have been opened from the inside. One of the officers says this was done to give the impression someone had broken in.
"This must be done by someone who wanted to claim that an intruder broke into the house and killed her daughter."
The murder is reportedly the result of a family dispute over the inheritance of a plot of land. Yesterday, the provincial court issued an arrest warrant for Prateep who is now in custody, charged with murder.
SOURCE: Thai Residents | Khaosod
Keep in contact with The Thaiger by following our
Facebook page
.
National Covid-19 figures with 1 additional death (June 2)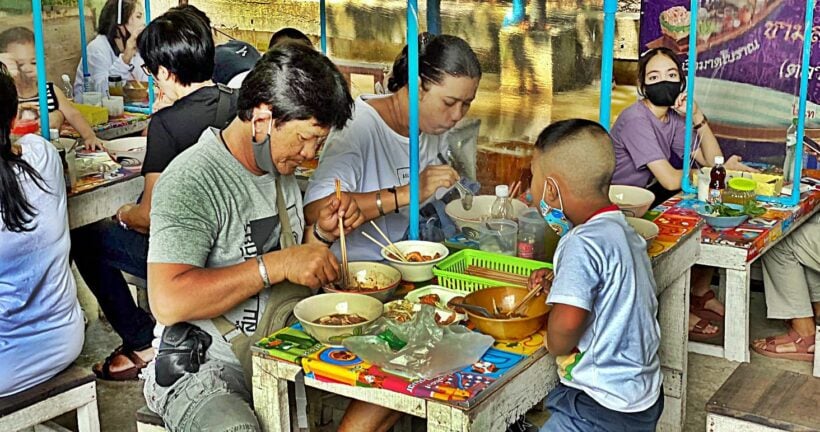 Today the Centre of Covid-19 Administration reported 1 new Covi-19 case and 1 addition death in Thailand. This takes the total number of infections to 3,085 and the accumulated death toll to 58.
The additional fatality was an 80 year old Thai man living in Narathiwat and the latest patient was a 32 year old male student who had recently returned from Saudi Arabia.
Dr Taweesilp, the familiar public face of the CCSA, says that "the student returned from Saudi Arabia via Malaysia, he entered the country through the Padang Besar land border checkpoint in Songkhla province on May 25 and was quarantined there."
"He tested negative for the disease when he arrived but on May 30 he developed a mild fever and runny nose. Then on May 31 he tested positive for Covid-19 and was admitted to a local hospital."
"39 people have returned from Saudi Arabia through Malaysia and 8 of them have been confirmed infected. That forms 20.51% or a fifth of the total."
"As for the fatality, it was a Thai man aged 80 who had asthma, On April 28 he went to a hospital in Sungai Kolok district in Narathiwat for a hip surgery. He was then taken to recuperate in a ward where another patient was later found infected with Covid-19."
"The elderly man tested positive on May 9, as did his daughter and son-in-law, who visited him at the hospital."
"The man was placed on a ventilator and received plasma on several occasions. He died of Covid-19-related pneumonia yesterday."
"Infections in Sungai Kolok (border town on Malaysian border), including an earlier occurrence, resulted in a quarantine of 191 medical staff and relatives. The previous patient recovered and all of the quarantine medical personnel and relatives proved to be uninfected."
Of the 3,083 accumulated cases, 2,960 have fully recovered. 1 additional patient has been released from hospital overnight, leaving 59 hospitalised. The average age of Covid-19 patients in Thailand has been 37, with the oldest 97 and the youngest a 1 month old baby.
SOURCE: Bangkok Post
Keep in contact with The Thaiger by following our
Facebook page
.