Unemployment rises 34% in Phuket due to virus's impact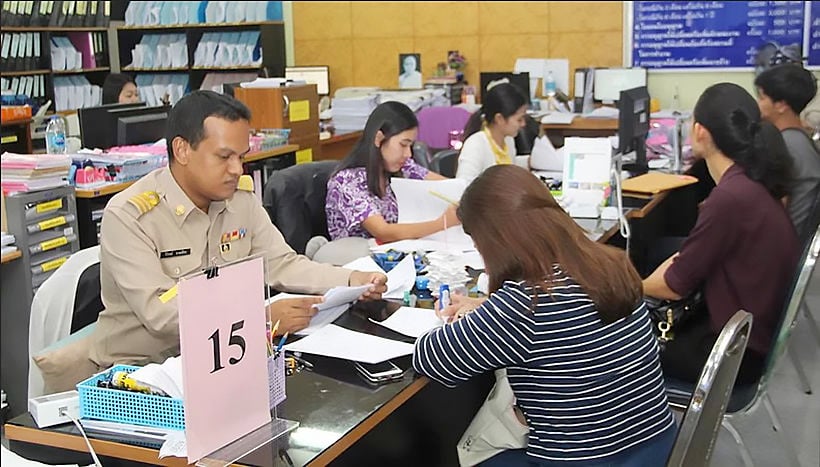 Unemployment on the resort island of Phuket is up 34% year on year due the impact of the COVID-19 coronavirus outbreak, according to the Phuket Provincial Employment Office (PPEO).
"After Chinese government banned their citizens from travel abroad because of COVID-19, the number of people coming to register as unemployed has been rising quickly. About 80 people come to register as unemployed every day. In total about 1,000 people registered as unemployed between January 26 and February 20. They all used to work in the hospitality industry, as tour guides, hotel staff or boat drivers."
The rise marks a 34% increase on the number of people formally registered as unemployed compared with the same period last year.
PPEO spokeswoman Thatkwan Surin told reporters that "Staff of hotels, tour operators and restaurants that opened especially to serve Chinese tourists are the main ones affected, as their companies have lost their main source of income and need to cut costs" The spike in Phuket's jobless has created a surplus of qualified candidates, according to Thatkwan.
"The PPEO currently has only 112 vacancies recorded in our system, with 335 people qualified for those positions. We have helped those people seeking work by registering them to receive compensation from social security, suggesting new jobs to them and we will hold a job market event on March 15."
"At the event, there will be more than 40 vacancies available, but that will be for around 1,000 people to apply for."
(The Thaiger thinks this statistic of 34% sounds extremely high and will follow up the numbers reported in Phuket News with the PPEO.)
SOURCE: The Phuket News
Keep in contact with The Thaiger by following our
Facebook page
.
Drug party raided in Chiang Rai for defying public gathering ban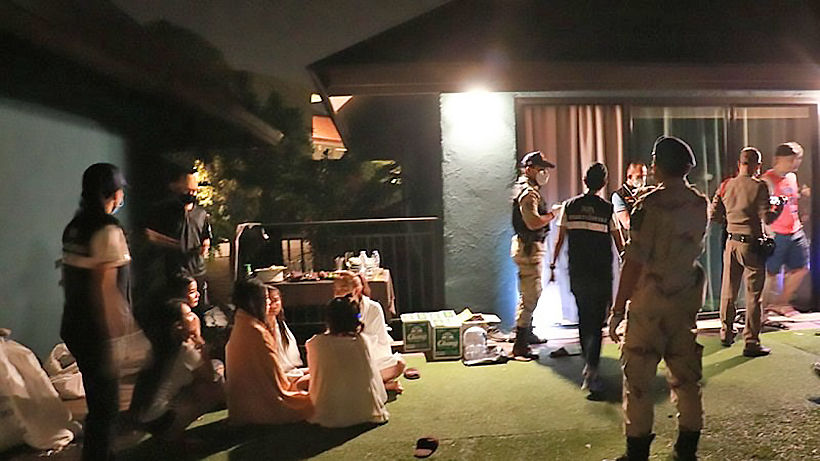 Authorities are cracking down and enforcing the ban on on public gatherings under the the state of emergency declared to fight the Covid-19 coronavirus epidemic last week. 22 people were arrested at a drug party in Chiang Rai yesterday for "gathering in defiance of the Emergency Decree". 10 men and 12 women between the ages of 20 and 30 were nabbed at a hotel in the province's main city district.
(Gamblers also arrested in Phuket, below)
The 22 were attending a pool party where alcohol and drugs such as ecstasy and ketamine were allegedly being sold. Police confiscated 237,000 baht in cash found in a bag, along with illicit drugs for evidence.
An initial investigation showed that a 24 year old man from Trat province in Thailand's east, on the Cambodian border, had been holding parties at the hotel since last Thursday. It's believed he started holding the parties because most public venues are unavailable during the virus scare.
Chiang Rai's governor says police raided the hotel in tambon Tha Sut after a tip-off.
Apart from drug charges, the detainees will also be punished for defying the Emergency Decree, which bans gatherings. The penalty is two years in prison and/or a fine of up to 40,000 baht. Chiang Rai has 5 confirmed coronavirus cases.
In a related development, 6 gamblers were arrested in Phuket near the island's Muang district yesterday.
The detainees were identified as 51 year old Natthawut, 55 year old Suwit, 40 year old Charoon, 48 year old Praiwan, 28 year old Natthapol and 39 year old Natthapong. No surnames were added to the report. Police say that while some were wearing masks to potentially protect themselves from the coronavirus, they were violating the Emergency Decree by sitting around a table to play the games. Gambling is officially illegal in Thailand, apart from the bi-monthly lottery.
SOURCE: Bangkok Post
Keep in contact with The Thaiger by following our
Facebook page
.
Jungceylon Phuket commences food ordering and deliveries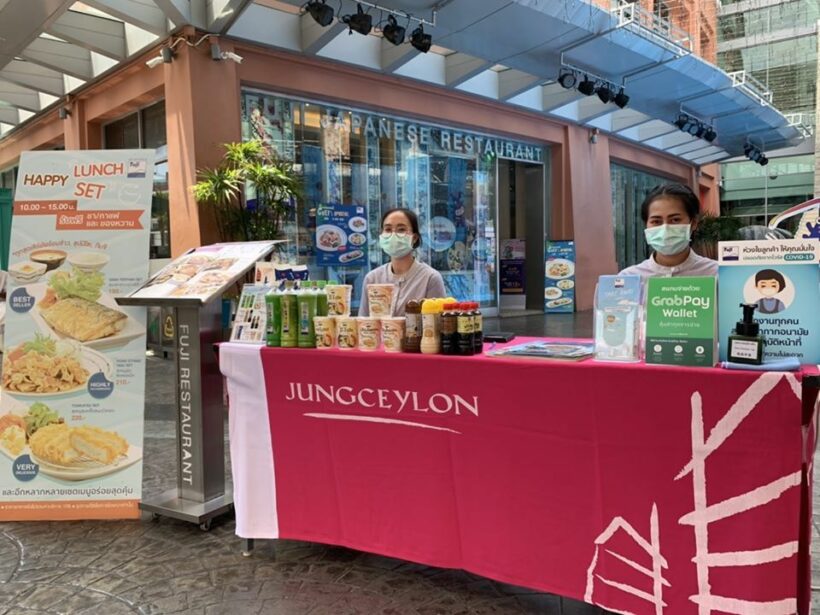 Jungceylon shopping mall, in Patong Phuket has established a 'food ordering & pick up' service point for all its restaurants and fast food outlets to increase convenience and safety for local residents in the Patong district. The mall is offering the service in partnership with 30 restaurants and chains, including…
AKA Japanese Restaurant, Baskin-Robbins, Dunkin 'Donuts, Four Seasons Restaurant, Fuji Japanese Restaurant, Haagen-Dazs, Jeffer Steak & Seafood, KFC, Kin Japanese Buffet Restaurant, Le Siam, MK Gold Restaurants. , On the table, Pizza Hut, Shabushi, Spice House, Starbuck's Coffee, Subway, Sushibox, Sweet Coconut, Sweet Mango, The Coffee Club, Wine Connection and Yayoi.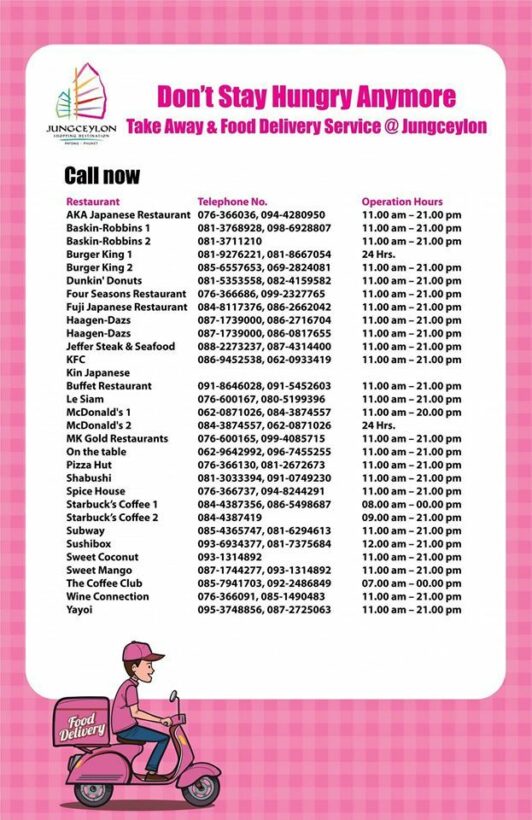 In addition, the mall is still open for necessities and services such as…
• Supermarkets (Big C Extra) from 09am – midnight
• Pharmacy (Boots and Watsons) from 11am – 9pm
• 7-Eleven convenience store, Burger King and McDonald's are also open 24 hours a day, for now
Measures to prevent exposure to Covid-19 are being implemented at Jungceylon.
For more information contact Juncylon on their web page HERE, or call 076-600-111
SOURCE: Andaman News Phuket
Keep in contact with The Thaiger by following our
Facebook page
.
Phuket reports 9 new coronavirus cases (Tuesday)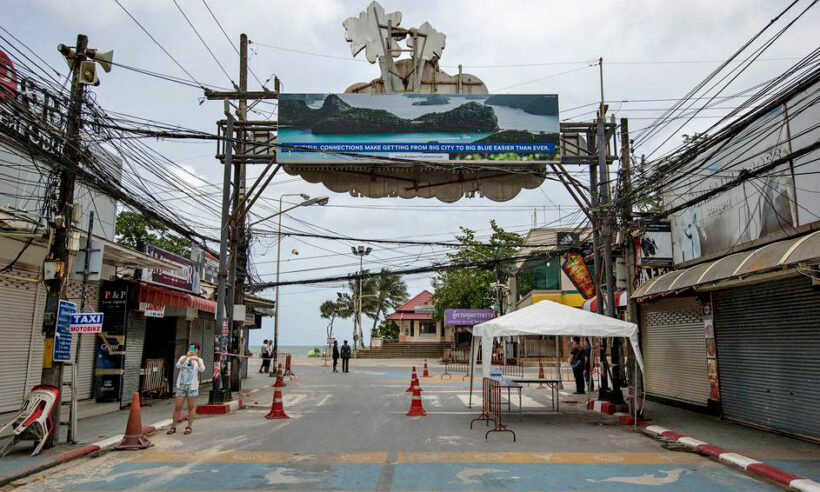 Local media outlet Newshawk Phuket today reported 9 new cases of the Covid-19 coronavirus on the southern resort island of Phuket, bringing the total to 26, up from 17 yesterday.
• Case 18 is a 33 year old Thai woman, a waitress at Soi Bangla in Patong district. She fell sick on March 16.
• Case 19 is a 56 yeaar old Frenchman who arrived in Phuket Mach 15 and fell ill on march 18
• Case 20 is a 25 year old Swedish air hostess who arrived in Phuket on Friday.
• Case 21 is a Thai woman, aged 35, who "had contact with foreigners." She became ill on March 20th
• Case 22 is 26 year old Thai woman, also believed to have caught the disease at Soi Bangla Bangla, and also became sick on March 20.
• Case 23 is 27 year old Thai dancer at Soi Bangla Bangla. She fell sick on March 22.
• Case 24 is a 28 year old Thai man, a bouncer in Soi Bangla, who became sick on March 19.
• Case 25 is a Thai woman, aged 62, who recently traveled to Switzerland and got sick abroad. She returned to Thailand to seek treatment.
• Case 26 is a Frenchman, aged 62, a golf teacher who recently traveled to Germany and Spain.
SOURCE: Newshawk Phuket
Keep in contact with The Thaiger by following our
Facebook page
.